These bite-sized pavlovas are the perfect dessert when you are serving finger foods for dinner. The meringue bases can be made ahead of time then all you need to do is whip the cream and pop the fruit on top.

The origin of pavlova is a hotly contested argument between Australians and New Zealanders so sometimes it's fun to bring it up if you have a few in the crowd. But the very best part is that once I've let them go on a while, I can flummox them all with more current research by Dr. Andrew Paul Wood, a New Zealander, and Australian Annabelle Utrech that that actually traces the origins of pavlova as we know it back to German cakes, confections of meringue and cream and fruit, that they in turn had borrowed from the Spanish and named Spanische Windtorte. Don't you love that? Sounds airy and light, just like a good meringue.
German immigrants brought that recipe and its cousin the schaum torte or foam cake to the United States which eventually evolved into a recipe called Forgotten Cake, which was quite popular in the 1940s. It was so called because meringue is put into a hot oven, which is then turned off and is left for at least eight hours. These were originally filled with cream and fruit but eventually busy housewives started just topping them with cream and then fruit. Much like a pavlova.
So how did this iconic dessert make its way down under? Wood and Utrech discovered that an American cornstarch began imports to New Zealand in the 1890s, with a pavlova-type recipe on the package. Ha, American! Well, by way of Germany and Spain.
The important thing to remember about what is still a quintessential Australian or New Zealand dessert, no matter how it got there, is that pavlova is delicious. Crispy meringue with just a bit of goo inside, plus whipped cream and fresh fruit. These bite-sized pavlovas will be a hit for your next finger food dinner.
Bite-Sized Pavlovas
Bite-sized meringue nests are filled with whipped cream and topped with fruit, for the perfect finger food dessert.
Keyword:
mini pavlovas, pavlova
Ingredients
For the base:
4

large egg whites

1

pinch

salt

1

cup

or 225g caster sugar

I used golden caster sugar.

2

teaspoons

cornstarch

1/2

teaspoon

vanilla extract

1

teaspoon

white vinegar
To serve:
1 3/4

cups

whipping cream

2

cups

berries

2 small mangoes and two kiwi fruit.
Instructions
You will need 4 baking sheets, lined with parchment or silicone liners and a piping bag with a large tip.

Preheat the oven to 350°F or 180°C.

Whisk the egg whites with the salt until they're holding firm peaks but are not stiff. Gently add in the sugar a spoonful at time, still beating, until you've got a bowl full of shiny, thick meringue. There should be no grittiness left when you rub the meringue between your thumb and finger.

Use a sieve or sifter to sprinkle in the cornstarch, add the vanilla and vinegar, then gently fold to combine.

If you are using parchment paper or silicone mats without guidelines, you can use permanent marker or pencil to draw small circles as guide. Mine are about 2 inches or 5cm wide. Turn the paper over so you will be adding the meringue on the clean side.

Put the meringue in a piping bag with a large tip. Start in the middle of your circles and pipe a solid base, finishing with one more circle of meringue on top of the very outside of the base.

Put the first two pans into the oven, turn it down to 300°F or 150°C and bake for 20 minutes. Turn the oven off and leave the meringues in for another 20 minutes, then take them out of the oven and put them in a cool dry place.

Once the first batch is out, preheat your oven again to 350°F or 180°C and repeat the process with the last two pans.

When you are ready to assemble the bite-sized pavlovas, whip the cream into firm peaks and peel and cut your fruit, if necessary. Small fruit, like raspberries, can be left whole.

Spoon a couple of teaspoons into the meringues then top with fruit. Serve the bite-sized pavlovas within an hour of assembly as the cream will soften the meringues.
Nutrition Facts
Bite-Sized Pavlovas
Amount Per Serving
Calories 135
Calories from Fat 117
% Daily Value*
Total Fat 13g 20%
Cholesterol 48mg 16%
Sodium 17mg 1%
Potassium 40mg 1%
Total Carbohydrates 4g 1%
Protein 1g 2%
* Percent Daily Values are based on a 2000 calorie diet.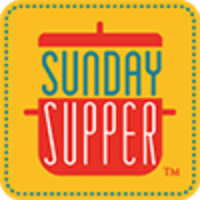 The Sunday Supper Movement is committed to bringing our readers delicious recipes that encourage them to gather and eat together around the family table. Search for your favorite ingredients on our Sunday Supper website. Also check out the Sunday Supper Pinterest boards for plenty more ideas and inspiration.
Sign up for our newsletter to get FREE Sunday Supper recipes delivered right to your inbox!