Sunday Supper is an Amazon Associate and may receive compensation for purchases made through affiliate links.
Our Mini Pavlova recipe is a show-stopping, elegant dessert made with a light and airy meringue and a mascarpone filling, finished with fresh berries. It is a gorgeous holiday dessert and perfect for parties!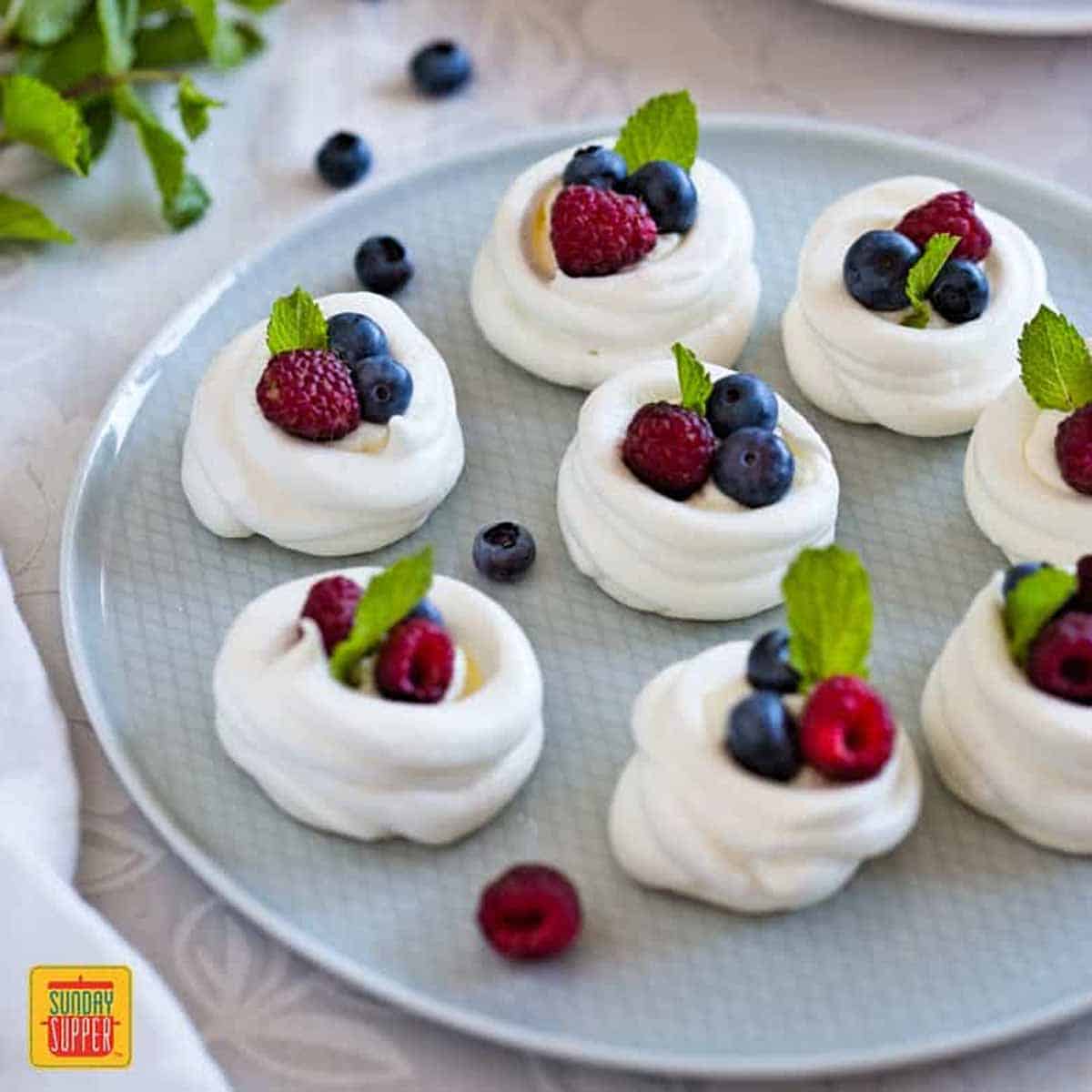 Jump to:
What are pavlovas?
Pavlova cake is a meringue dessert with a creamy topping and fresh fruits for garnish. It has a crisp meringue crust but is soft, creamy, and light on the inside. Traditionally, it is served as one large cake, but we prefer mini pavlovas!
Pavlova is named after the Russian ballerina Anna Pavlova. It is a popular dessert across the world, especially as a Christmas cake!
Our individual pavlovas, made with mascarpone, homemade whipped cream filling, and light, crisp meringue cups, are the perfect bite size desserts to make if you want to impress family and friends.
This is the best pavlova recipe ever. Our mini pavlovas have an irresistible taste and texture. Everyone will be asking you to share the recipe!
Pavlova Meringue
The most important part of this recipe is the pavlova meringue.
A meringue recipe for pavlovas is made differently from a regular meringue. The best pavlova recipe is crispy on the outside and soft on the inside, which calls for adding cornstarch to the mixture!
egg whites
caster sugar
cream of tartar
cornstarch
vanilla extract
whipping cream
mascarpone
fresh fruits (your choice; I use berries, like raspberries and blueberries)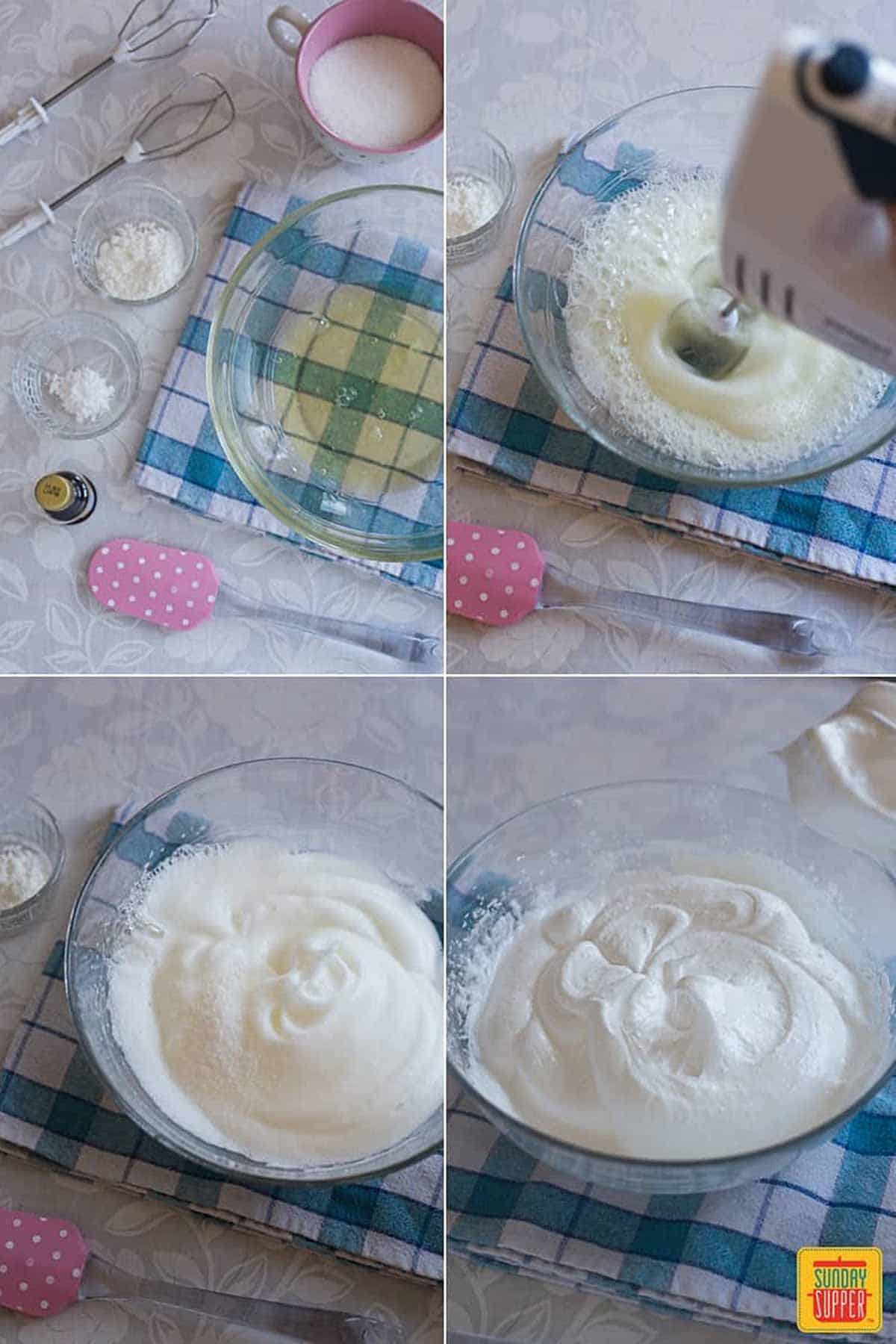 How to Make Pavlova
Baking properly is the key. For perfect pavlova bites with no cracks or burns, bake them at a low temperature. The best thing to do is to preheat the oven to a higher temperature first, and then gradually lower it during the baking until you switch the oven off.
Don't take the baking pan out immediately! You need to leave the mini pavlovas inside the oven to cool down, with the door open halfway. This is the best way to avoid cracks in your pavlova meringue.
Add the topping and the decoration right before serving, otherwise, the meringue will get soggy from the moisture.
If you do not have a piping bag, you can make one by cutting the end of a large plastic bag. Or, you can use a spoon. You do not need a piping tip for this mini pavlova recipe.
Do I need to use cornstarch?
Yes. Cornstarch should not be omitted from this recipe – it is necessary to make the pavlova meringue as light and crisp as it is with a fluffy inside. If you need to use a substitute, use potato starch.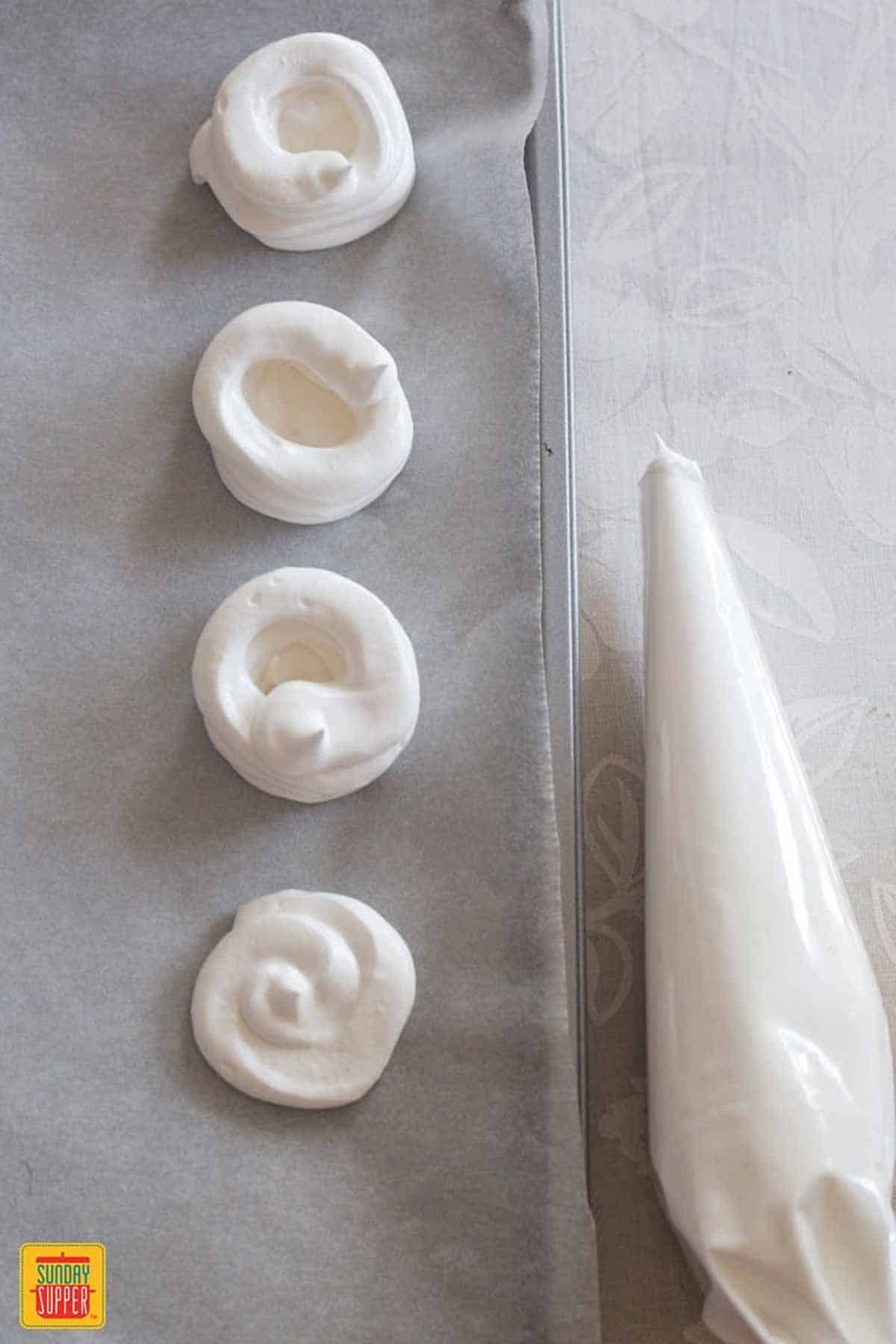 How to Serve Mini Pavlovas
Pavlova bites are one of the best mini dessert recipes. They are best served on a big platter! You can also prepare them slightly bigger, and serve one individual pavlova for each person on a small plate.
These finger desserts pair well with chilled white wine or champagne. We also enjoy a glass of Rose Sangria with fresh berries with our mini pavlova recipe.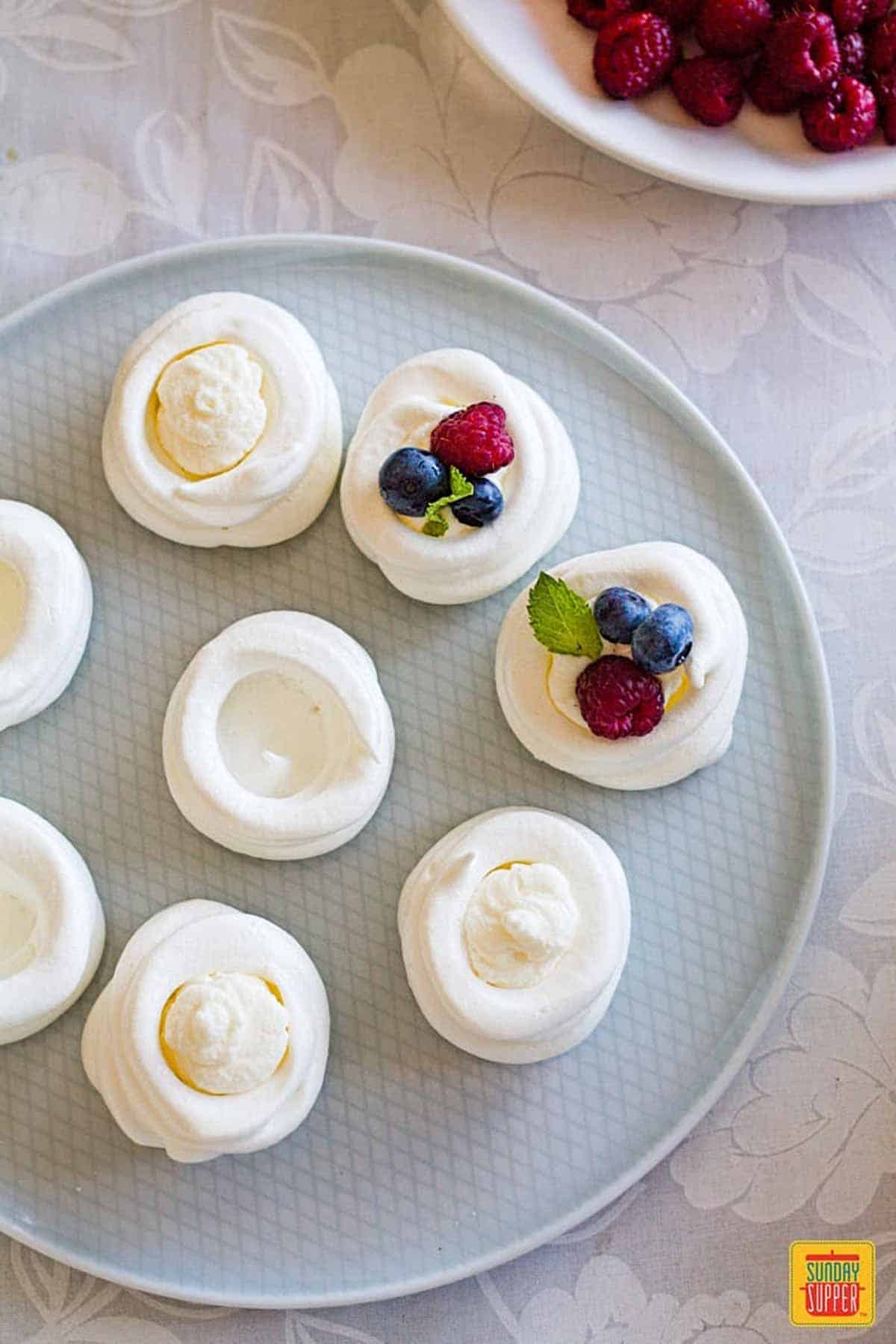 Get more Fancy Finger Food Recipes!
How to Separate Egg Whites from Yolks
This mini pavlova recipe calls for egg whites. To separate egg whites from the yolks, follow one of these methods. Note: keep eggs chill before cracking. It's easier to separate egg whites in cold eggs.
Crack the egg into your hand over a bowl. Catch the yolk with your palm and let the white drip into the bowl.
Alternatively, crack the egg across the widest part of the shell. Break in half over the bowl and tilt the egg halves back and forth to catch the yolk in one half and allow the white to drip out into the bowl.
Or, you can crack the egg onto a slotted spoon. The yolk will catch on the spoon and allow the white to drip through into the bowl.
Can I make pavlova ahead of time?
Yes. You can make the meringues 1-2 days ahead of time, although we recommend making them the day-of or no earlier than the day before for best results.
You should not fill the pavlova bites until you're ready to serve them.
Store the filling separately from the meringues, and make sure to keep the meringues in an airtight container in as cool and dry of a place as possible.
How should I store them?
You can store the baked meringues for the mini pavlovas outside of the refrigerator at room temperature in an airtight container if you would like to make them ahead of time and have them ready to serve. You can also freeze them.
You will want to wait to fill them until you're ready to serve – otherwise, they may get mushy!
How long is this recipe good for?
Our mini pavlova recipe will last 1-2 days if stored properly in a cool, dry place in an airtight container. You want to avoid humidity when storing pavlova meringue.
Can you freeze pavlova meringue?
Freezing meringue is risky, as it can catch moisture while thawing. Thankfully, freezing these individual pavlovas is easier than freezing a large portion of pavlova meringue!
The best way is to freeze them directly on the baking sheet, without removing them from the parchment paper. Wait until the meringues cool completely. Then, wrap them very well in plastic wrap together with the tin.
Or, layer an airtight container with parchment paper and carefully store the pavlovas in the container.
You can keep this mini pavlova recipe in the freezer for up to a month.
The thawing time depends on how big the meringue is. Bite-sized pavlovas won't need more than 30 minutes to thaw.
When thawing, place them on a wire rack to circulate as much air as possible so they don't absorb any moisture.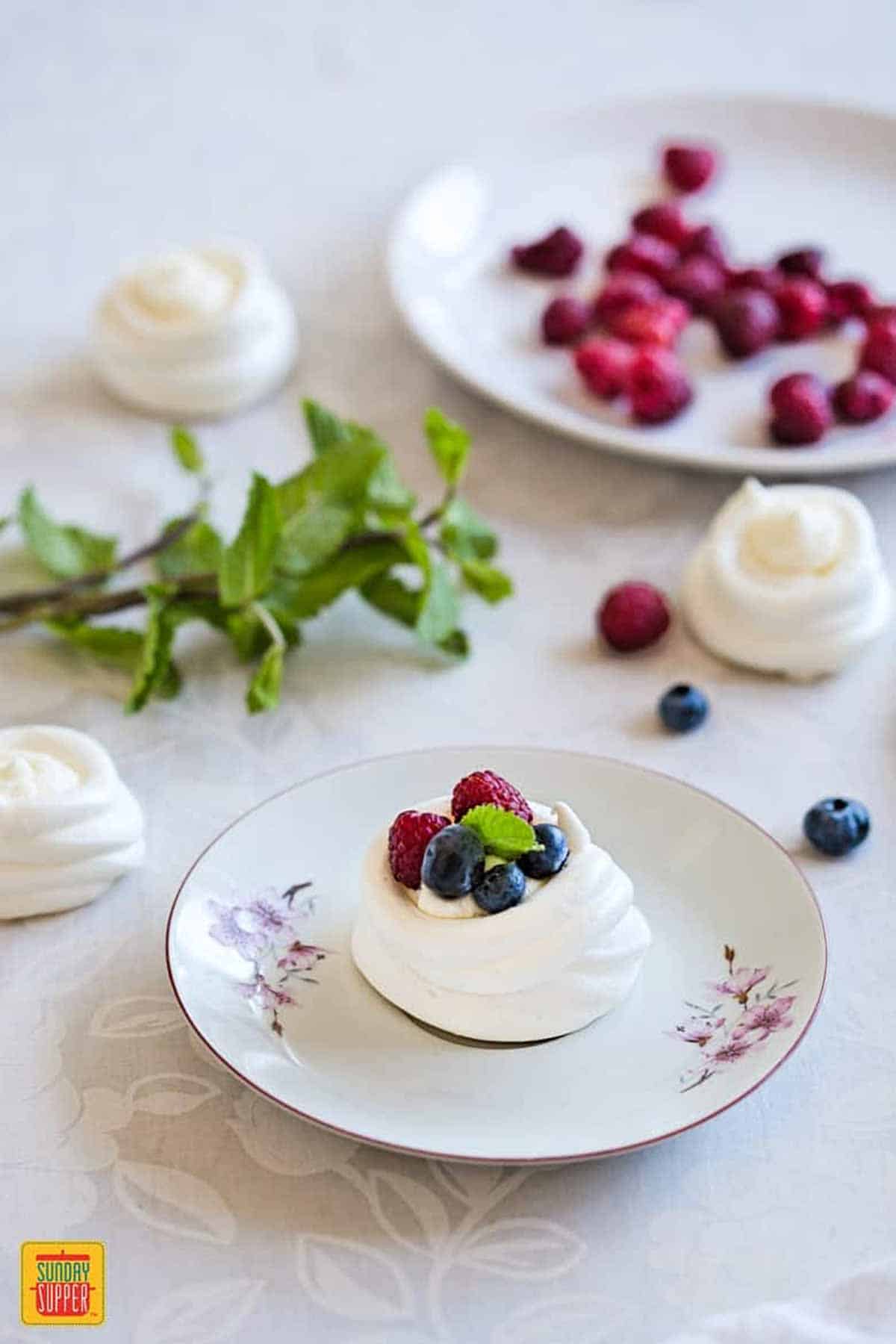 Mini Pavlova Toppings
Blueberries
Blackberries
Strawberries
Raspberries
Peach slices
Apricots
Kiwi slices
You can use whatever fruit you like to top your bite size pavlovas. We love fresh berries, but other fresh fruits make delicious additions as well.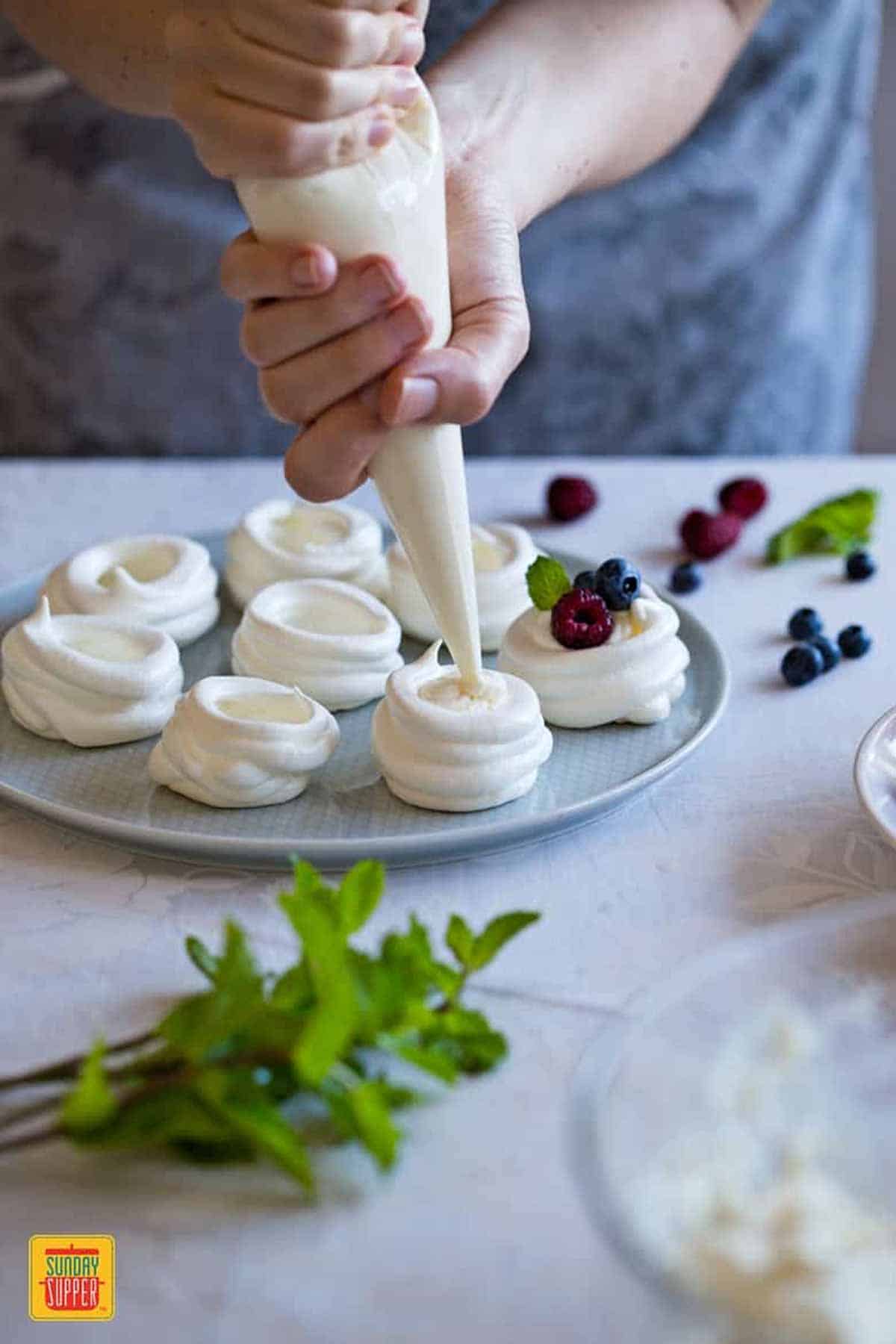 Easy Desserts to Impress
📌 Pin it for later!
Did you enjoy this page? Save it on Pinterest for later!



Save the Video Pin
Reviews
Yummy! This is a good recipe, I filled them with lemon curd.

Rachel on Pinterest
They were absolutely delicious and recipe was easy to follow. Thanks for a great recipe!

Claire on Pinterest
This recipe is perfect in every way, very thorough and tasty!

Iva on Pinterest
So easy and such a show stopper.

Sarah on Pinterest
See the pin everyone is talking about!
📋 Recipe
Mini Pavlova Recipe
Impress everyone with this mini pavlova recipe! Mini pavlovas are great finger food desserts for parties, and are so easy to make.
Ingredients
Pavlova Meringue:
4

egg whites

1

cup

caster sugar

½

tsp.

cream of tartar

1,5

tsps.

cornstarch

2

tsps.

vanilla extract
Mascarpone Filling:
1

cup

mascarpone

1

cup

whipping cream

cold

2

tbs

powdered sugar

1

tsp.

vanilla extract

fresh berries

mint leaves

(optional)
Instructions
Pavlova Meringue:
Preheat oven to 320°F. Line two baking tins with parchment paper.In a large mixing bowl, using an electric mixer at high speed, beat the egg whites until soft peaks form. Gradually add the sugar and the cream of tartar and keep beating at high speed. Add the cornstarch and vanilla extract. Beat until stiff peaks form.Pipe the meringue onto the prepared tins. First pipe a small circle and then pipe on top of it, around the edges, in order to form a well.

Put one baking tin in the oven and immediately lower the temperature to 245°F. Bake for 30 minutes, and lower the temperature to about 200°F. Bake until the meringue is dry when touched carefully.Turn off the oven and open the door half way. Leave the meringues inside to cool down. This will prevent the temperature change from being too drastic and causing the meringue to crack.
Filling:
In a large mixing bowl, beat the mascarpone together with powdered sugar and vanilla until smooth.

In another large bowl, whip the cream until thick.

Using a rubber spatula gradually add the whipped cream to the mascarpone.

Pipe or spoon the filling into the holes of the mini pavlovas. Top with fresh berries and mint leaves. Serve immediately.
Notes
RECIPE TIPS:
Don't store filled pavlovas for more than few hours. You can keep pavlova meringues for few days in the fridge, in an airtight container. Place them in the container after they are completely cool. Alternatively, you can freeze them for up to a month. To do that, the best way is to wrap them with plastic wrap as they are on the baking tin with the parchment paper.
Baking properly is the key: To achieve perfectly white pavlovas with no cracks, bake them at low temperature. The best is if you preheat the oven to higher temperature and then gradually decrease it during the baking, until switching the oven off. Don't take the tin out immediately! You need to leave it to cool down inside the oven, with the door half open. That's the best way to avoid cracks as they are caused by temperature changes.
Add the topping and the decoration right before serving, otherwise the meringue will get soaked by the moisture, and we want it crispy. 
Alternatively,

you can just spoon the meringue on the sheets instead of piping, but that way your mini pavlovas will be slightly bigger.
Nutrition
Calories:
80
kcal
Carbohydrates:
7
g
Protein:
1
g
Fat:
5
g
Saturated Fat:
3
g
Cholesterol:
16
mg
Sodium:
12
mg
Potassium:
22
mg
Sugar:
6
g
Vitamin A:
190
IU
Vitamin C:
1
mg
Calcium:
13
mg
Did you try this recipe?
Tag #SundaySupper on social and leave a comment below!
Photography by Daniela Lambova.