Shrimp Scampi Linguine is a classic garlic butter shrimp pasta that's easy to make at home with just a few simple ingredients!
Cook a five-star meal in your own kitchen! Restaurant-worthy Shrimp Scampi Linguine is deliciously easy to make at home with just a few simple ingredients.
It's the perfect, delicious shrimp pasta recipe for a romantic dinner at home, family meal, or addition to a dinner party menu!
Our garlic butter shrimp pasta is similar to Ina Garten's shrimp scampi, and it's so simple to make, too! You all know how much we love her recipes. We couldn't help but put our own spin on a classic garlic butter shrimp pasta dish.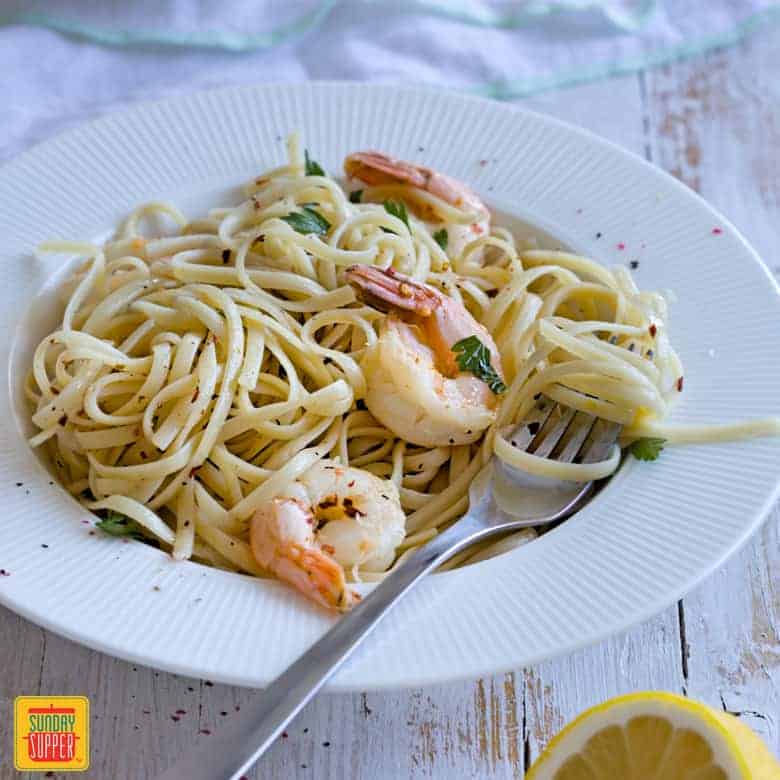 What is scampi?
"Scampi" actually refers to langoustines or little lobsters. In Italy, a traditional way of cooking them is with olive oil, garlic, and white wine. When this method was brought to the U.S., we began using butter in place of olive oil in most cases, and shrimp took the place of traditional "scampi".
What is shrimp scampi?
Classic shrimp scampi is a dish usually consisting of garlic, lemon, and butter or olive oil. Most often, shrimp scampi recipes also use wine. You can make shrimp scampi many ways, such as in this shrimp scampi linguine, shrimp scampi with angel hair pasta, baked shrimp scampi, or even creamy shrimp scampi with rice.
Ingredients for Shrimp Scampi
Our shrimp scampi linguine uses just a few simple ingredients, many of which you may already have on hand! Garlic butter shrimp pasta is one of the most delicious dishes you can make at home, and it's easy, too. Here are the ingredients you will need to make easy shrimp scampi:
1 lb. linguine pasta
1 lb. large shrimp, peeled and deveined*
3 Tbsp. extra virgin olive oil
1 onion, finely chopped
2 garlic cloves, minced
1/3 cup white wine*
juice of 1 lemon
salt and pepper to taste
A few sprigs of finely chopped parsley
1 Tbsp. butter, optional
spicy red pepper, optional
Can I use frozen shrimp for shrimp scampi with linguine?
Yes! You can use frozen shrimp in your shrimp scampi pasta. In fact, we recommend using frozen shrimp, as it saves you the time and effort of peeling and deveining your own shrimp.
If you use frozen shrimp for your garlic butter shrimp pasta, we recommend following these instructions on how to thaw shrimp:
Add the frozen shrimp to a bowl of cold water. Make sure the cold water fully covers the shrimp. Do not use warm water.
Allow the shrimp to sit in the cold water for 10 to 15 minutes. If they need more time, drain the water after 10 minutes, add fresh cold water, and allow them to sit for an additional 10 to 15 minutes.
Dry the shrimp with paper towels before cooking.
If you want to elevate this dish even further, you could substitute prawns for shrimp. Prawn linguine is delicious, especially prawn scampi. Prawns are a favorite of ours, and make a delicious appetizer (see our Chinese Prawns Recipe as an example! Yum!).
Scampi Sauce Recipe
One of the secrets to making the best shrimp scampi recipe is the scampi sauce. Sauce for scampi is a divine combination of lemon, garlic and white wine, which perfectly complements the shrimp.
For a real Italian experience, I recommend using olive oil and adding butter at the end only if desired. You can even skip the butter and add a little more olive oil instead; however, the butter adds an additional delicious hint of flavor to the meal, which I recommend.
The wine pairing for shrimp scampi we recommend is a good quality wine such as Pinot Grigio, Chardonnay, or even a Riesling.
Tips for making the Best Shrimp Scampi
We recommend extra large or jumbo shrimp (or prawns) in this recipe! They're perfect for a shrimp scampi!
We always look for wild-caught shrimp. They have better flavor and are a lot healthier for you than farm-raised seafood.
Use a good quality white wine. We use a Sav Blanc or Chardonnay when cooking this recipe. You can also use a Pinot Grigio. .
Can I make shrimp scampi without wine?
Yes, you can use chicken broth as a substitute for wine in cooking shrimp scampi, or you could even use white wine vinegar. You could even use a mixture of the two, using mostly stock with only a small amount of vinegar for flavor.
How to Make Shrimp Scampi
If you are wondering exactly how to cook shrimp scampi, then don't worry! It is really so easy. All of the work is done in a pan on the stove in just a few simple steps. Follow these simple instructions to make easy shrimp scampi linguine:
Sauté the shrimp with olive oil, onion, and garlic. Add wine and lemon juice. If using frozen shrimp, follow the instructions on how to thaw shrimp above before cooking.
Add salt, pepper, and a sprinkling of parsley. Remove from heat.
Cook and drain the linguine. Make sure the noodles are al dente or still slightly hard, as they will continue to cook in the next step.
Add the pasta to the shrimp sauce in the pan and cook for 1-2 minutes. Serve immediately, and enjoy!
That's how you can make a wonderful, creamy shrimp scampi dish in just about half an hour! We truly believe this is the best shrimp scampi recipe. It is so easy to make and worth trying at home. Enjoy!
Side Dishes for Shrimp Scampi
Scampi linguine is fabulous by itself, but a salad and a glass of white wine like Pinot Grigio is the perfect pair for the dish. Any one of these easy salad recipes pairs deliciously with creamy shrimp scampi linguine:
You could also try serving shrimp scampi pasta with vegetables such as Garlic Parmesan Roasted Carrots, Green Bean Almondine, Smashed Brussels Sprouts or Roasted Vegetables.
This garlic butter shrimp recipe also makes for an easy shrimp appetizer! Leave out the pasta and serve with garlic bread for a quick and easy shrimp appetizer everyone will enjoy. Check out our Easy Seafood Appetizers for more ideas!
Craving more easy shrimp recipes?
Here are our best delicious shrimp recipes for you to enjoy:
Did you try this shrimp scampi pasta recipe? We would love to know what you think! Leave us a comment and a rating below to let us know. What did you enjoy your scampi linguine with? Was there a special occasion?
Shrimp Scampi Linguine
Shrimp Scampi Linguine is a classic garlic butter shrimp pasta that's easy to make at home with just a few simple ingredients!
Print
Pin
Comment
Ingredients
1

lb.

linguine pasta

1

lb.

large shrimp peeled and deveined*, see notes for frozen shrimp

3

Tbsp.

extra virgin olive oil

1

onion finely chopped

2

garlic cloves minced

1/3

cup

white wine*
the juice of 1 lemon
salt and pepper to taste
A few sprigs of parsley finely chopped

1

Tbsp.

butter optional

Red pepper flakes

optional
Instructions
Heat the olive oil in a skillet and sauté the onions until translucent. Add shrimp, garlic, lemon juice, and wine, and cook for 3-4 minutes, stirring occasionally. Make sure all shrimp is pink on both sides.

Stir in parsley and season with salt, pepper, and red pepper flakes (if using). Remove the skillet from heat.

Cook the linguine in a large pan with salted boiling water. Cook until it is still slightly hard to chew (al dente), which is about 2-3 minutes less than the cooking time on the pasta box.

Drain the linguine in a colander and add the pasta to the shrimp scampi in the skillet. Add the butter. Mix everything over low heat for 1-2 minutes.

Serve immediately. Add more fresh pepper and parsley, if desired.
Notes
Instead of butter, you can add 1-2 Tbsp. of fresh olive oil at the end. 
Instead of wine you can use chicken broth.
You can top with Parmesan if you prefer.
For convenience, we recommend using frozen shrimp for this recipe.
Elevate this dish by swapping out shrimp for prawns! Garlic butter prawns are delicious.
We recommend a good quality wine like Pinot Grigio, Chardonnay, or a Riesling for pairing and cooking with this recipe.
Nutrition
Calories:
688
kcal
|
Carbohydrates:
88
g
|
Protein:
38
g
|
Fat:
17
g
|
Saturated Fat:
4
g
|
Cholesterol:
294
mg
|
Sodium:
917
mg
|
Potassium:
398
mg
|
Fiber:
4
g
|
Sugar:
4
g
|
Vitamin A:
92
IU
|
Vitamin C:
7
mg
|
Calcium:
197
mg
|
Iron:
4
mg
Post updated on 9/13/2019 to include more information, a new recipe, and new photos.
Sign up for our weekly newsletter!
Get free recipes delivered to your inbox every week!
Thank you for joining the Sunday Supper family!
Something went wrong.