This post may contain paid links. If you make a purchase through links on our site, we may earn a commission.
If you're in need of shrimp recipe ideas, start here! My collection of Shrimp Recipes for Dinner covers everything from crispy tacos to creamy bisque. No matter what flavors you prefer, you're sure to find shrimp dinner ideas you will love here!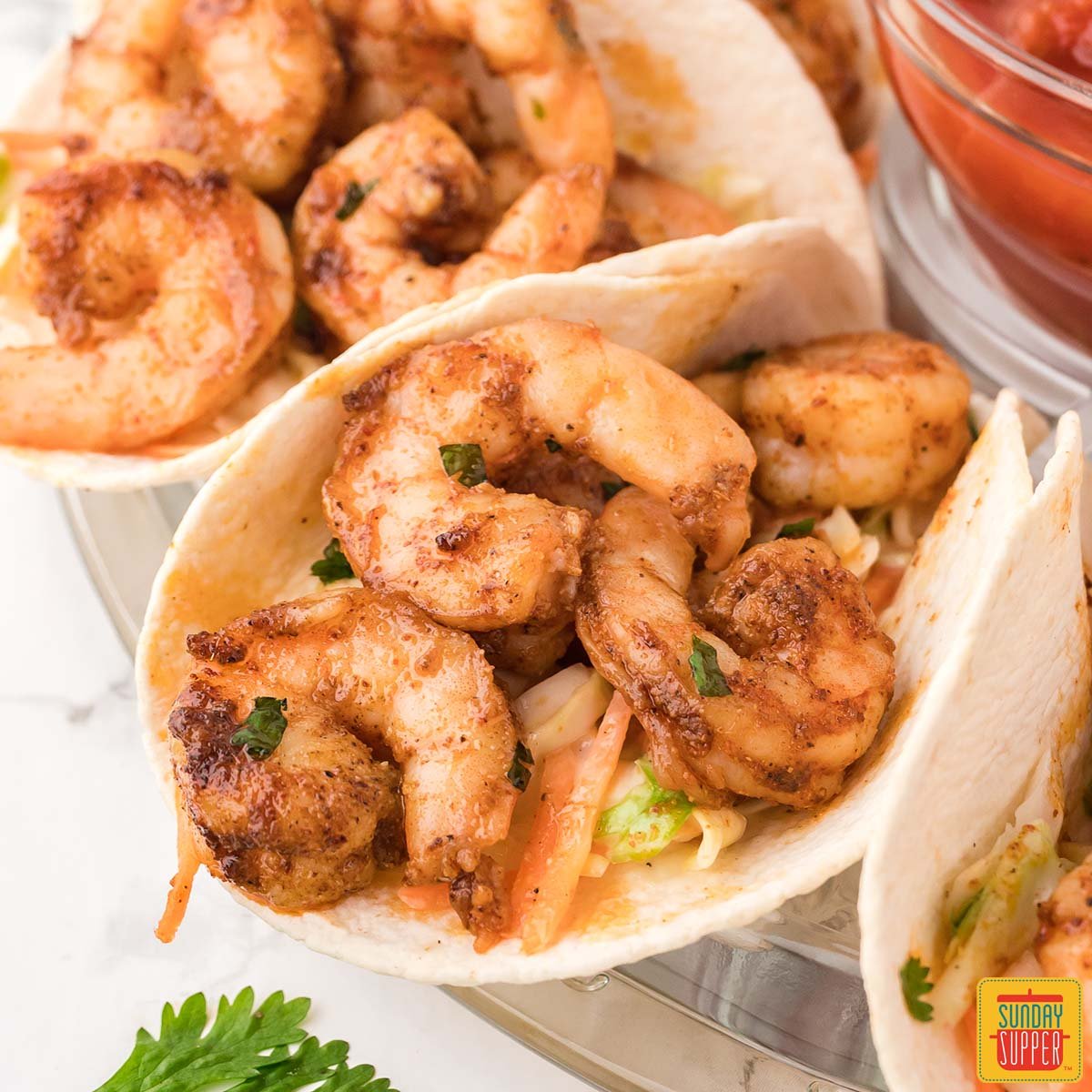 Jump to:
Growing up, I remember plenty of my friends turning up their noses at shellfish, but I have loved shrimp for as long as I can remember. Over the holidays, my parents and I would make Rissóis de Camarão (shrimp empanadas) together, and whenever it's on a menu, you can bet I'll be tempted to have shrimp for dinner.
Needless to say, I've enjoyed my fair share of shrimp dishes, from garlic butter scampi and shrimp bisque to glazed Chinese prawns and crispy air fryer shrimp tacos. There are endless options for what to make with shrimp, and for me, it never gets old!
Whether you're feeding your family or a crowd, I promise you'll find plenty of shrimp meal ideas to work with on this list! Let's dive in!
Dinner Ideas with Shrimp
Shrimp Bisque
My creamy shrimp bisque recipe is one of my all-time favorite recipes with shrimp. The recipe for this bisque is written by hand in my family cookbook, and I make it every year for the holidays as a special treat.
Get this recipe!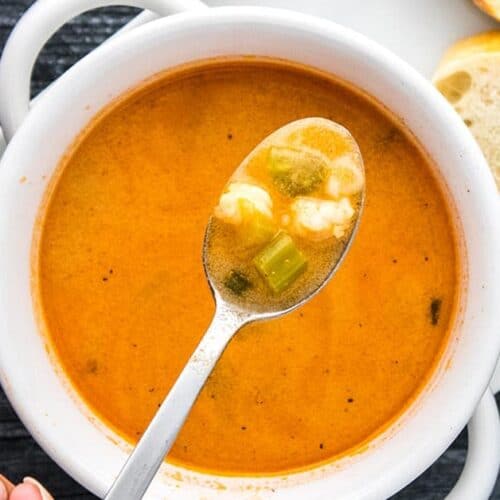 Shrimp Linguine
You simply can't go wrong with shrimp with pasta! I love linguine with garlic butter shrimp the most. Complete with a flavorful garlic butter sauce, this is a delectable and easy shrimp scampi recipe I know you'll love.
Get this recipe!
Shrimp Rice Bowl
This simple rice bowl is one of my favorite shrimp meals for how easy it is to make. It comes together quickly and simply in just 30 minutes, and is packed with flavor from homemade cilantro lime crema dressing.
Get this recipe!
Shrimp Shumai
These little ginger and garlic shrimp dumplings are by far one of the best meals to make with shrimp. They're a great appetizer, too, and are perfect for parties! Serve over rice with soy sauce for a fun weeknight dinner.
Get this recipe!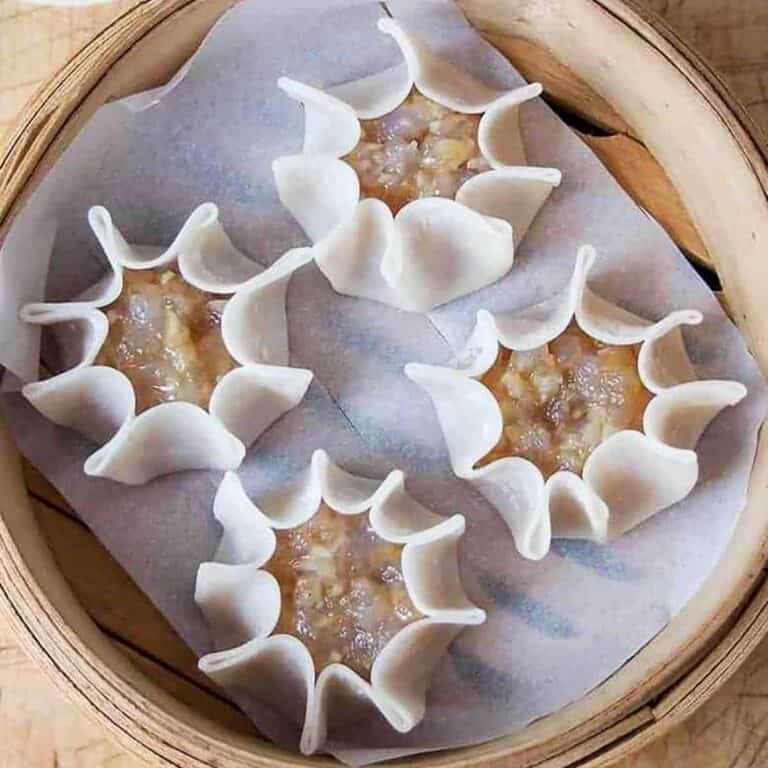 Air Fryer Shrimp
Learn how to air fry shrimp, and you'll have an easy way to make any of your favorite shrimp dinners in no time. I love to use these air fryer shrimps to make into shrimp skewers, or to add to my shrimp rice bowl or shrimp tacos.
Get this recipe!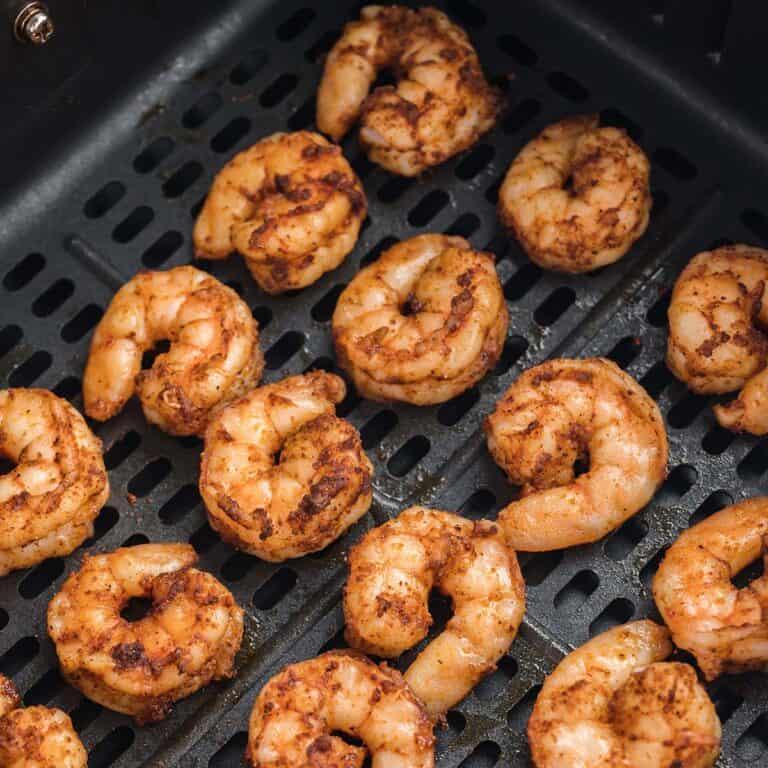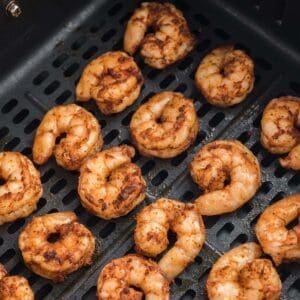 Shrimp Creole
It takes just 30 minutes to make this easy Louisiana-style Shrimp Creole recipe all in one pan, but don't let the short cook time fool you! This is one of the most flavorful meals with shrimp, and will make you want to savor every bite.
Get this recipe!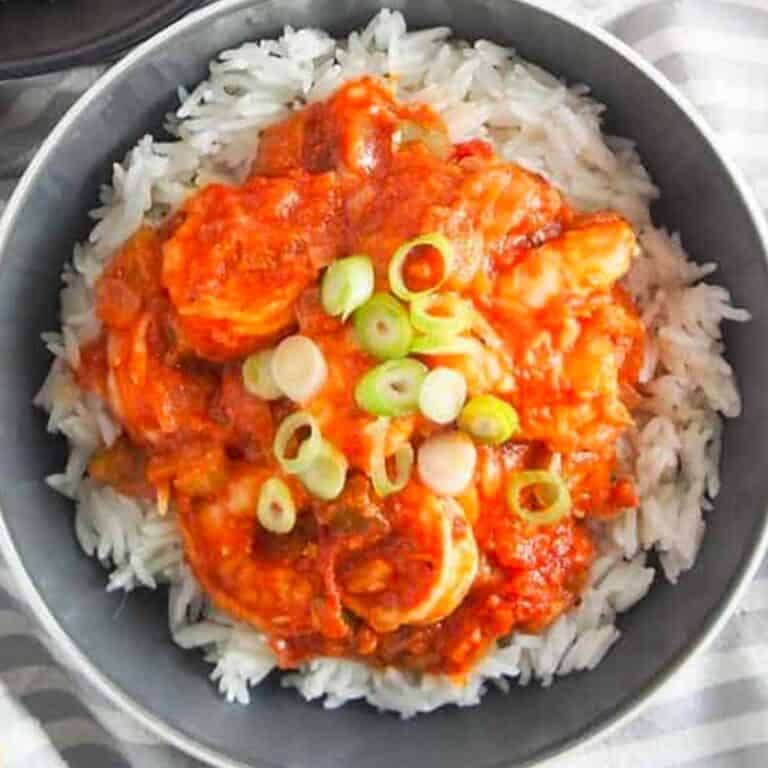 Shrimp Paella
I am a big fan of seafood paella, but this steak and shrimp paella sets the bar high! It's easy, tasty, and amazing for serving a crowd.
Get this recipe!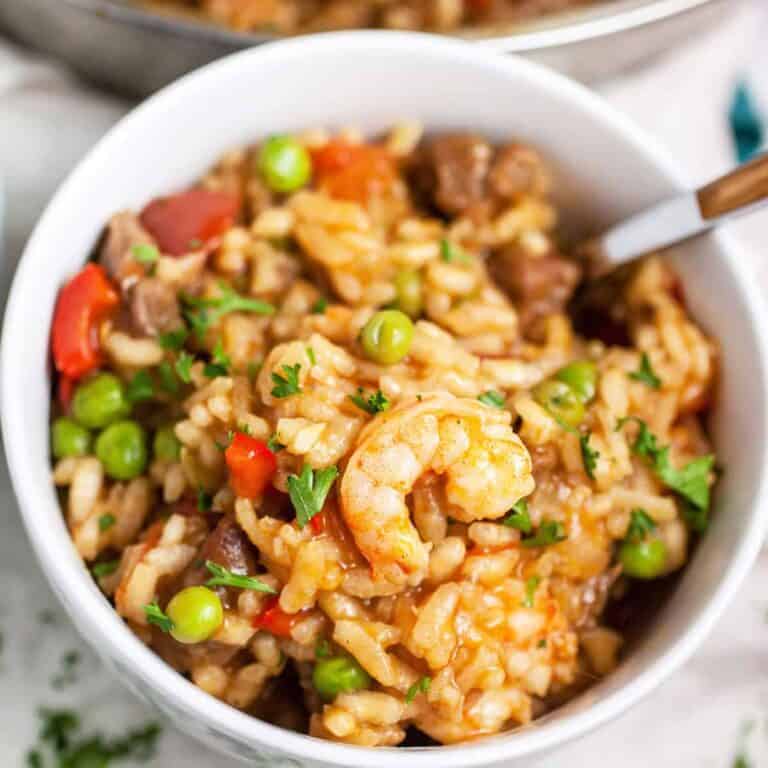 Shrimp Empanadas
I grew up enjoying these Portuguese shrimp empanadas. This recipe is made with love, and years of experience perfecting every step. Try them for the holidays, special occasions, or whenever you want to treat yourself to one of the best shrimp dishes for dinner.
Get this recipe!
Shrimp Foil Pack
I love a good shrimp boil, but if you ask me, nothing beats grilled shrimp when you're cooking out. Complete with corn, lemon juice, potatoes, and Old Bay Seasoning, you'll get all the flavors you love in a boil, too! This is the easiest way to cook shrimp in foil on the grill or in the oven. I've even cooked them over an open fire. Give it a try!
Get this recipe!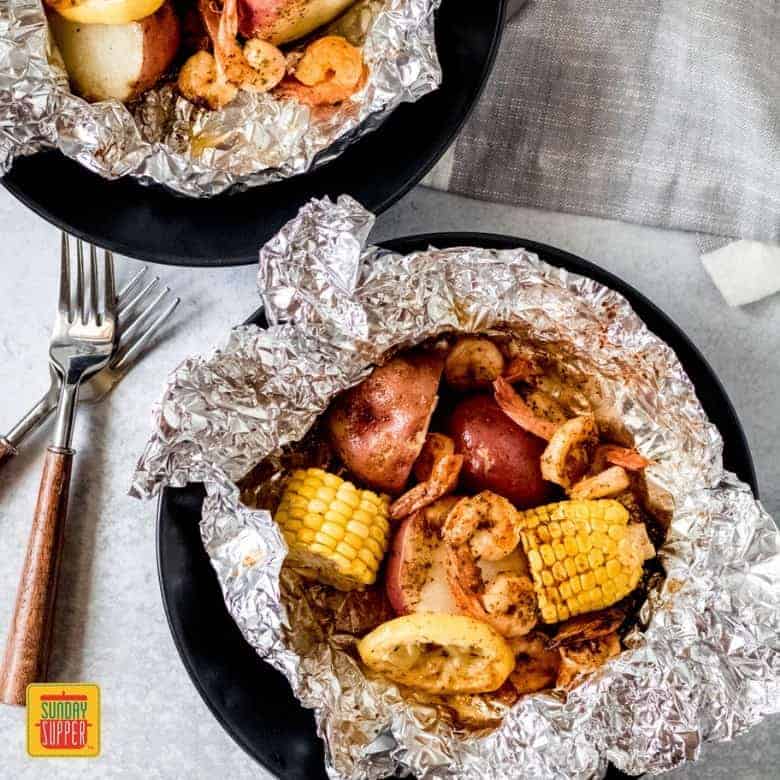 Crispy Shrimp Tacos
You just can't go wrong with shrimp tacos for dinner! These tacos are one of my family's favorite shrimp meals. I get asked for them all the time, and the best part is: they're so easy to make, with simple ingredients!
Get this recipe!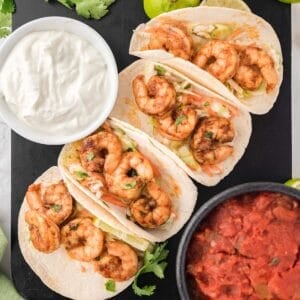 Drunken Noodles Recipe
Every bite of Thai Drunken Noodles is filled with savory vegetables and fresh basil over saucy noodles and shrimp! Ready in 40 minutes, this is easily one of the best shrimp recipes!
Get this recipe!
Pad Thai Recipe
It takes just 30 minutes to make this easy Pad Thai Recipe! Complete with a homemade sauce, this is a flavorful restaurant-quality shrimp dinner your family will love!
Get this recipe!
Chinese Prawns Recipe
The best tender and juicy Prawns Stir Fry, smothered in a homemade sweet and spicy chili sauce! This delicious prawn dish is all you need for a busy weeknight. From start to finish, it only takes 15 minutes to make and is perfect for making shrimp stir-fry!
Get this recipe!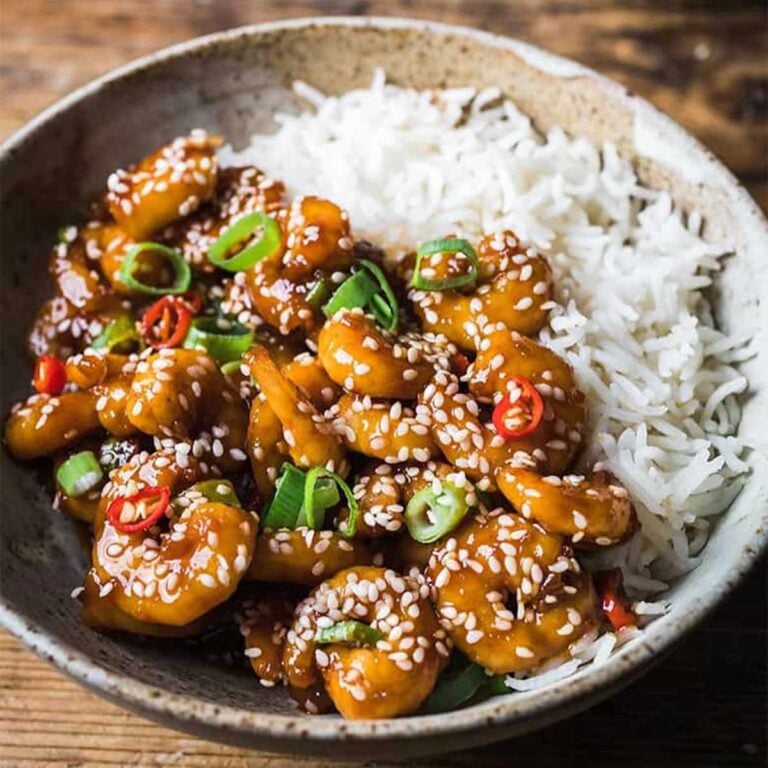 Tips for Cooking Shrimp
You can keep uncooked shrimp in the refrigerator for 1-2 days, and cooked shrimp for 3-4 days.
Frozen shrimp are an option for any of these shrimp recipe ideas. Simply thaw and cook as instructed.
If you're working with raw shrimp that haven't been cleaned, make sure to peel and de-vein them. The vein is a black line that runs through the shrimp, and can be easily removed after peeling by running a knife along the back and taking it out with a toothpick or by hand.
Seafood Recipes
📌 Pin it for later!
Did you enjoy this page? Save it on Pinterest for later!



If you enjoyed the recipe, leave a comment and a rating below!
📋 Recipe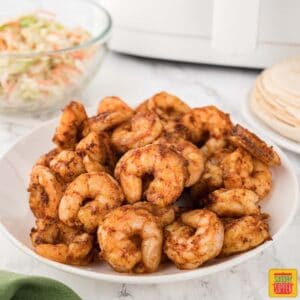 12 Shrimp Recipes for Dinner
Try one of my easy shrimp recipes for dinner, including creamy shrimp bisque, crispy tacos, and delectable glazed prawns!
Instructions
Heat a deep soup pot over medium heat. Add 2 Tbsp. olive oil and swirl it around to evenly distribute it.

Add 2 finely chopped celery stalks and 2 Tbsp. garlic (minced or paste) and saute for about 3 minutes.

Add 2 lbs. chopped shrimp.

Add 2 finely chopped green onions and saute both for about 2 to 3 minutes.

Melt ½ stick butter in the pot and cook for an additional 1-2 minutes.

Spread 5 Tbsp. flour over the ingredients in the pot. Cook for 5 minutes, constantly stirring.

Pour in 1 cup white wine while continuously stirring. Let it simmer and thicken. When it is thick enough, it will take longer to pool back to the center of the pot when pushed with a spatula.

Add 2 cups of tomato sauce and let it bubble and thicken while continuing to stir.

Once it thickens, add 64 oz. chicken broth and let it simmer. Turn the heat to low and wait for it to cool off somewhat.

Add in 2 cups half & half SLOWLY while stirring for about 1 minute!

Sprinkle in ½ cup of Parmesan SLOWLY while continuing to stir for about 2 minutes!

Turn heat back to medium and let the soup sit until it starts to bubble. Season with salt & pepper to taste, and serve!
Notes
Recipe Tips
Stir constantly: Make sure you are constantly stirring throughout making the bisque. This keeps everything consistent and prevents burning.
Especially with dairy: Stirring is especially important when adding dry ingredients like flour and dairy ingredients like half & half and Parmesan.
Turn the heat down: Turning the heat down and allowing the bisque to lower in heat before adding the half & half will prevent it from curdling.
Suggestions
Adding candied bacon: I like to top my shrimp bisque with bits of candied bacon.
Serve with bread and shrimp: Serve with a slice of crusty toasted bread and cooked shrimp coated in a little bit of cayenne. Yum!
Nutrition
Calories:
379
kcal
Carbohydrates:
14
g
Protein:
30
g
Fat:
20
g
Saturated Fat:
10
g
Cholesterol:
328
mg
Sodium:
2218
mg
Potassium:
636
mg
Fiber:
1
g
Sugar:
3
g
Vitamin A:
779
IU
Vitamin C:
27
mg
Calcium:
341
mg
Iron:
4
mg
Did you try this recipe?
Tag #SundaySupper on social and leave a comment below!