Make this EASY Garlic Butter Recipe with just 3 ingredients and one bowl! Garlic herb butter is the perfect complement to bread, vegetables, meats, and seafood. You will want to slather it on everything!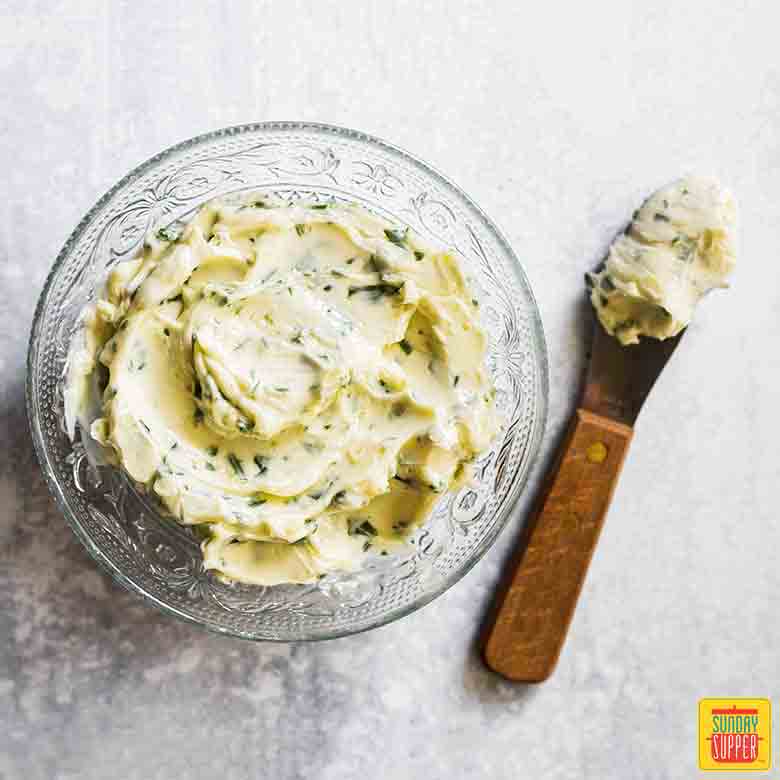 Garlicky, herby butter. Does it really get any better than a good homemade garlic butter? You will want to add garlic herb butter to EVERYTHING. This recipe is so simple but adds a special touch to any meal, no matter what protein you're cooking or even if you're just making garlic butter garlic sauce for bread.
Garlic butter with herbs is incredible with your steak dinner recipes like Grilled Chuck Steak, tender roast beef recipes like Boneless Prime Rib Roast or Whole Beef Tenderloin, or even slathered on turkey for the Best Thanksgiving Turkey Recipe ever. Compound butter for turkey is an absolute must-try. You won't believe how crispy the skin gets and how much flavor it adds!
We love using our garlic butter for pasta, too. Add it to your favorite pasta like angel hair or linguine and it will feel like a gourmet meal!
You can even melt butter garlic sauce with herbs over seafood for an incredible garlic butter sauce. Garlic butter for shrimp is our favorite! Try it with Shrimp Scampi Linguine or a Shrimp Foil Pack, and we guarantee you will want to make homemade garlic butter all of the time.
Oh, and DEFINITELY try adding garlic herb butter to your Steamed Crab Legs. You will not even believe how delicious this combination is! The first time we tried this garlic butter recipe with steamed crab legs, we were totally blown away by the flavor!
Ingredients for Butter Garlic Sauce
The best part about making homemade garlic butter is that it contains just 3 simple ingredients.
Butter: We use salted butter in this recipe but if you prefer, you can use unsalted butter and add salt to taste.
Garlic: The garlic gives the butter it's amazing flavor! Chop it up finely by hand or put it in a garlic press.
Herbs: This recipe uses parsley, which complements so many foods, but feel free to experiment with additional herbs of your choosing!
Try mixing your garlic butter recipe up by using your favorite herbs! For example, you could try adding a little thyme for steak butter.
How to Make Garlic Butter Sauce
Making flavored butter takes only a few minutes! Here's all you have to do:
Start with the butter. Make sure it's at room temperature before you get started so you can mix everything together easily. Then, add it to a bowl.
Chop or press the garlic and finely chop the parsley. Add both to the bowl.
Mix until well combined. That's it! Perfectly flavored homemade garlic butter!
If you are using the recipe as a Garlic Butter spread, it will be ready to use. If you are using it as a Garlic Butter Sauce, add to a saucepan and heat on low for 3 minutes or until melted.
How to Make Garlic Butter for Bread
This is the best garlic butter spread! The secret to great a garlic bread recipe is to keep it simple.
Use the recipe for garlic butter but do not melt the garlic butter.
Preheat oven to 425°
Spread on your favorite bread (baguette or french bread works great) at room temperature.
Optional – for cheesy garlic bread, sprinkle 1/4 cup of mozzarella or parmesan cheese on top.
Place bread on a baking sheet.
Bake until bread is toasted and lightly brown, approximately 5 minutes.
Store your garlic herb butter in the fridge in an airtight container for a couple of weeks or even freeze it to bring out as needed.
Can you freeze butter?
Yes, you can freeze garlic butter spread. Just as if you were storing it in the refrigerator, add it to an airtight container and store it in the freezer.
We recommend freezing for no more than 2 months but can guarantee you will enjoy it all before then. You can take it straight out of the freezer and toss it in with whatever meal you're making for quick & easy flavor!
If you're taking garlic butter spread out of the freezer for bread, we recommend microwaving it on the lowest power setting for 15 seconds.
How long does garlic butter last?
Garlic butter will last up to 2 weeks in the fridge and about 2 to 3 months in the freezer. That is, if you don't enjoy it all before then!
What to Make with Homemade Garlic Butter
We use garlic butter for our best Thanksgiving turkey recipe (you can find the link at the beginning of the post!) and it adds so much flavor to the meat. Garlic butter for bread is also delicious, and it works for vegetables too, especially baked or mashed potatoes (try it with our Foil Pack Potatoes!). You can even try melting it in pasta for a simple dinner recipe everyone will love.
Or, you can elevate almost any dish such as:
Another one of our favorites is garlic herb butter with Green Bean Almondine. Yum!
We know you're going to love our easy garlic butter recipe! Share how you plan to serve it in the comments below! We love to hear from you.
More Recipes to Try with Garlic Butter with Herbs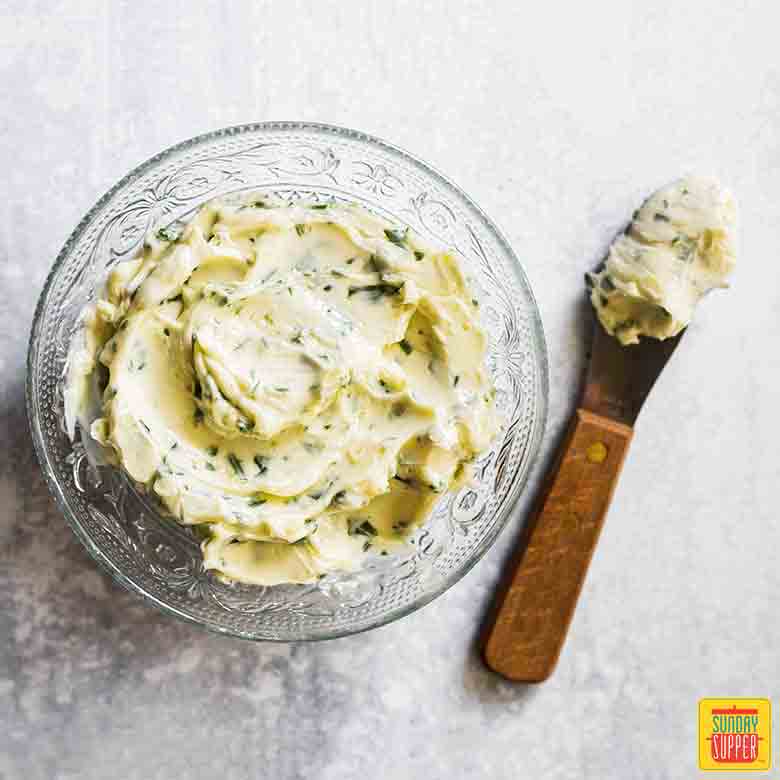 Garlic Butter Recipe
Make this EASY Garlic Butter Recipe with just 3 ingredients and one bowl! Garlic herb butter is the perfect complement to bread, vegetables, meats, and seafood. You will want to slather it on everything!
Print
Pin
Comment
Ingredients
2

sticks

butter, salted

(at room temperature)

3

cloves

garlic

finely chopped or pressed

1/8

cup

parsley

finely chopped
Instructions
In a medium bowl, mix all ingredients until well-combined.
Notes
Try garlic herb butter on beef, chicken, seafood, bread, vegetables, or in pasta! It's a delicious complement to any meal. It's especially amazing slathered on our Thanksgiving turkey recipe! Find the link at the beginning of the post.
Nutrition
Calories:
102
kcal
|
Carbohydrates:
1
g
|
Protein:
1
g
|
Fat:
11
g
|
Saturated Fat:
7
g
|
Cholesterol:
30
mg
|
Sodium:
101
mg
|
Potassium:
8
mg
|
Sugar:
1
g
|
Vitamin A:
392
IU
|
Vitamin C:
1
mg
|
Calcium:
5
mg
|
Iron:
1
mg
This post was updated on 10/9/19