This easy Slow Cooker Applesauce is made using just a few ingredients that you can easily customize to your liking. The final sauce is like apple pie in a jar that you can eat as a snack or topping for both sweet and savory dishes.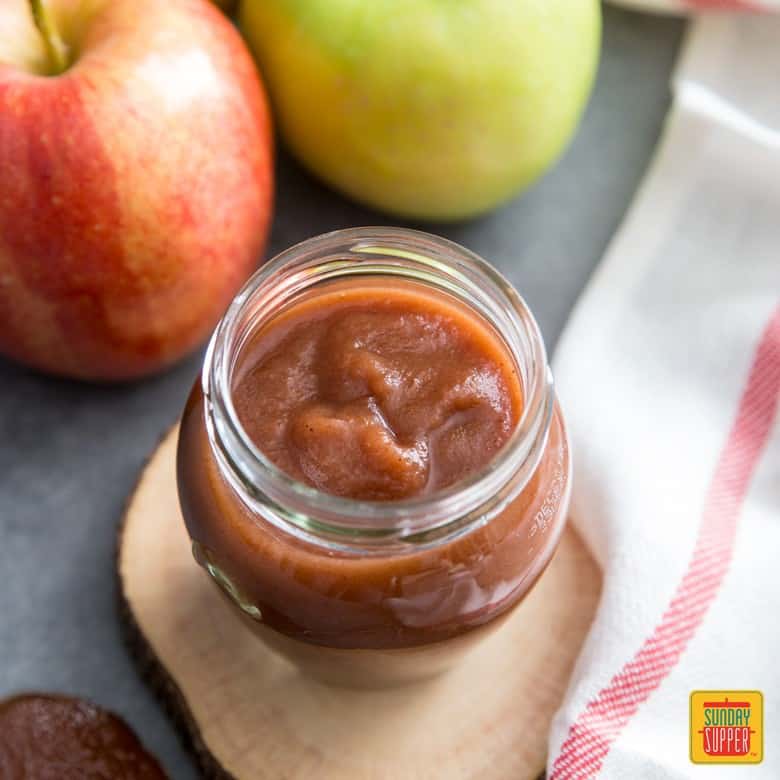 If you have gone apple picking recently, there's no better time to get those apples into your slow cooker and make this delicious Slow Cooker Applesauce. The best thing about this recipe is that you can make it overnight while you're sleeping or during the day while you're out running errands without having to worry about it burning. 

How to make Slow Cooker Applesauce
It takes about 6 hours on low to soften and turn the apples into applesauce. But with a slow cooker set on low, you don't have to worry about burning your apple or scorching your pan while you're doing other things. If you leave it longer, the mixture will just continue to cook and thicken slightly into almost an apple butter.

What kind of apples are best for making applesauce?
It is best to make applesauce using your favorite eating apple. Below are the popular varieties you'll find at the grocery store and their flavor profile to help you choose.
Red Delicious – sweet flavor with a crumbly texture more often than not
McIntosh – soft flesh, juicy, fresh, sweet and bright
Honeycrisp – extreme juiciness and sweetness (this is my favorite kind to eat, plain or in apple tart)
Pink Lady – mild flavor with plenty of crunch
Golden Delicious – mild and sweet, with juicy flesh, similar in taste to Red Delicious
Gala – crisp, juicy flesh, and fairly sweet
Granny Smith – tart and crisp
Fuji – dense, crisp and very sweet
Braeburn – a balance of sweet and tart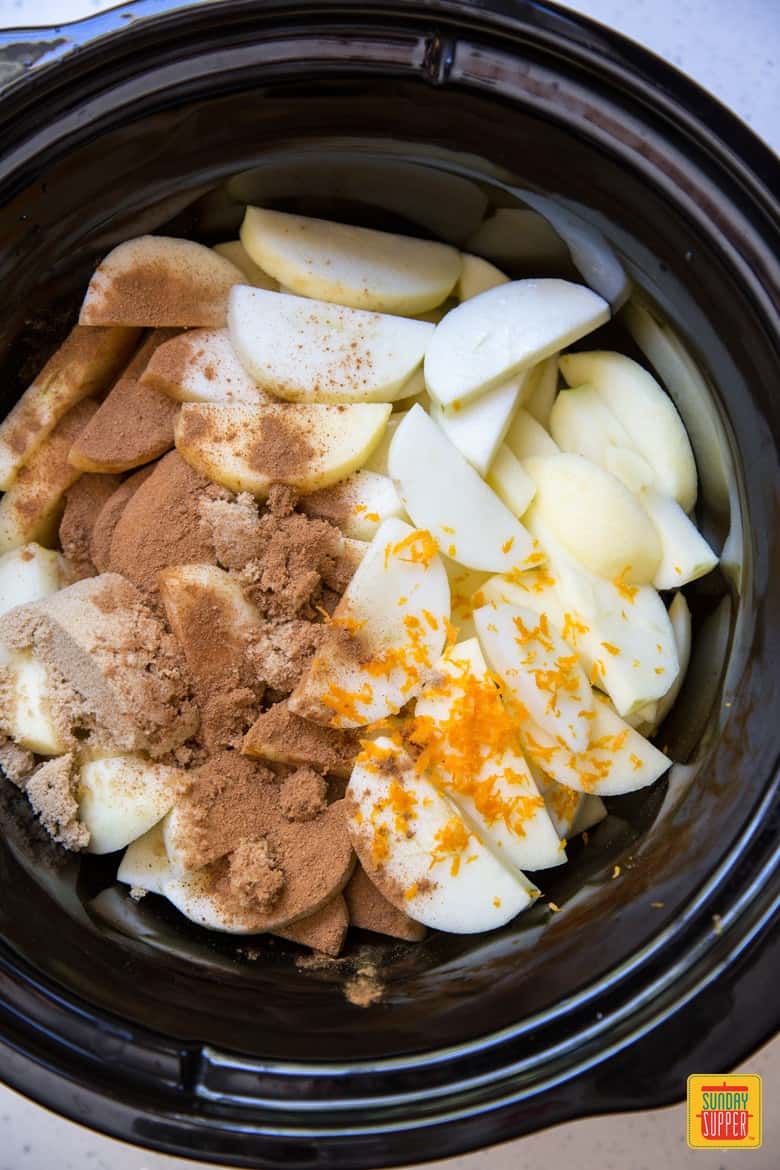 If you're not planning on adding any sugar to your applesauce, choose apples that are more sweet than tart like Fuji, Gala, McIntosh or Golden Delicious.
For this particular recipe, I used a mixture of apples including Honeycrisp, Granny Smith, Fuji, Golden Delicious, McIntosh, similar to what I use in my classic apple pie. I added brown sugar to sweeten the sauce. Spices are optional if you want to stick with a plain but classic apple sauce. And if you're up for it, a little bit of homemade apple pie spice can really kick things up a notch. 

How to peel, core, and slice apples for applesauce
Prepare the apples for slow cooking by washing, peeling, and slicing into thin slices between 1/4" – 1/2". Cut around the core and discard the apple core. You don't have to worry about cutting them super even, a little bit of peel left is also okay. The slow cooker will take care of all that for you.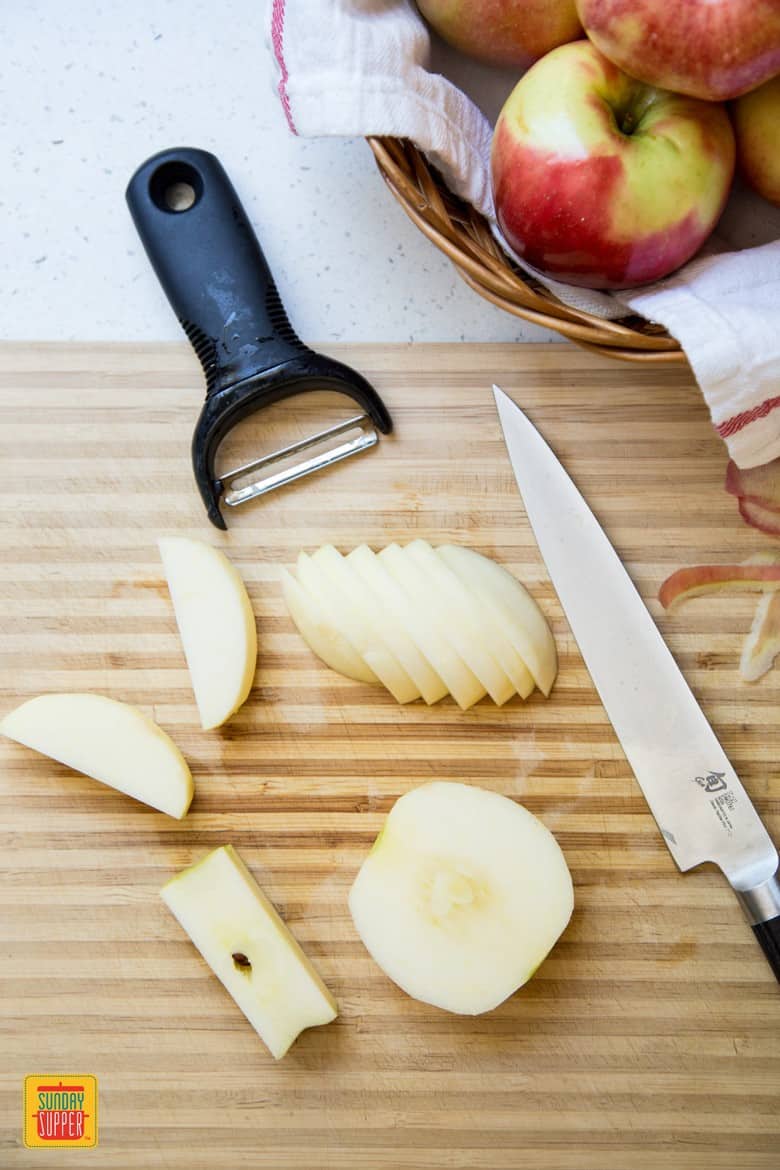 Cook the apples with the lid on the slow cooker the entire time to keep the liquid from evaporating, which would thicken the sauce into an apple butter. Once done, the apple pieces should be soft enough that you can just mush them with a wooden spoon and keep it just like that for chunky applesauce. I pureed my applesauce in a food processor for a super smooth texture and an apple-butter-like sauce. 

Serving Suggestions for Slow Cooker Applesauce
This Slow Cooker Applesauce is super versatile and can be served up in so many different ways with both sweet and savory dishes.
First and foremost, you can eat this applesauce by itself as a snack.

 

Stir applesauce into yogurt or oatmeal for a quick breakfast.
Add applesauce to your morning or midday smoothie.
Serve applesauce with pork chops for a delicious dinner.
Love baked apple recipes?
Try these recipes using apples…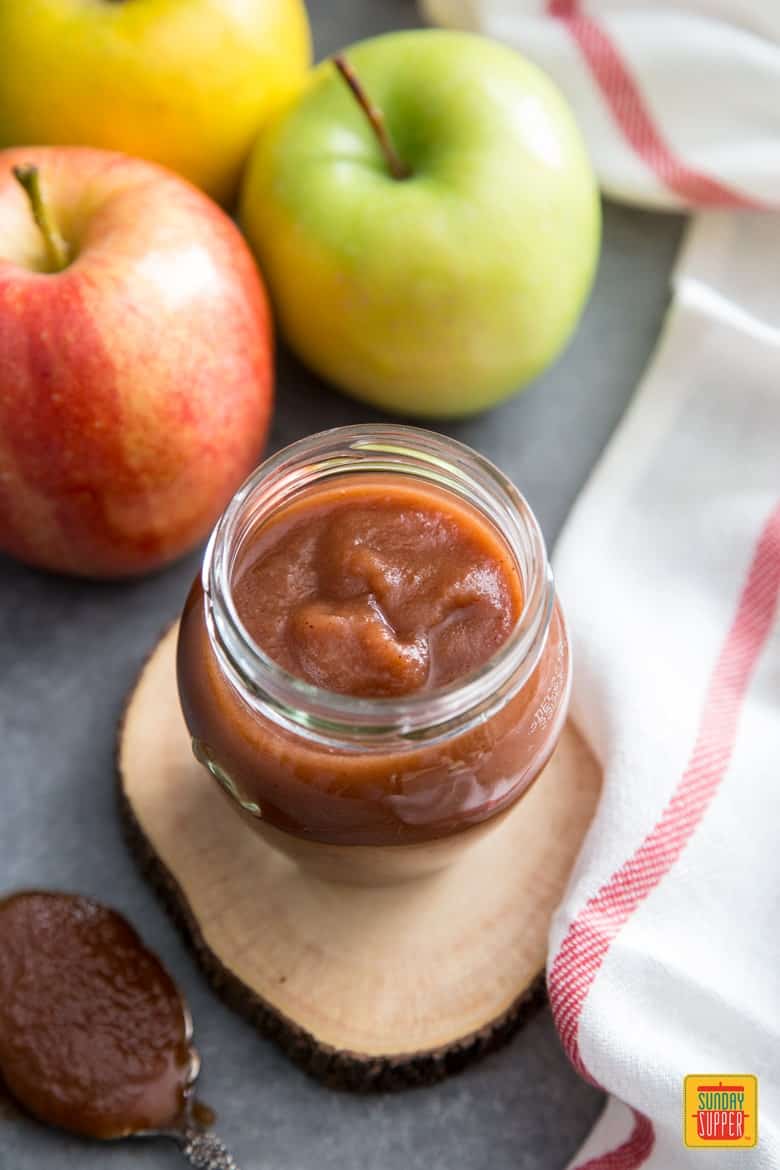 **** PIN SLOW COOKER APPLESAUCE to save for later ****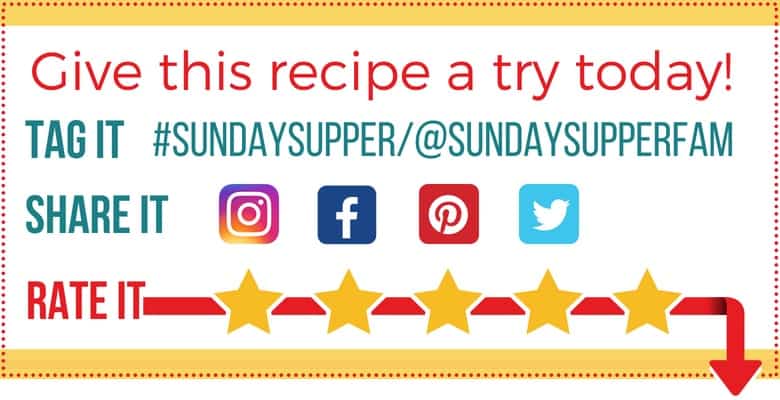 Slow Cooker Applesauce
This easy Slow Cooker Applesauce is made using just a few ingredients that you can easily customize to your liking. The final sauce is like apple pie in a jar that you can eat as a snack or topping for both sweet and savory dishes.
Keyword:
Slow Cooker Recipe
Ingredients
3 1/2

lbs

apples

8 medium apples

1/2

teaspoon

orange zest

1

tablespoon

orange juice

1

teaspoon

apple pie spice

1/4

cup

brown sugar

more to taste
Instructions
Wash, peel, core the apples and cut into 1/4" to 1/2" slices.

Add sliced apple and the rest of the ingredients to the slow cooker, give it a quick mix and cook on low for 6 hours and up to 10 hours.

At this point the apple should be very soft that you can mash it with a spoon to get a slightly chunky sauce. For a smoother consistency, transfer to a food processor and blend.

Refrigerate for up to 2 weeks.
Recipe Video
Nutrition Facts
Slow Cooker Applesauce
Amount Per Serving
Calories 350
% Daily Value*
Sodium 10mg 0%
Potassium 590mg 17%
Total Carbohydrates 92g 31%
Protein 1g 2%
* Percent Daily Values are based on a 2000 calorie diet.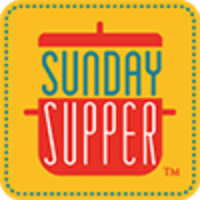 The Sunday Supper Movement is committed to bringing our readers delicious recipes that encourage them to gather and eat together around the family table. Search for your favorite ingredients on our Sunday Supper website. Also check out the Sunday Supper Pinterest boards for plenty more ideas and inspiration.
Sign up for our newsletter to get FREE Sunday Supper recipes delivered right to your inbox!