Sunday Supper is an Amazon Associate and may receive compensation for purchases made through affiliate links.
Like an apple pie, only better! Luscious layers of baked apple are nestled in an easy tart pastry for this Apple Galette Recipe! One of the easiest desserts to prepare. You truly can't mess this Apple Crostata up!
Our delicious galette French apple tart makes the perfect Fall dessert recipe and complements any holiday meal beautifully.
Rustic Apple Pie
If you love apple pie, our homemade apple galette will be heaven-sent to you. This easy French apple tart recipe contains all the comforting flavors of an apple pie, but is ready in half the time!
It all begins with an easy pastry dough recipe made in a food processor in mere minutes. The tart pastry cradles sliced apples inside and bakes until soft and aromatic.
Our readers are loving this recipe, and we know you will too! Here's what they have to say:
Thank you for this recipe, I've made it twice in 2 weeks! The crust is so flaky! I've never been able to get it just right but your recipe is perfect! – Maureen
What is a galette?
A galette is a rustic, free-form French pastry that can come in many variations, from sweet to savory.
There are so many variations, from a galette des rois (also known as king cake – yes, like Mardi Gras!) to a galette bretonne (which is a breakfast galette made with buckwheat crepes). All galettes, just like this apple galette, form on a baking sheet instead of inside a tart dish.
What is a Crostata?
A crostata is an Italian version of the galette.
This gives French pastry recipes like this apple galette their own unique shape and form. The arrangement of sliced apples in this easy apple tart recipe is especially beautiful!
French Apple Tart Ingredients
You need just a few common ingredients to make one of the best dessert recipes you will ever enjoy. It really is one of the easiest dessert recipes around. Here's what you need to make it.
Pastry Dough Recipe
7 oz (1 ½ cups) all-purpose flour
3 tablespoons powdered sugar
1 ⅓ sticks (5.5oz) salted butter, cubed & chilled
2-3 tablespoons iced water
1 large egg, lightly beaten
Apple Tart Filling
3 medium granny smith apples
¼ cup packed light brown sugar
1 ½ tablespoons all-purpose flour
2 teaspoons cinnamon
squeeze of lemon
1 egg
2 teaspoons turbinado sugar
Just like Ina Garten's French Apple Tart, I always bake with granny smith apples. They have a wonderful combination of sweet and tart, and they hold their shape during baking.
How to Make French Apple Tart
This easy apple tart recipe starts with an incredibly easy pastry dough made in a food processor. Follow these instructions to make the tart pastry:
Start by adding flour, powdered sugar and butter to a food processor. Process until the butter pieces are about the size of a pea. Add the egg and process that in, then add the iced water.
Tip the pastry dough out and pull it together gently with your hands. Try not to play with it too much. Pull it into a disk, wrap in plastic wrap and rest it in the fridge for ½ an hour.

Roll the dough out until it's about ⅕ of an inch thick.
Mix together some sliced apples, sugar, flour and cinnamon and arrange around the pastry, leaving a 1.5 inch gap around the edge.

Carefully pull the dough over the edges of the apples to hold them in place, then brush the edge with egg. Sprinkle it with turbinado sugar and bake.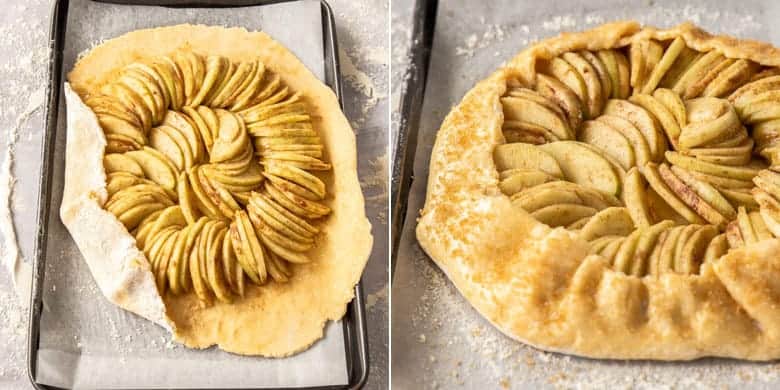 What to Serve with an Apple Galette
Easy pastry recipes like this apple galette pair deliciously with simple sides like ice cream, whipped cream, or a sweet dessert sauce recipe. Here's what we recommend serving with your galette:
Ice Cream: Classic vanilla ice cream pairs deliciously with an apple galette. Try adding a little cinnamon to give it an extra boost of flavor.
Crème anglaise: Crème anglaise is French for "English cream", and it is essentially a smooth custard sauce recipe. It is a mix of sugar, egg yolk, a little vanilla, and hot milk, and it pairs so well with this French apple tart!
Thick, clotted or whipped cream: Homemade whipped cream tastes amazing with this tart pastry. Just like the ice cream, we recommend adding a little cinnamon for an extra special something.
This butterscotch sauce or quick caramel sauce: Caramel and butterscotch are both amazing choices to pair with this easy apple tart recipe!
This apple galette recipe is an absolute crowd-pleaser. Simple, everyday ingredients are magically transformed into a rustic yet stunning baked apple dessert that everyone will love!
Did you try this easy French pastry recipe? Let us know in the comments below and with a rating! We love to hear from you.
Easy Apple Desserts:
For more of the easiest desserts you can make at home, try these simple dessert recipes: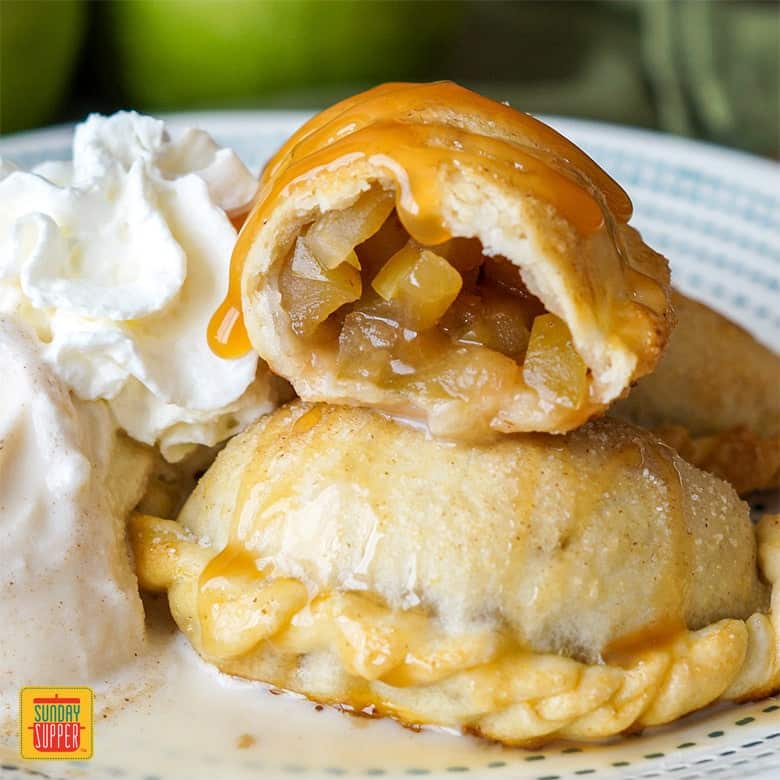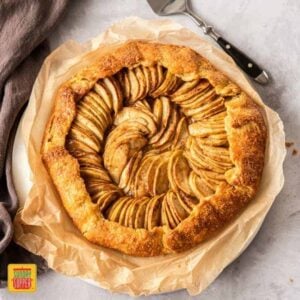 Apple Galette (French Apple Tart)
Luscious layers of baked apple wrapped in an easy tart pastry, this Apple Galette recipe
is one of the easiest dessert recipes you can have in your arsenal.
Ingredients
THE EASY PASTRY RECIPE
7

oz.

all purpose flour

(1 ½ cups)

3

tablespoons

powdered sugar

1 ⅓

sticks

salted butter

cubed & chilled (5.5oz)

2-3

tablespoons

ice water

1

large egg

lightly beaten
FOR THE FILLING
3

medium granny smith apples

¼

cup

packed light brown sugar

1 ½

tablespoons

all purpose flour

2

teaspoons

cinnamon

squeeze of lemon

1

egg

2

teaspoons

turbinado sugar
Instructions
THE EASY PASTRY RECIPE
Place the flour, sugar and butter in a food processor and pulse for 20 seconds or until the largest piece of butter is the size of a pea.

Add the egg and process just until combined. With the processor on low, drizzle in the iced water just until the dough starts to clump.

Turn the dough out onto a very lightly floured board and just gently pull it together – don't knead it too much. Wrap it in plastic wrap or baking paper and place it in the fridge for ½ an hour to rest.
FOR THE APPLE FILLING
Preheat the oven to 395F and line a baking tray with baking paper.

Peel the apples, then chop each apple into quarters. Slice out the core of each quarter and then cut each quarter into 4 or 5 slices.

Place the apple slices in a bowl and add the sugar, flour, cinnamon and lemon juice.
TO ASSEMBLE THE GALETTE
Sprinkle some flour over the bench top, place the dough on top and sprinkle the top with a little flour too. Gently roll it out to about a 10 inch circle (about ⅕ of an inc thick).

Place the rolling pin on the dough on the furthest side from you, wrap the top of the dough over the rolling pin and roll it back towards you, rolling the dough around the rolling pin.

Roll it back out in reverse onto the prepared baking tray.

Arrange or scatter the apples in the centre of the disk of dough, making sure to leave a 1.5 inch ring clear around the edge. Discard any remaining juice that may have come out of the apples in the bowl.

Gently gather the edges of the dough and fold over the edge of the apples, leaving the centre uncovered.

Brush the egg around the edge of the pastry and sprinkle with the turbinado sugar.

Bake for around 45 minutes until the edges of the pastry are golden and crisp.

If there is any pools of liquid in the galette, you can just soak a little away with paper towl. Allow to cool for 5 minutes before serving.
Notes
The water and butter need to be COLD: After you chop the butter, you may want to put it in the freezer. Both the water and butter should be ice cold for the crust.
Don't knead the dough too much: It's important not to play with the dough or knead it too much. You want the cold butter to stay cold and not melt into the dough for a crisp, flaky pastry.
Be careful not to overstuff: Too much filling may may make the galette bake improperly. Carefully follow the directions so you don't overstuff your galette.
Put a dab of butter on top: Adding a pat of butter to the top of the galette while it bakes will add an extra rich layer to an already delicious dessert!
Nutrition
Calories:
325
kcal
Carbohydrates:
41
g
Protein:
4
g
Fat:
17
g
Saturated Fat:
10
g
Cholesterol:
81
mg
Sodium:
154
mg
Potassium:
128
mg
Fiber:
3
g
Sugar:
18
g
Vitamin A:
567
IU
Vitamin C:
3
mg
Calcium:
29
mg
Iron:
2
mg
Did you try this recipe?
Tag #SundaySupper on social and leave a comment below!
This post was updated on 10/31/2019.