Sunday Supper is an Amazon Associate and may receive compensation for purchases made through affiliate links.
It's called Million Dollar Bacon for a reason! Our Candied Bacon recipe is sweet and salty, with a kick of heat. Crispy, thick-cut bacon caramelized with a little bit of spice is a perfect pairing for brunch, topping avocado toast, or even as a holiday food gift!
This glazed bacon recipe deserves to be called millionaire's bacon. It's that tasty! Add this to any one of your Sunday brunch recipes (we're talking about Eggs Benedict!) or breakfast for dinner ideas, and you'll want to make it again and again.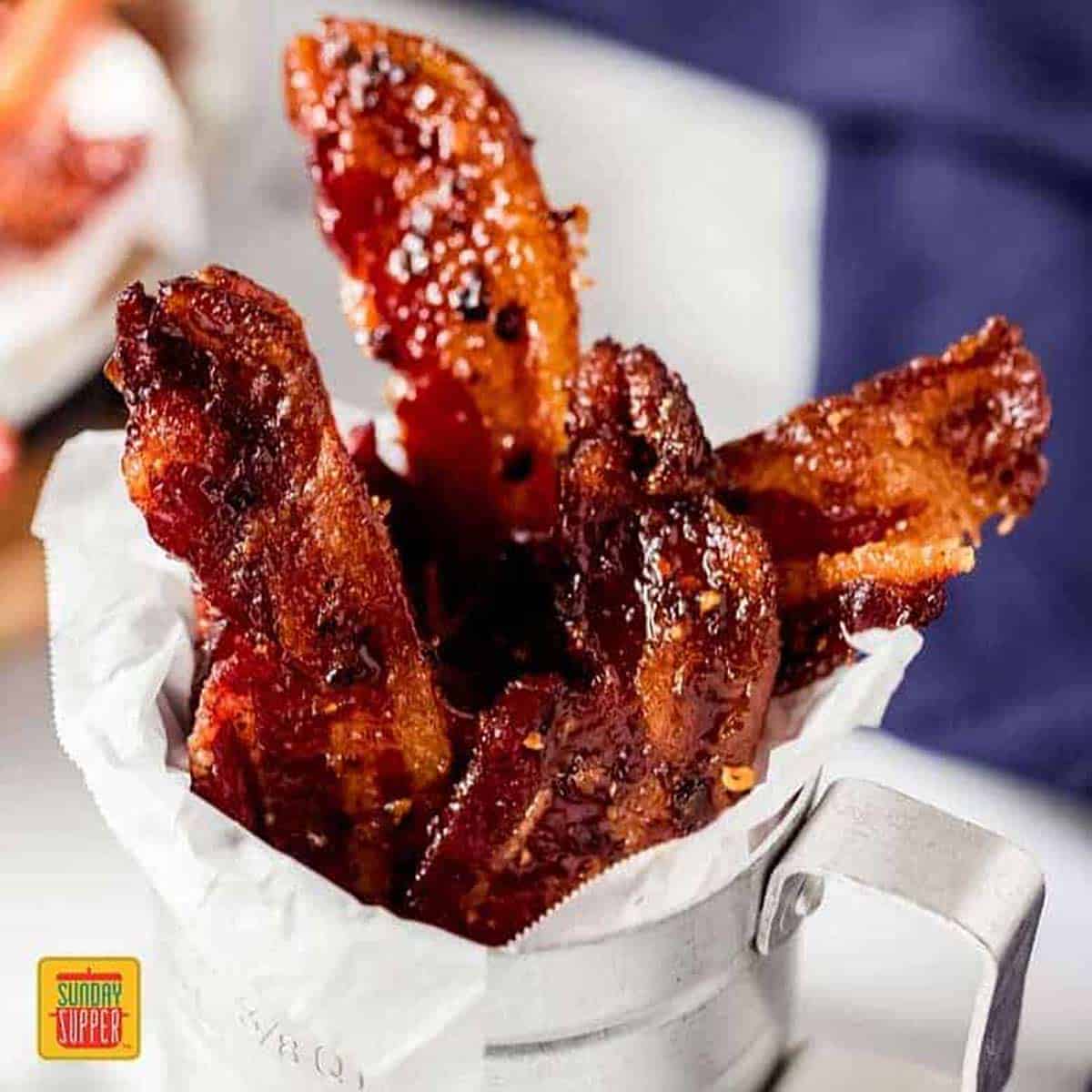 Jump to:
What is Millionaire Bacon?
If you haven't heard about it already, you might be wondering what the buzz is about so-called Millionaire Bacon. We're here to tell you it's worthy of that buzz!
Also called Millionaire's Bacon or Million Dollar Bacon, it's a recipe for candied bacon that first became popular in San Francisco. Hoyul Steven Choi, co-owner of the restaurant Sweet Maple, trademarked the name. Its popularity has grown in restaurants across the country!
If you haven't tried candying bacon yet, let me tell you, you are going to love it. It is rich in flavor and crave-worthy. I first gave it a try at my local First Watch, and had to make it myself.
Like the First Watch Million Dollar Bacon recipe, ours is sticky-sweet with a kick of heat. It's a perfect addition to breakfast, brunch, or even a holiday meal.
Check out our Million Dollar Bacon Story.
Equipment
It does not take much at all to make our glazed candied bacon recipe. You will need:
A baking sheet
Silicone liner, parchment paper, or aluminum foil
Cooling rack
Optional, but recommended: wire rack for baking sheet
This is a baked bacon recipe, so you'll be using your oven. It's the best way to cook bacon, and it's very easy to do!
After you bake it, you'll let it cool on a rack to allow the sugar to caramelize and harden for that perfect, crispy, candied texture.
Candied Bacon Ingredients
There are a few things to note about making your own Million Dollar Bacon.
First, you want to use thick-cut bacon. This is because you want slices that are sturdy enough to handle a sugar coating.
Brown sugar will give you the best caramelization. You can use either light or dark brown sugar; dark brown sugar will give a sweeter, stronger molasses flavor. We use light brown sugar.
We use a mixture of black pepper, cayenne pepper, and crushed red pepper flakes. This adds a delicious kick of heat to the sweetness from the sugar, balancing out the flavor. If you like a little less heat, skip the red pepper flakes.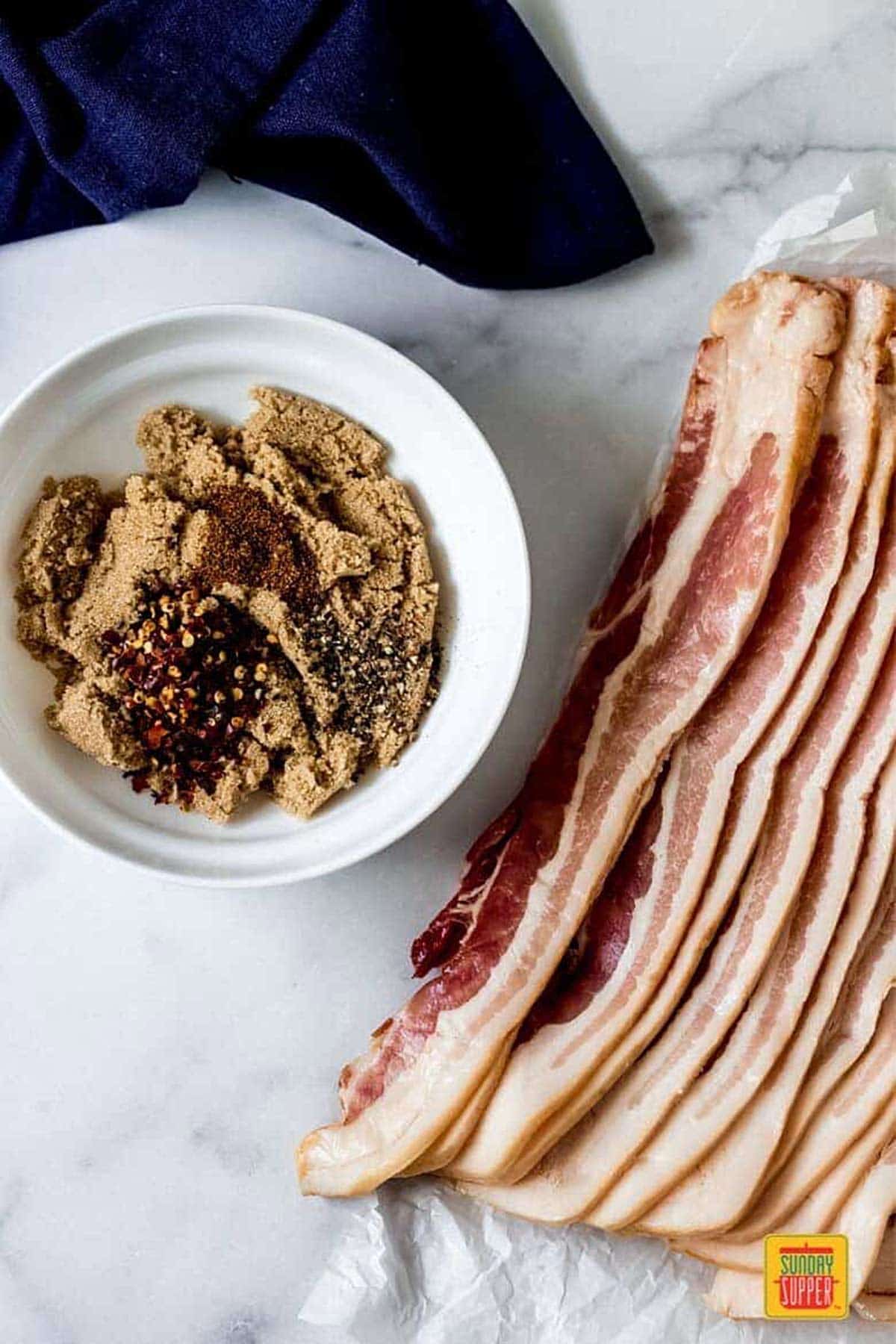 How to Make Million Dollar Bacon
In order to make this recipe, you'll be cooking bacon in the oven. It's quite easy, in addition to being less messy! If you ask me, it's the best way to cook bacon.
Follow these steps to make our millionaire bacon recipe:
Preheat your oven to 375°F. Line a baking sheet pan with silicone liner, parchment paper, or aluminum foil.
Lay thick-cut slices onto the tray until the sheet pan is full. Try to avoid overlapping slices if you don't have to. If you have an oven-safe wire rack, elevate the slices over the sheet pan – this helps circulate heat.
Add brown sugar, black pepper, cayenne pepper, and red pepper flakes to a small bowl. Stir to combine.
Sprinkle the mixture over the top of the slices. Use your hands to pat the sugar down, making sure to cover it all.

Bake for 30 minutes, or until brown and crispy, up to 40 minutes. Once done baking, remove the sheet pan from the oven and let it cool for 10-15 minutes to allow the caramelized sugar to harden. Serve, and enjoy!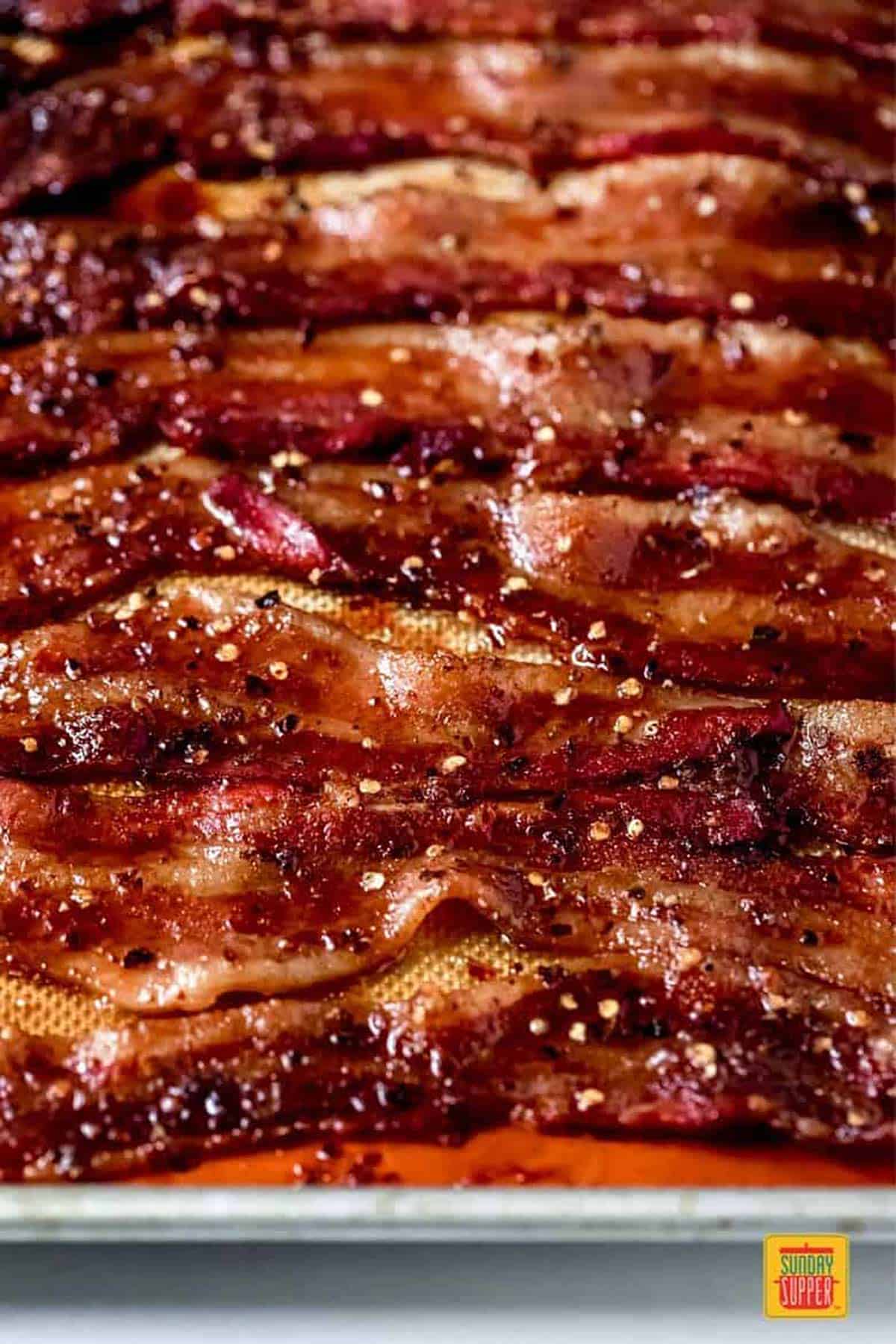 For full ingredient measurements plus recipe tips, keep scrolling to the recipe card below!
Recipe Tips
I have a few tricks up my sleeve for making the best candied bacon! Follow these tips to nail this recipe every time:
Make sure to completely coat the strips with the candying mixture to get the most texture and flavor out of it. Don't leave any spot uncovered!
To avoid unnecessary cleanup, line your sheet pan with parchment paper, foil, or a silicone liner. Trust me, you don't want to candy bacon directly on the sheet pan (it's a pain to clean!).
Give the slices some breathing room. Don't overlap the slices too much, or they'll stick together.
Elevating the slices over the sheet pan will allow air to circulate more evenly, so you'll have beautiful, crisp slices. This is the best way to cook bacon in the oven – trust me!
TOP TIP—Let it cool before you eat it! It will be tempting because of how amazing it's going to smell and look, but trust me, let it cool first. This will allow the glaze to finish setting for that perfect candied texture. It takes about 10-15 minutes to harden.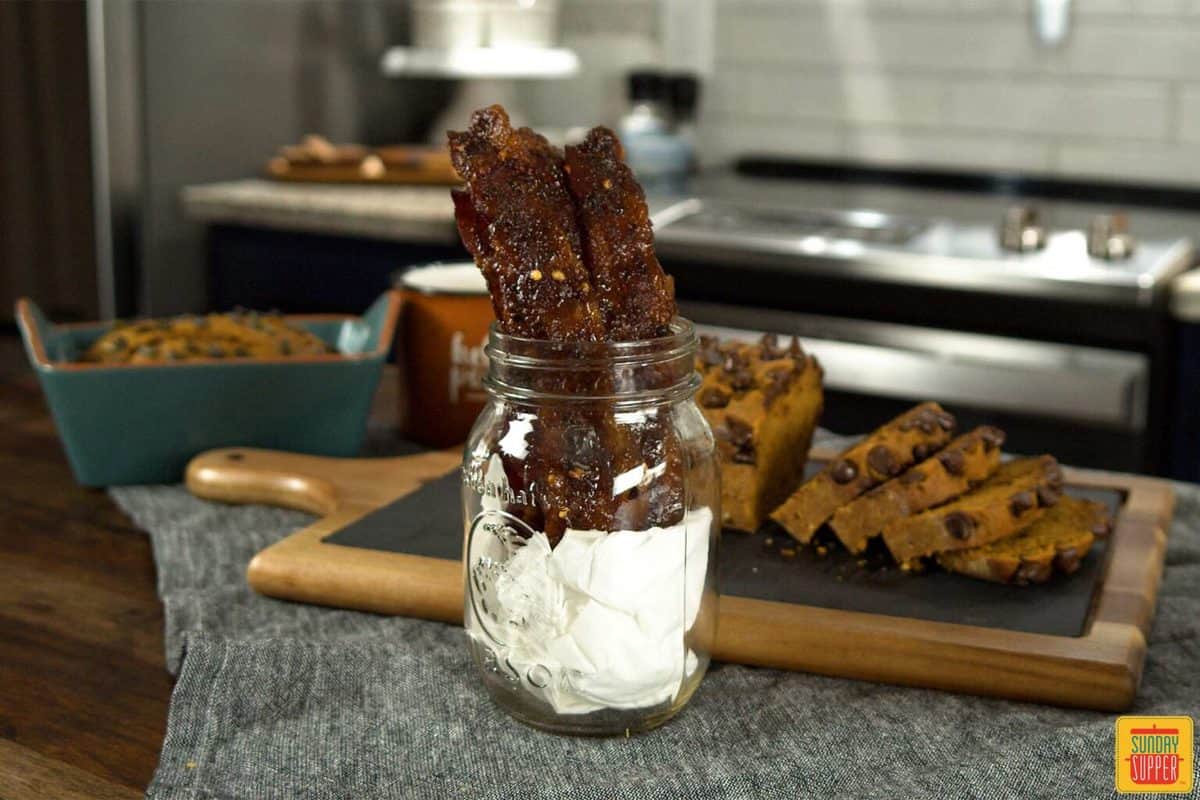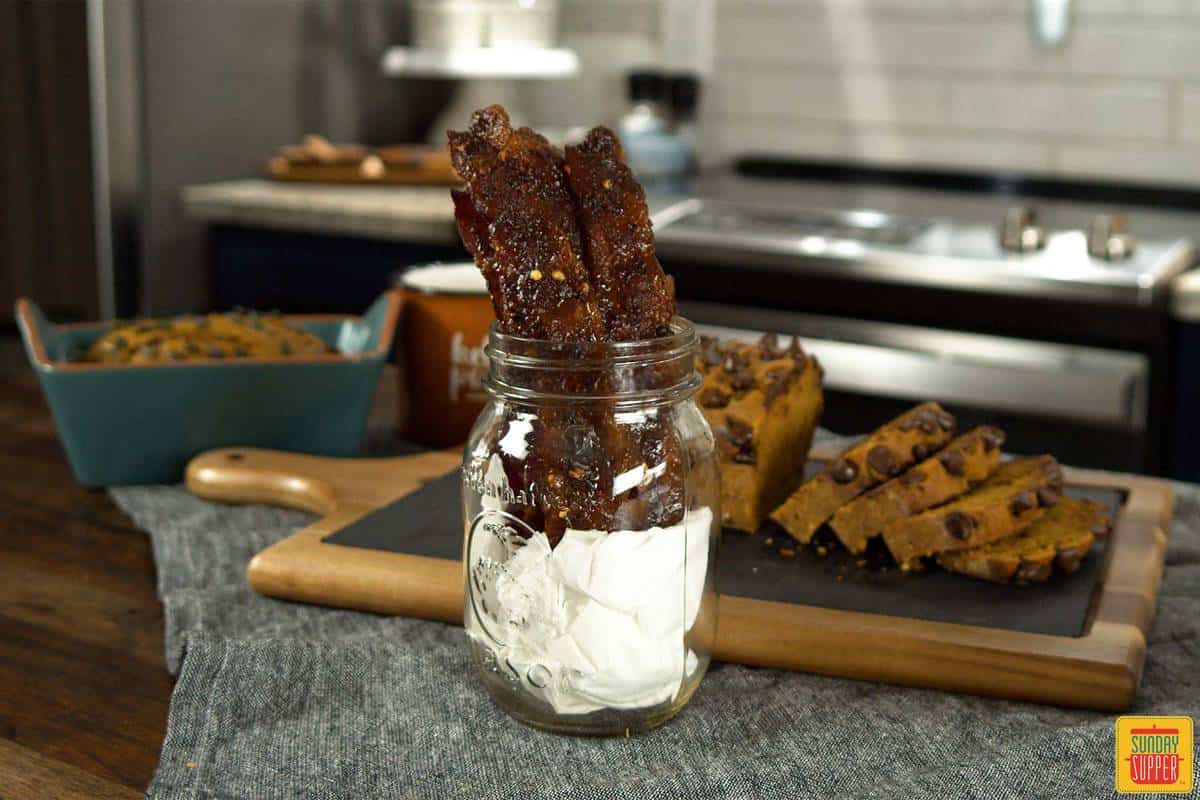 Make it Ahead of Time
This is the best million dollar bacon recipe to make ahead of time! Make it, then store it as instructed below and use the leftovers in all kinds of recipes. You can even give it away as a holiday food gift!
How to Store Candied Bacon
Store Million Dollar Bacon in an air-tight container for up to 4 days in the refrigerator. You can make it ahead of time, then have it ready to go for an easy weekend breakfast appetizer!
Or, you can store the leftovers and repurpose them by making a salad for lunch later in the week, or crumbled over a baked potato. There are so many ways to enjoy leftover bacon!
How to Reheat
You can reheat bacon by microwaving it for about 10 to 15 seconds at a time.
Place paper towels in between to get rid of any grease. Be careful – it heats up quickly and gets very hot!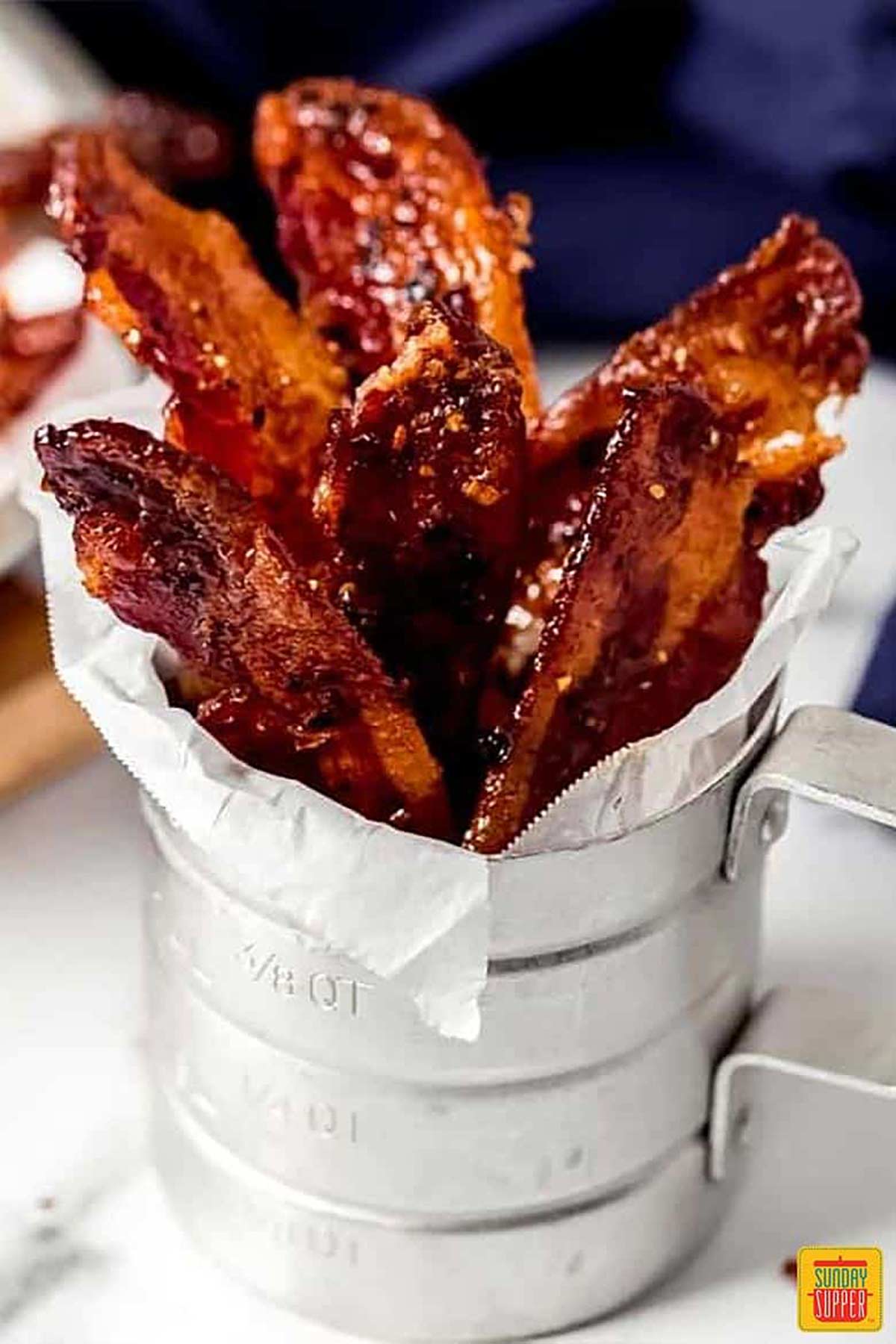 Serving Ideas
The possibilities for what you can pair with this millionaire's bacon recipe are literally almost endless. Tasty glazed bacon goes well with just about everything.
Here are a few of our personal favorite breakfast and brunch ideas that pair well with this recipe. You can even top a Bloody Mary with it, and it will be incredible!
Holiday Food Gift Idea
Our candied bacon recipe makes one of the best holiday food gifts ever. Pack it into a festively decorated container, and hand it out for the holidays! Everyone loves a tasty treat like this close to Christmas.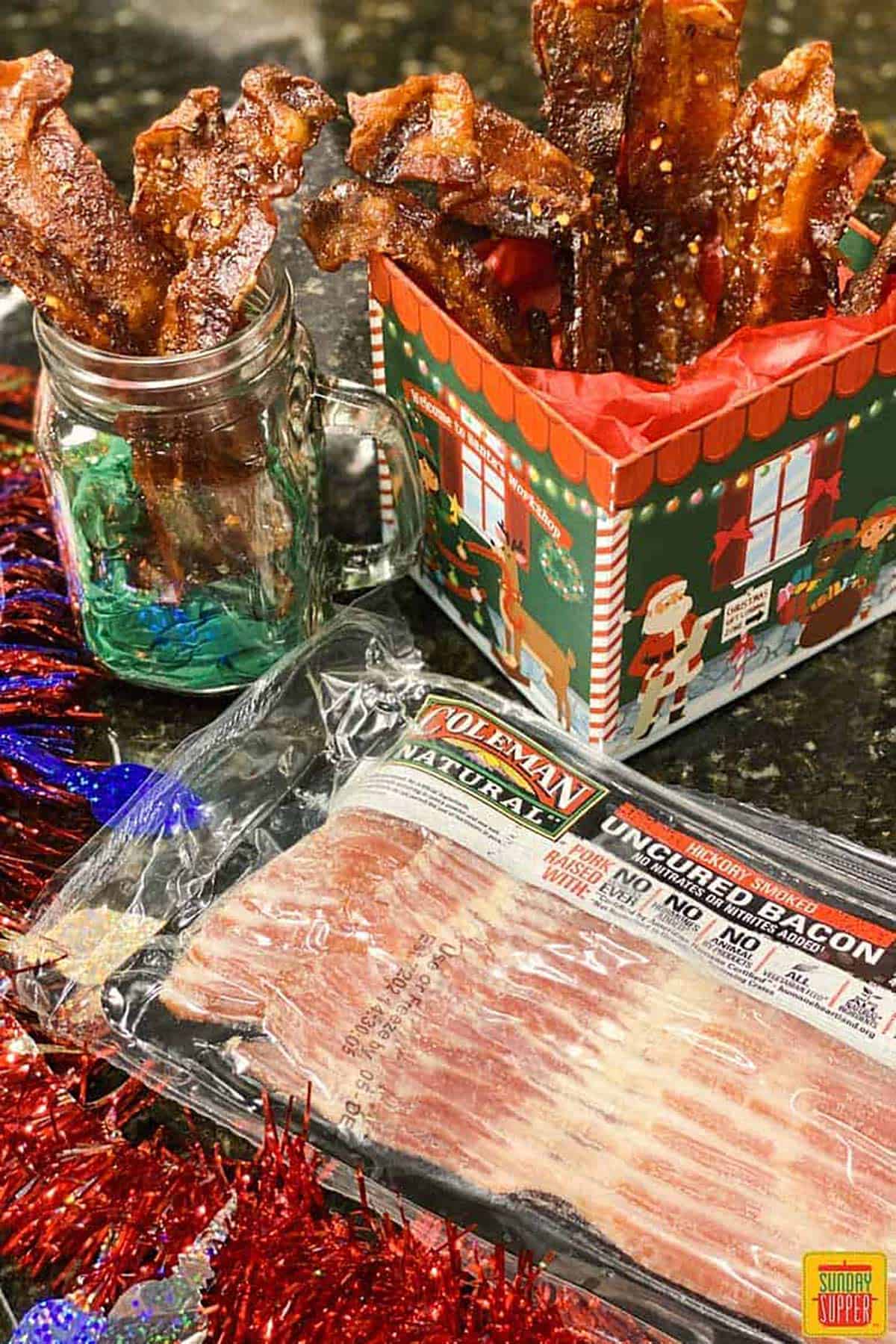 📌 Pin it for later!
Did you enjoy this page? Save it on Pinterest for later!



Save the Video Pin

Check out our Candied Bacon Web Story!

Did you try our candied bacon recipe? Let us know in the comments below and with a rating! We love to hear from you.

You can even leave us feedback on Pinterest. Comment and leave a photo on our pin. We LOVE seeing your creations! Here are a few of our favorite comments.
Made this birthday treat for a member of my deployed crew. It paired nicely with a rich double fudge mini layer cake with chocolate frosting. He gave it 😍😍😍😍 for the WIN!

Beverly
This is like candy – we love it! I use a thick sliced pepper bacon and it is so good!

Heather
Made this for a Christmas party, huge hit. I used the thick bacon and did bake it on a rack.

Kathryn
This was incredible! I will definitely make this again.

Santana
📋 Recipe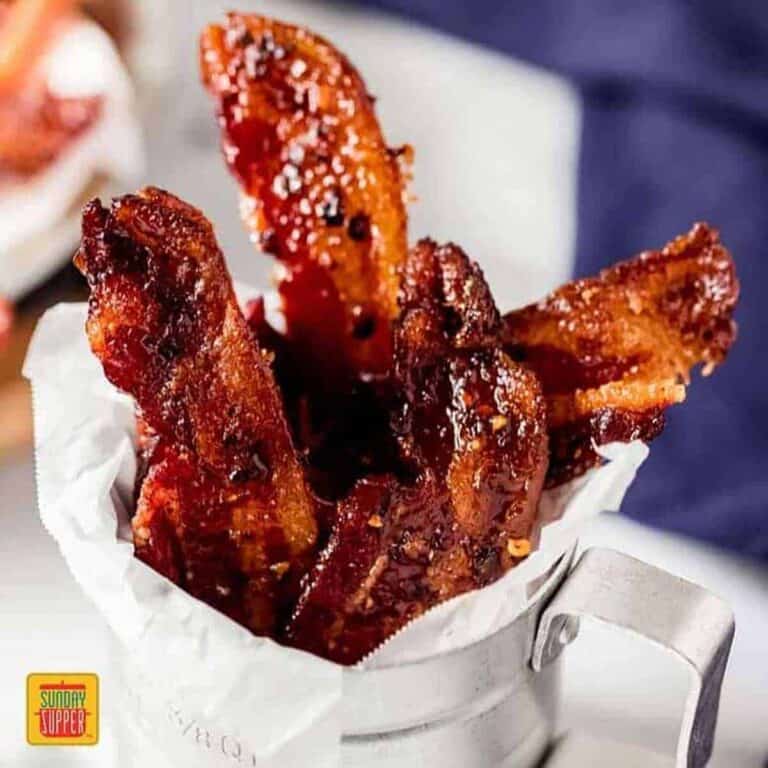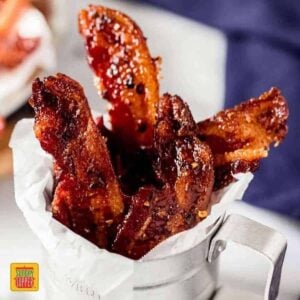 Candied Bacon Recipe
This Candied Bacon Recipe features crispy, caramelized strips of bacon with a hint of heat and is perfect for your next breakfast or brunch menu!
Equipment
Baking sheet

Aluminum foil, silicone liner, or parchment paper
Ingredients
1

pound

thick-cut bacon

½

cup

brown sugar

½

tsp.

cracked black pepper

¼

tsp.

cayenne pepper

½

Tbsp.

crushed red pepper flakes
Instructions
Preheat oven to 375 degrees F.

Line a baking sheet pan with a silicone liner, parchment paper or foil. Lay the uncooked bacon sliced onto the pan.

In a small bowl, combine the brown sugar, cracked black pepper, cayenne pepper, and crushed red pepper flakes. Stir to combine.

Sprinkle the sugar mixture over the bacon slices, fully coating all of the slices. Using your hands, gently pat the sugar down onto the slices of bacon.

Bake for 30-40 minutes or until brown and crispy. Remove from oven and let cool for 10 minutes. Check at 30 minutes and if it isn't as crisp as you'd like, put it back in for the full 40.

Carefully transfer the bacon from the baking sheet pan to a cooling rack and let cool for another 10 minutes.
Notes
Depending on the size of your baking sheet pan and the number of bacon slices in the package, you may need to use two sheet pans. 
Be sure to let the slices fully cool, this will allow the caramelized sugar to harden. 
Store in an air-tight container in the refrigerator for up to four days. 
Nutrition
Calories:
293
kcal
Carbohydrates:
15
g
Protein:
7
g
Fat:
23
g
Saturated Fat:
8
g
Cholesterol:
37
mg
Sodium:
394
mg
Potassium:
149
mg
Fiber:
1
g
Sugar:
13
g
Vitamin A:
359
IU
Vitamin C:
1
mg
Calcium:
19
mg
Iron:
1
mg
Did you try this recipe?
Tag #SundaySupper on social and leave a comment below!