This post may contain paid links. If you make a purchase through links on our site, we may earn a commission.
My version of Starbucks Egg Bites is a perfect low-carb option for breakfast, brunch, as a snack, or even as breakfast for dinner! Rich and velvety sous vide egg bites are easy to make ahead of time and are so delicious.
With just 10 minutes of prep and 15 minutes in the Instant Pot, you can have them ready to go in no time using your favorite breakfast ingredients! The best part is, you can make 7 for under $5.
Jump to:
What are egg bites?
Egg bites are little bites of sous vide or baked egg, mixed with breakfast ingredients like bacon, sausage, cheese, or vegetables like spinach.
You can make them using your Instant Pot and a silicone egg mold, or in your oven in a muffin tin. No matter which method you use, they're quick, easy, and budget-friendly to make.
The most popular kind is the Starbucks egg white bites recipe. Once you try them with gruyere and bacon, you'll want them for breakfast or even just as a snack all of the time!
What makes Starbucks sous vide egg bites so popular?
They're creamy and rich, with a pillowy texture. This is the beauty of sous vide recipes! The most popular kind is filled with fancy cheese and bacon, but that's only one variety. Their egg recipes come in a few different varieties!
On top of being delicious, they're low-carb, easy to make, and a great grab-and-go breakfast choice. You can save time and money by making them at home, since they're perfect for making ahead of time and heating up to enjoy later, and cost under $5 for a batch of 7.
What is sous vide?
Sous vide is a French cooking method, meaning "under vacuum". It involves sealing food in an air-tight container and cooking it in water at a precise temperature. You may see steak sous vide in an air-tight plastic bag using a special sous vide cooker, for example.
Sous vide cooking allows food to cook evenly, for a perfect texture throughout. That's what makes this recipe so creamy and delicious!
You don't need a sous vide cooker to make these egg white bites. All you need is your Instant Pot or oven, and you can get that same, creamy texture. It's quick and easy, with excellent results!
Egg Bites Fillings
For this copycat Starbucks egg bites recipe, we use:
Hot sauce
Monterrey Jack Cheese
Gruyere Cheese
Air Fryer Bacon or regular bacon
However, you can add all kinds of ingredients to your own egg bites! For example, you can make Starbucks ham bites using chopped ham instead of bacon.
TIP—Try using different kinds of cheeses, or other veggies. You'll always need cottage cheese, but you can substitute Monterrey Jack and Gruyere for your favorites. For example, try these pairings:
Roasted red peppers with feta and spinach
Sausage and mushrooms
Broccoli and cheddar
Ham and cheddar
Diced peppers, pepper jack cheese, and extra hot sauce
Mixing up the ingredients in these sous vide egg bites makes them a perfect choice for a brunch buffet menu! Spinach, kale, broccoli, peppers, and onions all work deliciously in this recipe.
They're one of our personal favorite Sunday brunch ideas for a crowd. Make them ahead with different combinations, then reheat before serving. Yum!
This easy egg recipe is full of protein, so it's a great way to re-energize in the afternoon, too! Add it to a lunch box with some apple slices for a tasty pick-me-up during the day.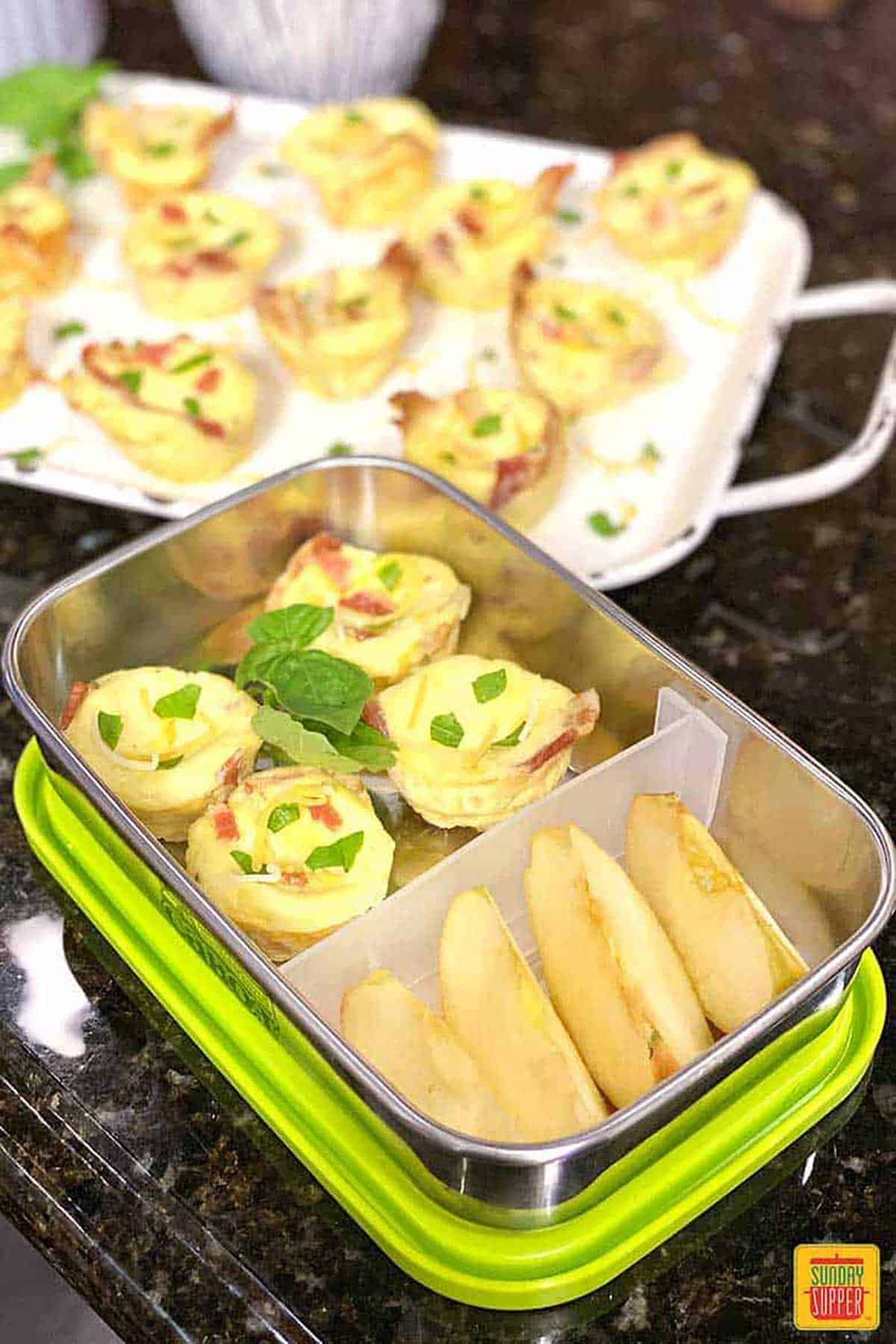 What is cottage cheese and why use it?
Cottage cheese is a fresh, mild, creamy, and low-calorie cheese. It grew in popularity in the 1920s and made a comeback thanks to the wholesome benefits it offers.
Is cottage cheese keto-friendly?
Yes! In fact, cottage cheese is a great source of healthy fats and is high in protein.
Cottage cheese recipes are a perfect low-carb, high-fat choice for anyone following a keto lifestyle, or anyone looking for high protein food options.
How to Make Egg Bites in the Oven
Although they won't technically be "sous vide", these bites are truly just as delicious and easy to make in the oven. They turn out just as moist and quick to whip up in just 20 minutes!
Preheat your oven to 350°F.
Combine all ingredients in a bowl.
Grease a mini muffin pan with butter or baking spray. We use mini muffin pans, enough for 18 mini bites.
Fill each muffin pan with the egg mixture.
Bake for 15-20 minutes.
The key to keeping egg bites in the oven as moist as the sous vide method is to make sure you don't over-bake them. 15-20 minutes in a 350°F preheated oven is all you need for the perfect eggs.
They'll come out fluffy and souffle-like, and just as moist as if you sous vide them! Mini egg bites are the perfect keto snacks, packed with enough protein to keep you going all day long.
Starbucks Egg Bites Recipe Tips
Remember to have fun with this recipe! You can use any combination of cheese, protein, and veggies. I love using up any vegetables I happen to have in the fridge.
For mine, I wanted to try making them more like the Starbucks ham and cheddar egg bites recipe. I tried ham instead of bacon, plus cheddar cheese. I had some grape tomatoes in the refrigerator that needed to be used, so I roasted those first, then added them to the ham and cheese bites. It was delicious!
In a mini muffin tin, I made them into minis, with half regular cheese and egg and the other half my ham and cheese bites with tomatoes.
You can make this version, too! Substitute 2 slices of ham cut into small pieces for the bacon, and use coarsely shaved cheddar cheese. Try roasting grape tomatoes to add if you have them on hand!
Family Foodie shows off this delicious on-the-go breakfast in her special Family Foodie Friday on WTSP, "DIY Starbucks Egg Bites".
Watch the segment on our media page!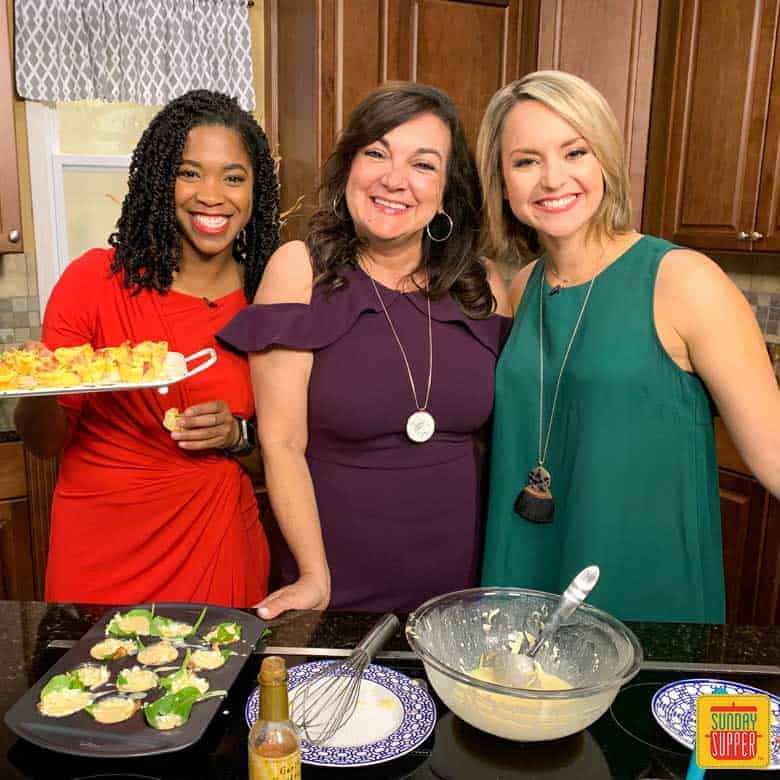 Can you freeze them?
Yes! Wrap each one individually with plastic wrap, then store in a freezer bag to pull out as many as you need at a time. Thaw before reheating.
How to Reheat
You can reheat egg bites simply by microwaving them for 20-30 seconds. It couldn't be easier!
How to Store
Store in the refrigerator in an air-tight container for up to a week. Reheat using the simple microwave method above. Enjoy!
Starbucks Copycat Recipes
And for more delicious breakfast food ideas, try our Sheet Pan Pancakes, Eggs Benedict Recipe, Japanese Soufflé Pancakes, Air Fryer Hard Boiled Eggs, Ham Quiche, and our out-of-this-world candied bacon!
Sous Vide Recipes
📌 Pin it for later!
Did you enjoy this page? Save it on Pinterest for later!



We hope you love this easy recipe and that it simplifies your mornings. Let us know what you think in the comments below and with a rating!
📋 Recipe
Starbucks Egg Bites (Copycat Recipe)
Just like the popular gruyere and bacon Starbucks egg bites, these sous vide egg bites are rich, velvety, and perfect for an on-the-go breakfast!
Equipment
Blender

Silicone Egg Mold with Lids (some have a built in trivet)

Trivet for Pressure Cooker (unless you have an egg mold with a built-in trivet)
Ingredients
4

eggs

⅓

cup

heavy cream

⅓

cup

cottage cheese

½

cup

Gruyere cheese, shredded

3-4

dashes

hot sauce

⅓

cup

Monterrey jack cheese

7

slices

bacon, cooked and cut in half

Needs to be bendable enough to fold into bottom of egg mold. Not too crispy. Can also use pre-cooked bacon.
Instructions
In a blender, add eggs, heavy cream, cottage cheese, Gruyere cheese, hot sauce, and a generous sprinkle of salt and pepper. Blend until smooth.

Spray egg mold with cooking spray. Sprinkle a little monterrey jack cheese into each opening, then crisscross two bacon halves in each opening, pushing down into the mold.

Add egg mixture and fill about two-thirds full. Place lid on the egg mold.

Add one cup of water to pressure cooker/Instant Pot. Place trivet into pot and then place egg mold on top of the trivet. Note, if using an egg mold with built in trivet, you don't need an additional trivet.

Set pressure cooker/Instant Pot to steam. The amount of minutes is highly dependent on the model of your pressure cooker.

They may need only 9 minutes or up to 15. Start on the lower end and repeat the process for an additional 3 minutes if they're not cooked through (add another splash of water to the pot to replace what has turned to steam).

A knife inserted into the egg bite should come out clean. Let the steam naturally release for 10 minutes and then carefully release the steam the rest of the way according to the manufacturer's instructions.

Allow to cool for 3-5 minutes. Remove egg bites from mold and serve. Store leftovers in refrigerator. To re-heat, place egg bite on a paper towel and microwave for 20-30 seconds.
Notes
How to Reheat Sous Vide Egg Bites: You can make egg bites ahead of time to enjoy throughout the week. Store in the refrigerator, and when you're ready to eat, just place one on a paper towel and heat in the microwave for 20-30 seconds. Easy peasy!
Mix it up with other ingredients: 

Roasted red peppers, feta, spinach
Sausage and mushrooms
Broccoli and cheddar
Ham and cheddar
Diced peppers, pepperjack cheese, extra hot sauce

Make them in the oven: You can also make these Starbucks egg bites in the oven! Combine all of your ingredients in a bowl. Preheat your oven to 350 degrees F. Then butter (or coat with cooking spray) a mini muffin pan, add the egg mixture, and bake for 15-20 minutes in the oven. The key to keeping them as moist as the sous vide version is to not over-bake them, and they will come out fluffy and souffle-like!
Nutrition
Calories:
236
kcal
Carbohydrates:
1
g
Protein:
11
g
Fat:
20
g
Saturated Fat:
9
g
Cholesterol:
140
mg
Sodium:
284
mg
Potassium:
105
mg
Sugar:
1
g
Vitamin A:
455
IU
Calcium:
165
mg
Iron:
1
mg
Did you try this recipe?
Tag #SundaySupper on social and leave a comment below!