Sunday Supper is an Amazon Associate and may receive compensation for purchases made through affiliate links.
Fish Tacos with Peach Salsa are all you need this summer as far as easy, fresh dinners go! Fresh tilapia with a chili lime rub on a crispy tortilla topped off with an easy, 5-minute peach salsa. The flavors are fresh, bold and so delicious. It'll be a recipe you keep going back for!
Fish tacos are one of the most underrated tacos going around in my opinion! In an effort to eat less meat and add more fish and other seafood recipes in my diet, I've been looking for creative ways to incorporate fish into my dinners. Usually, I love making my own healthy fish tacos with avocado cream, but lately, I've been craving an even fresher, lightened up version, which is where these fish tacos with peach salsa come into play.
If you haven't seen already, peach season is well upon us, and the supermarkets and farmers markets are full of beautifully ripe, peaches! Peaches would have to be one of my favourite fruits in summer. I love the sweetness of the fruit, and love that it can be added to savoury or sweet dishes.
Peaches particularly pair well with fish and seafood in savoury dishes, and I love the element of sweet they add to really bring the flavour of the fish out. These fish tacos with peach salsa are perfect when you're looking for quick and easy, light summer dinners. When it's too hot to cook, these are your go-to tacos!
How to Make Fish Tacos with Peach Salsa
How to choose Peaches
When picking out peaches, try to find ones that are slightly firm, but not too firm and not mushy. Bruised peaches will be harder to cut. This article will give you more details on how to cut peaches, as safety is always important when cutting trickier foods.
I opted for yellow peaches because I love the color and prefer the flavor of them compared to white peaches. I find them just a little bit more flavorful, and a touch sweeter than the white peaches.
Best Fish for Fish Tacos
I tend to go for tilapia when I make any form of fish tacos. Tilapia is generally really affordable and can be found in a lot of supermarkets. I love the mild flavor of tilapia recipes and how quickly it cooks.
When picking a fish for a dish like tacos, you'll want a firm, white fish that is easy to cut into cubes and won't disintegrate when cooked. Some white fish tends to fall apart and flake, which will make your tacos ever so slightly mushy.
Other types of firm fish for fish recipes include cod, barramundi, snapper or haddock.
How to Cook Tortillas
This is a personal preference, but you can use either corn or wheat tortillas. Personally. To char your tortillas, heat a cast iron skillet over medium to high heat.
Cook the tortilla on one side for around 2 minutes or until it's lightly charred, then flip and repeat on the other side. If you are looking for Gluten Free Tortillas, here are our favorite.
Peach Salsa Recipe
The peach salsa is simply a combination of fresh peach, jalapeno, cilantro, avocado, red onion and lime juice.
The key to making a really tasty salsa is to dice the ingredients really finely, especially the red onion. Red onion can be really overpowering in large chunks, which is why I like to get it as fine as possible. I do however like to make the peach chunks a little bigger.
As the peach is the star of the salsa, you want the peach to really shine. I don't tend to peel my peaches. You won't notice the skin when you eat the taco, plus, I think it looks prettier too! This recipe for Peach Mango Salsa is packed with flavor and also perfect for these healthy tacos.
If you prefer to peel your peaches, read our article to learn How to Peel Peaches the Easy Way. We give you a step-by-step photo tutorial and show you just how easy it is to peel peaches.
Want more Summer Recipe Ideas?
Fresh Peach Recipes are so delicious
More about Peaches
Peach Health Benefits
Peach vs. Nectarine – What's the Difference
Facts about Peaches
These fish tacos with peach salsa are so fast, fun and fresh! They're perfect for a weekend dinner party or summer gathering, or an easy weeknight meal!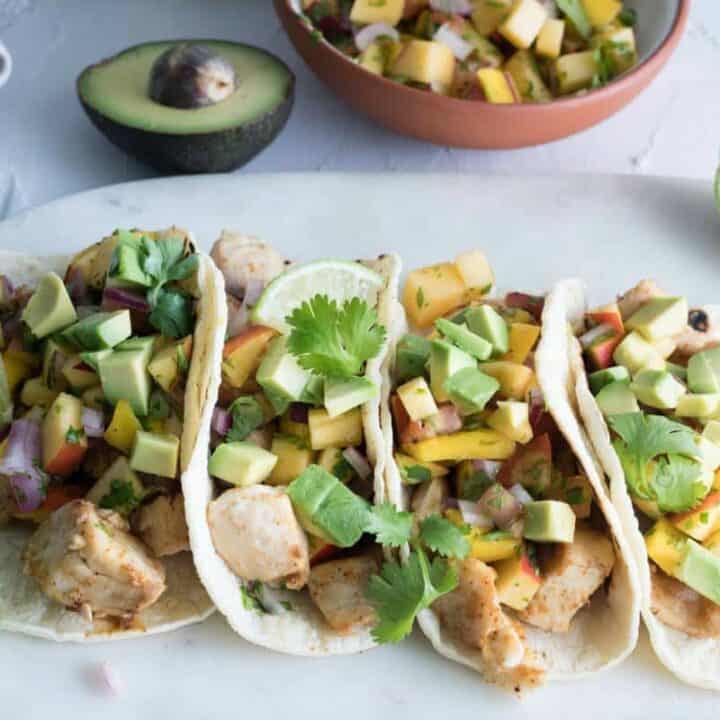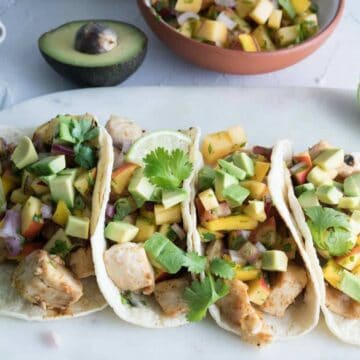 Fish Tacos with Peach Salsa
A quick and easy summer dinner! These fish tacos with peach salsa are so light and fresh, and you'll love the addition of the peach salsa!
🥘 Ingredients
Fish Tacos
½

lbs

tilapia

or other firm, white fish

½

tsp

chilli powder

1

tbsp

lime juice

½

tsp

garlic powder

¼

tsp

pepper

¼

tsp

salt

6

corn tortillas
Peach Salsa
1

yellow peach

diced

¼

medium

red onion

very finely diced

¼

cup

cilantro

finely diced

1

tbsp

lime juice

½

jalapeno

seeds removed, finely diced

½

avocado

finely diced

¼

tsp

salt

¼

tsp

pepper
🔪 Instructions
Combine chilli powder, garlic powder and salt and pepper in a small bowl.

Pour the lime juice over the tilapia and coat with the chilli powder rub.

Set aside to marinate while you make the peach salsa.

To make salsa, combine all the ingredients in a small bowl. Taste and adjust lime, salt and pepper to taste.

Heat a skillet over medium heat, and add a dash of olive oil. Cook the tilapia for 3-5 minutes, turning occasionally until fish is cooked through. The fish should be white throughout, rather than opaque.

While the fish is cooking, heat your tortillas. Heat a large cast iron pan over medium to high heat, and cook each tortilla one at a time for 2-4 minutes on each side, until they are lightly charcoaled.

To assemble, take a tortilla, add the fish, then top with the peach salsa.
Nutrition
Calories:
133
kcal
Carbohydrates:
16
g
Protein:
9
g
Fat:
3
g
Cholesterol:
18
mg
Sodium:
230
mg
Potassium:
291
mg
Fiber:
3
g
Sugar:
2
g
Vitamin A:
230
IU
Vitamin C:
6.4
mg
Calcium:
27
mg
Iron:
0.7
mg
Did you try this recipe?
Tag #SundaySupper on social and leave a comment below!