Sunday Supper is an Amazon Associate and may receive compensation for purchases made through affiliate links.
Up your main course salad game with this colorful and easy to make quinoa feta salad! After all, Salad doesn't have to be an afterthought to a main dish.
This bright Beet Quinoa Salad is a main course salad perfect for a light meal, potlucks and more. Easy, delicious and versatile too.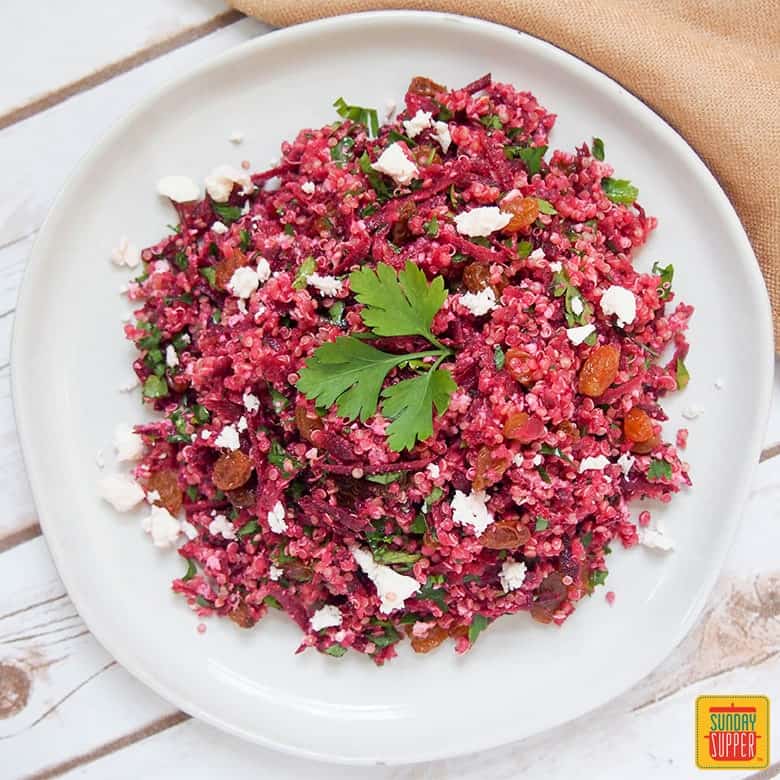 What is a Main Course Salad?
Main course salads are a refreshing change for easy weeknight meals, and we love them for easy Sunday Suppers in summer too.
We enjoy main course salads a lot more during the summer months when you don't always feel like something heavier. Particularly at lunch time, we often pack a main course salad and/or quiche to take with us for a picnic rather than sandwiches as we just enjoy them more, and salad doesn't weigh us down.
A dinner salad doesn't have to be your typical greens with a couple of additions. A hearty main course salad usually incorporates more than just lettuce and a few toppings.
To make a hearty, main course salad try adding proteins, grains and vegetables. In addition to our Beet Quinoa Salad, here are a few more dinner salad ideas you'll want to try this summer:
Dinner Salad Ideas

What makes this Beet Quinoa Salad so great?
Yes, it has a fantastic bright color, but that's not the extent of what makes this salad such a star:
easy salad recipe
make ahead salad recipe
Transports well (great for a potluck or picnic)
Adaptable – just add protein such as chicken, fish or steak for a fuller meal
Our beet quinoa salad is vegetarian and gluten free with lots of great good-for-you ingredients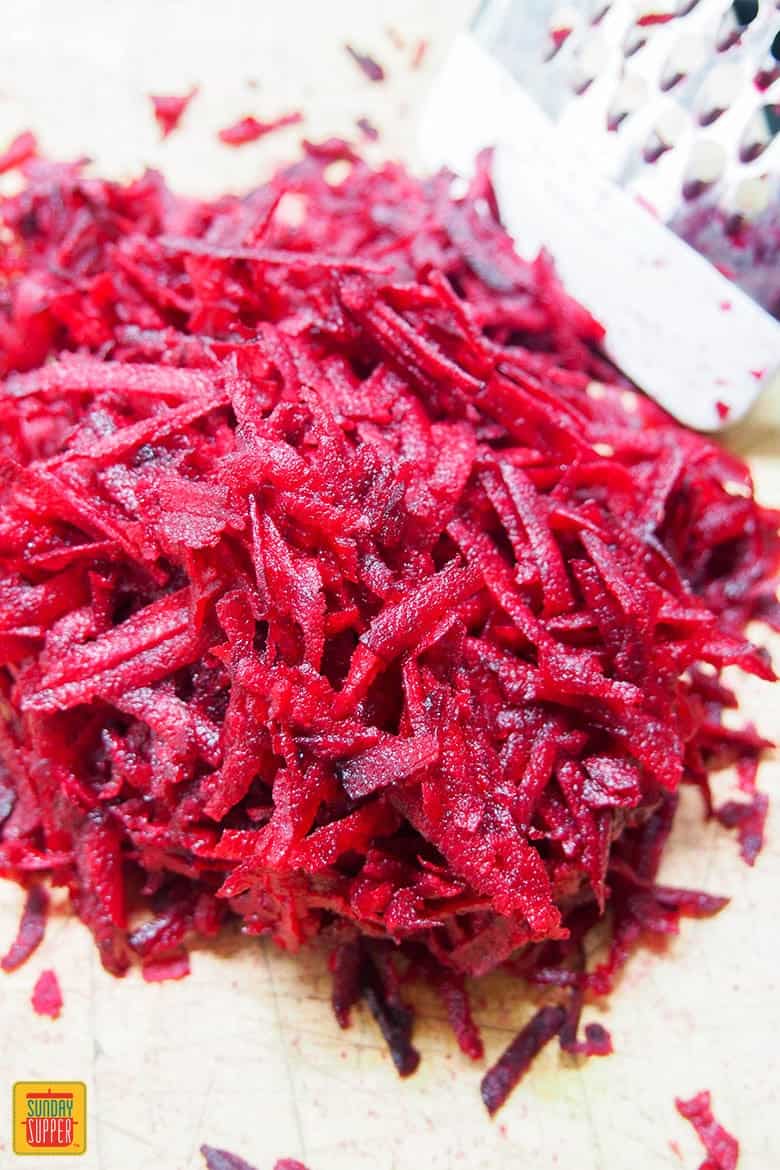 Why Raw Beets?
Whether they're grated or thinly shaved, beets are wonderful to eat raw. You get much more of the sweet flavor than when they are cooked.
If you are not used to using beets raw, they work really well grated.
They are still firm, so raw beets add a lovely crunch to the salad, but the pieces are small enough they are easy to eat.
Raw beets have a lovely slight sweetness as well, which works great with the other flavors in the Beet Quinoa Salad.
Plus, the quinoa takes on the beautiful color of the beets giving this salad a vibrant color.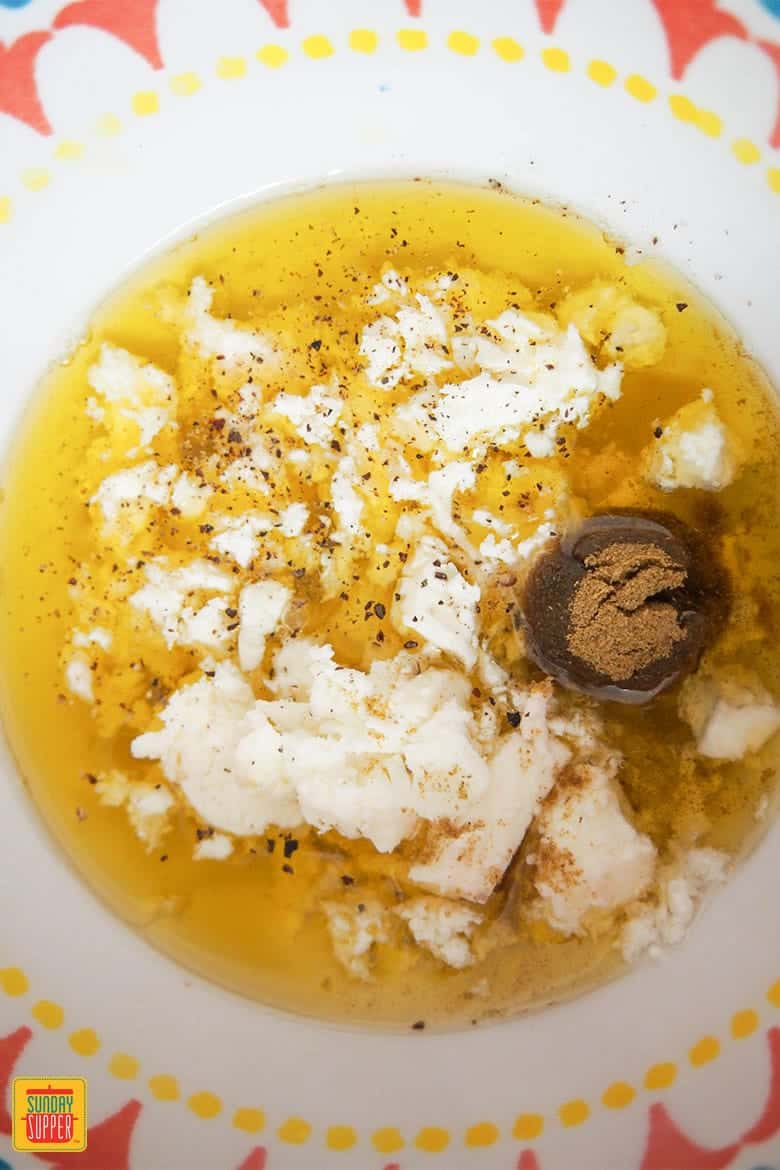 Feta Dressing
One of the other things I love here is the feta dressing. You might think it a little unusual putting feta and cumin in a dressing, but believe me they both work so well.
True, a feta dressing doesn't necessarily blend as smoothly as some other dressings, but it really doesn't matter once you mix it up. And the flavor the feta dressing gives the Beet Quinoa Salad is wonderful.
This raw beet quinoa salad is easy, flavorful and such a versatile main course salad that you can enjoy at home or take with you to share. Be sure to give it a go and let us know what you think!
Beet Quinoa Salad
Up your main dish salad game with this colorful and easy to make Beet Quinoa Salad! It's the perfect healthy, light meal!
🥘 Ingredients
½

cup

quinoa

1

cup

water

1 ½

cups

beets

(coarsely grated)

½

cup

raisins

½

cup

parsley

(chopped)
For the dressing
¼

cup

olive oil

¼

cup

feta

(crumbled)

2

tbsp

lemon juice

½

tsp

ground cumin
🔪 Instructions
Put the quinoa and water in a pan and cover with a lid. Bring to the boil and reduce heat to simmer for around 12-15 minutes until all the water has gone and the tendrils of the quinoa bloom.

While quinoa is cooking, prepare the rest of the salad - grate the beets, chop the parsley and mix together the dressing ingredients. Try to mash the feta into the dressing to be relatively smooth.

Once quinoa is cooked, remove from the heat and add the dressing and beets. Mix through well. Leave to cool a little more before adding raisins and parsley. Serve room temperature or cool. You can add a little more crumbled feta to the salad if you like, as in the pictures above.
Nutrition
Calories:
303
kcal
Carbohydrates:
34
g
Protein:
5
g
Fat:
17
g
Saturated Fat:
3
g
Cholesterol:
8
mg
Sodium:
158
mg
Potassium:
476
mg
Fiber:
4
g
Sugar:
4
g
Vitamin A:
690
IU
Vitamin C:
16.3
mg
Calcium:
80
mg
Iron:
2.6
mg
Did you try this recipe?
Tag #SundaySupper on social and leave a comment below!