Sunday Supper is an Amazon Associate and may receive compensation for purchases made through affiliate links.
The cutest fruit charcuterie tray EVER! A Rainbow Fruit and Yogurt Parfait Bar is easy to make and the most fun way to enjoy healthy fruits and sweet cereal parfaits! 🌈
I love this rainbow parfait bar. It's perfect for parties and sleepovers, but it's full of good-for-you fruits like strawberries and blueberries! Plus, with sweet marshmallow cereal and colorful theme, it's the best dessert tray for St. Patrick's Day.
Kids love this easy yogurt fruit dip board, and so will you! Grab a few glasses and your favorite charcuterie board, and you can have one of the best healthy snack ideas ready in no time.
Jump to:
What is parfait?
Parfait is a French word that literally translates to "perfect". Originally, a parfait meant a frozen dessert consisting of syrup, egg, and cream, boiled together to make a custard-like puree.
American parfaits, however, are best known as yogurt parfait or fruit parfait. Generally, these parfait recipes use just yogurt, fresh fruit, and toppings like granola, nuts, and whipped cream. Some recipes even use a cake layer!
You layer your ingredients in a glass or cup, and enjoy. Fruit parfaits make wonderful breakfasts or party treats, as in this yogurt parfait bar!
This fun parfait recipe is even perfect for bridal shower food ideas and baby shower food ideas!
🌈 Parfait Ingredients
Raspberries
Strawberries
Cantaloupe chunks
Orange slices
Pineapple slices
Star fruit
Green grapes
Kiwi
Blueberries
Purple grapes
Vanilla yogurt
Mini marshmallows
Lucky Charms cereal
How much of each ingredient you use for your yogurt parfait board depends on the size of your board!
I use a large, round basket as my charcuterie tray, which gives me a lot of space to work with and calls for more ingredients.
What board should I use for a charcuterie tray?
Pick what works best for you and how many people you're serving!
You can use any size board you want as your charcuterie tray. Everything from a cutting board to a large basket like mine will work.
Keep in mind that my large charcuterie tray gives me plenty of space to work on to make the rainbow design.
If you use a much smaller board, you'll have to get creative with how you use the space to make the same design!
⭐ Tips for Making a Rainbow Fruit Tray
If you're using a smaller board, make sure to use smaller bowls for your yogurt, too! This will make it easier to arrange the "rainbow" on the board.
To make it look like a pot of gold is under the rainbow, I put some little gold coins in the Lucky Charms cereal. You could create the same effect by using chocolate gold coins!
A bit of cereal on top of your fruit and yogurt parfait glasses adds a little crunch to the parfait! To make it fun for a party or sleepover, set out glasses and let everyone build their own parfaits.
Top Tip:
It's a good idea to plan out your board ahead of time so you know where you'll be placing the fruit. The size of your board makes a difference in how your rainbow will look.
Each row of fruit should be even. You can use parchment paper to measure where you want things to go, or place small pieces of fruit first, before laying everything out.
What is a parfait bar?
A parfait bar is essentially the party tray shown here! You set up all of the ingredients necessary to make a parfait, including the yogurt and toppings. Then, everyone can build their own fruit and yogurt parfait in a cup, picking and choosing their own ingredients!
Parfait bars are a great option for breakfast or brunch and make a fun party snack, too.
How do you make a yogurt parfait bar?
We get into detail with each step below in the recipe card, but the best way to make a yogurt parfait bar is to:
This parfait bar has six different fruits, cereal, and mini marshmallows. Having plenty of choices for what to add to your parfait makes a parfait bar even more fun.
Arrange your ingredients on a charcuterie tray!
My favorite is the flat basket I used to make this yogurt and fruit charcuterie board, but you can use any size board you want. Having everything on a board makes it easy to move around, fun to arrange, and easy to clean up!
Set out glasses, bowls, or cups to serve the parfaits in!
I used little champagne flutes for this parfait bar. They're cute and so much fun! Parfaits are best served in cups like these, since you can more easily layer the ingredients, but you can use bowls if you prefer.
Scroll down for detailed instructions in the recipe card!
📖 More Healthy Snack Ideas
What could be better than a sweet treat that doubles as a healthy snack like this fruit and yogurt parfait? Strawberry Oatmeal Bars and No-Bake Oatmeal Balls are two of my favorites!
Smoothies are one of the best ways to enjoy something a little sweet that's good for you, too. Try my favorite Apple Banana Smoothie (it tastes just like an apple pie!) or Healthy Blueberry Smoothie! Or, for St. Patrick's Day especially, this Green Apple Smoothie is a real treat.
Love this charcuterie tray? Try our Spider-Man Web Berry Dessert!
What are your favorite parfait toppings? Let me know in the comments below!
📌 Pin it for later!
Did you enjoy this page? Save it on Pinterest for later!



Save the Video Pin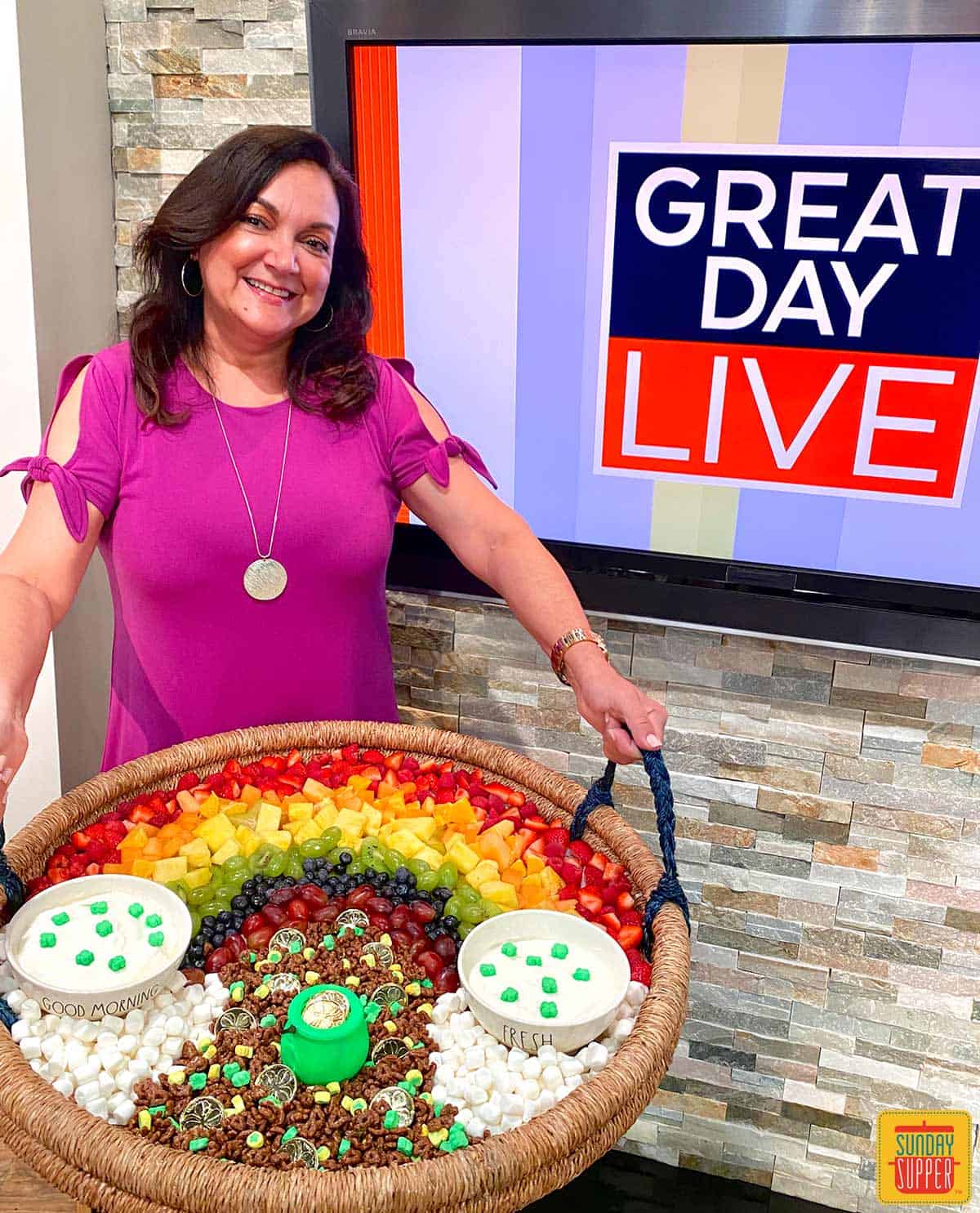 📋 Recipe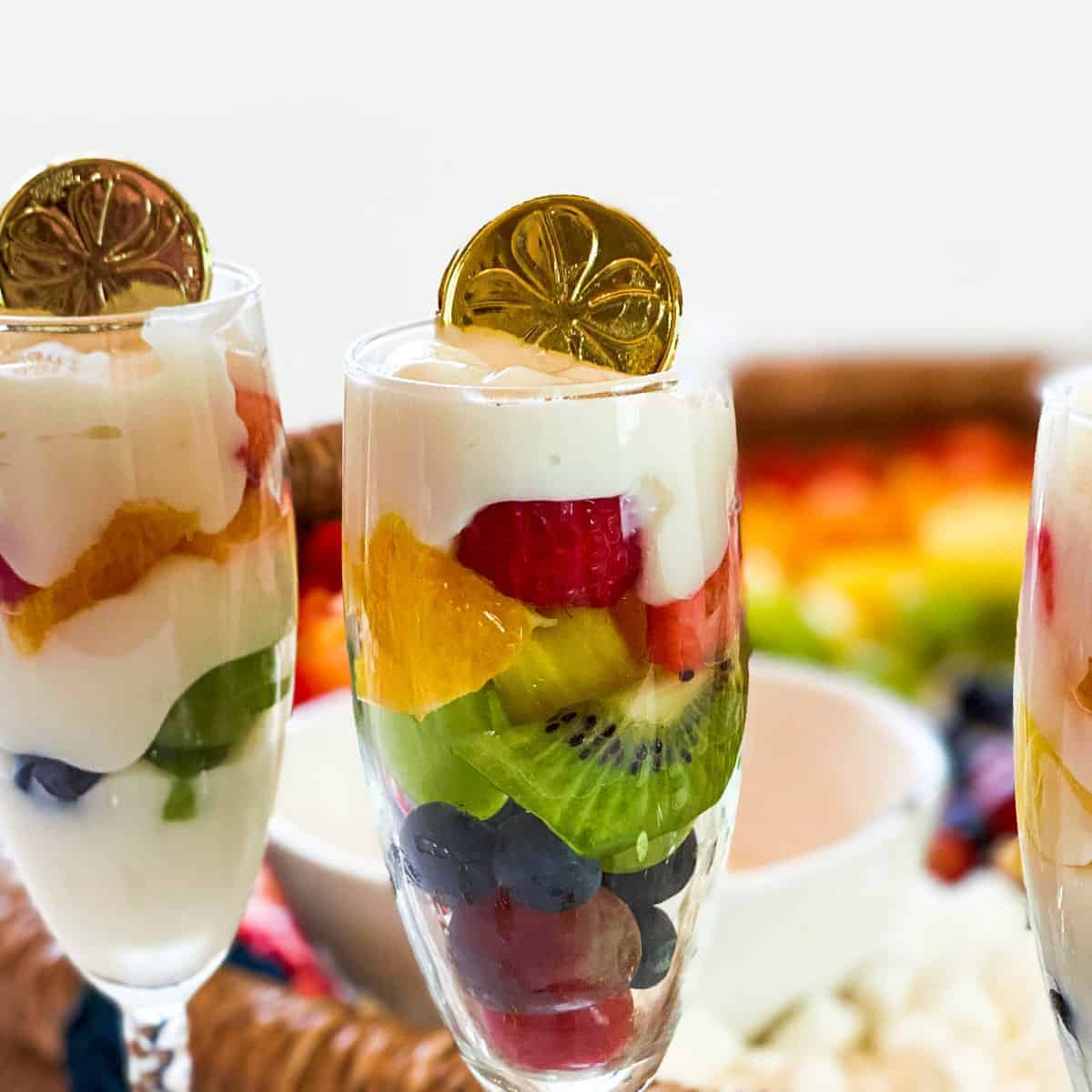 Ingredients
Raspberries

Strawberries

Cantaloupe chunks

Orange slices

Pineapple slices

Star fruit

Green grapes

Kiwi

Blueberries

Purple grapes

Vanilla yogurt

Mini marshmallows

Lucky Charms cereal
Instructions
How to Make a Fruit Tray for a Yogurt Parfait Bar
Line a basket or board with parchment paper. Place two bowls where you want the ends of your "rainbow" to be.

Start by placing raspberries and strawberries in a row extending from one yogurt bowl to the other. This is the first line of your rainbow.

Next, place cantaloupe chunks and orange slices in a row just below the strawberries and raspberries.

Pineapple and star fruit go beneath the cantaloupe and oranges. Make sure to use as much or little as your board calls for to get that rainbow shape!

Place green grapes and kiwi below the star fruit and pineapple.

Finally, for your last rainbow line, use purple grapes!

Surround each yogurt bowl with mini marshmallows so it looks like fluffy clouds. Fill your bowls with vanilla yogurt.

Fill the empty spaces of the board with Lucky Charms cereal.
How to Make Parfait for a Yogurt Parfait Bar
Place a few purple grapes and blueberries to cover the bottom of a glass or champagne flute.

Add a layer of vanilla yogurt.

Then, place an even layer of kiwi and green grapes.

Cover with a layer of vanilla yogurt.

Add a layer of pineapple and star fruit slices.

Then add another layer of yogurt.

Place oranges and cantaloupe.

Then add a layer of yogurt.

Finally, add strawberries and raspberries.

Top with yogurt and Lucky Charms cereal, and enjoy!
Notes
If using a smaller board, make sure to use smaller bowls for your yogurt, too! This will make it easier to place the "rainbow" on the board.
I use little gold coins to decorate the fruit charcuterie tray. You can use chocolate gold coins, too!
The size of your board makes a difference in how your rainbow will look. Each row of fruit should be even. Plan how you want the rainbow to look on your board ahead of time to make it even easier!