Sunday Supper is an Amazon Associate and may receive compensation for purchases made through affiliate links.
You will LOVE Piri-Piri sauce! It makes everything taste better. Rich and flavorful, our Peri Peri sauce recipe makes a delicious marinade with a spicy kick for chicken, beef, or pork.
Plus, this recipe for peri peri sauce only takes a few minutes to make with easy ingredients and minimal cooking!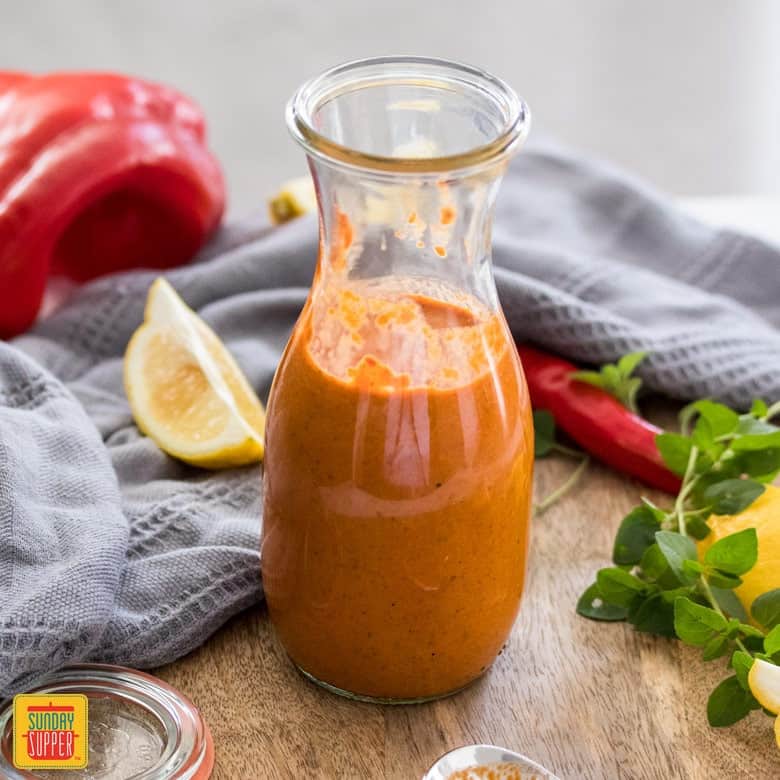 What is Peri Peri Sauce?
Peri Peri sauce is a spicy sauce first enjoyed in South Africa when Portuguese settlers found the African bird's eye chili native to Mozambique.
In fact, Peri Peri sauce (also known as Portuguese Piri Piri sauce) is so popular in South Africa, it's become the national dish there, and is considered South African cuisine regardless of its Portuguese influence!
Most often, Peri peri sauce commonly pairs well with chicken, as the spicy, tangy, and full of flavor sauce complements the meat deliciously.
The Portuguese are well known for Portuguese BBQ Chicken using piri piri sauce, and our Family Foodie can tell you: it is the best!
Have you heard of the world's most famous brand of Peri Peri sauce – Nando's? It is delicious! This is our version of homemade Peri Peri sauce, and we are sure you will love it.
What is the difference between Peri Peri and Piri Piri?
There is actually no difference between Piri Piri Sauce and Peri Peri Sauce.
Piri Piri is the Portuguese name for this spicy sauce and the traditional chili used in it, which translates to 'pepper pepper'.
Peri Peri is the name used in South Africa, and has become the most commonly used name for Peri Peri sauce. So, they are interchangeable!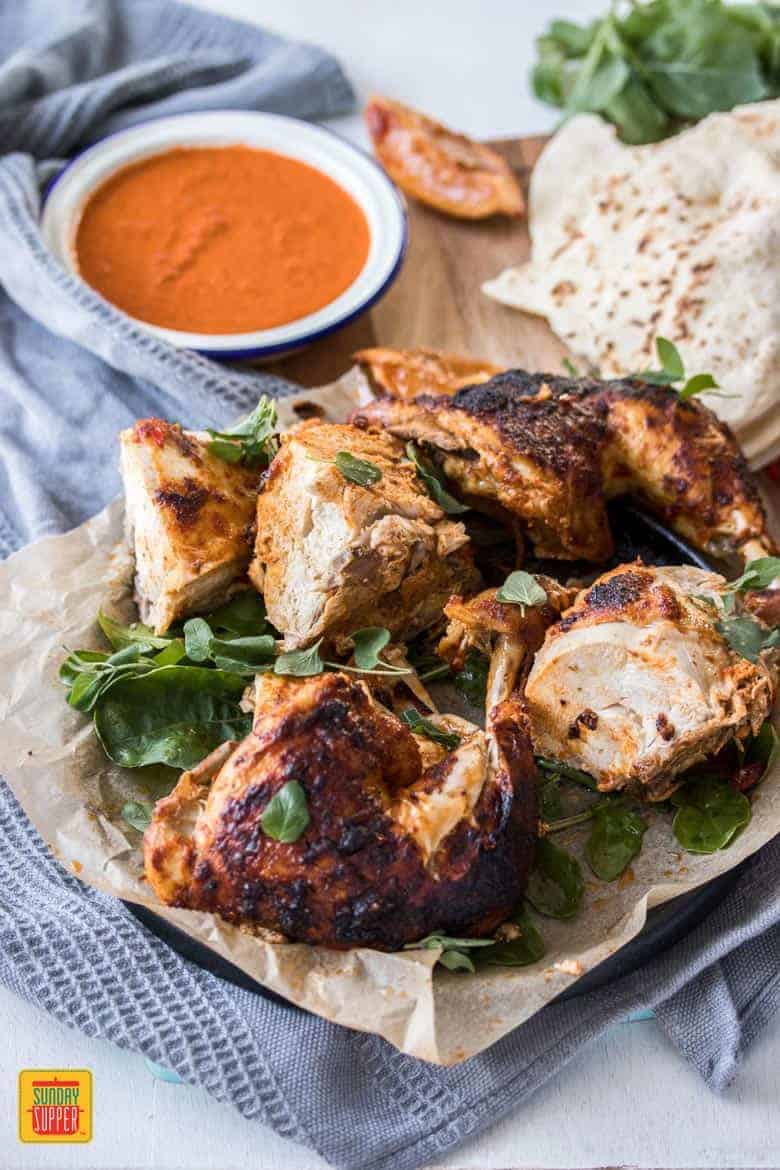 What ingredients are in Piri Piri Sauce?
There are different versions of Peri Peri sauce; however, a true Peri Peri sauce recipe will most often contain:
2 tablespoons vegetable oil
4 cloves garlic crushed
½ medium red onion, finely diced
2 tablespoons sweet paprika or smoked paprika
2 large fire-roasted peppers
6-7 Thai red chilis seeds removed and finely chopped
¼ cup sherry vinegar or red wine vinegar
3 tablespoons lemon juice
Zest of one lemon
2 teaspoons brown sugar
4 teaspoons dried oregano
1 ½ teaspoons salt1 teaspoon cracked black pepper
Our version uses dried oregano and smoked paprika. Plus, I like to add a touch of sugar to better balance out the flavors. This sauce is amazing, and we enjoy it with roast chicken or grilled shrimp regularly in our house!
What is paprika?
As far as we are concerned, the spice rack isn't complete without paprika. It is a staple in every kitchen.
In fact, paprika is the fourth most popular spice in the world. It is made from dried and ground peppers that are part of the Capsicum annuum variety of peppers.
Paprika is used in a variety of dishes around the world. It is very popular in Spanish, Portuguese, Turkish and Hungarian recipes.
What is Paprika used for?
Paprika takes an ordinary recipe and elevates it to a gourmet delight by enhancing flavors in dishes.
It is also a beautiful garnish for many recipes. It is commonly used to season and give to color many dishes such as rice, soups, stews, and goulash.
Is this hot sauce spicy?
Yes, our Peri Peri recipe is spicy, as it uses chili peppers as one of the main ingredients, but it is a bearable spicy!
And, as with any spicy sauce recipe, you can adjust the heat levels to your own taste. But, without the chili peppers, it's not a true Peri Peri sauce recipe.
How to Make Peri Peri Sauce
The beauty of this Piri Piri sauce recipe is not only how delicious it is, but how easy it is to make. Follow these instructions to make this easy sauce for chicken:
Heat 2 Tbsps. vegetable oil in a pan, then saute ½ of a diced red onion, 4 cloves of crushed garlic, and 2 Tbsps. sweet paprika until softened, about 5 minutes.

Add the onion mixture, along with 2 large fire-roasted peppers, 6 to 7 finely chopped Thai red chilis with the seeds removed, ¼ cup sherry vinegar, 3 Tbsps. lemon juice, the zest of one lemon, 2 tsp. brown sugar, 4 tsp. dried oregano, 1 ½ tsp. salt, and 1 tsp. black pepper to a blender.

Blend until smooth, and enjoy with your protein of choice!

What Goes Great with this Spicy Sauce
This simple Peri Peri sauce recipe is perfect as a piri piri marinade or as a dipping sauce for so many foods!
It is truly a rockstar when used on chicken wings and chicken thighs. Totally the best!
Marinate chicken thighs in this Portuguese Peri Peri marinade and roast to perfection, or brush it over grilled chicken.
We love making chicken similar to Nando's Piri Piri Chicken. A visit to Nando's in Chicago and tasting the Nando's Peri Peri Sauce inspired us to make our own at home!
This recipe is so easy to and packed with flavor – Peri Peri Chicken Recipe! It is so close to the original Nando's Peri Peri chicken. Because of the rich flavor in this sauce, recipes with Peri Peri sauce are full of deliciously spicy flavor!
Shrimp also pair well with this Piri Piri sauce. Grilled Piri Piri Shrimp are so easy to prepare for a crowd. You can even add a little to mayonnaise to make a Peri Peri dip for shrimp!
Some of our favorites for dipping in this sauce are Air Fryer Mushrooms or Homemade Soft Pretzels.
How long can I store Peri Peri Sauce?
Due to the chili peppers, vinegar, and lemon juice, this sauce will store well in the refrigerator for a month. If you are into canning, you can make batches of it and store it for months.
It is a condiment we always have on hand to spice up a regular chicken breast recipe or pork chop recipe!
What to Serve with Piri Piri Chicken
Favorite spicy recipes:
If you're looking for a flavor sensation and you like a sauce with bite, this Peri Peri Sauce Recipe is a must-try! Let us know what you think of this easy sauce for chicken in the comments below and with a rating. We love to hear from you!
Peri Peri Sauce Recipe
Rich and flavorful, this Peri Peri Sauce recipe makes a tasty MARINADE or side sauce with a kick! It takes only a few minutes to make with easy ingredients.

Ingredients
2

tablespoons

vegetable oil

4

cloves

garlic

crushed

½

medium red onion

diced

2

tablespoons

sweet paprika

(see note 3)

2

large

fire roasted peppers

(see note 2)

6-7

Thai red chilis

seeds removed and finely chopped (see note 1)

¼

cup

sherry vinegar

 or red wine vinegar

3

tablespoons

lemon juice

Zest of one lemon

2

teaspoons

brown sugar

4

teaspoons

dried oregano

1 ½

teaspoons

salt

1

teaspoon

cracked black pepper
Instructions
Heat the oil then saute the onions, garlic and paprika until softened (about 5 minutes).

Add the onion mixture along with all the other ingredients to a blender and blend until nearly smooth.
Notes
Feel free to adjust the heat to your taste by adding more or less chili peppers. This Peri Peri sauce recipe is medium-hot.
When using fire roasted peppers from a jar, discard the liquid they came in.
You can used smoked paprika if you prefer.
If you like to make batches of Peri Peri Sauce and store them, make sure to use sterilized bottles and use proper canning procedure. 
Nutrition
Calories:
64
kcal
Carbohydrates:
7
g
Protein:
1
g
Fat:
3
g
Saturated Fat:
2
g
Sodium:
568
mg
Potassium:
196
mg
Fiber:
1
g
Sugar:
3
g
Vitamin A:
1250
IU
Vitamin C:
55.9
mg
Calcium:
33
mg
Iron:
1.2
mg
Did you try this recipe?
Tag #SundaySupper on social and leave a comment below!