This post may contain paid links. If you make a purchase through links on our site, we may earn a commission.
These Potato Pave with Bacon and Parmesan are a Fancy Finger Food recipe perfect for parties! Thinly sliced potatoes and bacon are layered with the most delectable combination of cream, thyme, and Parmesan, then baked until cooked through.
After compressing with weights in the refrigerator overnight, the layers are cut into squares, skewered, and cooked again until beautifully crisp and golden.
Jump to:
The Potato Pave with Bacon and Parmesan come together fairly easily but do require some planning ahead. In a parchment-lined baking dish, two layers of thinly sliced potatoes are covered with the cream, thyme, Parmesan, and bacon.
The layering is repeated a couple of times with a final layer of potatoes on the top. After baking until tender, overnight refrigeration is required with the entire casserole dish covered with a weighed-down smaller dish.
This, along with the skewers, helps hold together the stunning layers for a beautiful presentation. Serve the potato skewers simply with a sprinkling of fresh thyme or add a bit of spice with a drizzle of Sriracha or other favorite hot sauce.
This recipe serves quite the crowd at roughly 75 small skewers, but the ingredients can be easily halved and layered in a smaller 8×8 inch or so baking dish. I personally did this and it was the perfect size for my family of four with more to spare.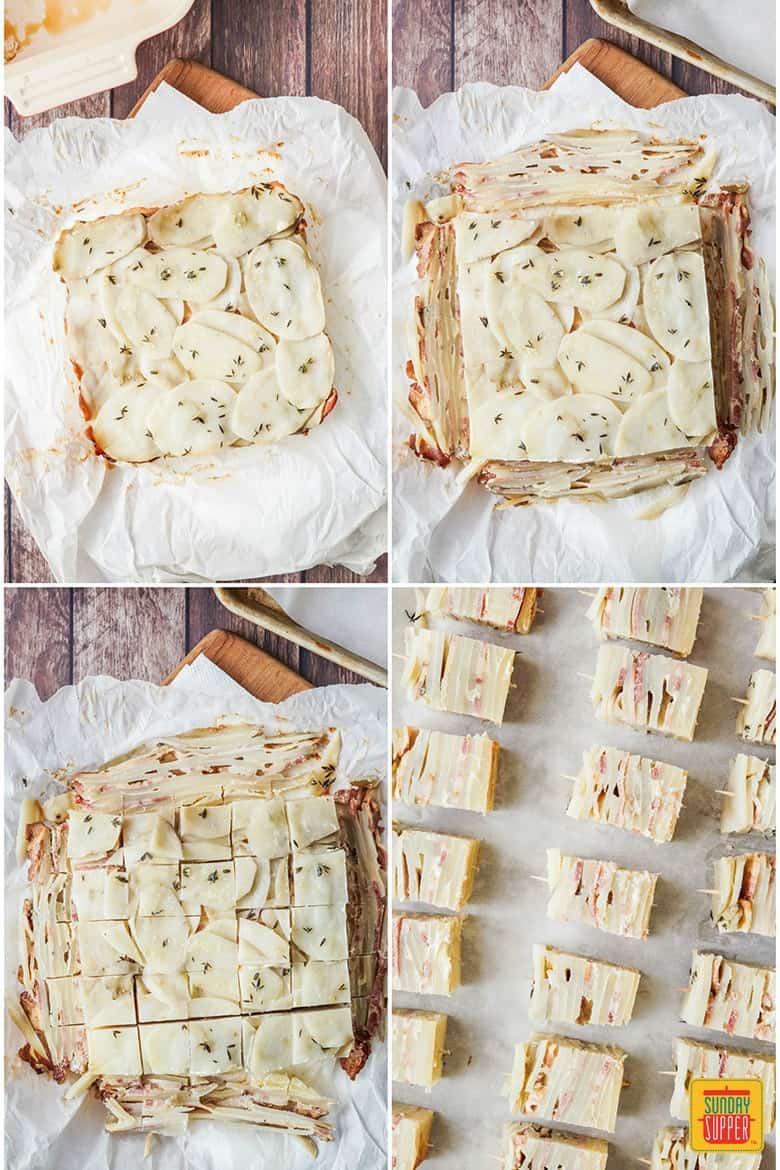 Get more Fancy Finger Food Recipes!
Family Foodie Tips
A mandoline comes in handy for evenly slicing all the potatoes needed for the recipe.
I often use the oven for cooking large batches of bacon. It is so much easier than frying a few in a skillet at a time. Preheat the oven to 400˚F. Line a rimmed baking sheet or two with aluminum foil to catch the grease for easy cleanup and top with wire racks. Arrange the bacon in a single layer, not overlapping, on the racks and bake until fried, but not crispy, about 14 minutes. You still want them pliable enough to layer over the potatoes without crumbling.
I added a little salt between the layers to help bring out the flavors. Be careful not to overdo it with the saltiness of the other ingredients.
The layers of potatoes and bacon are compressed between baking with the help of weights on the top. I covered the layers with a smaller baking dish and hand weights. Cans or anything else heavy would work well.
Make sure to use a sharp knife to cleanly cut the squares.
I used toothpicks to hold together each of the slices, but you can also use mini skewers.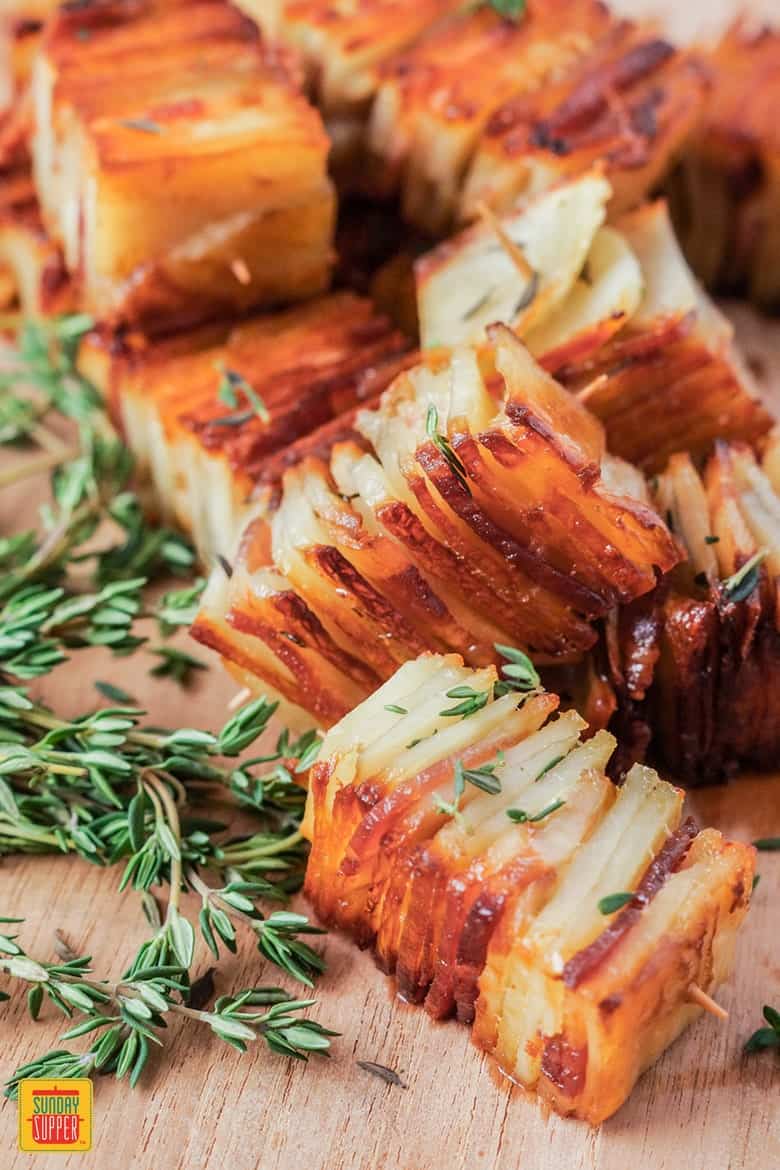 📋 Recipe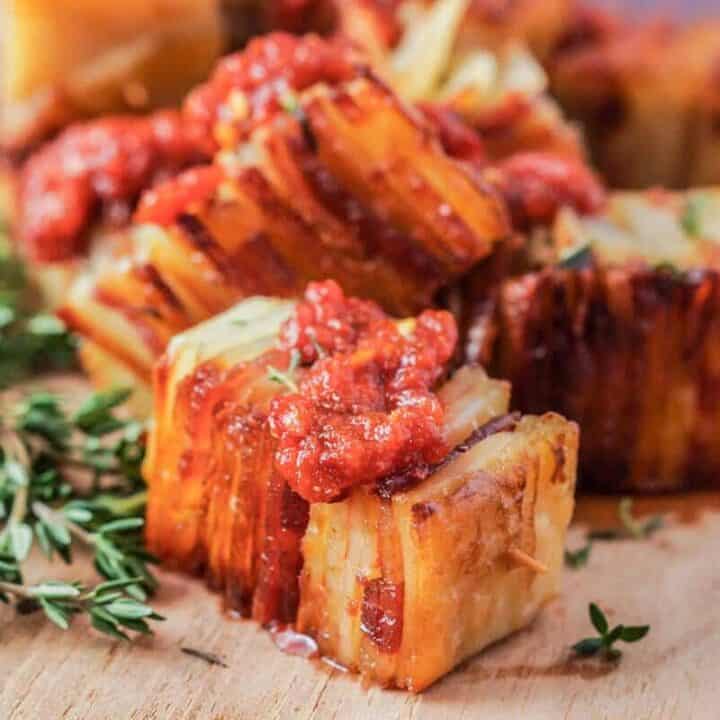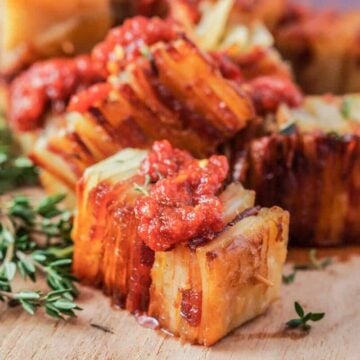 Potato Pave with Bacon and Parmesan
Potato Pave with Bacon and Parmesan are a Fancy Finger Food recipe perfect for parties! Thinly sliced potatoes and bacon are layered with the most delectable combination of cream, thyme, and Parmesan, then baked until beautifully golden and crispy.
Instructions
Using an oven or frying pan, cook the bacon in batches until fried, but not yet crispy. Set aside.

Line the base and sides of a 9×13 inch (23-35 mm) baking dish with parchment, allowing it to hang over the sides.

Peel and thinly slice the potatoes. Line the bottom of the prepared pan with two layers of the sliced potatoes. Drizzle with some of the cream, thyme leaves, Parmesan, and a small sprinkle of salt. Cover with a layer of the cooked bacon.

Top with another two layers of the potatoes. Continue layering with the cream, thyme, Parmesan, salt, then bacon and potatoes. Continue to repeat, finishing with a couple of layers of potato. Drizzle with cream, thyme, Parmesan, a little salt, and the melted butter.

Fold in the tops of the parchment paper and cover with plastic wrap. Place a slightly smaller baking pan on top and fill with something heavy such as weights or cans. Allow to rest for 20 minutes.

Preheat oven to 350˚F (180˚C). Remove the smaller pan with the weights and the plastic wrap. Cover the top with foil and bake until the potatoes are tender, about 1 hour. Remove the foil and set it aside. Bake for another 20 minutes to lightly brown the top.

Place the foil back over the casserole and top with the smaller dish and weights. Chill in the refrigerator overnight.

The next day, preheat oven to 425˚F (218˚C). Line two baking sheets with parchment.

Turn out the layered potatoes onto a large cutting board. Use a sharp knife to trim the edges. Cut the remaining casserole into small squares and skewer each top to bottom with a toothpick.

Transfer each skewer to the prepared baking sheets, on their sides and not touching. Bake in preheated oven until lightly golden, about 10 minutes. Gently flip them and bake until crisp and golden, another 10-15 minutes. Transfer to paper-towel lined plates to drain the excess oil.

Serve sprinkled with more fresh thyme and sriracha or other hot sauce if desired.
Nutrition
Calories:
92
kcal
Carbohydrates:
7
g
Protein:
5
g
Fat:
4
g
Saturated Fat:
2
g
Cholesterol:
20
mg
Sodium:
210
mg
Potassium:
219
mg
Vitamin A:
125
IU
Vitamin C:
2.2
mg
Calcium:
34
mg
Iron:
0.5
mg
Did you try this recipe?
Tag #SundaySupper on social and leave a comment below!