Sunday Supper is an Amazon Associate and may receive compensation for purchases made through affiliate links.
You're going to love our Southern Smothered Pork Chops recipe! These lightly breaded, tender pork chops simmered in a rich and creamy onion gravy make a family meal everyone at the table will love. Pork chop recipe ideas just don't get any better than this!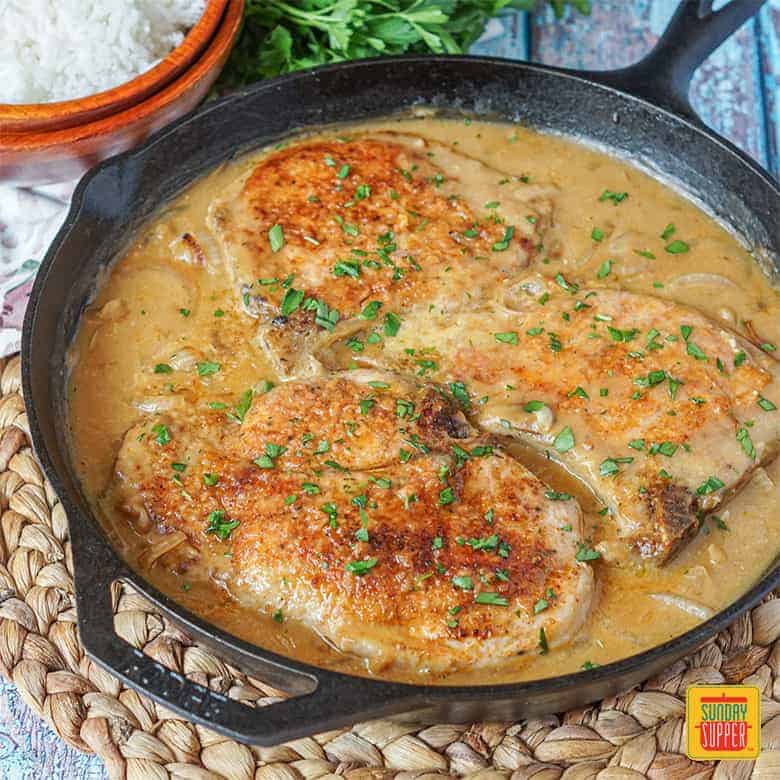 What are smothered pork chops?
This is a classic Southern dish, and one of the best comfort food recipes ever! Pork loin chops are coated in seasoning and flour, then pan-fried golden-brown and simmered in a rich, creamy onion gravy.
They're called "smothered" because of the cooking technique used to make them. Smothering involves cooking your food in the liquid, in a pan with a lid over low heat.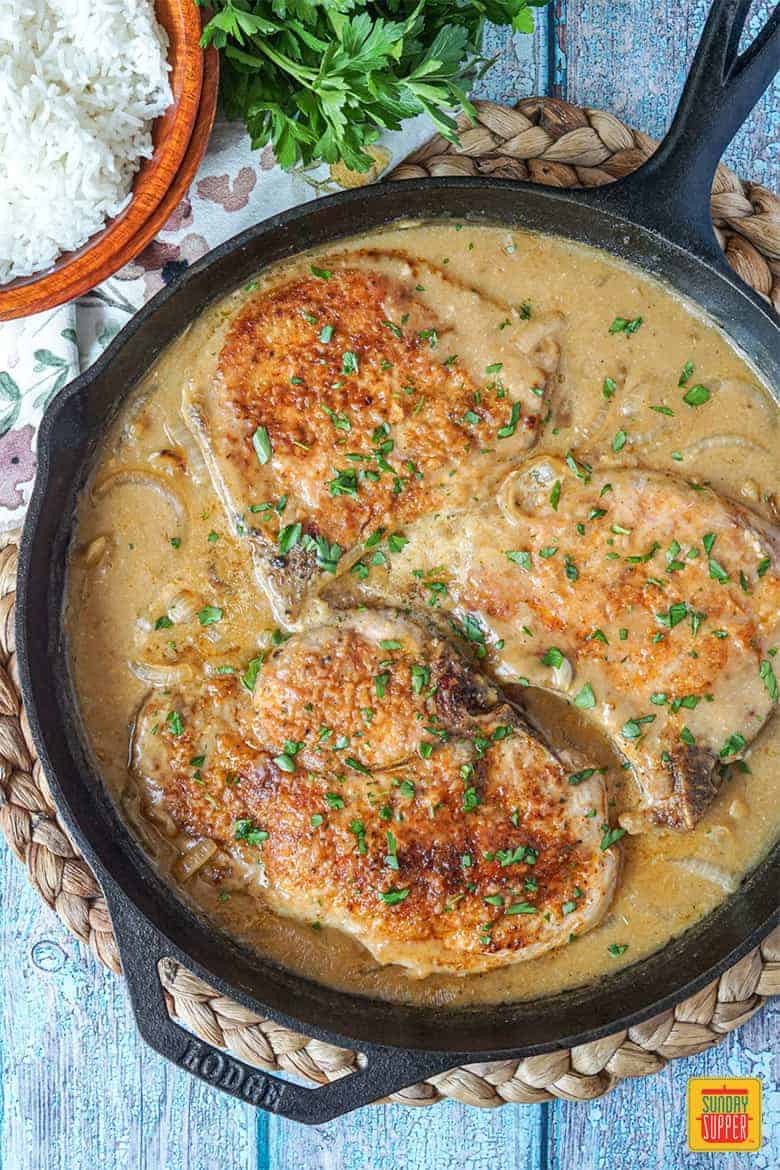 Recipe Tips
Generously season both sides of your pork chops and adjust seasoning for the gravy to taste.
Use thick-cut, bone-in chops if possible. You want your chops about 1 to 1½ inches thick. If you're using boneless chops, watch them while they simmer as they overcook more easily.
We use flour in two parts of this recipe. Once, to flour the chops, and another time to make the roux. Divide the flour out ahead of time to make it easier.

Brown the chops before making the gravy – this adds so much flavor.
Use a deep-side cast iron pan for best results.
If your pork chop gravy gets too thick while simmering, thin it out with just a bit of water.
Don't add the buttermilk until after the chicken broth has begun to thicken and the heat is reduced to low.
When they're ready, pork chops will come out to 145˚F at the thickest part of the chop. Use a meat thermometer for best results.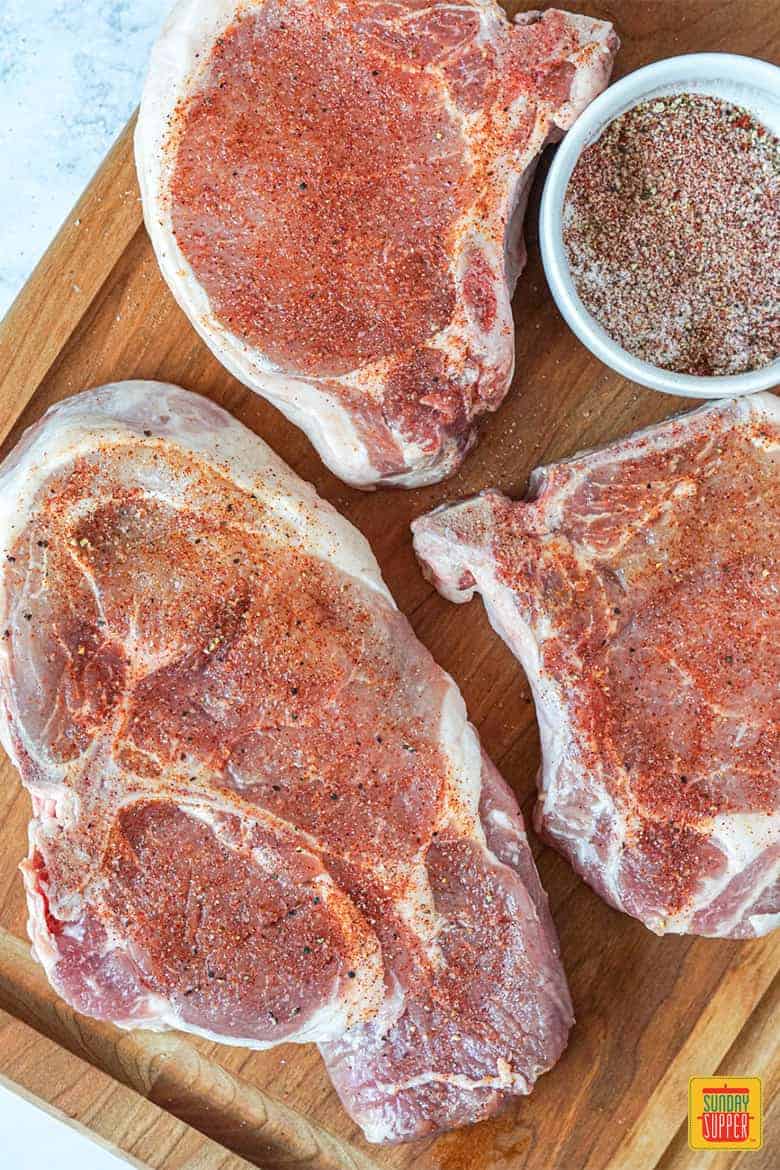 Pork Chop Gravy
Oh, how I love this creamy onion gravy! It is so rich and decadent and pairs perfectly with pork chops. It's easy to make gravy using a roux and onions.
We use chicken broth to add extra flavor to our pork chop gravy. It's so good – I just know you're going to love it!
Substitutions and Additions
You can adjust the amount of garlic to taste. I love garlic, so I use about 3 cloves. Use a clove more or a clove less depending on how much garlic flavor you want.
Fresh herbs are optional, but topping these chops off with a sprinkling of fresh parsley gives the dish a little pop of color and tastes wonderful!
Spice it up by adding a pinch of cayenne pepper to the salt blend. Or, serve with hot sauce!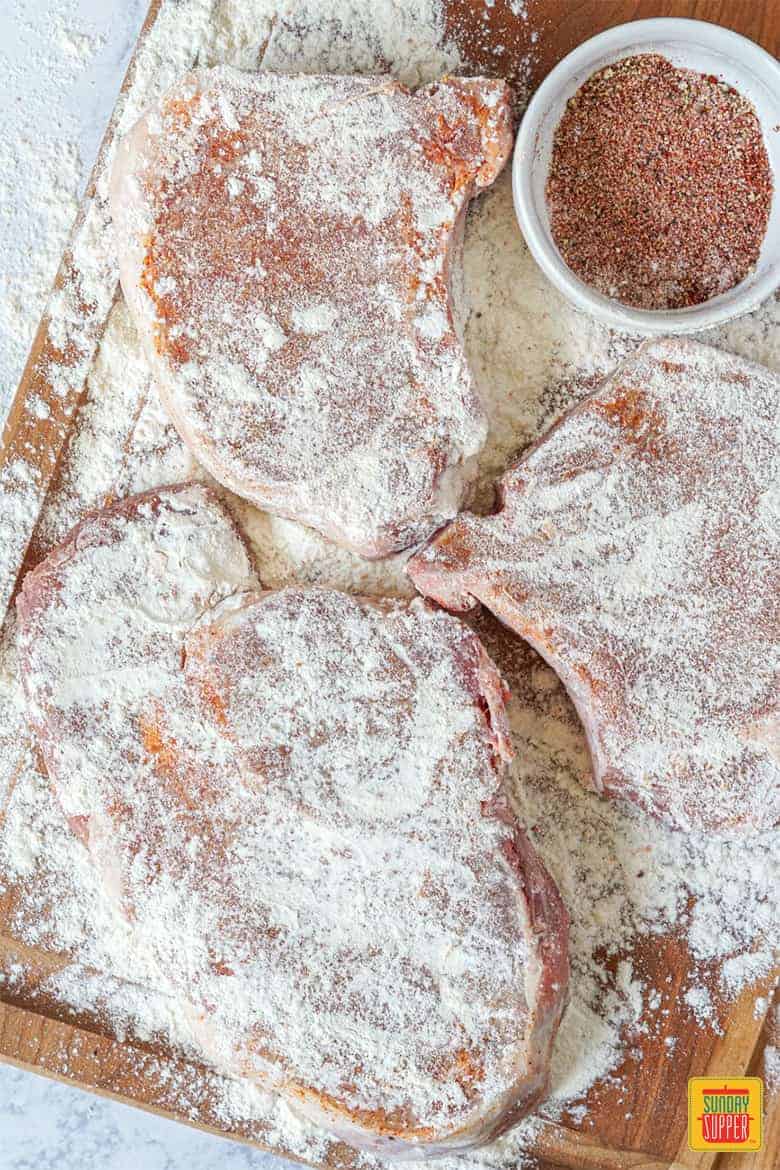 How to Make Smothered Pork Chops in the Oven
We show you how to cook pork chops on the stove in the recipe card below, but you can also make them in the oven instead.
Place the cast iron pan (or other oven-safe pan) in your oven preheated to 350˚F, after nestling the chops in the gravy. Cook about 30 minutes, until tender.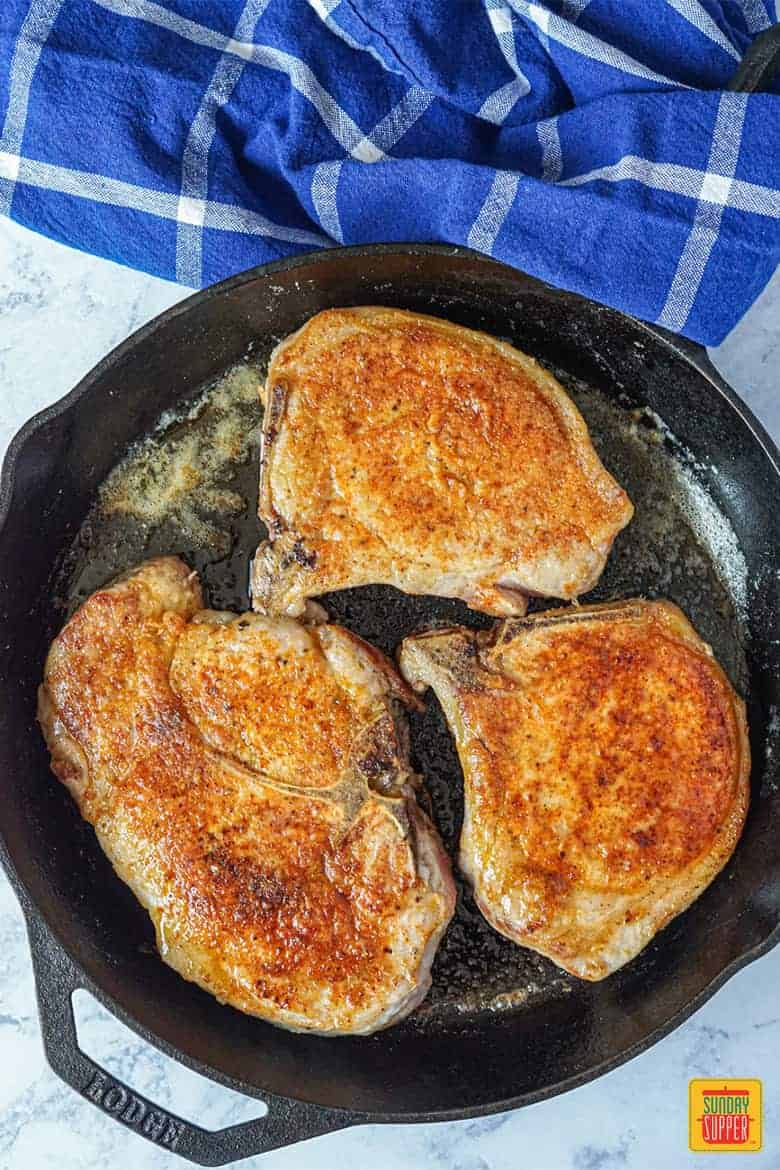 What to Eat with Pork Chops
If you're wondering what to serve with pork chops, we have so many delicious sides to choose from! This is one of the best Southern Sunday dinner ideas – we know you will love it.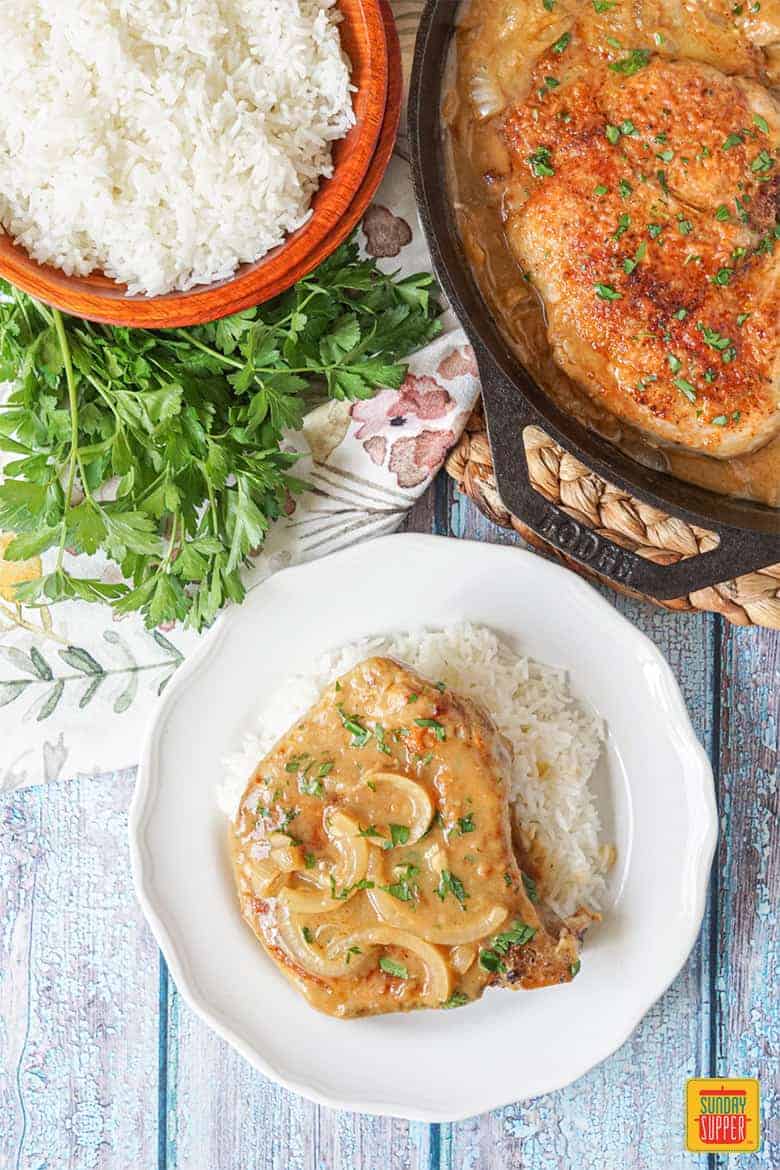 What our readers have to say:
The pork chop has really good flavor and I paired it with cauliflower mashed potatoes and sauteed vegetables 😋

-Shakera
Pork Chop Recipes
My Pork Butt Recipe is a perfect Sunday Dinner Idea!
What to Do with Leftover Pork Chops
Use leftovers to make our incredible Philly Pork Sandwich! This is my favorite way to use leftover pork chops. I first tried this sandwich in Philly and knew I had to make it at home.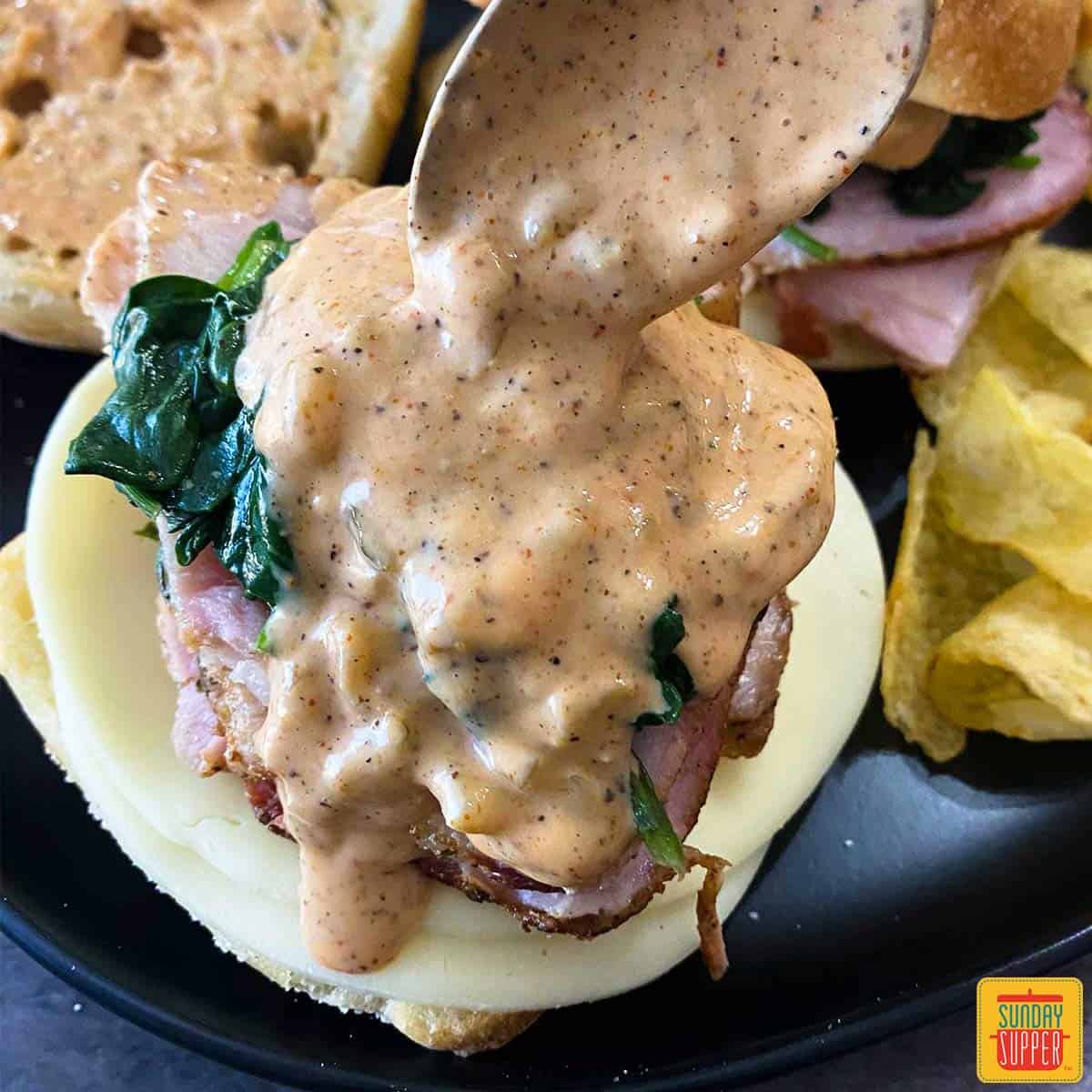 📌 Pin it for later!
Did you enjoy this page? Save it on Pinterest for later!



Save the Video Pin

Did you try this recipe? Leave a comment and a rating below to let us know what you think! We love to hear from you!

Check out our Smothered Pork Chops web story!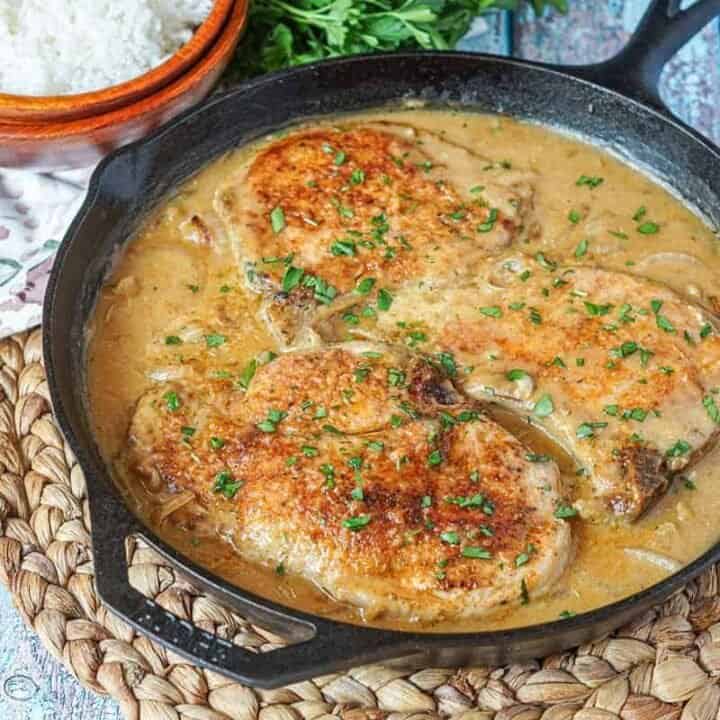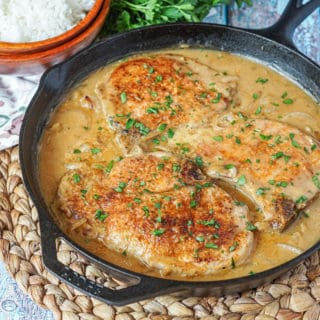 Southern Smothered Pork Chops
Look no further for comfort than this recipe for Southern Smothered Pork Chops! Seasoned and lightly breaded pork chops are simmered in a rich and creamy onion gravy until tender. Serve with rice or your favorite sides.
Ingredients
2

tsp.

salt

1½

tsp.

paprika

¾

tsp.

freshly ground black pepper

½

tsp.

garlic powder

¼

tsp.

onion powder

3-4

thick cut, bone-in pork chops

1-1½ inches thick

¾

cup

all-purpose flour

divided

3

Tbsp.

vegetable oil

1

large yellow onion

peeled and cut into ¼ inch thick slices

3

cloves

garlic

peeled and minced

2

Tbsp.

unsalted butter

2

cups

chicken broth

¼

cup

buttermilk

¼

cup

water

Freshly chopped parsley

for garnish
Instructions
In a medium bowl, whisk together 2 tsp. salt, 1½ tsp. paprika, ¾ tsp. black pepper, ½ tsp. garlic powder, and ¼ tsp. onion powder.

Sprinkle the mixture liberally over both sides of each pork chop (3 to 4 pork chops).

Set aside 3 Tbsp. flour from ¾ cups flour to thicken the gravy.

Spread out the remaining flour on a large plate. Coat each side of the pork chop in a light layer of the flour.

Place a deep, 12-inch cast-iron skillet over medium heat. Add 3 Tbsp. vegetable oil.

Once the skillet is hot enough, brown the seasoned pork chops on each side until golden, but not cooked all the way through, about 5 minutes per side. Remove the pork chops to a plate.

Add 1 large sliced yellow onion to the skillet. Cook, stirring occasionally, until beginning to caramelize, 10-15 minutes.

Stir in 3 cloves peeled and minced garlic and cook until fragrant, 30 seconds to 1 minute.

Push the onion and garlic to the side of the pan. Add 2 Tbsp. butter in the center of the pan. Once it melts, mix in the remaining 3 Tbsp. flour. Continue to stir until the mixture becomes golden.

Slowly pour in 2 cups chicken broth while continuously whisking to remove any lumps, then mix with the onions and garlic and any browned bits that may have stuck to the bottom of the pan.

Bring the broth to a boil, then reduce to medium-low and simmer until it starts to thicken, about 15 minutes.

Reduce heat to low and whisk in ¼ cup buttermilk and ¼ cup water. Gently nestle back in the browned pork chops, cover, and continue to simmer over low heat until the pork chops are tender and the thickest part is at least 145°F, 15-25 minutes.

The time may vary based on the size of the pork chop.

Remove the skillet from heat, adjust the seasonings as needed, and serve the pork chops warm with the pork chop gravy and a light sprinkling of fresh parsley.
Notes
Make sure the pork chops are a thick cut, around 1-1

½

inches thick, to keep them from overcooking. Bone-in is best.
Don't skip the step of browning the pork chops before making the gravy! It adds so much flavor.
If the gravy thickens too much while simmering, thin it out with a little water.
The cooking time on the pork chops may vary based on their size. You want the thickest part to be at least 145˚F.
Don't add the buttermilk until after the chicken broth has begun to thicken and the heat has been reduced to low. Overheating and boiling the buttermilk can cause it to separate.
Nutrition
Calories:
430
kcal
Carbohydrates:
25
g
Protein:
26
g
Fat:
25
g
Saturated Fat:
16
g
Cholesterol:
85
mg
Sodium:
1455
mg
Potassium:
618
mg
Fiber:
2
g
Sugar:
2
g
Vitamin A:
1120
IU
Vitamin C:
11
mg
Calcium:
54
mg
Iron:
2
mg
Did you try this recipe?
Tag #SundaySupper on social and leave a comment below!
Photography by Tara Margetson