Sunday Supper is an Amazon Associate and may receive compensation for purchases made through affiliate links.
This Frozen Cheesecake Popsicle Recipe will change your life! Made with cheesecake ice cream and sweet berry compote, these red white and blue popsicles are the perfect way to celebrate summertime. Make them for a backyard BBQ or as a sweet treat to enjoy all week long!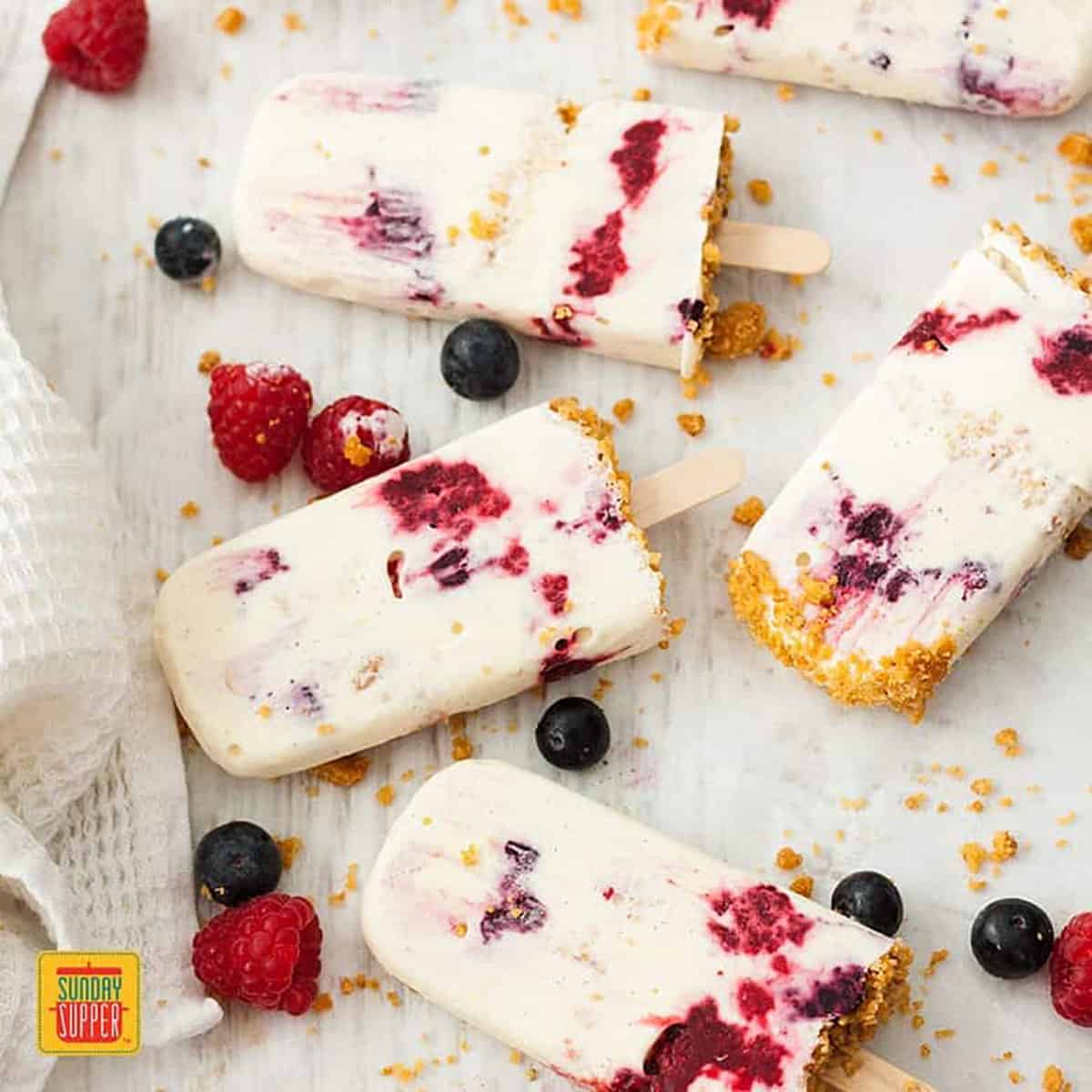 I guarantee that if you make these popsicles, everyone will be asking you to make them again. The creamy cheesecake ice cream and raspberry and blueberry compotes make for delicious homemade popsicles everyone loves!
This is not your everyday popsicle recipe. What really sets it apart is its creamy texture and refreshing, fruity flavors. I can promise you you've never had a popsicle this delicious before!
Plus, the blueberries and raspberries blend with the white cheesecake mixture to make these the perfect red white and blue popsicles! Serve these frozen cheesecake bars up for a Memorial Day barbecue or a 4th of July celebration, and they will be a hit.
Jump to:
🍽 Equipment
To make these frozen cheesecake ice cream bars, you will need an electric stand mixer or hand mixer to mix the cream cheese custard used as the ice cream base. You will also need popsicle molds.
An ice cream maker is optional, but will save you a lot of time and make the process much easier.
🍦 Ingredients
You will need ingredients for the ice cream base, the cookie crumble, and both berry compotes. The ingredients are very simple, and you can even use frozen fruit for the berries!
For the cheesecake ice cream:
8.9 oz. cream cheese, softened (1 8 oz. package + 2 tablespoons)
1 large egg
1 teaspoon vanilla
½ cup granulated sugar
½ cup whole milk
1 cup heavy cream
2 teaspoons lemon zest
pinch salt
The rectangular block of cream cheese you know and love is typically sold in 8 oz. packages.
For about 8.9 oz., you will need one package plus an additional 2 tablespoons of cream cheese. Let it soften before using it in this recipe.
For the cookie crumble:
½ cup graham crackers
4 teaspoons sugar
3 tablespoons unsalted butter, melted
For the berry compotes:
You will need the same ingredients for making both the blueberry and raspberry compote.
If you want to keep them separate to make the colors stand out more and have these be more like red white and blue popsicles, you will want to keep the ingredients separate, too.
2 cups blueberries, frozen
1 tablespoon granulated sugar
1 tablespoon water
And…
2 cups raspberries, frozen
1 tablespoon granulated sugar
1 tablespoon water
If you don't mind mixing the colors, you can cook them together to save yourself an extra dish to clean!
Alternatively, you can make our Berry Compote Recipe to use in these cheesecake ice cream bars. It uses a few extra ingredients for a flavor that makes the compote really stand out on its own!
🔪 Instructions
Start by making the cheesecake ice cream. This will give it time to set while you work on preparing the other ingredients.
Then, you will prepare the cookie crumble and berry compotes that you layer into popsicle molds with the ice cream at the end of the process.
How to make ice cream:
Using a hand mixer or electric stand mixer, beat together ½ cup sugar and 8.9 oz. cream cheese until smooth. Add in 1 egg and 1 teaspoon vanilla, scraping down the sides of the bowl as necessary.

In a medium saucepan, bring ½ cup whole milk to a simmer. With the electric mixer on low, very slowly pour the milk into the cream cheese mixture.
Add the mixture to the saucepan and heat on low, stirring continuously until it thickens. When it's ready, you should be able to see the bottom of the pan when stirring.

Strain the custard mixture into a clean bowl, then stir in 1 cup heavy cream, 2 teaspoons lemon zest, and a pinch of salt. Cover and refrigerate for at least 2 hours.

Once cold, pour the custard into your ice cream machine and churn according to your machine's instructions until frozen.
Alternatively, if you do not have an ice cream machine, you can churn the ice cream by hand. Keep it in the freezer and give it a good mix every 10-15 minutes for at least 1 ½ to 2 hours.
How to make berry compote:
Add 2 cups frozen blueberries and 2 cups frozen raspberries to separate saucepans.
Add 1 tablespoon sugar and 1 tablespoon water to each pan and bring to a simmer.
Continue to simmer, stirring occasionally, for around 20 minutes or until it thickens and the liquid has almost completely disappeared.
Allow to cool before using.
How to make cookie crumble:
Place ½ cup graham crackers in a plastic bag and gently crush with a rolling pin until they are a crumb texture.
Mix the crumbs with 3 tablespoons melted butter and set aside at room temperature.
Final step – how to make popsicles:
Once the frozen cheesecake ice cream is ready, begin layering your separate ingredients into the popsicle molds.
I layered mine in the following order:

Ice cream
Blueberry compote
Ice cream
Cookie crumble
Ice cream
Raspberry compote
Ice cream
and more cookie crumble at the very bottom

Freeze for about 2 hours before serving.

To remove the popsicles from the molds, run the ice cream molds under warm water and gently ease them out.
👪 Serving Size
This frozen berry cheesecake popsicle recipe will yield 8 popsicles, perfect for a birthday party or backyard BBQ.
🍨 Variations
This homemade ice cream recipe is versatile! You can use other fillings or even make a treat other than popsicles using it. Give these ideas a try:
Chocolate-dipped frozen cheesecake balls. Ball the ice cream up into bite-size balls with an ice cream scoop or spoon, then dip in Chocolate Ganache or coat them in the cookie crumble (or both!) and let them harden in the freezer. Serve them as-is or on sticks. Yum!
Mixed berry compote. Use our Mixed Berry Compote Recipe instead of the two different kinds of compotes. It has extra flavorings, and will taste amazing in these cheesecake bars!
Mix in frozen strawberries. Follow our guide on How to Freeze Strawberries and use your own frozen berries in this treat! Even better if you pair them with our Strawberry Sauce Recipe.
🍰 Serving Suggestions
Serve this frozen cheesecake recipe for a BBQ party or a birthday celebration! They're perfect for holidays like Memorial Day or the 4th of July.
For the perfect BBQ, take a look at our favorite side dishes for BBQ and our grilling recipes.
These cheesecake bars are especially delicious when you pair them with one of our favorite drink recipes, too! Try these:
📖 Similar Recipes
Love homemade ice cream and frozen treats? We do, too! Here are some of our top favorite desserts: