This post may contain paid links. If you make a purchase through links on our site, we may earn a commission.
Enjoy this quick, easy, and versatile berry compote recipe on its own or as a topping for breakfast or dessert! Rote Grütz adds a delicious pop of flavor to almost any dessert.
Mixed berry compote only uses three simple ingredients and is easy to make in under 30 minutes. Use it as a topping for waffles or oatmeal, or even with yogurt, ice cream, or cake!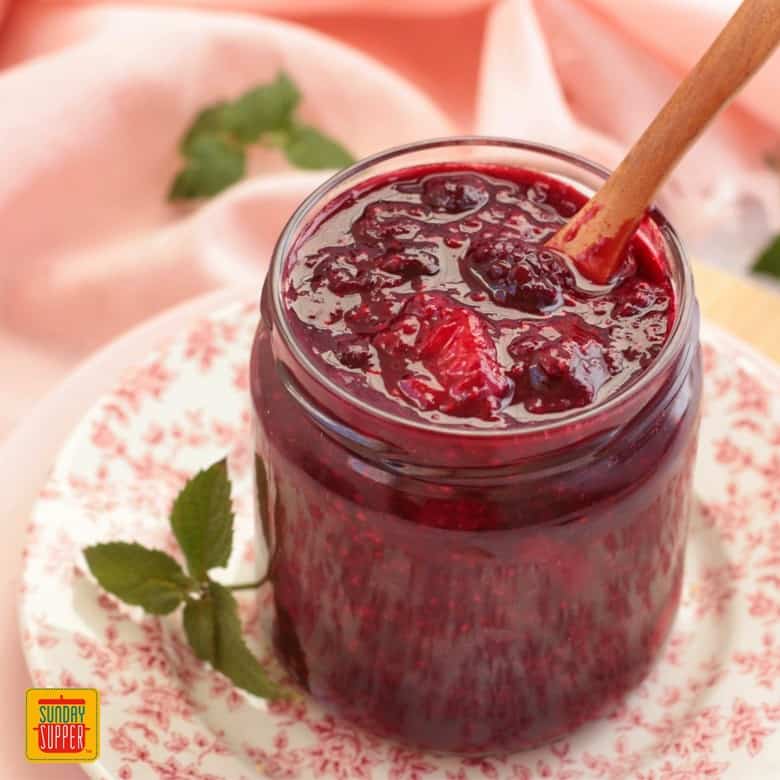 What is a berry compote?
Compote uses whole or cut-up fruit cooked in syrup. The fruit cooks slowly at a low temperature to keep its shape, giving the compote a chunky texture.
This delicious mixed berry compote can be made with dried, fresh, or frozen berries.
Traditionally, compote is made with a simple sugar syrup, but you can add many spices and flavorings to your berry compote recipe according to taste.
Many cuisines and cultures use berry compote in both sweet and savory dishes, whether to top pancakes, ice creams, or even meat.
In Northern Europe, berry compote is called "Rote Grütze" when it uses red berries and "Lila Grütze" when purple berries are added.
What's the difference between compote and jam?
The main difference between a compote and a jam is that a compote is only cooked in sugar syrup. A jam usually has added pectin, a thickening agent, or a higher quantity of sugar.
The fruits in a compote remain chunky in liquid syrup. Jam reduces further until the syrup becomes thick and sticky, and the fruits lose their shape.
Berry Compote Recipe Ingredients
Making a Rote Grütze requires only a few ingredients:
For this recipe, I use a mix of strawberries, raspberries, blueberries, and blackberries.
RECIPE TIP: Remember, you can use fresh, frozen, or dried berries when making the compote. It will be delicious no matter which way you make it!
How to Make Berry Compote
Making mixed berry compote is both ridiculously easy and super quick. It does not require any prep, especially if you use frozen berries. To make this Rote Grütze, simply:
Clean, cut and remove the stems from the berries if you are using fresh ones.
Place the mixed berries, lemon juice, and brown sugar in a small pot on

low heat

.
Cook for 5 minutes with the pot lid on then for another 10 to 15 minutes without the lid.
Remove from the stove, leave to cool down for a few minutes, then transfer into a sealed jar. Keep in the fridge or freeze when cold.
Can I use frozen berries for a compote?
Absolutely! Not only will using frozen berries make the process even easier as you won't need to cut or core the fruits. We have a great guide on how to freeze strawberries.
Frozen berry compote is also perfect if you want to enjoy Rote Grütze all year long, even when the berries you want aren't in season!
How long will fruit compote last in the fridge?
When stored properly in a sealed jar, this berry compote will last up to 2 weeks in the fridge.
You can also freeze it in a plastic container or freezing bags for a few months. Simply thaw overnight in the fridge when ready to eat.
Can berry compote be canned?
Although you can technically can this Rote Grütze recipe, it is not recommended. Because of its low sugar content, the compote will not preserve as well as jams or other cooked fruit recipes that have a higher ratio of sugar to fruit.
For recipes that can be canned, try this strawberry jam recipe: Strawberry Rhubarb Jam.
What do you eat strawberry compote with?
There are so many delicious dishes you can eat this compote with, whether it is for breakfast, dessert or even with savory meals. Here are a few ideas, starting with our Baked Brie with Crescent Rolls.
For breakfast
For dessert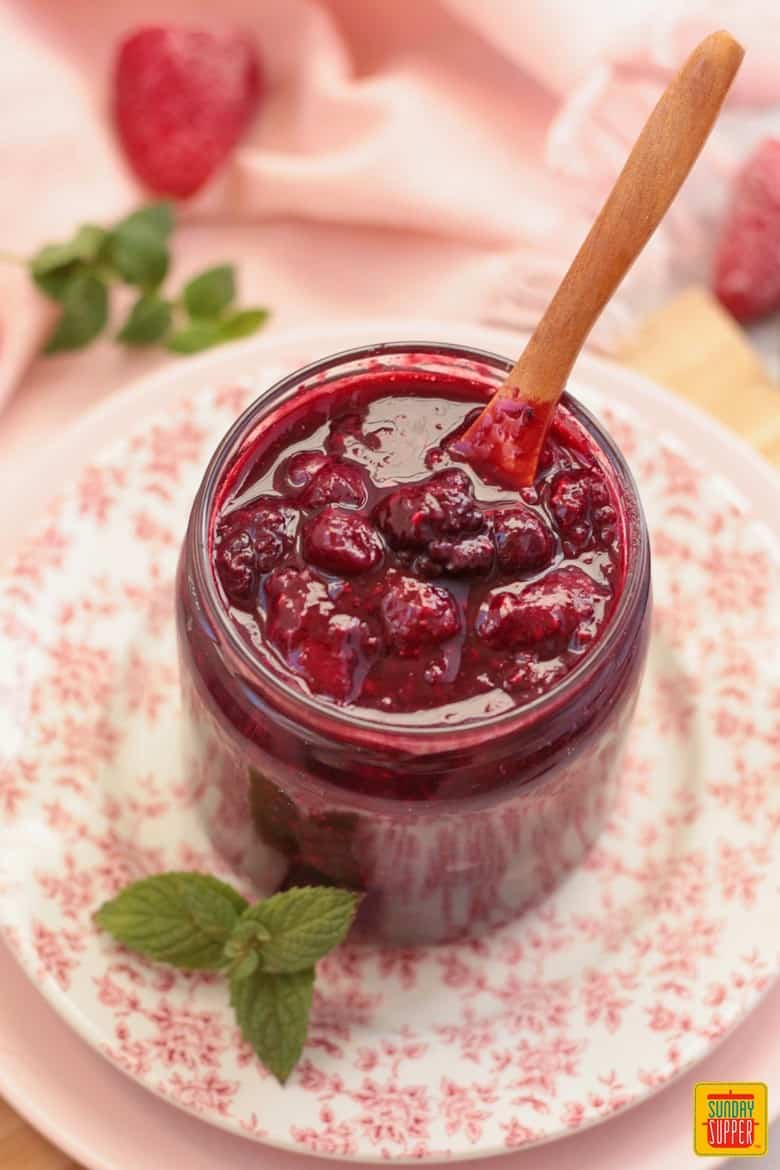 Quick, easy, wholesome, and versatile, this recipe is perfect for kids and adults alike. With so many different delicious ways to enjoy this mixed berry compote, it should soon become a fridge staple in your house!
Love this strawberry compote recipe as much as we do? Try these other sweet recipe ideas…
This is great! 😋Used frozen mixed berry. Perfect for parfaits and pie topping. Also going to try it in a frozen recipe I have seen. Getting my fruit in!

Charissa on Pinterest
Turned out so tasty. Super easy! Thanks for sharing.

Jamie on Pinterest
📋 Recipe
Berry Compote Recipe
Enjoy this QUICK and EASY berry compote recipe on its own or as a topping for breakfast or dessert! Mixed berry compote uses just three simple ingredients.
Ingredients
3 ½

cups

Mixed Berries

(Fresh or Frozen)

3

Tbsp.

Brown Sugar

½

Lemon

(Juiced, about 2 Tbsp.)

Optional: Ground Cinnamon, Ground Ginger, Star Anise Pods or Vanilla Essence/Paste to taste
Instructions
If using fresh berries, wash and remove the stems if required.

Place the Mixed Berries, Lemon Juice and Brown Sugar in a small pot and stir to combine. Turn on the stove on low heat, and leave to cook for 5 minutes with the lid on.

Remove the lid and leave to cook for another 10 to 15 minutes. The fruits should have reduced but still be chunky.

Let the compote cool for 5 minutes, then transfer into a sealed jar. Keep in the fridge for up to 2 weeks or in the freezer in a plastic container or freezing bag for a few months.
Nutrition
Calories:
230
kcal
Carbohydrates:
57
g
Protein:
1
g
Fat:
2
g
Saturated Fat:
1
g
Sodium:
9
mg
Potassium:
213
mg
Fiber:
8
g
Sugar:
45
g
Vitamin A:
125
IU
Vitamin C:
21.1
mg
Calcium:
47
mg
Iron:
0.8
mg
Did you try this recipe?
Tag #SundaySupper on social and leave a comment below!