Sunday Supper is an Amazon Associate and may receive compensation for purchases made through affiliate links.
The flavor combination of this Gluten Free Stuffing is the perfect side dish for the holidays. The meaty flavors of bacon and porcini mushrooms are natural partners for the leeks and thyme and create an enticing & elegant gluten free side for the Thanksgiving table or any holiday meal.
There are so many recipes for stuffing out there, but since everybody has different tastes, there is always room for more. So how about a Gluten Free Stuffing that comes fully loaded with flavorsome goodies and is suitable for all the guests around your holiday table and beyond.
Is Stuffing Gluten Free?
Traditional Thanksgiving stuffing., is made with bread which contains gluten, so stuffing is not naturally gluten free. However, by making a slight change to use gluten free bread, and being sure to read all the labels on the ingredients to ensure there is no hidden gluten like we did in this recipe for Gluten Free Stuffing, your Thanksgiving stuffing can be gluten free and enjoyed by all of your guests.
Does Stuffing Contain Meat?
It's an open debate as to whether stuffing should or should not contain meat. Or fruit for that matter. Really, it comes down to a matter of taste. Your taste and preferences, to be precise.
This Gluten Free Stuffing does contain meat, in the form of bacon, but no sweet fruit. Instead, the salty bacon has been paired with earthy porcini mushrooms, robust leeks, crunchy walnuts and a sprinkle of delicate thyme. The result is a gluten free side dish that partners well with white meats and feels special. Porcini mushrooms are, after all, a prized ingredient.
What are porcini mushrooms?
Porcini mushrooms are a variety of fungi commonly grown under conifer trees across Europe and occasionally in North America. Porcini mushrooms offer an intense, rich and meaty flavor. They can act to subtly transform a simple stew into an elegant, flavorful feast or feature more prominently in a sauce alongside a slab of steak.
Fresh porcini mushrooms can be hard to get hold of, but the dried variety is more readily available and makes a great ingredient to have on standby in the pantry. They really do deliver a great flavor boost when needed. Porcini mushrooms are not cheap, but fortunately, the pungent nature of the porcini means that a little goes a long way in the kitchen, so you don't need a lot to make a big flavor impact.
To prepare dried porcini mushrooms, steep them in hot water for 20 minutes or until they've softened and expanded. Drain them, reserving the liquid, to use in your recipe (if required) to add an extra boost of mushroom flavor.
How do you make Gluten Free Stuffing?
Making this Gluten Free Stuffing is incredibly simple:
Make croutons from fresh gluten free bread
Prepare the porcini mushrooms
Chop and fry the onion, leeks & bacon
Mix everything together with some stock and bake until crisp
A lot of these stages can be completed whilst the croutons are crisping in the oven and hands-on preparation time for this Gluten Free Stuffing is around 15 minutes. That's all.
Remember I said that your choice of stuffing comes down to your tastes? Well, talking of taste, I recommend cooking this Gluten Free Stuffing for a minimum of 30 minutes for a moist stuffing and 40 minutes for a dryer, crispier finish. I'll let you decide how crisp you want your stuffing to be.
This Gluten Free Stuffing would make a fine companion to roast turkey, alongside all the usual Thanksgiving trimmings.
It can be baked in 1 large roasting pan or several smaller ones, which can be handy if you are serving a crowd.
Want more gluten free recipes?
Gluten Free Side Dishes
Gluten Free Holiday Recipes
Cooking for more than a gluten-free diet? Check out our Portuguese Chorizo Cornbread Stuffing or our Instant Pot Sage Sausage Stuffing Recipe!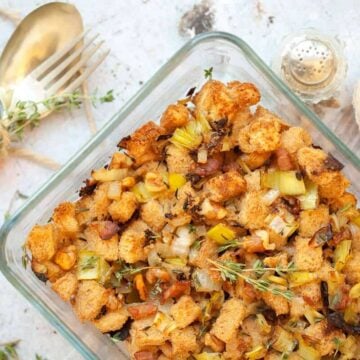 Gluten Free Stuffing
Gluten Free Stuffing is the perfect side dish for the holidays, and best of all, everyone can enjoy this deliciously festive stuffing recipe!
🥘 Ingredients
10 ½

ounce

Gluten Free Bread

cut into 1cm cubes (6 cups)

¼

Cup

Butter

/ 2 oz

1

Onion

(white)

1

Cup

Leek

chopped (4 ½ oz)

½

oz

Porcini Mushrooms

dried

½

cup

Walnuts

shelled and chopped

⅓

Cup

Bacon

diced

2

tbsp

thyme leaves

fresh

1

Cup

vegetable stock

gluten free (240 ml)
🔪 Instructions
Preparations
Preheat the oven to 225F and line a lipped baking sheet with parchment

Scatter the bread cubes onto the parchment and cook in the oven for 45 minutes, turning occasionally to ensure the croutons are evenly cooked

After 45 minutes the croutons should be golden – if not, continue to cook for a few more minutes until they begin to color. Set aside to cool

Meanwhile, put the porcini mushrooms into a small bowl, cover with ⅓ cup hot water and set aside to steep for 20 minutes
Make the Gluten Free Stuffing
Turn the oven up to 350F and grease either 1 large (9 x 13) roasting dish or 2 smaller ones

Melt the butter in a large skillet and fry the onion over a moderate heat until it softens. Add the leek and continue to fry gently until they soften too

Scoop the vegetables to the side of the pan and add the bacon. Cook, turning frequently, for several minutes then remove the pan from the heat

Strain the mushrooms from their juices (reserve the liquid), chop and add to the skillet along with the walnuts, thyme and some seasoning. Stir well

Put the croutons into a large mixing bowl then tip in the vegetable mix. Using your hands, or a large metal spoon, mix to ensure that the flavours are evenly distributed.

Filter the reserved mushroom liquor through a fine-meshed sieve to remove any grit then pour into the vegetable stock. Pour all of the liquid onto the stuffing mix and toss briefly – just enough to ensure an even coating, but not enough to break up the bread. Taste and season as necessary

Transfer the stuffing to the roasting dish(es), cover with foil and bake for 20 minutes. Remove the foil and bake for 10 more minutes to obtain a softer, moist stuffing or up to 20 minutes for a drier, crisper finish
Nutrition
Calories:
248
kcal
Carbohydrates:
26
g
Protein:
3
g
Fat:
14
g
Saturated Fat:
4
g
Cholesterol:
24
mg
Sodium:
333
mg
Potassium:
110
mg
Fiber:
2
g
Sugar:
4
g
Vitamin A:
610
IU
Vitamin C:
5.1
mg
Calcium:
76
mg
Iron:
1
mg
Did you try this recipe?
Tag #SundaySupper on social and leave a comment below!