This post may contain paid links. If you make a purchase through links on our site, we may earn a commission.
Have you ever wondered How to Cut Peaches in a way that's easy, without any mess? Good news: we have a method for cutting peaches that you can use every time!
It's easy, quick, and works perfectly for removing the pit and cutting beautiful slices to freeze or use in dishes like Grilled Peach Salad. Even better if you peel them first!
Jump to:
When is peach season?
You can find fresh peaches in the grocery store from May to October, but the best time to buy them is between June and August. This is when peaches reach the peak of their season!
Picking Peaches at the Store
The first step to slicing peaches is picking the best fruit out at the store. You want to start with perfectly ripe, beautiful peaches for the best results. 🍑 Here's what you should look for:
If a peach is heavy, it's juicy! Weigh the fruit in your hand to find the ones that are the heaviest for their size.
A strong, peachy smell is a sign that the fruit will taste extra peachy, too.
Peaches that are a little soft, but not mushy or wrinkly. Wrinkly skin and mushy spots means the fruit is over-ripe.
Avoid rock-hard peaches! They are under-ripe and won't ripen properly or taste as sweet.
Remember, peaches ripen after being picked, just like avocados or bananas. If you're buying them, plan to use them within that same week, or freeze them for later.
How long do fresh peaches last?
Store fresh, uncut peaches for about a week in the refrigerator for best results. Keep them in plastic bags or the vegetable drawer. If they still need to ripen a little more, leave them out at room temperature for a day.
Can peaches be left out?
Yes, you can leave peaches at room temperature, and they will be fine to eat.
However, it's important to keep in mind that they will continue to ripen if you leave them out, and will spoil more quickly than if you keep them in the refrigerator.
How to Wash Peaches
Wash the peach under cold running water to remove any dirt or germs. Use your hands to gently rub away anything that might be on the surface of the skin.
Peach skin is sensitive, so handle it gently and don't use a scrubber. Do not wash peaches until you're ready to cut or freeze them, as the added moisture will cause them to spoil more quickly.
How to Peel Peaches
Do you want to peel your fruit before cutting it? We have good news for you! Our guide on How to Peel Peaches shows you the best way to peel peaches without making a mess or losing any fruit in the process. It's so easy, you can use your hands. No knife or peeler required!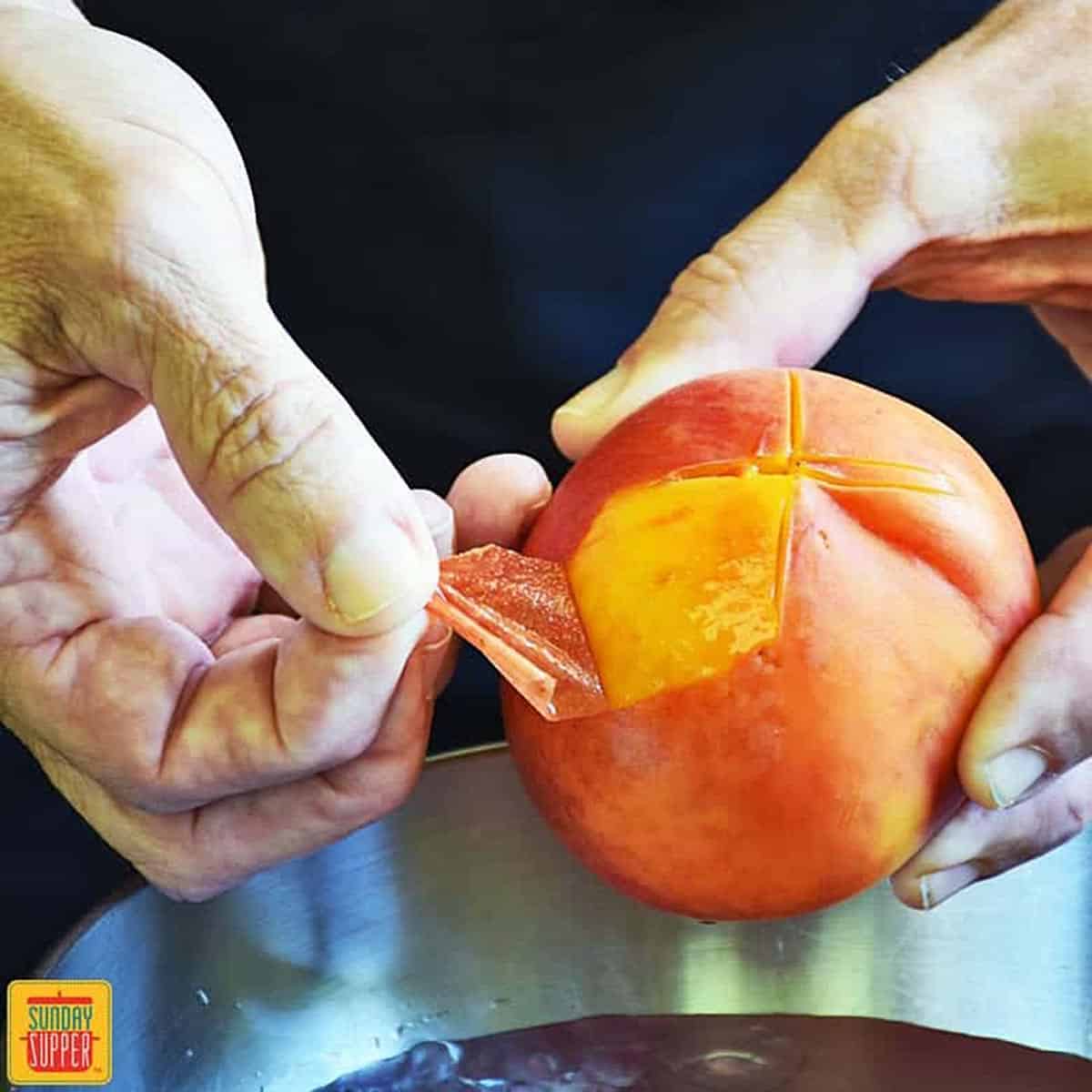 How to Freeze Peaches
After you cut your fruit, the best way to keep it to use in recipes year-round is to freeze it. Follow our guide on How to Freeze Peaches to easily freeze your fruit to use later in the year for recipes like smoothies, preserves, and cobbler.
🍑 Fresh Peach Recipes
Once you know how to slice a peach into those perfect slices, you can use them for all kinds of fresh peach recipes. Try them in a Grilled Peach Salad or with Asian Peach Glazed Chicken.
If you're planning on baking, start by peeling before you slice peaches. Then use them in recipes like Peach Cobbler with Cake Mix or Healthy Peach Bread!
Smoothies are also a perfect choice. Try mixing peaches into our Blueberry Smoothie Recipe, or even use them for a Fruity Coconut Rum Cocktail. 🍹
📖 Helpful Kitchen Tips
Did this guide help you slice peaches? Let us know in the comments below and with a rating! We would love to hear from you. While you're at it, check out our other helpful kitchen tips and guides:
Cutting Avocados
Freezing Strawberries
Save the Video Pin
📋 Recipe
How to Cut Peaches Step-by-Step
Learn how to cut a peach quickly and easily to remove the pit from the center, so you can slice it or dice it any way you like it!
Ingredients
4

peaches

or however many you would like to cut
Instructions
Wash the peach: Wash the peach under cold running water to remove any dirt or germs. Use your clean hands, instead of a scrubber, to gently rub away anything that might be on the surface of the skin. Peach skin is sensitive, so handle it gently.Cut around the peach pit: Using a paring knife, insert it near the top of the peach until you hit the pit in the center. Carefully move the knife down and around the peach, cutting in a straight line until you reach the top on the other side of the peach.

Separate the peach halves: Now that you've cut all the way around the pit of the peach, put down the knife and use your hands to gently pull the peach apart.

Sometimes you might need to give a gentle twisting motion to twist the peach apart.

If the peach isn't too soft, you can use your fingers to separate the 2 halves of the peaches by inserting them into the cut portion and pulling gently.

Remove the peach pit: You'll notice one half of the peach still has the pit in it.

Holding the peach half with the pit in one hand, gently remove the pit using your other hand.

Use your knife to cut away the center portion of the peach where the pit was. This area can be hard and less desirable to eat.

Slice or dice the peach: Cut the peach halves into slices. Lay one half on a clean cutting board and use a paring knife to slice the peach into equal pieces or dice it as needed. Repeat with remaining peach half.
Nutrition
Calories:
63
kcal
Carbohydrates:
15
g
Protein:
1
g
Fat:
0.4
g
Saturated Fat:
0.03
g
Polyunsaturated Fat:
0.1
g
Monounsaturated Fat:
0.1
g
Sodium:
20
mg
Potassium:
183
mg
Fiber:
2
g
Sugar:
13
g
Vitamin A:
489
IU
Vitamin C:
6
mg
Calcium:
6
mg
Iron:
1
mg
Did you try this recipe?
Tag #SundaySupper on social and leave a comment below!
Photography by Marion Myers and Daniela Lambova.