Sunday Supper is an Amazon Associate and may receive compensation for purchases made through affiliate links.
Nothing quite screams the height of summer like fresh peaches coming into season. It's also the time of grilling and eating light salads.
So why not combine all of them with this deliciously simple Grilled Peach Salad. Easy to make, this peach salad is flavorful, light and you can customize it too!
I have always loved the progression of fruit as the summer moves on, going from berries to stone fruits. But I will never forget how much sweeter the peaches taste when you can go to a farm or farmers market where they are picked ripe and fresh.
The flavor is so much better, you can't help but fall in love with them even more. I love enjoying things like coconut chia pudding with white peach to show off their flavor, and they're great to throw into a moscato sangria or citrus peach sangria on the side too.
Sadly, going fruit picking isn't possible for most of us every day, but grilling peaches is a great way to bring out the flavors in any fruit (as in the simple dessert, grilled peaches with mascarpone).
Grilled peaches are the star of this simple salad that makes a great light meal or side.
How to Grill Peaches
First, choose your peaches. You want them to be just ripe but not too soft, as they will get softer as you cook them so if they are too soft, they may fall apart (for more info on how to pick the perfect peach, read our article titled Facts About Peaches and Peach Recipes).
Cut the peaches into slices and toss gently with oil. Grill for a couple minutes each side until you have gentle grill marks on both sides of the peach slices.
Assemble the Grilled Peach Salad
The next step in making our Grilled Peaches Salad is to get everything ready to layer into a salad, starting with a layer of greens at the bottom.
I went for arugula, as the pepperiness goes well with the sweetness of the peaches, but choose your greens as you prefer.
On top of the greens, add a layer of sugar snap peas. These might seem unusual, but they add a lovely crunch to the salad.
You can either leave them raw (as I chose to), especially if they are really fresh, or blanch them first for just a minute.
Next, add your grilled peaches to the salad. Be sure to show off those lovely grill marks! You can also bulk out the salad at this point if you want to make more of a main meal by adding grilled chicken or steak, for example.
Blueberries on top add both a nice contrast in colors as well as some extra sweetness. You can also add other berries, such as blackberries or strawberries.
Top everything by drizzling on your dressing. Here I made a simple orange dressing, but a balsamic dressing would also work well.
Grilled Peaches Salad Vegan Option
Lastly, top with some sliced almonds and, optionally, some shaved parmesan as I have here.
The salad will be vegan without it, but if dairy works with your usual meal planning, it adds a nice extra flavor and decorative topping.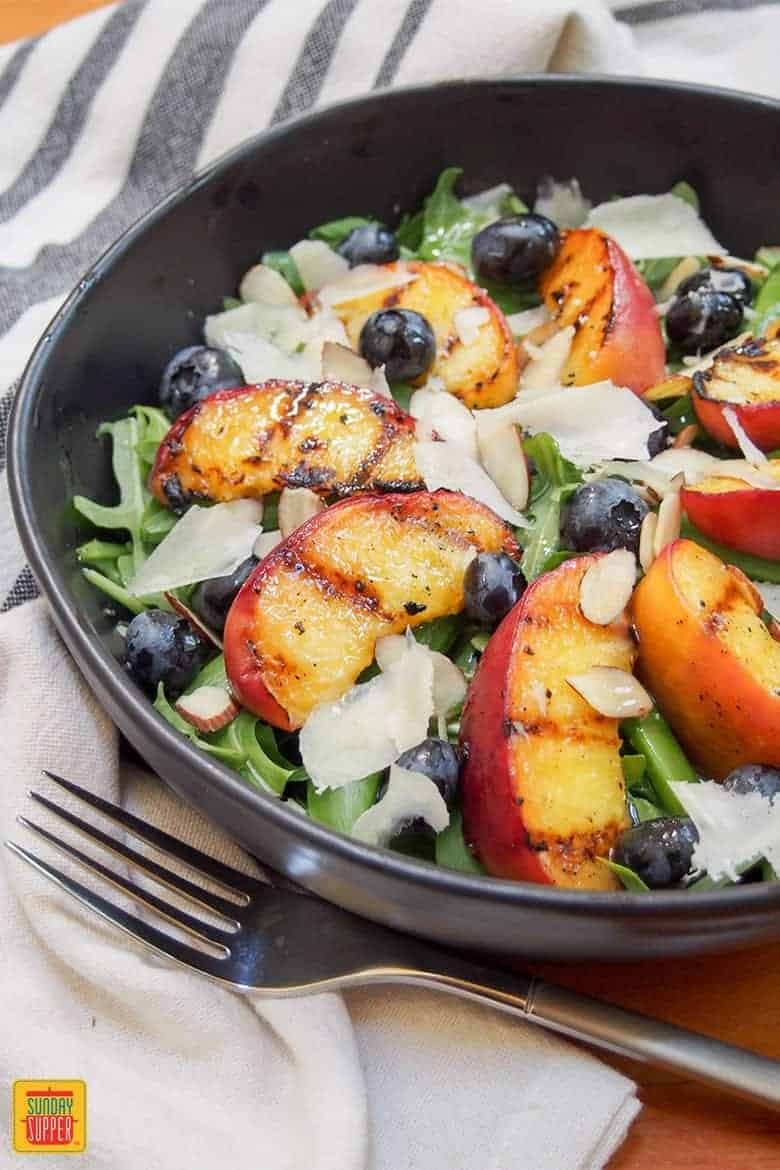 This grilled peaches salad is easy to make and easy to adapt to be vegan or a fuller meal with some added protein.
It works well as a light meal as well as a side, and it is full of wonderful contrasting flavors and textures. Colorful and quick, it's perfect summer eating.
Substitute for Peaches
If peaches aren't in season, grilled pineapple is absolutely delicious with this salad recipe.
Mix it up and give this recipe a try with your favorite fruit!
📌 Pin it for later!
Did you enjoy this page? Save it on Pinterest for later!


Grilled Peach Salad Recipe
Delicious Grilled Peaches Salad is easy to make as well as flavorful & light. With a VEGAN option, you can customize this salad for your needs!
Ingredients
1

peach

½

tablespoon

olive oil

1

handful

arugula

(or other greens of your choice)

1 ½

oz

sugar snap peas

top and bottom trimmed

¼

cup

blueberries

1

tablespoon

almonds

sliced

½

tablespoon

parmesan

shaved
For dressing
1

tablespoon

olive oil

1

tablespoon

orange juice

⅛

teaspoon

Dijon mustard

¼

teaspoon

sugar
Instructions
Cut the peaches into slices (approx 8) and toss gently with oil. Grill for a couple minutes each side until you have gentle grill marks. Carefully take off the grill and set aside.

Place the arugula in the bottom of a wide bowl (or 2 smaller, if you prefer to divide), top with the sugar snaps, grilled peach slices, blueberries and almonds.

Whisk together the dressing ingredients (or use dressing of your choice) and drizzle over the top. Top with gratings of parmesan, if using, and serve.
Notes
RECIPE TIPS:
Note you can either serve the sugar snap peas raw, simply topped and tailed, or blanch them by putting in boiling water for a minute, draining and putting in an ice bath/under cold water for a minute. 
Are peaches out of season? Try this as a grilled pineapple salad instead! It's delicious!
Nutrition
Calories:
367
kcal
Carbohydrates:
28
g
Protein:
6
g
Fat:
27
g
Saturated Fat:
3
g
Cholesterol:
1
mg
Sodium:
55
mg
Potassium:
514
mg
Fiber:
5
g
Sugar:
21
g
Vitamin A:
1425
IU
Vitamin C:
50.5
mg
Calcium:
106
mg
Iron:
1.9
mg
Did you try this recipe?
Tag #SundaySupper on social and leave a comment below!