Who doesn't love a sweet, juicy and delicious peach? Freezing peaches is easy and we are going to show you how to freeze peaches the easy way. 
You can have the taste of peaches summery, juicy goodness all year long. Peaches are in season from May to October with the peak of the season being from June to August. When peaches go on sale, we buy them in large quantities to freeze so we can enjoy fresh peaches in oatmeal, smoothies, peach cobbler, and other peachy treats. Peach Freezing is quick and easy, so there's no excuse not to healthy freeze peaches!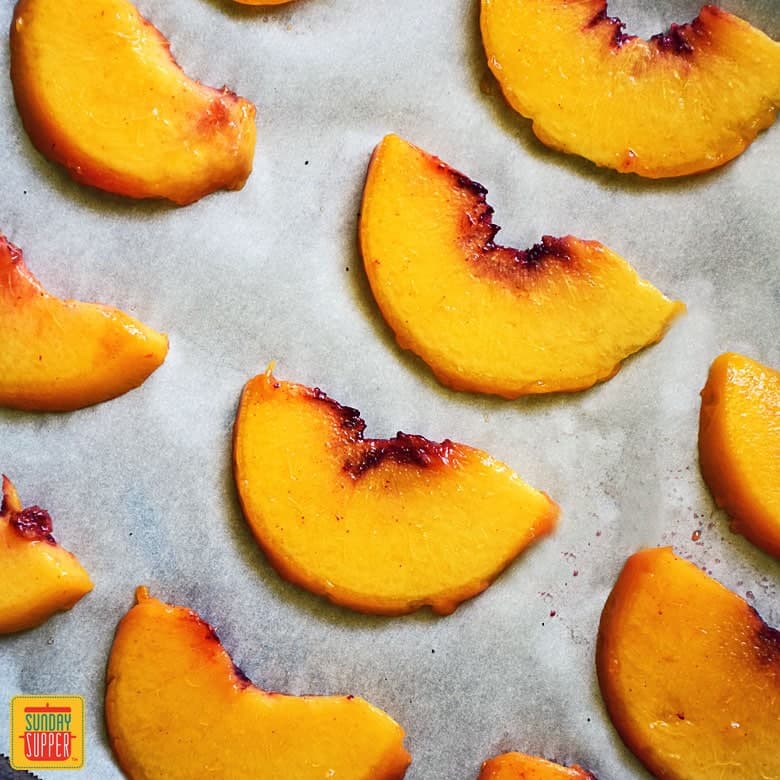 How to Freeze Fresh Peaches
Step 1. Peel the peaches (step 1 in photo below). Refer to our tutorial on How to Peel Peaches the easy way
Step 2. Cut the peaches (step 2 in photo below). Refer to our tutorial on How to Cut Peaches step-by-step
Step 3. Place sliced peaches on parchment lined baking sheets. Make sure the peaches are in a single layer and not touching each other (Step 3 in photo below)
Step 4. Put baking sheet in the freezer for about an hour until peaches are frozen
Step 5. Carefully remove peaches from baking sheet and place in zip-top baggies. Label the bags with the freeze date (Step 4 in photo below)
Freezing Peaches is a good idea!
There are several reasons why freezing fresh peaches is a good idea. Peaches are only in season in the summer, so by freezing them, you can enjoy peaches all year long. Learn more about peaches and find even more delicious peach recipes in our article titled Facts About Peaches.
Peaches can be expensive when they are not in the peak of the season. Save money by buying peaches in bulk when they go on sale and freezing them.
Peaches are so healthy (learn more about healthy peaches in our article titled Peach Health Benefits).
How to use Frozen Peaches
Spending a little time to peel, cut, and freeze peaches will make it so easy to use peaches in recipes.  You can quickly and easily enjoy fresh peaches as a quick and healthy snack, in smoothies and cereal, as well all of your favorite peachy recipes such as:
There are so many uses for peaches. Our first is of course Peach Smoothies! My family could enjoy a peach smoothie or peach milkshake every day! But there are so many ways to use frozen peaches!
Can you freeze peaches with the skin on?
Absolutely! You can even freeze WHOLE peaches, skin and all! Wash the peaches first and let them dry, then put them on a tray whole WITH the skins in the freezer. Once they are frozen solid, put them into freezer bags and label them with the freeze date.
How to prevent peaches from turning brown
You can use them frozen in many peach recipes. OR the other option is to defrost them under running warm water and use them immediately. 
How long do peaches last in the freezer?
Properly stored peaches will be best when used within 10 to 12 months, however, peaches are safe to eat no matter how long you keep them frozen. The taste and texture will be best when used within a year.
Now that you know how to freeze peaches, you can try some of our favorite recipes. You now have the secret to making delicious peach recipes year round. Just substitute fresh peaches for the frozen peaches you have in your freezer. We have put together Best Peaches Recipes for you. 
**** PIN How to Freeze Peaches to save for later ****
Sign up for our weekly newsletter!
Get free recipes delivered to your inbox every week!
Thank you for joining the Sunday Supper family!
Something went wrong.