This post may contain paid links. If you make a purchase through links on our site, we may earn a commission.
Learn How to Freeze Peaches to use for fresh peach recipes like smoothies, desserts, and even cocktails! Freezing peaches is simple to do by peeling and cutting them first, and worth it for enjoying one of summer's best fruits all year long.
Jump to:
When is peach season?
Peaches are in season from May to October, but the peak of the season begins in June and lasts until August. This is when fresh peaches are at their best.
But, by freezing peaches, you can enjoy them all year-round, even when they aren't in season. And, when it comes to recipes like Peach Cobbler with Cake Mix and Asian Peach Glazed Chicken, you're going to want to have them on hand!
How to Pick Peaches
You can pick the perfect peaches to freeze if you know what to look for at the store. Find the best, perfectly ripe peaches by looking for:
Peaches that are heavy for their size (this means they are extra juicy!)
A strong, peachy smell (smell = taste!)
Peaches that have a little bit of give, and are not too firm
Skin without wrinkles or soft spots (this means the peach is overripe)
This applies for whenever you are buying fresh peaches, whether you plan to use them the same day or save them to freeze. Just remember, peaches ripen after being picked (just like avocados and bananas), so you want to make sure to use them not too long after you buy them.
How long are peaches good for?
Fresh peaches last about 3-5 days in the refrigerator. Wait until they're fully ripe to store them for the best results, and keep them in the crisper drawer or in plastic bags.
Should fresh peaches be refrigerated?
You should refrigerate peaches if they are fully ripe. If you have peaches that are not quite ripe yet, then you can leave them out to ripen at room temperature.
Should you wash peaches before storing?
If you follow our steps to peel and cut peaches, you will not need to do any extra washing before you freeze them.
However, if you're storing fresh peaches to enjoy without freezing, you don't want to wash them until just before you eat them as the moisture can make them spoil more quickly.
How to Peel Peaches
Peach freezing starts with peeling the fruit first! It's easier to freeze fruit, and much easier to use in recipes fresh out of the freezer, when it's been peeled.
Follow our guide on How to Peel Peaches in 5 Steps to peel your fruit first. It's simple and will give you the best results. Trust us – you do not want to try peeling peaches with a knife!
How to Cut Peaches
Cutting peaches not only makes them much easier to freeze, but they will take up less space in your freezer. It's easy to grab just the amount you need to defrost or use in a smoothie.
We have a step-by-step guide on How to Cut Peaches that will show you the easiest way to cut perfect slices for freezing.
Can you freeze peaches whole?
Yes, you can freeze peaches whole, with the skin on. Wash them first, let them dry, then place them on a tray in the freezer. Once they're frozen solid, you can add them to freezer bags and label them with the current date.
However, removing the skin and cutting peaches first makes them easier to work with later, when you need them for recipes or even just as a snack, so we recommend peeling and cutting them rather than freezing them whole.
How long do peaches last in the freezer?
Properly frozen peaches will last up to a year in the freezer, so you can enjoy them no matter what season it is!
🍑 Easy Peach Recipes
Ready to start freezing peaches? Here are a few of our favorite easy peach recipes you can use them for:
Peeled, sliced, and frozen peaches are perfect for using in the above recipes, or for enjoying as a quick, healthy snack. You can add sliced peaches to smoothies, cereal, and even milkshakes.
One of the best smoothies to add peach to is our Blueberry Smoothie. You could even add peaches to our Fruity Coconut Rum Cocktail!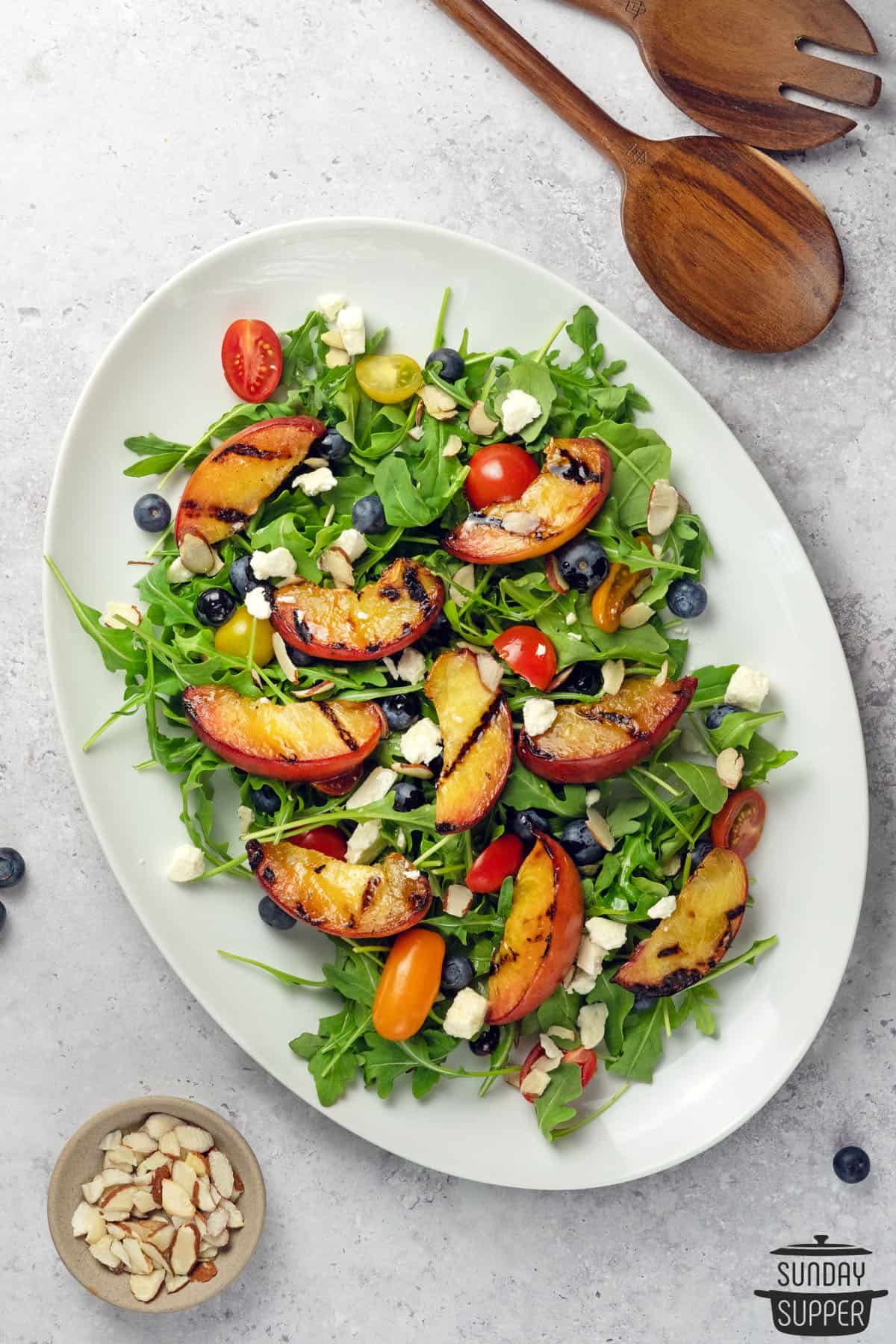 📖 More Easy Guides
Follow our easy How To's and Guides for even more helpful kitchen tips!
Freezing Strawberries
How to Cut an Avocado
Save the Video Pin
What are your favorite recipes to make with peaches? Let us know in the comments below and with a rating!
📋 Recipe
How to Freeze Peaches
Freeze peaches easily to use in all of your favorite recipes, from cobblers to smoothies! Our guide will show you How to Freeze Peaches to use all year long.
Equipment
Baking sheet

Parchment paper
Instructions
Peel and cut your peaches to prepare them for freezing by following our guides linked in the recipe notes below. In total, this should take about 15 to 20 minutes if you're handling several peaches.

Alternatively, you can freeze your peaches whole, but we recommend peeling and cutting them first.

Place peach slices on a baking sheet lined with parchment paper. Make sure the peaches are in a single layer, without any overlapping or touching each other.

Place the baking sheet in the freezer for an hour, until the peaches are frozen.

After freezing, transfer them from the baking sheet to freezer bags. Label the bags with the freeze date.
Nutrition
Calories:
63
kcal
Carbohydrates:
15
g
Protein:
1
g
Fat:
0.4
g
Saturated Fat:
0.03
g
Polyunsaturated Fat:
0.1
g
Monounsaturated Fat:
0.1
g
Sodium:
20
mg
Potassium:
183
mg
Fiber:
2
g
Sugar:
13
g
Vitamin A:
489
IU
Vitamin C:
6
mg
Calcium:
6
mg
Iron:
1
mg
Did you try this recipe?
Tag #SundaySupper on social and leave a comment below!
Photography by Daniela Lambova and Marion Myers.