This post may contain paid links. If you make a purchase through links on our site, we may earn a commission.
Learn How to Peel Peaches the easy way using our secret to peeling peaches, with no fuss and no mess!
Peeled peaches are perfect for cutting up to use in your favorite summer recipes, like Peach Mango Salsa, or for freezing. Avoid the mess and enjoy sweet peach recipes all season long!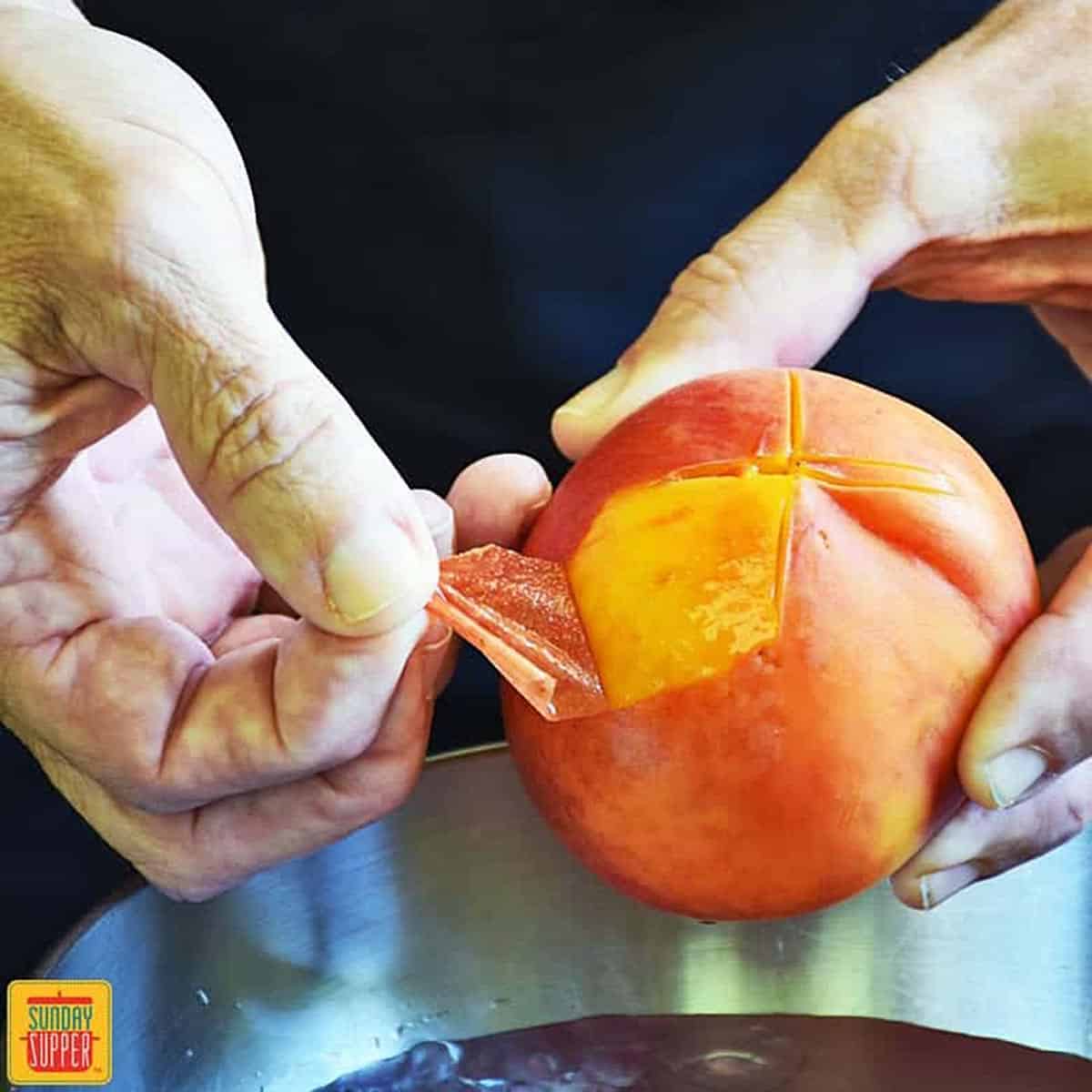 If you're planning on making preserves, cobbler, or pie, then peeling peaches is essential!
But, if you've ever tried to peel a peach using a knife, then you know what a struggle it can be. It can be difficult, messy, and even wasteful.
The good news is, we have a trick that you can count on every time: blanching peaches! Blanching is the best way to peel peaches – it's easy and reliable.
Jump to:
How to Shop for Peaches
Peeling peaches easily starts with buying the perfect fresh fruit at the store.
Pick fruit that is fresh and ripe. They should feel heavy for their size and be a little bit soft. When you smell them, they should have a strong, peachy smell.
Like bananas and avocados, peaches ripen after picking. If you're going to be peeling peaches, buy them shortly before using them for the best results.
How to Tell when Peaches are Ripe
Peaches that are the perfect ripeness will be a little bit soft, and have a noticeable peachy scent when you smell them. It's true – smelling fruit is a great way to tell how it will taste before eating it or using it in recipes!
Under-ripe peaches may be a little green and too firm. Overripe peaches, however, will have wrinkly skin and bruised spots.
You want to avoid buying peaches that are too firm or too soft, so look for that nice middle-ground to find perfectly ripe fruit.
How to Store Peeled Peaches
The best way to store peeled peaches is to cut them into slices and either refrigerate or freeze them, depending on what you want to use them for and when.
You can store peeled and cut peach slices in plastic bags in the refrigerator or in an air-tight container.
Peeled peaches will brown, even when stored properly. Adding an acidic juice to the peaches will stop them from browning while they're in the refrigerator. Try squeezing a little lemon or pineapple juice in with your peach slices.
How to Blanch Peaches
Blanching is what makes this guide the best way to peel peaches. It refers to the process of quickly boiling the peaches, then dipping them in ice water.
This won't cook the peaches, but will encourage the skin to peel off easily. In fact, it makes them so easy to peel, you'll be able to remove the skin using just your fingers!
Dip scored peaches in boiling water for no more than 40 seconds.
Immediately add peaches to an ice water bath.
Let them cool for about 1 minute in the ice water, then peel.
Blanching is so much easier than using a knife or peeler. And it's easy, too!
How to Cut Peaches
Learn how to cut peaches easily by following our step-by-step guide: How to Cut Peaches! We make it as easy as can be.
How to Freeze Peaches
Peeled and cut peaches are perfect for freezing so you can use them year-round. Follow our guide on How to Freeze Peaches so you can freeze your own fruit to use in desserts and smoothies.
Easy Peach Recipes
If you're looking for more ideas on what to do with fresh peaches, we have plenty of easy recipes for you to try!
Try move of our How To's and Guides for even more helpful tips, like How to Cut an Avocado or How to Zest a Lime!
What are your favorite peach recipes? Have you tried this easy way to peel peaches? Let us know in the comments below or email us with your favorites. We love to hear from you!
Save the Video Pin
📋 Recipe
How to Peel Peaches the Easy Way
Follow our guide on how to peel peaches for the best way to peel one of summer's favorite fruits! No fuss, no mess, and just a few simple steps.
Equipment
Slotted spoon

Large pot

Large bowl
Ingredients
4

peaches

or however many you wish to peel

pot of water

for boiling

bowl of ice water

for blanching
Instructions
Boiling peaches: Bring a pot of water to a boil. I recommend blanching peaches 3 or 4 at a time. Fill the pot with enough water to submerge the peaches. Remember to account for displacement. When you add the peaches, you don't want the water to spill over the top of the pot!Scoring peaches: While the water is coming to a boil, use a sharp paring knife and carefully score the bottom of each peach by making a shallow 'x' through the skin at the base of each peach.

Blanching peaches: Using a slotted spoon, carefully lower the peaches into the boiling water one at a time. Leave the peaches in the boiling water for 30-40 seconds and up to a minute if the peaches are more firm.

Ice water bath: Remove the peaches from the boiling water using a slotted spoon and transfer them to a bowl full of ice water. Allow the peaches to cool for about 30 seconds to a minute until they are cool enough to handle.

Peeling peaches: Starting at the base end where you scored each peach, use your fingers to gently peel away the skin of the peach.
Nutrition
Calories:
63
kcal
Carbohydrates:
15
g
Protein:
1
g
Fat:
0.4
g
Saturated Fat:
0.03
g
Polyunsaturated Fat:
0.1
g
Monounsaturated Fat:
0.1
g
Sodium:
20
mg
Potassium:
183
mg
Fiber:
2
g
Sugar:
13
g
Vitamin A:
489
IU
Vitamin C:
6
mg
Calcium:
6
mg
Iron:
1
mg
Did you try this recipe?
Tag #SundaySupper on social and leave a comment below!
Photography by Marion Myers.