Learn the Secret to peeling peaches! We show you How To Peel Peaches the EASY way without making a mess and losing half of the peach in the process!
Have you ever tried to peel a peach?
It can be a challenge to peel peaches with a knife like you would an apple. If you are just going to take a bite of a big, juicy peach you wouldn't normally peel it, right? But if you are going to make peach preserves or a scrumptious peach cobbler or pie, it's best to peel the peaches, so knowing how to peel peaches the easy way is essential! We've made a photo tutorial to show you How to Peel Peaches.
Be sure to start with fresh, ripe peaches. Look for peaches that feel heavy for their size, have a bit of give (not too firm), and smell like peaches. For more information on how to pick the perfect peach visit our article on Facts About Peaches.
How to peel peaches the easy way? Blanch them!
Blanching peaches is the easiest way to peel peaches. Blanching separates the skin from the peach making them super easy to peel using just your fingers. You only need a knife to score the end of the peach.
Step 1 – Boil Water
Bring a pot of water to a boil. I like to blanch 3 or 4 peaches at a time, so depending on how big your peaches are will depend on how big a pot of water you will need to use. Blanching is a quick process, so if you don't have a big pot, no worries. Use whatever size you have and fill it with enough water to submerge the peaches. Remember to account for displacement. When you add the peaches you don't want the water to spill over the top of the pot!
Step 2 – Score the Peaches
While the water is coming to a boil, use a sharp paring knife and carefully score the bottom of each peach by making a shallow 'x' through the skin at the base of each peach like so….
Step 3 – Blanch the Peaches
Using a slotted spoon, carefully lower the peaches into the boiling water one at a time. Leave the peaches in the boiling water for 30-40 seconds and up to a minute if the peaches are more firm. 30 seconds usually does the trick. If you leave the peaches in the water too long, they will start to cook and be very soft when you slice them.
Step 4 – Ice Water Bath
Remove the peaches from the boiling water using a slotted spoon and transfer them to a bowl full of ice water. Allow the peaches to cool for about 30 seconds to a minute until they are cool enough to handle…
Step 5 – Peel Peaches
Starting at the base end where you scored each peach, use your fingers to gently peel away the skin of the peach. The peaches will peel easily and you'll be ready to use the peeled peaches in recipes or freeze them to use throughout the year.
That's how to peel peaches the easy way for use when baking with peaches, canning peaches, making peach preserves, or even freezing peach slices to preserve for smoothies, oatmeal, or just munching on throughout the year.
Check out some of our Easy Peach Recipes
**** PIN How To Peel Peaches the Easy Way to save for later ****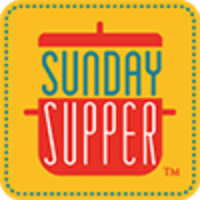 The Sunday Supper Movement is committed to bringing our readers delicious recipes that encourage them to gather and eat together around the family table. Search for your favorite ingredients on our Sunday Supper website. Also check out the Sunday Supper Pinterest boards for plenty more ideas and inspiration.
Sign up for our newsletter to get FREE Sunday Supper recipes delivered right to your inbox!