This post may contain paid links. If you make a purchase through links on our site, we may earn a commission.
If you love healthy recipes with peaches and want to eat them literally with every meal during the season, here is a great breakfast and dessert recipe: a Healthy Peach Bread with spelt flour and walnuts. It is not only delicious and flavorful but also contains a bunch of good ingredients.
Peaches are juicy and tasty and they are also quite good in desserts. You can make a lot of sweet temptations with fresh or canned peaches. Our Healthy Peach Bread is great because you can enjoy it without feeling guilty. It's always great to have healthy desserts on hand for the family to snack on.
Healthy Peach Bread
This Peach Bread contains a little bit of brown sugar and honey which are much better sweeteners for you than the white sugar as they contain some vitamins and minerals.
The bread is also made with whole grain spelt flour and coconut flour – both healthier alternatives than all-purpose wheat flour. The spelt flour has a distinctive sweet taste and creates baked products with a soft structure. Coconut flour also creates a light texture, hence this Peach Bread is quite tender and fluffy.
Olive oil is among the best vegetable oils in terms of nutrition. Additionally, it can withstand higher oven temperatures: that's why I don't recommend substituting other oils in this recipe.
Last but not least, this Healthy Peach Bread contains walnuts which are full of minerals and healthy fats.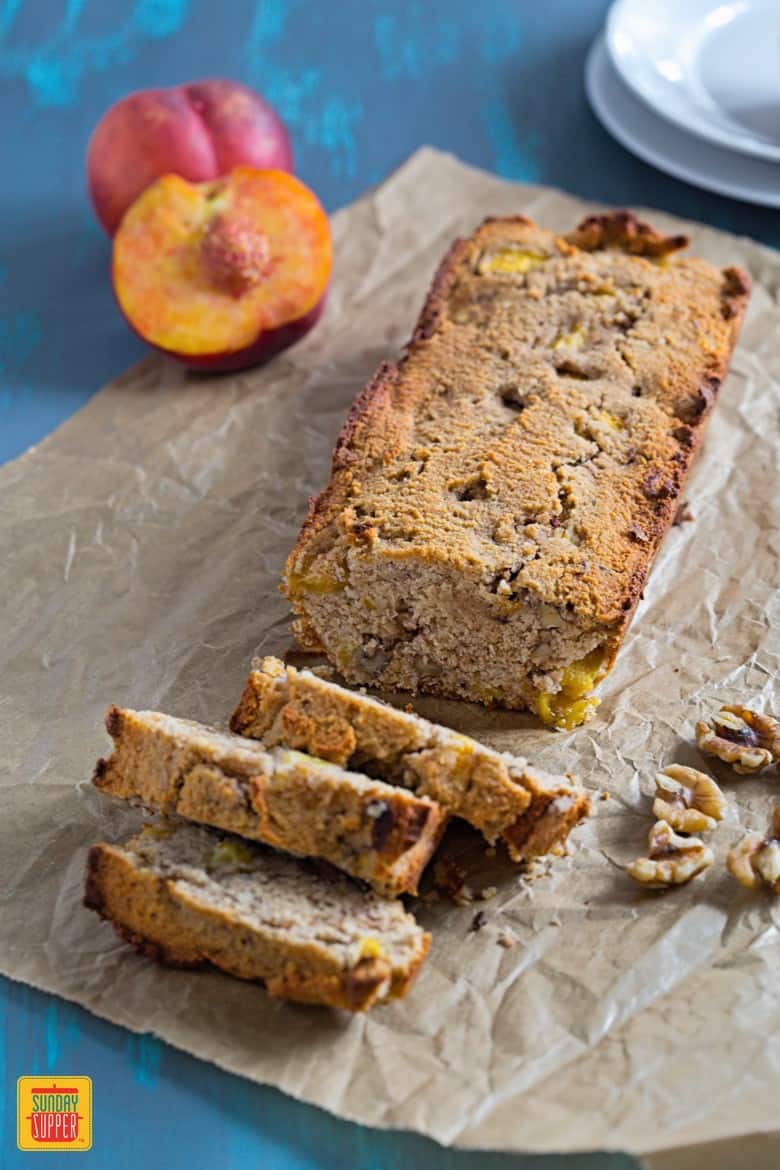 Family breakfast or dessert
Healthy Peach Bread is not very sweet making it suitable for breakfast and good also for your kids. It is a great addition to the morning coffee or the afternoon tea. It is certainly one of the best bread recipes you'll try!
Easy to make Peach Bread
You might be surprised to find out that this bread is quite easy to make. The recipe is pretty straightforward: beat the eggs with sugar and honey, add milk and vanilla, fold in dry ingredients and finally gently fold in chopped peaches and walnuts. After that, you only need to bake the bread in the oven until golden brown. Enjoy warm or cold – it is equally tasty!
This is definitely a Peach Bread recipe worth trying out! If you make it, please let us know in the comments how it went! And if you are looking for more healthy recipes, check the ones below:
Healthy Strawberry Oatmeal Bars
Healthy Blueberry Smoothie with Rolled Oats
Healthy Breakfast Cookies with Chia Seeds and Dried Blueberries
Fresh Peach Recipes are so delicious!
More about Peaches
Peach vs. Nectarine – What's the Difference
Facts about Peaches
📋 Recipe
Healthy Peach Bread
A Healthy Peach Bread with spelt flour and walnuts. It is not only delicious and flavorful but also contains a bunch of good ingredients.
Instructions
Preheat oven to 350 degrees F. Line a 8 x 4 (or 9 x 5) inch loaf pan with a sheet of parchment paper and grease it well (preferably with extra virgin olive oil).

In a medium bowl combine coconut flour, spelt flour, baking powder and salt. Stir and set aside.

In a large mixing bowl, using an electric mixer beat eggs with honey and sugar for about 5 minutes, until the volume of the mixture doubles or triples.

Add olive oil and vanilla and beat until absorbed. Add milk and beat just for few seconds.

Using a rubber spatula gradually fold in the dry ingredients until completely absorbed.

At the end fold in also the peaches and the walnuts, until evenly distributed in the batter.

Transfer the batter to the prepared loaf pan. Bake about 45 minutes, or until a tester inserted in the centre of the loaf comes out clean and the top of the bread becomes golden brown.

Let cool for 10-15 minutes before serving it.

Keep leftovers in the fridge for 2-3 days.
Nutrition
Calories:
208
kcal
Carbohydrates:
23
g
Protein:
4
g
Fat:
10
g
Saturated Fat:
2
g
Cholesterol:
32
mg
Sodium:
94
mg
Potassium:
176
mg
Fiber:
3
g
Sugar:
13
g
Vitamin A:
145
IU
Vitamin C:
1.7
mg
Calcium:
58
mg
Iron:
1.1
mg
Did you try this recipe?
Tag #SundaySupper on social and leave a comment below!