Sunday Supper is an Amazon Associate and may receive compensation for purchases made through affiliate links.
I'll show you how to make Creamy Mashed Potatoes the easy way using simple ingredients and all the tips and tricks I have from making mashed potatoes for years! Ready in 45 minutes following 5 easy steps.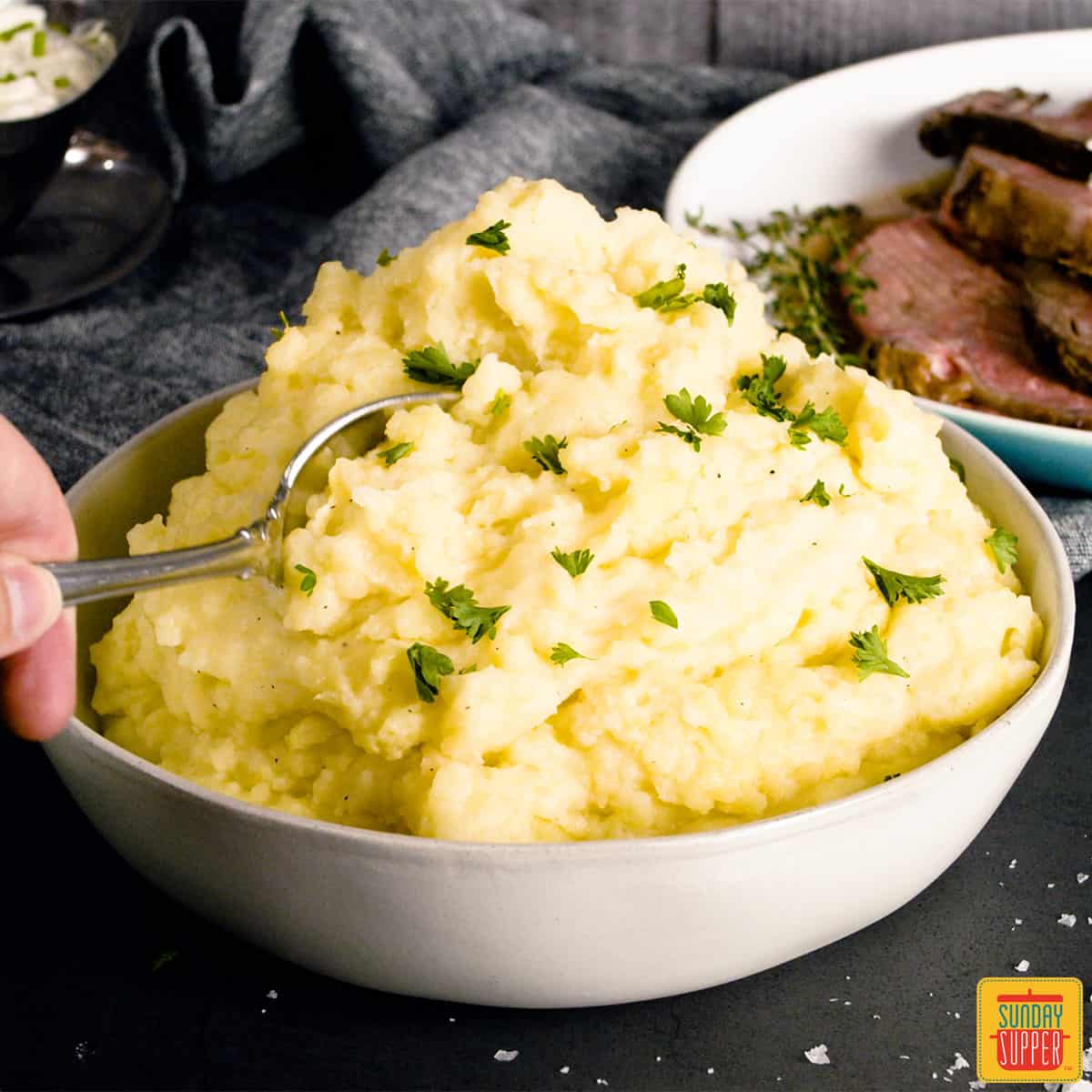 Jump to:
Best Creamy Mashed Potatoes
My family loves mashed potatoes like nothing else. They hold a special place at our dinner table, and are just as important to get right as the main dish.
Now and then I like to mix it up for them, which means testing new ways to make mashed potatoes… and let me tell you, this is the best mashed potatoes recipe ever for how simple and easy it is!
My buttery mashed potatoes are so smooth. They make great leftovers and are just waiting for all your favorite add-ins, like chives or green onions on top. Pair them with everything from Sunday supper to a holiday meal.
The best part about this recipe for mashed potatoes is how easy it is to make them ahead of time. For the holidays, there's nothing like having your side dishes ready to go before the big event. It saves so much time and stress to have these potatoes ready to pop in the oven before any guests arrive.
FAQs
What is the best potato for mashed potatoes?
The best potato for mashing is Yukon Gold or Russet for how dense but smooth and flavorful they both are. Either will work well when making creamy mashed potatoes.
Do you peel potatoes before boiling for mashed potatoes?
For best results making mashed potatoes, peel and chop the potatoes into evenly-sized pieces before boiling them. This ensures all parts of the potato cook evenly and mash smoothly.
Are mashed potatoes better with milk or cream?
Cream is heavier and has a higher fat content than milk, and will generally weigh down the potatoes when paired with butter; this makes milk the best choice for making mashed potatoes.
Can you use any milk for mashed potatoes?
Whole milk works best for mashed potatoes as the higher fat content creates richer, creamier potatoes. If looking to make dairy-free or vegan mashed potatoes, see my tips below the FAQ.
Can you prep potatoes ahead of time for mashed potatoes?
You can prep potatoes ahead of time for mashed potatoes by peeling, chopping, and fully submerging them in a bowl of water to store in the refrigerator overnight. Do not store them this way for more than a day.
How far ahead can you make mashed potatoes?
Mashed potatoes can be made up to 2 to 3 days ahead of time if refrigerating, or up to 1 month in the freezer.
How do you keep mashed potatoes warm?
To keep mashed potatoes warm, add them to the slow cooker on the warm setting. This is a great trick whenever you're hosting a holiday dinner.
How do you refresh mashed potatoes?
The key to reheating mashed potatoes and keeping them fresh is to add a little more butter and milk when reheating them. This refreshes the fat content of the mashed potatoes and keeps them smooth and creamy.
How long can you keep mashed potatoes in the fridge?
Mashed potatoes can be stored for 3-5 days in the refrigerator in an airtight container.
Can you freeze mashed potatoes?
To freeze mashed potatoes, allow them to cool, then store in a freezer-safe container or casserole dish tightly wrapped with foil. Label with the freezing date.
Make-Ahead Instructions
Preheat the oven to 350 degrees Fahrenheit.
Add mashed potatoes to a casserole dish if they are not already in one.
Whisk 1 egg. Brush the egg over the top of the mashed potatoes.
Bake for 30 minutes or until the top is slightly toasted.
Serve and enjoy the best make-ahead mashed potatoes ever!
Reheating Mashed Potatoes
Reheat in the oven by baking at 350 degrees Fahrenheit for 30 minutes.
Add to the microwave and cook for about 5 minutes, depending on serving size, at mid-power. Occasionally stop the time to stir the dish to ensure it heats evenly.
Reheat on the stove at low to medium heat, occasionally stirring.
For all methods, mix through more butter and milk while reheating to keep them fresh!
Reheating Frozen Mashed Potatoes
To reheat frozen mashed potatoes, thaw them overnight in the refrigerator or for up to 2 days. Then, bake in the oven at 350 degrees Fahrenheit for 30 minutes or until cooked through.
As the potatoes are reheating, add more whole milk and butter and stir through to keep them creamy.
Dairy-Free Instructions
To make dairy-free mashed potatoes (which also makes them vegan), use vegan butter and reserved cooking water from boiling the potatoes instead of milk.
When boiling the potatoes, reserve 2 cups of the cooking liquid before draining. You can use the cooking water as a substitute for the milk.
Instant Pot Instructions
To make mashed potatoes in the Instant Pot, follow the instructions for my Instant Pot Mashed Potatoes recipe.
Secret to the Best Mashed Potatoes
For the best mashed potatoes recipe ever, follow these three tips:
Stir your potatoes after draining them, before adding your butter and milk. This will remove any excess water from the potatoes.
Heat your milk before adding it to your potatoes.
Pass the potatoes through a ricer. This creates the smoothest, creamiest mashed potatoes.
How to Use a Potato Ricer for Mashed Potatoes
Boil potatoes in salted water as instructed.
Drain the potatoes, reserving ½ cup of the cooking water if you're making the potatoes ahead of time. Return the potatoes to the pot and set over low heat. Gently stir to remove excess moisture, 1-2 minutes or until dry.
Heat milk and butter in a small saucepan over medium heat until the butter melts. Once melted, remove from heat.
Pass the hot potatoes through a potato ricer into a large bowl. Do this while they're hot! If you rice them while they're cool, the potatoes will become gummy.
After ricing the potatoes, add the warm milk mixture to them gradually while vigorously stirring until combined and smooth. Enjoy!
Recipe Tips
The key to making creamy mashed potatoes is in adding the milk and butter to your potatoes at the right time during the cooking process and carefully mixing them in.
Slowly add milk while mixing, so it doesn't spatter everywhere.
To prevent gummy mashed potatoes, avoid over-mixing or under-mixing your potatoes and don't use a hard boil to cook them. Boil the water, then lower the heat to a simmer, for best results.
Extra butter mixed in after mashing makes these creamy potatoes even creamier.
Always make sure to mash the potatoes first, then add the milk and butter to mix through. This gives you the creamiest potatoes.
Top it all off with garlic butter sauce for an unbelievable flavor combination.
What to Serve with Mashed Potatoes
Any of my Thanksgiving turkey recipes pair perfectly with my creamy mashed potatoes recipe. If you're making mashed potatoes for Thanksgiving, my guide on How to Thaw Turkey will help with the main dish!
My roast beef recipes, especially prime rib, are a heavenly match with these homemade mashed potatoes. Give them a try:
---
My Favorite Kitchen Tools
As an Amazon associate, I may receive compensation for purchases made through affiliate links.
---
📌 Pin it for later!
Did you enjoy this page? Save it on Pinterest for later!



Did you try this recipe? Let me know what you think in the comments below, and please leave a rating! I love to hear from you.
📋 Recipe
Best Creamy Mashed Potatoes Recipe
Follow my guide on How to Make Creamy Mashed Potatoes for the best creamy mashed potatoes recipe you can make in 5 easy steps!
Equipment
Large pot to boil water

A mixer (a hand mixer works well)

A large spoon

Mixing Bowl
Ingredients
2.5

lbs.

potatoes

cut into small chunks

½

stick butter

5

Tbsp.

salt

2

cups

whole milk

Salt & pepper for seasoning

Chopped green onions for garnish

optional

Additional melted butter for flavor

optional
Instructions
Bring a large pot of water to a boil. Add 5 Tbsp. salt to the pot of boiling water, then bring it back to a boil.

Add potatoes to water and boil for 20 to 25 minutes until tender.

Drain water from the pot. Using a hand mixer on low, whip well until the potatoes are crumbly.

Then, add half a stick of chopped butter to your pot with the potatoes.

Continue mixing well until butter is fully mixed through and potatoes are creamy. Slowly add two cups of milk and salt and pepper while whipping.

Add in melted butter if desired. Mix with spoon, then top with green onions if desired, and serve!
Notes
THE KEY TO CREAMY POTATOES: The key to creamy mashed potatoes is in the technique. Starting with the boiled potatoes and whipping them until fluffy, then slowly adding butter and milk, makes the creamiest potatoes.
IN THE OVEN: For a make-ahead mashed potatoes recipe you can prepare in the oven, follow the directions above. Whisk an egg and brush it on top before baking. Bake at 350 degrees F for 30 minutes, or until the top is slightly toasted.
Nutrition
Calories:
263
kcal
Carbohydrates:
37
g
Protein:
6
g
Fat:
10
g
Saturated Fat:
6
g
Cholesterol:
28
mg
Sodium:
4887
mg
Potassium:
903
mg
Fiber:
4
g
Sugar:
6
g
Vitamin A:
367
IU
Vitamin C:
37
mg
Calcium:
120
mg
Iron:
2
mg
Did you try this recipe?
Tag #SundaySupper on social and leave a comment below!