Sunday Supper is an Amazon Associate and may receive compensation for purchases made through affiliate links.
Get ready to try the best mashed potatoes recipe EVER! We're excited to show you our secret for how to make Creamy Mashed Potatoes the easy way, using just 3 ingredients. They're so creamy and flavorful, you will want to make them for every occasion!
Our Galbi Jjim recipe is complete with a mouth-watering, sweet-and-spicy chili garlic sauce. Every tender, juicy bite is packed with flavor!
These boneless beef short ribs cook low and slow for meat so tender, you can shred it with a fork. They're full of intense beef flavor, and the sauce forms a sticky glaze. The best way I can describe this dish is 'meat candy'. It's that delicious.
And, they're the perfect cold weather recipe. Serve them during Fall and Winter – they're the best "stick to your ribs" dish! There is nothing better than the smell of beef short ribs braising in the oven when it's cold outside!
What makes this the best mashed potatoes recipe ever?
Follow this recipe, and everyone will be asking you for your tips on how to make the creamiest mashed potatoes.
They are so easy to make with just 3 ingredients and minimal prep work.
They're smooth and creamy and make great leftovers.
You can add your favorite toppings to make them even more delicious!
You can make them ahead of time and bake before your guests arrive! They are the perfect make ahead mashed potatoes.
🍽 Equipment
Large pot to boil water
Electric hand mixer or stand mixer
Large spoon
Mixing bowl
You can also make this recipe using your pressure cooker: Instant Pot Mashed Potatoes.
🥘 Ingredients
Potatoes, cut into small chunks
Butter
Milk
Salt & pepper
What is the best potato for mashing?
The best potato for mashing is either Russet or Yukon Gold. They are both dense but smooth and flavorful, and make the best homemade mashed potatoes!
🥓 Mashed Potatoes Toppings
We love to have fun with toppings! Here are some suggestions for the best toppings:
Green onions
Shredded cheese
🔪 How to Make Creamy Mashed Potatoes
Bring a large pot of water to a boil and add salt. After salting, bring it back to a boil.

Add chopped potatoes to the water and boil for 20 to 25 minutes, until tender.

When done cooking, drain water from the pot. With an electric mixer set to low speed, mash the potatoes until they are crumbly. Make sure to do this first, then add chopped butter.

While still set to low speed, whip well until butter is mixed through and potatoes are creamy. Slowly add milk a little bit at a time while whipping. Season with salt and pepper while mixing.

Transfer potatoes to a large bowl. Add in extra melted butter and green onions, if desired. Serve, and enjoy!

For full ingredient measurements and tips, keep scrolling to the recipe card below!
⭐ Family Foodie Tips
Make sure to slowly add your milk while mixing the potatoes so it doesn't splatter everywhere.
Extra butter mixed through after mashing makes these creamy potatoes even creamier!
Always make sure to mash the potatoes first, then add the milk and butter and mix through. This will give you the creamiest potatoes.
The key to making creamy mashed potatoes is all in the technique and two key ingredients: milk and butter. By mixing milk and butter into your potatoes at the right time during the cooking process, you are guaranteed to enjoy the creamiest potatoes possible.
Can you make mashed potatoes ahead of time?
Yes! It's so easy to make mashed potatoes ahead of time. First, follow our guide above to make the dish. Store until ready to serve.
Then, follow these steps when you're ready to serve them:
Preheat the oven to 350°F.
Add your mashed potatoes to a casserole dish.
Whisk 1 egg. Brush the egg over the top of your potatoes.
Bake for 30 minutes or until the top is slightly toasted.
How long can mashed potatoes stay in the fridge?
Enjoy your potatoes within 3 to 5 days of making and storing them in the refrigerator. Store in an air-tight container.
❄ Do mashed potatoes freeze well?
Yes! Homemade mashed potatoes can be frozen easily and make great make ahead meals. So, if you're cooking up your Thanksgiving side dishes ahead of time and run out of fridge space, simply freeze the potatoes in a tightly sealed container labeled with the freezing date.
Best Way to Reheat Mashed Potatoes
In the oven: Bake at 350°F for 30 minutes.
In the microwave: Microwave for about 5 minutes, depending on the serving size you are reheating, at mid-power. Make sure to occasionally stop and stir so the dish is evenly heated.
On the stove: Heat on the stove at low to mid-heat. Make sure to occasionally stir.
When reheating, it's a good idea to add a little more butter to freshen up the potatoes.
If you're reheating frozen mashed potatoes, we recommend thawing one day ahead of time in the fridge so they're no longer frozen before reheating.
Instant Pot Mashed Potatoes
You can make this side dish in the Instant Pot, too! Follow the instructions in our Instant Pot Mashed Potatoes post for an easy step-by-step guide.
🥗 What to Serve with Mashed Potatoes
They go with everything! Especially as an Easter, Thanksgiving or Christmas side dish. Here are some of our favorite recommendations for what to eat with mashed potatoes:
Roast beef: Try one of our roast recipes. It's a match made in heaven.
Steak: Here are the best steak recipes for pairing:
Chicken and turkey: Naturally, our best mashed potatoes pair with our Garlic Butter Turkey recipe perfectly! We also love these potatoes with…
Ham and pork: Try serving this easy mashed potatoes recipe with…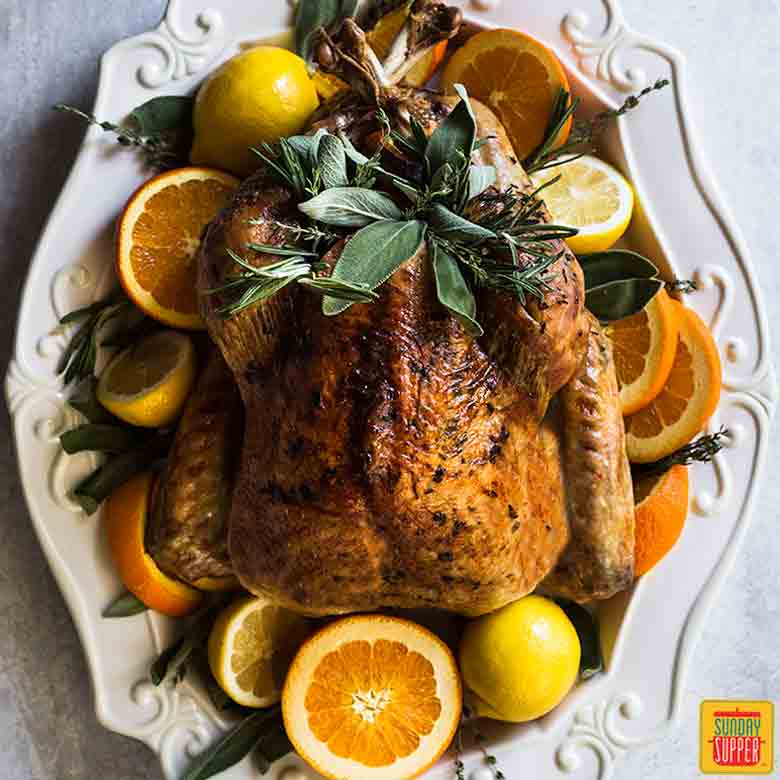 📖 Best Potato Recipes
Save the Video Pin
Did you try this recipe? Leave a comment and a rating below to let us know what you think! We love to hear from you!
Have any questions? Email us or leave a comment!
How to Make Creamy Mashed Potatoes
Follow our guide on How to Make Creamy Mashed Potatoes, and you will want to make them for every occasion!
🍳 Equipment
A mixer (a hand mixer works well)
🥘 Ingredients
2.5

lbs.

potatoes

cut into small chunks

½

stick butter

5

Tbsp.

salt

2

cups

whole milk

Salt & pepper for seasoning

Chopped green onions for garnish

optional

Additional melted butter for flavor

optional
🔪 Instructions
Bring a large pot of water to a boil. Add 5 Tbsp. salt to the pot of boiling water, then bring it back to a boil.

Add potatoes to water and boil for 20 to 25 minutes until tender.

Drain water from the pot. Using a hand mixer on low, whip well until the potatoes are crumbly.

Then, add half a stick of chopped butter to your pot with the potatoes.

Continue mixing well until butter is fully mixed through and potatoes are creamy. Slowly add two cups of milk and salt and pepper while whipping.

Add in melted butter if desired. Mix with spoon, then top with green onions if desired, and serve!
Notes
THE KEY TO CREAMY POTATOES: The key to creamy mashed potatoes is in the technique. Starting with the boiled potatoes and whipping them until fluffy, then slowly adding butter and milk, makes the creamiest potatoes.
IN THE OVEN: For a make-ahead mashed potatoes recipe you can prepare in the oven, follow the directions above. Whisk an egg and brush it on top before baking. Bake at 350 degrees F for 30 minutes, or until the top is slightly toasted.
Nutrition
Calories:
263
kcal
Carbohydrates:
37
g
Protein:
6
g
Fat:
10
g
Saturated Fat:
6
g
Cholesterol:
28
mg
Sodium:
4887
mg
Potassium:
903
mg
Fiber:
4
g
Sugar:
6
g
Vitamin A:
367
IU
Vitamin C:
37
mg
Calcium:
120
mg
Iron:
2
mg
Did you try this recipe?
Tag #SundaySupper on social and leave a comment below!