Sunday Supper is an Amazon Associate and may receive compensation for purchases made through affiliate links.
Ready for one of the easiest dinner ideas ever? Our Smothered Potatoes and Sausage recipe is a guaranteed hit! The smoky sausage, sweet onions, and hearty potatoes all mix together in one perfect combination in this easy kielbasa and potatoes recipe.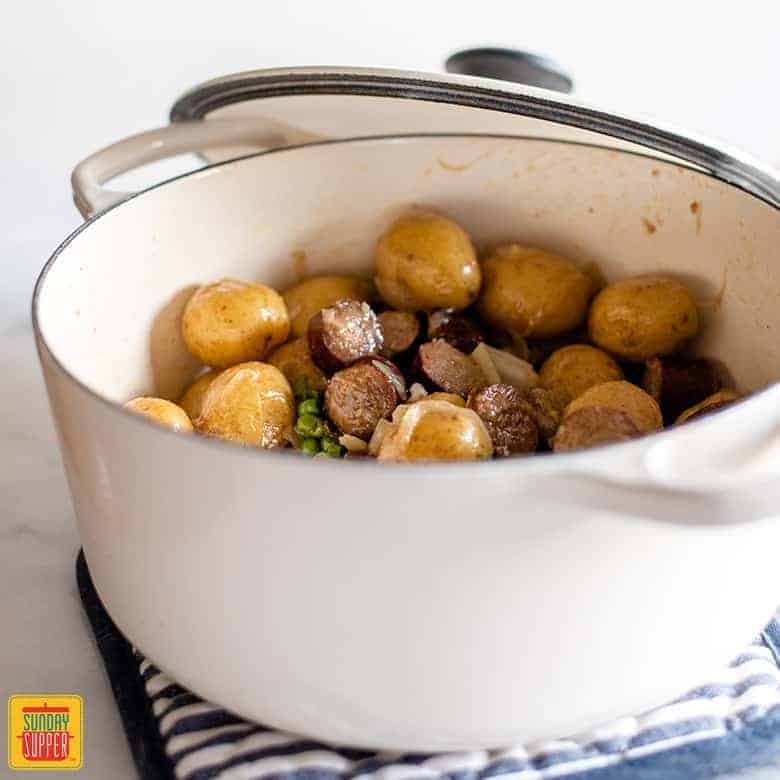 Jump to:
As a bonus, this easy recipe for smothered potatoes is a one-pot dinner – that means easy cleanup, too! The flavors of this simple smothered potato recipe make it one of the best potato dinner recipes out there.
Easy Sausage and Potatoes Recipe
A hearty smoked sausage and potatoes skillet like this one is the perfect weeknight meal for a chilly evening. It smells so good while it's cooking; so much that it takes a lot of self-control to wait until everything is ready to eat!
The wait is worth it, though: by the time this potato sausage recipe is done, it's melt-in-your-mouth soft and full of unbelievable flavor.
Seriously, you are going to love how tasty this sausage and potato recipe is! It's quickly become one of my go-to weeknight dinners, but it's perfect for a hearty and easy Sunday dinner idea too.
What are smothered potatoes?
To put it simply, smothered potatoes and sausage is a potato dinner recipe that cooks with onions all together in a big pot. If you want the potatoes as a side dish, they are just as delicious without the kielbasa.
The big question is, what makes potatoes "smothered"? Well, it's the onions! Fried potatoes and onions cook together in a large pot over medium-low heat for nearly an hour so that all of the flavors meld together deliciously.
The onions are so soft, they practically melt into the potatoes and sausage. Hence the "smothered"!
Ingredients
One of the best parts about this smothered potatoes recipe is how few ingredients it needs! Just sausage, onions, potatoes, peas (optional), and simple seasoning.
Although Italian sausage and potatoes is a common combination for smothered potatoes, we prefer to use Kielbasa for its flavor and large size. Kielbasa and potatoes go together so perfectly!
What goes with smothered potatoes?
This smothered potato recipe is great on its own as a one-pot potato dinner recipe. But also makes a wonderful little potatoes side dish, especially for the holidays! These smothered taters are so delicious!
Eating it as a main dish? Top the sausage and potatoes with lightly grated parmesan or fresh Italian parsley to add some depth of flavor. For side dishes, try something light, such as a Fresh Vegetable Salad with Creamy Balsamic Dressing, or veggies.
Try our Garlic Roasted Small Potatoes next!
📌 Pin it for later!
Did you enjoy this page? Save it on Pinterest for later!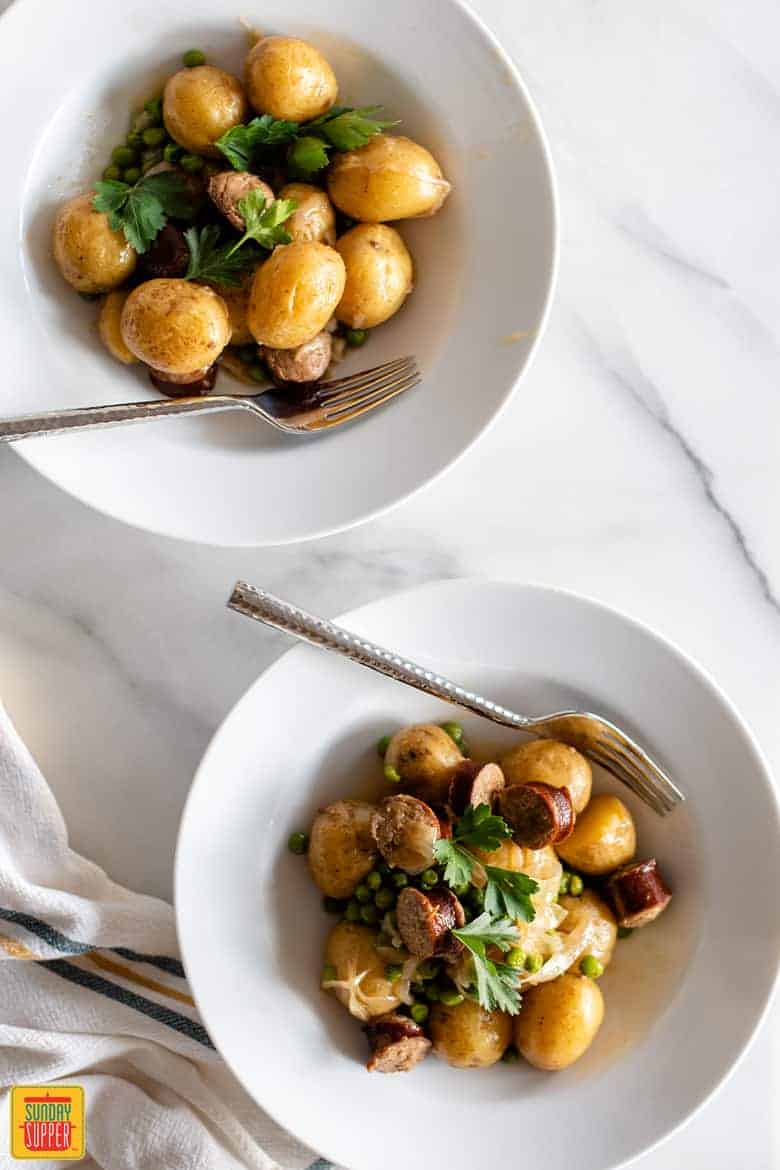 📋 Recipe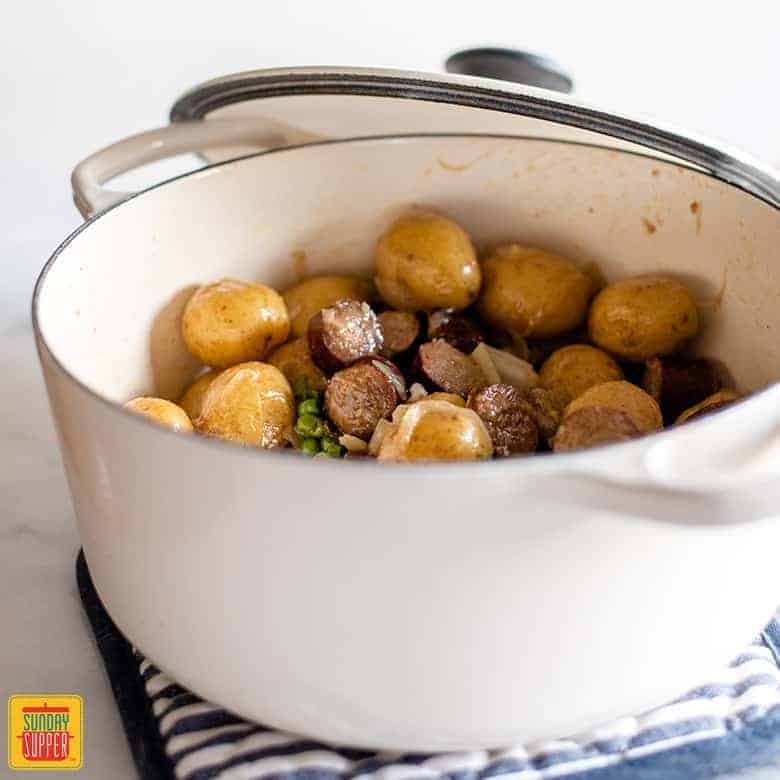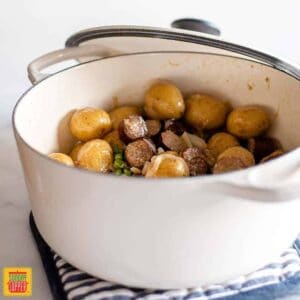 Smothered Potatoes and Sausage
The smoky sausage, sweet onions, and hearty potatoes all mix together in one perfect combination in this easy smoked sausage and potatoes recipe.
Ingredients
1.5

lbs.

smoked Kielbasa sausage

cut to short lengths

1

Tbsp.

olive oil

1.5

lbs.

baby potatoes

whole

1

large

onion

sliced thinly

1

Tbsp.

salt

to taste – Kielbasa is salty, so taste test first before salting!

1

Tbsp.

black pepper

to taste

1

Tbsp.

red pepper flakes

optional – you may want to skip the black pepper if you add these!

⅔

cup

frozen peas
Instructions
Cook the sausage: Add 1.5 lbs. Kielbasa sausage cut into pieces and 1 Tbsp. olive oil to a Dutch oven or a large pot with a lid.

Heat over medium heat and cook until the sausage starts to brown and caramelize.

Add the potatoes: Add in 2.2 lbs. of baby potatoes with 1 cup of water. Stir and scrape any tasty sticky browned bits from the bottom of the pot into the water.

Add the onion: Pile a single sliced onion on top of the other ingredients in the pot, then close the lid. Turn the heat down to medium-low and cook for about 40 to 45 minutes or until the potatoes are fork-tender.

Check from time to time and add more water, if necessary. If you are using peeled cut potatoes, they will probably take a shorter time to cook and will need more water, as they soak up what's in there.

Add the peas: When the potatoes are tender, add in ⅔ cup of frozen peas. Cover and cook for just a few more minutes until the peas are ready.

Season and enjoy!: Season to taste with salt and pepper. Kielbasa sausage can be naturally salty, so you may want to do a taste test before you add more salt. If you like, you can add red pepper flakes for a kick of spice (but be careful not to overdo it!).
Notes
You can use Italian smoked sausage too, but we prefer Kielbasa for its size and flavor.
Add a little fresh parsley to make this recipe really pop!
Remember to taste test before salting or you may wind up adding too much. The sausage is salty already, so give it a try before you add more!
Nutrition
Calories:
772
kcal
Carbohydrates:
44
g
Protein:
30
g
Fat:
53
g
Saturated Fat:
18
g
Polyunsaturated Fat:
6
g
Monounsaturated Fat:
26
g
Cholesterol:
119
mg
Sodium:
2996
mg
Potassium:
1354
mg
Fiber:
8
g
Sugar:
5
g
Vitamin A:
1305
IU
Vitamin C:
48
mg
Calcium:
85
mg
Iron:
5
mg
Did you try this recipe?
Tag #SundaySupper on social and leave a comment below!