This Yorkshire Pudding Recipe is a MUST ADD to your make ahead dinner party recipes list. This traditional English food is always a hit with guests, tailor-made to accompany stew or any dish with a tasty sauce or gravy. They work great for brunch too with your favorite jam or some clotted cream.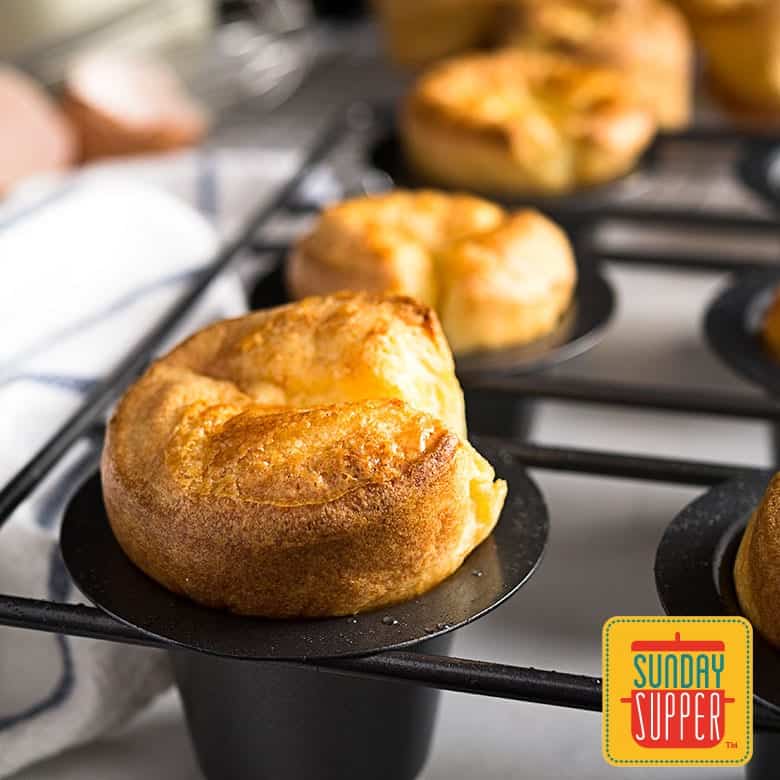 This Yorkshire pudding recipe was originally published on this site as part of a giveaway for the cookbook Mad Hungry Family – 120 Recipes to Feed the Whole Crew. This recipe is reprinted with permission from its publishers with updated photos and text.
This Yorkshire pudding definitely does feed a crew making it perfect for entertaining. The batter can be made the day before and refrigerated overnight. Just make sure you bring it to room temperature before you pour it into the tins. This recipe makes 24 luscious, egg-y popovers that my family of four enjoyed for days! We'd never had them before, despite the fact my mother-in-law was British, so we really enjoyed discovering them together.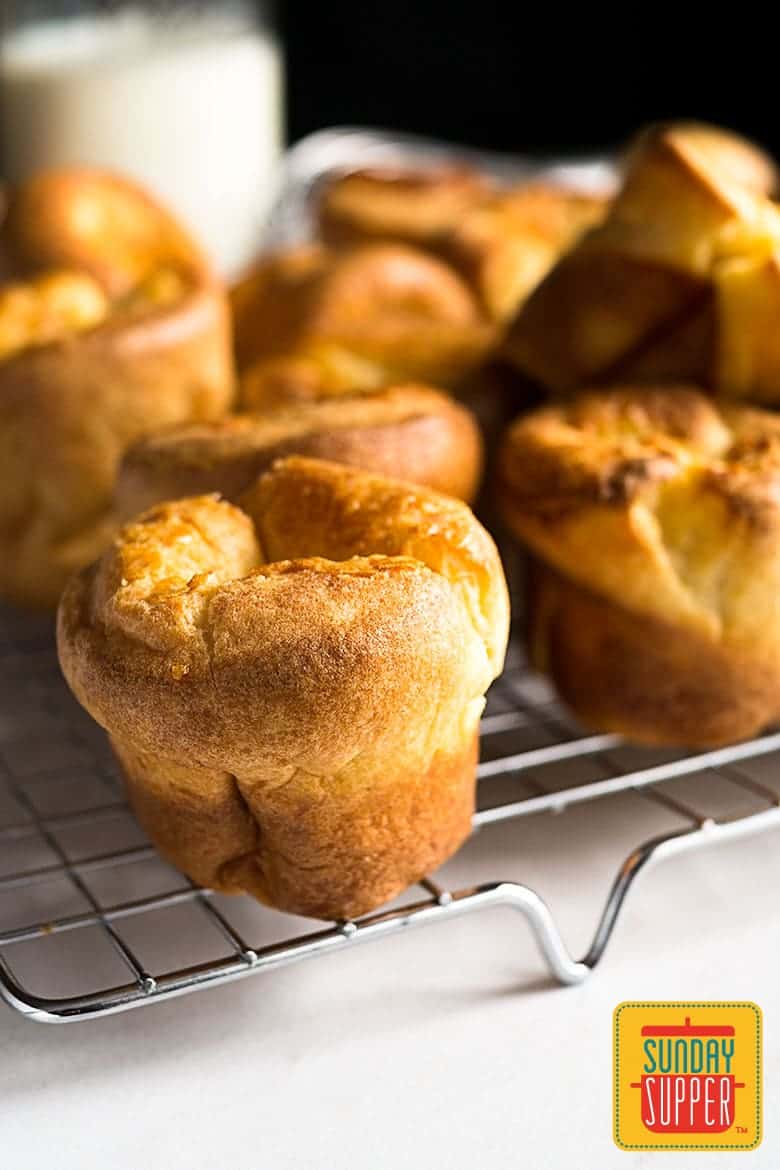 In fact, up until I made these, the only thing I knew about Yorkshire was that it's where The Secret Garden takes place. So as I removed these from the oven I imagined myself shouting, "Mary Lennox! Come get your puddings, Miss!" in that incredibly hard to master accent.
Yorkshire puddings are pure comfort food and are meant to be served with…yes you guessed it… even more comfort food. Traditionally, in England, they are part of the Sunday roast. Which couldn't possibly make more sense. Especially when you think of what those cold, windy evenings on the moors of North England must have been like.
The texture is really unique because they're fluffy and egg-y at the same time. The tops get quite crisp and those holes…well they're just begging to be filled with gravy, aren't they?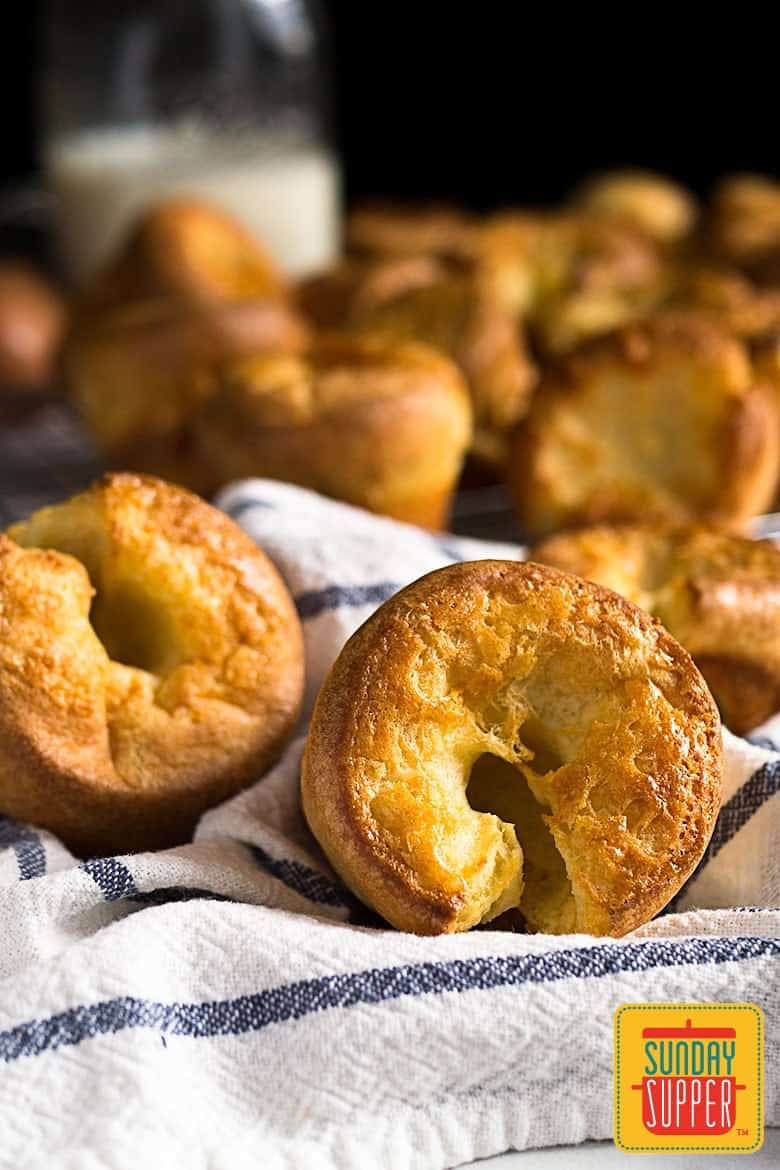 Yorkshire Pudding Recipe tips
Yorkshire pudding can also be made as a casserole, instead of individual popovers. You can also use a muffin tin if you don't have a popover tin. I took the opportunity to purchase the popover tin because I'm addicted to kitchen wares.
You'll notice the recipe for this Yorkshire Pudding Recipe calls for pan drippings from a roast which was another recipe in the same cookbook this Yorkshire pudding came from. Since (unfortunately) I didn't have that roast I substituted 1 teaspoon of melted ghee at the bottom of the tins. And I chose ghee over butter because of its higher smoke point.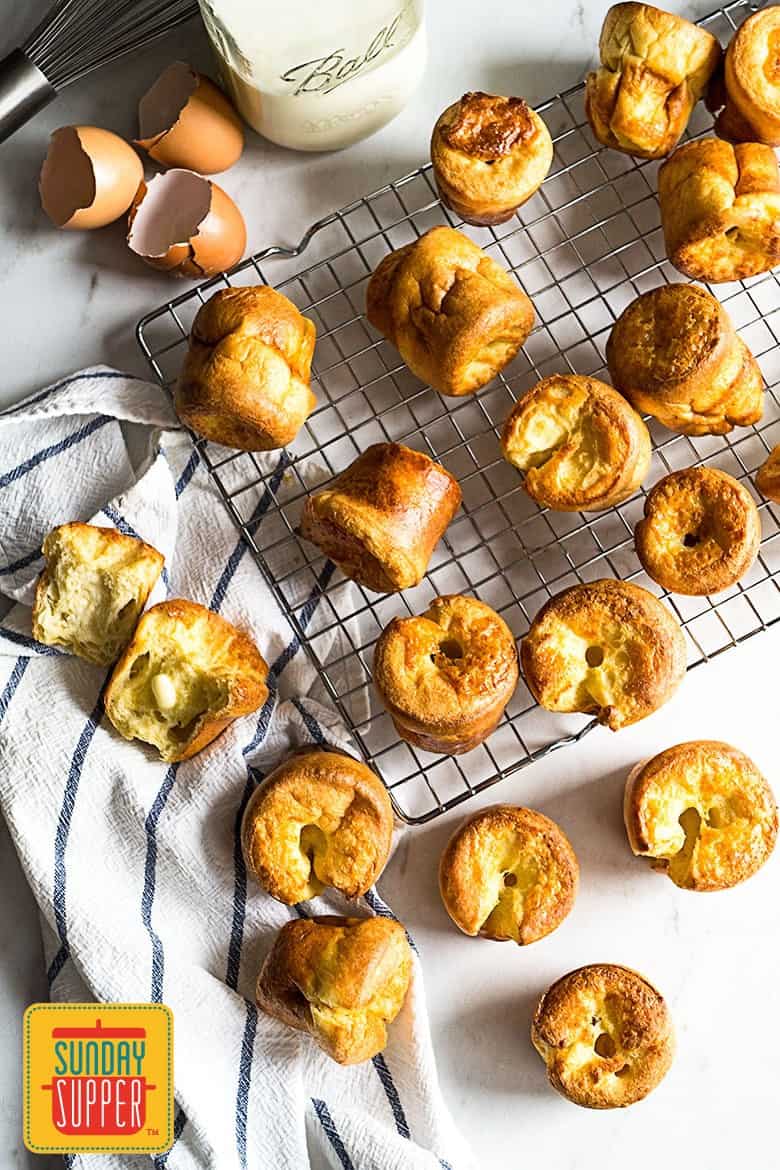 Feel free to substitute your favorite fat. Or…and this is probably a better idea…make a roast! And use its drippings! That is my plan for Christmas. Serving this Yorkshire pudding recipe alongside a standing rib roast. Yum!
More Make Ahead Dinner Party Recipes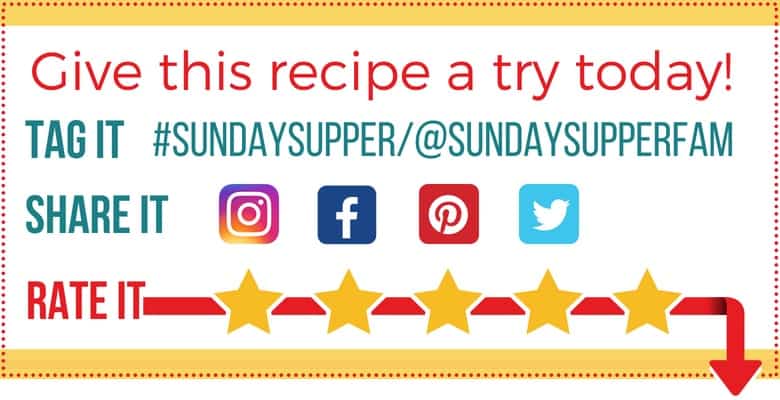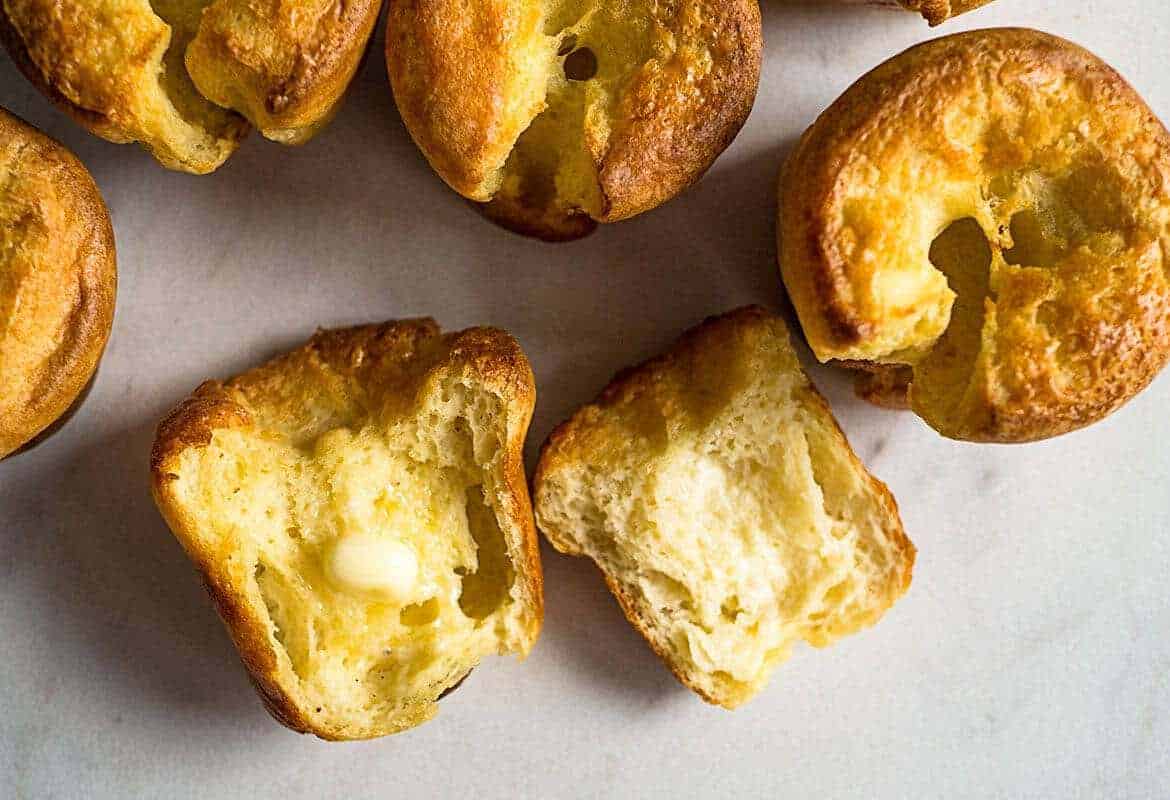 Yorkshire Pudding
This Yorkshire Pudding Recipe is a MUST ADD to your make ahead dinner party recipes list. Deliciously fluffy with a crispy outside!
Print
Pin
Comment
Ingredients
4

large

eggs

at room temperature

3 1/4

cups

whole milk

2

cups

all-purpose flour

1 1/2

teaspoons

salt

coarse

1/4

teaspoon

black pepper

freshly ground

4

tablespoons

pan drippings

reserved from the beef roast. See note #4
Instructions
Preheat the oven to 400° F. Place foil or a sheet pan below the rack you're using for the Yorkies to catch any overflow.

Place the eggs, milk, flour, salt, and pepper in a bender and blend on high until the mixture is combined and resembles heavy cream. (This can be done several hours in advance.)

Pour 1 teaspoon pan drippings into each popover cup (half that amount if using a muffing tin.) Heat in oven for 2 minutes.

Quickly and carefully pour the batter into the preheated cups, filling each about halfway.

Put directly in the oven and do not open the door; keep the light on to watch what's going on in there!

Bake until puffed and golden brown, about 30 minutes (the Yorkies will puff to the highest height, but not until the last 10 minutes of cooking time.)

Serve immediately.
To Make One Big Pudding:
This batter will also bake beautifully in one 9-by-13 inch pan. Preheat the oven to 400° F, add a couple of tablespoons of beef fat to the pan, and pour in the batter. Bake as directed above.
Notes
I double the batter (which can be made several hours in advance) and get ready to stick a second batch in the oven just as we sit down to dinner with the first batch!
If you don't use it up refrigerate it overnight, and make a batch in the morning for a fresh-baked addition to leftovers. Muffin tins will work just fine, but for the deepest, largest puffed beauties, get a popover pan.
The secret to the highest puffiest popovers is to have the batter at room temperature and to preheat the greased pan so that when the batter hits, the rise begins immediately (though you won't see it right away.)
Recipe published with permission from Workman Publishers.
If substituting ghee for beef drippings, melt the ghee and add 1 tablespoon to each popover cup before preheating the tin.
Nutrition
Calories:
140
kcal
|
Carbohydrates:
19
g
|
Protein:
6
g
|
Fat:
3
g
|
Saturated Fat:
1
g
|
Cholesterol:
68
mg
|
Sodium:
343
mg
|
Potassium:
132
mg
|
Sugar:
3
g
|
Vitamin A:
195
IU
|
Calcium:
87
mg
|
Iron:
1.3
mg