Sunday Supper is an Amazon Associate and may receive compensation for purchases made through affiliate links.
Whether you're cooking a luscious ham, juicy prime rib, or buttery turkey, we have the perfect Christmas side dishes to serve! These easy sides make holiday menu planning simple, so you can enjoy the day making memories with your family and friends instead of worrying about the food. 🎄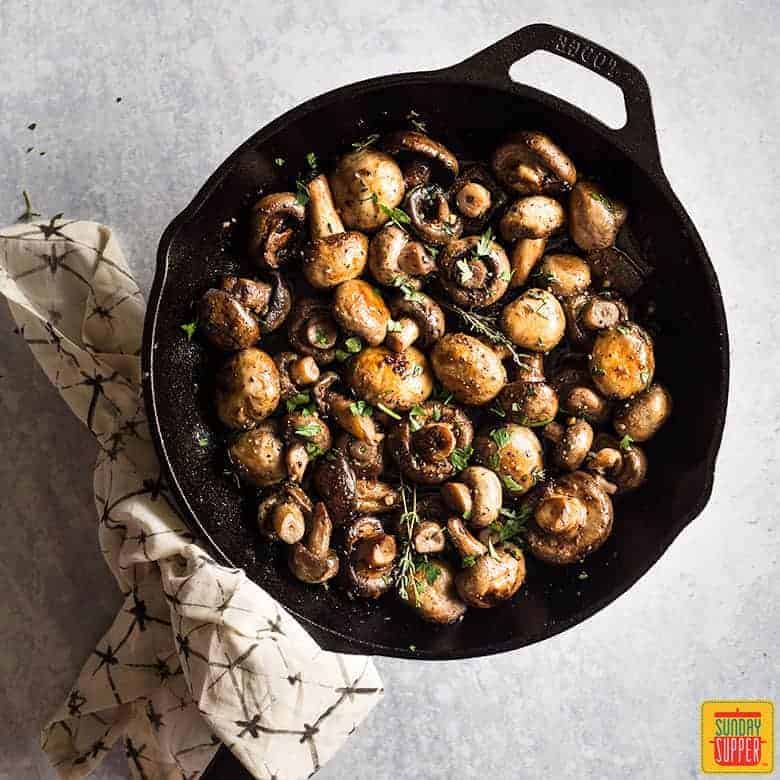 Jump to:
Christmas Dinner Sides
I love this time of year, don't you? Every holiday season, I look forward to planning my Christmas menu. Everything from the main course to the drinks should be perfect, but the most important part of holiday cooking for me is the memories it makes.
That's why, when it comes to planning, I go all out. Appetizers, entrees, drinks, desserts, side dishes – the whole picture! As we all know, though, the more you plan, the more stressful it can get. I love kicking off my meal with this amazing holiday charcuterie board.
And that's exactly where my collection of Christmas side dishes comes in! I organized everything I love to make for the holiday here, to make it easier for you. No stress, only easy side dishes your family will love!
Vegetable Side Dishes for Christmas
There are so many kinds of Christmas dinner side dishes using vegetables, it's easy to find something new to try, like my Vegetable Au Gratin or Mexican Street Corn Casserole! They are the perfect Christmas side dishes for ham.
Christmas Dinner Sides – Potatoes
Some of the best Christmas dinner sides use potatoes! From the creamiest mashed potatoes you will ever try, to luscious scalloped potatoes and garlic-roasted small potatoes, I have the perfect potato side dishes for Christmas on this list.
Christmas Sides-Bread
From stuffing to classic Yorkshire pudding perfect for serving with roast beef, I have the perfect bread sides for Christmas dinner here for you. If you want to try something new, make my Cream Cheese Garlic Bread! It is amazing for the holidays!
Side Dishes for Christmas -Pasta
Pasta makes an excellent choice to go along with your other Christmas dinner ideas! Here are my personal favorites every year:
Christmas Dinner Side Dishes-Rice
Side Dishes for Christmas Dinner -Soups
Soups make an excellent addition to your Christmas menu ideas! My personal favorite is my Creamy Zuppa Toscana recipe, and our Hungarian Mushroom Soup is one of our most popular recipes of all time.
Christmas Sauce Recipes
One lesson I have learned after so many family holiday meals is that you should always have a backup plan. Well, here's my backup plan… a good sauce!
Sauces are an easy way to fix any meal. Overcook your beef? Pour some sauce on it! Dry ham or turkey? Add some sauce! You can't go wrong with these easy sauce recipes.
Add these sauces as Christmas sides to your pantry and they will be your new go-to:
You can use the sauces for leftovers, too. Try my Philly Pork Sandwich using leftover ham and my Hot Roast Beef Sandwich using leftover roast beef with my remoulade sauce or horseradish sauce!
Christmas Recipes Seasonings
Another key to cooking a perfect holiday meal is what seasoning you use! As a bonus to my Christmas side dishes, I want to share my favorite seasonings with you.
Along with the sauces and side dish recipes above, these seasonings will guarantee you a perfect Christmas dinner!
Helpful Christmas Tips
Holiday Dishes
Check out my favorite Christmas Dinner Ideas!
Did you make our favorite side dish recipes for the holiday? Let us know what you think in the comments below! We love to hear from you.
📋 Recipe