Green food is for more than just St Patrick's Day – healthy green foods like this delicious Asian Beef Stir Fry recipe with green beans are easy and delicious enough for any day of the week. With lean beef and plenty of vegetables, this is one tasty bowl.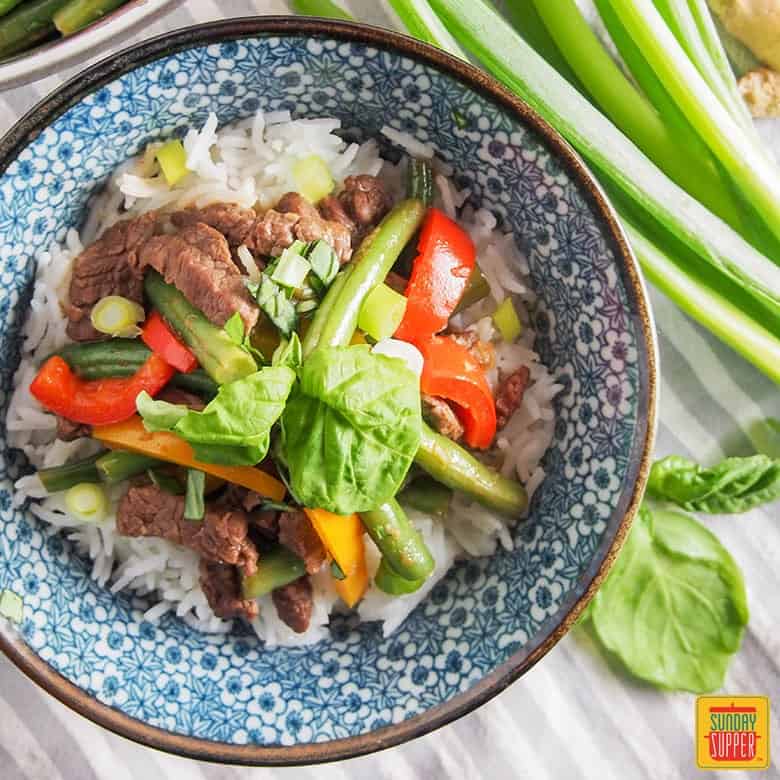 With young kids, I have what's probably a familiar dilemma at times: what vegetables can I give them that they will actually eat. There are a few things that are kind of a no-go, such as mushrooms. Others I can sneak in to dishes, like eggplant in moussaka, but would have no chance on it's own. Soups are a great way to sneak in more vegetables, too, and I think we might have to try some fresh pea soup with grilled cheese supreme soon, as well as Thai squash soup again.
Thankfully, though, some of the healthiest vegetables are ones they like, including broccoli and green beans. These healthy green foods appear on our dinner table on a regular basis, but I'm always looking for new ways to serve them. We all love roasted broccoli and German green beans are popular too. When I saw Family Foodie's Asian beef stir fry recipe, I knew it would be a hit with my family!

Asian Beef Stir Fry Recipe Tips
Being a stir fry, this dish is really quick to cook but there is a little bit of preparation before to get everything chopped and ready. You can, however, speed things up a little, with these ideas:
use ready-prepared minced garlic and ginger
ask your butcher to put the beef through a wide mincer for you to get nice thin strips. If that's not an option, buy stir fry cut beef, and cut strips a little thinner.
look for ready-trimmed beans.
This Asian beef stir fry recipe is an easy and tasty way to enjoy some crunchy veg and lean beef, all wrapped up in a flavorful sauce. Now you've got no excuse not to enjoy some healthy green food any night of the week.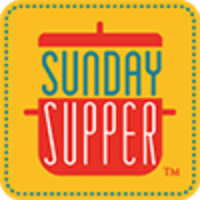 The Sunday Supper Movement is committed to bringing our readers delicious recipes that encourage them to gather and eat together around the family table. Search for your favorite ingredients on our Sunday Supper website. Also check out the Sunday Supper Pinterest boards for plenty more ideas and inspiration.
Sign up for our newsletter to get FREE Sunday Supper recipes delivered right to your inbox!

Asian Beef Stir Fry Recipe with Green Beans
This Asian beef stir fry recipe with green beans is a flavorful, easy and healthy dish perfect for any night.
Ingredients
2

tablespoons vegetable oil

1

pound Certified Angus Beef® brand flank or sirloin steak, very thinly sliced

1

tablespoon soy sauce

2

tablespoons minced garlic

1

tablespoon minced ginger

1

tablespoon chili pepper paste

1

pound green beans, trimmed

1/2

cup teriyaki sauce

2

cups mixed peppers of your choice (approx 2 bell peppers)

1/4

teaspoon himalayan sea salt or fresh sea salt

1/4

teaspoon freshly ground black pepper

1/4

cups green onions, sliced thin

1/4

cup basil leaves, thinly sliced

4

cups Cooked rice
Instructions
Heat a wok or large skillet over high heat until a bead of water sizzles and evaporates on contact. Add the oil and swirl to coat the bottom.
Add the soy sauce, garlic, ginger and pepper paste.
Immediately add the beef and sear for approximately 1 minute, then stir-fry for another 1 to 2 minutes until the pink is mostly gone.
Add the green beans and teriyaki sauce and cover the wok.
Allow the green beans to steam for 3 to 4 minutes, or until they are crisp-tender.
Add the peppers and stir fry for another minute.
Season with sea salt and fresh ground pepper and top with green onions and basil leaves.
Serve over cooked rice and garnish with additional basil.