This post may contain paid links. If you make a purchase through links on our site, we may earn a commission.
Our Easy Chicken Stir-Fry Recipe is a super easy, 5-ingredient stir fry recipe that's ready in no time! Made with white rice, pan-fried chicken breast, stir-fry blend vegetables and teriyaki sauce, this simple stir fry couldn't get any more delicious.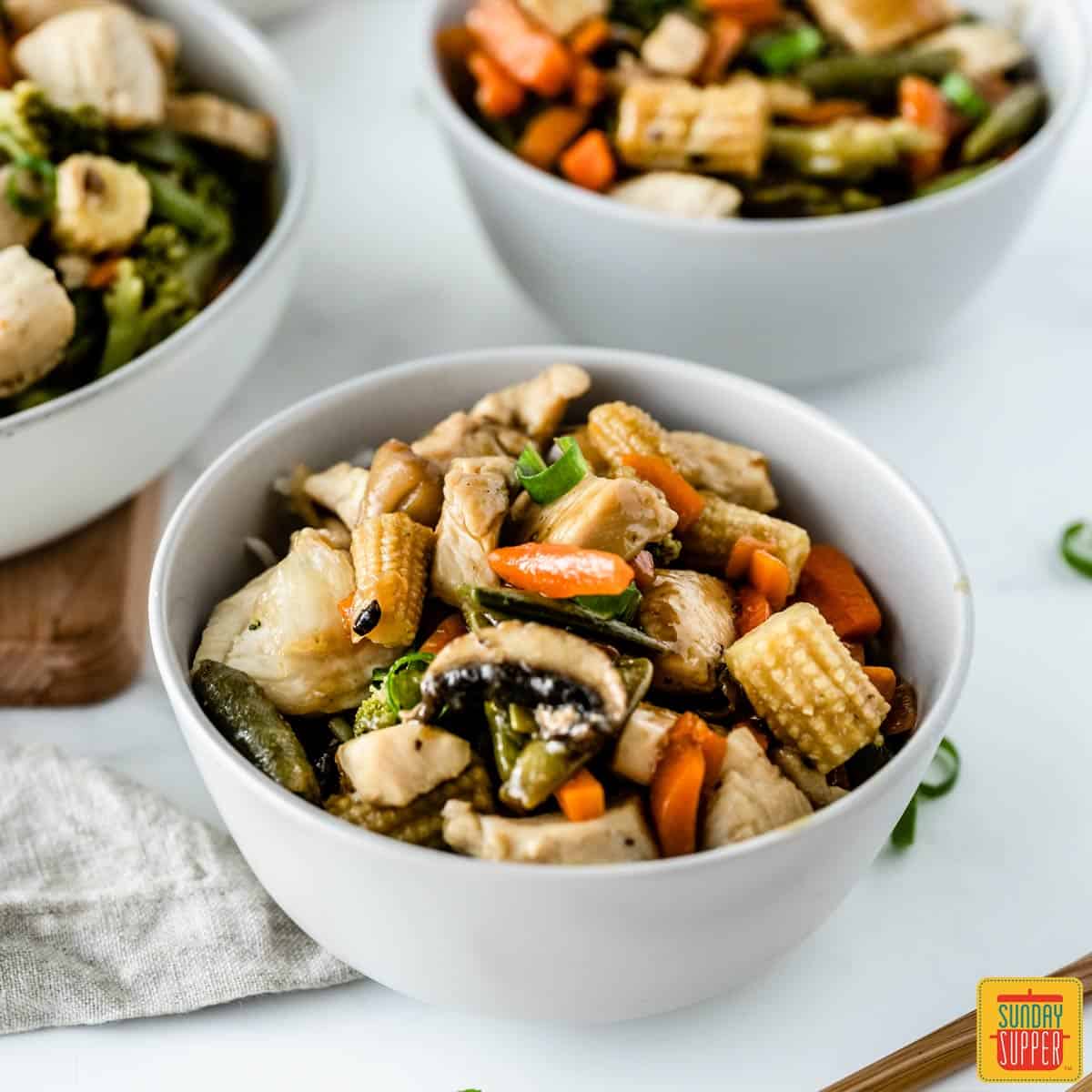 I love easy family meals like stir-fry recipes, especially over a serving of fluffy rice. Dishes like my favorite Asian Beef Stir-Fry and Pork Fried Rice are the best for making quick weeknight meals!
But by far, one of my favorite homemade stir-fry recipes is this Easy Chicken Stir-Fry. And when I say it's easy, I mean it's easy! This simple stir-fry recipe has so much flavor, but it only uses 5 ingredients.
Plus, it takes less than 30 minutes to put together. Busy parents rejoice! This is the chicken stir-fry for you. As a mom of 4, I can honestly tell you that easy few ingredient recipes like this one are game-changers.
Jump to:
🍽 What do I need to make chicken stir-fry?
The only equipment you need to make this easy chicken stir-fry recipe is a skillet for the stir-fry, and a pot to cook the rice.
There is really nothing to making this 5-ingredient stir-fry; it is so simple, and will save you so much time on a busy weekday.
🍚 Stir-Fry Ingredients
You will need these simple ingredients ready to make this delicious chicken dish:
Cooked white rice
Chicken breast, cut into 1-inch cubes
Extra-virgin olive oil
Salt and pepper
Frozen stir-fry blend vegetables
What makes this teriyaki chicken stir-fry recipe so easy is the fact that it's a 5-ingredient stir-fry, plus salt and pepper. You can use leftover rice or cook up a quick batch in your Instant Pot (Instant Pot White Rice) or on the stove (Portuguese Rice).
I like to make my own Teriyaki sauce, too. Homemade Teriyaki sauce really beats anything you can buy in a bottle. Our Teriyaki Sauce Recipe is super simple, with just a few ingredients, and is ready in 5 minutes.
Stir-Fry Vegetables
One of the easiest ingredients in this 5-ingredient stir-fry are the frozen stir-fry vegetables.
You can buy any blend you like best! I like the kind that come with broccoli, water chestnuts, green beans, and baby corn cobs. Even better if there are mushrooms in the mix.
But, there are so many blends to choose from. Use whichever blend of stir-fry vegetables you prefer.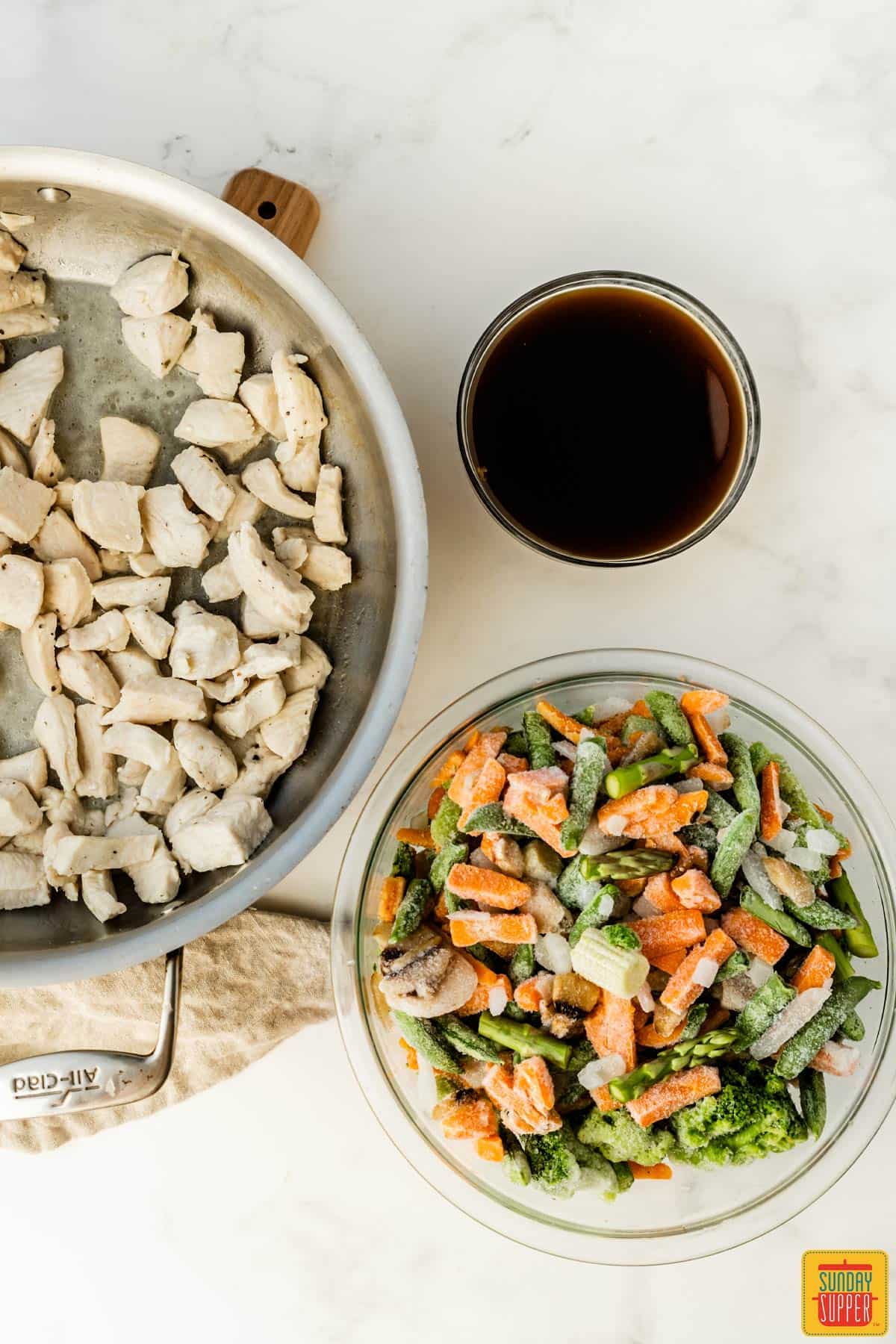 🥘 How to Make Stir-Fry Chicken Teriyaki
Cook rice according to package directions or by following one of our rice recipes: Instant Pot White Rice or Stove-top Rice. Keep warm in a container or bowl covered with foil.

Over high heat in a large skillet, saute cubed chicken breast in extra-virgin olive oil. Sprinkle with salt and pepper and cook for 10 minutes.

Add frozen stir-fry vegetables to the skillet with the chicken, and cook for 3 minutes.

Pour in teriyaki sauce and cook, stirring occasionally, for 5 minutes. Serve over cooked rice, and enjoy!

Easy 5 ingredient recipes just don't get any more simple or delicious than this teriyaki chicken stir-fry. It is one of my favorite few ingredient recipes and definitely one of the best chicken teriyaki stir-fry recipes.
The best part about it is that my family loves it, too, so everyone at the table is happy!
If you love making easy recipes with few ingredients (and who doesn't?) then this chicken teriyaki stir-fry is a must. Every bite is so flavorful, you'll be amazed that it only took you 5-ingredients and less than 30 minutes!
For full ingredient measurements and recipe tips, scroll down to the recipe card below!
⭐ Family Foodie Tips
Top tip: don't feel like rice? Make your stir-fry with noodles, instead. Chow mein or lo mein noodles are great choices for a stir-fry. I also love to stir-fry soba noodles!
Most Asian noodles take very little time to cook up, so they're a great choice for stir-fry. If you're on a budget or happen to have it on hand, you could even make a ramen stir-fry by leaving out the flavor packets.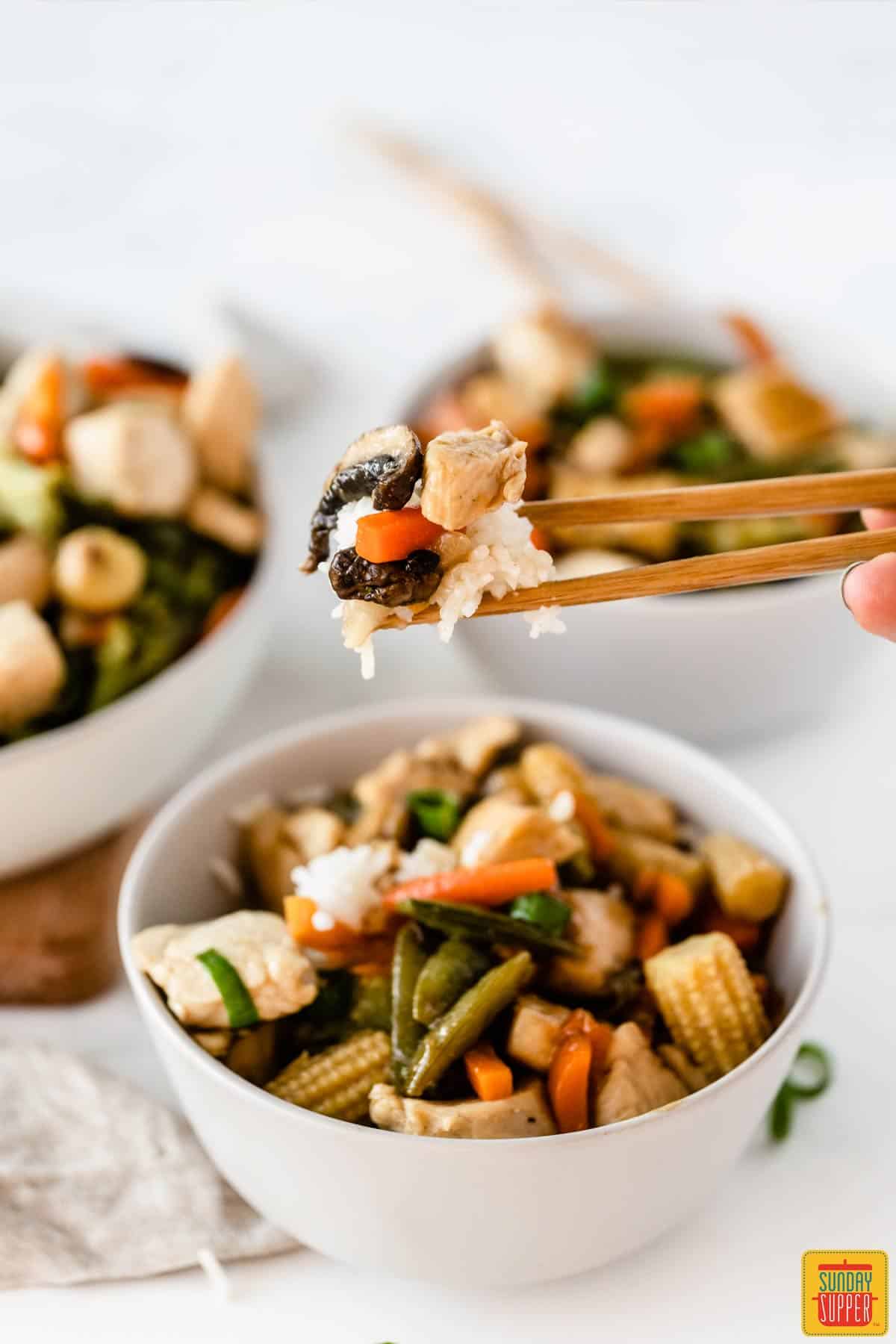 👪 How many people does chicken teriyaki stir-fry feed?
Chicken stir-fry is one of the best few ingredient recipes because not only does it take just 5 ingredients, but it easily feeds a family of 4. Plus, it is super simple to scale up!
If you want to feed a larger group, you can double the ingredients to have enough for leftovers. For just a couple more servings, try adding an extra half of all the ingredients.
Just make sure not to overcrowd your pan when cooking chicken, or it won't cook evenly!
🥗 What goes with stir-fry?
I like to serve my stir-fry with simple side dishes that complement the flavors of the veggies and chicken.
Asian side dishes or appetizers are my favorite for serving with teriyaki chicken stir-fry!
Here are some of my personal favorite choices to serve when I'm making a stir-fry recipe at home: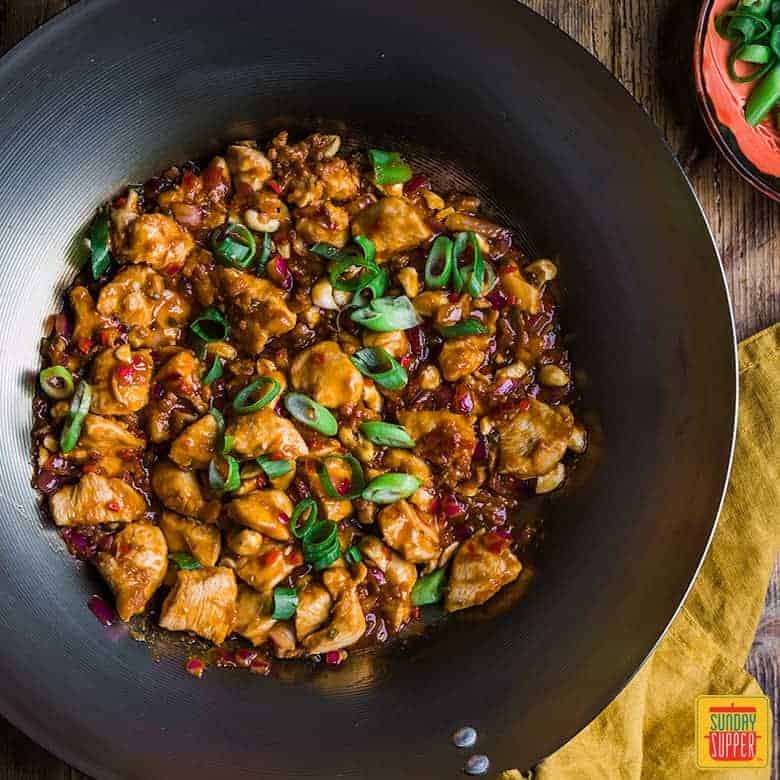 📖 Easy Few Ingredient Recipes
If you love this teriyaki chicken stir-fry recipe, I can promise you you will love these other easy, few-ingredient recipes. Recipes like this make it so easy to cook up a fun lunch or dinner for your family that they will love!
Save the Video Pin
Did you try this 5-ingredient chicken stir-fry recipe? Let me know what you think in the comments below and with a rating! We love to hear from you. And, snap a picture and share it with us on Pinterest!
For more chicken recipes and inspiration on how to cook chicken perfectly, follow my Chicken Temperature Chart!
📋 Recipe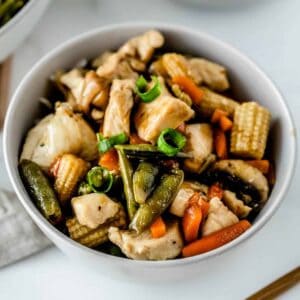 Easy Chicken Stir-Fry Recipe
Using just 5 simple ingredients, this flavorful and easy Chicken Stir-Fry Recipe cooks up in less than 30 minutes! You will savor every bite of this simple chicken teriyaki stir-fry.
Instructions
Over high heat in a large skillet, sauté 1 ½ lbs. cubed chicken breast in 1 Tbsp. olive oil. Sprinkle the chicken with ½ tsp. salt and ¼ tsp. pepper and cook for 10 minutes.

Add one 16 ounce bag frozen stir-fry vegetables and cook for 3 minutes. Then, pour in 1 ½ cups teriyaki sauce and cook, stirring occasionally, for 5 minutes.

Serve over the cooked rice, and enjoy!
Notes
Recipe by Philia Kelnhofer from Fast & Easy Five-Ingredient Recipes – A Cookbook for Busy People.
Nutrition
Calories:
373
kcal
Carbohydrates:
28
g
Protein:
44
g
Fat:
8
g
Saturated Fat:
1
g
Cholesterol:
109
mg
Sodium:
4628
mg
Potassium:
886
mg
Fiber:
1
g
Sugar:
15
g
Vitamin A:
50
IU
Vitamin C:
2.1
mg
Calcium:
39
mg
Iron:
2.5
mg
Did you try this recipe?
Tag #SundaySupper on social and leave a comment below!