Sunday Supper is an Amazon Associate and may receive compensation for purchases made through affiliate links.
Air Fryer Meatballs are crispy on the outside, perfectly juicy on the inside, and take just 15 minutes to make. This is your classic Italian meatball recipe at its best!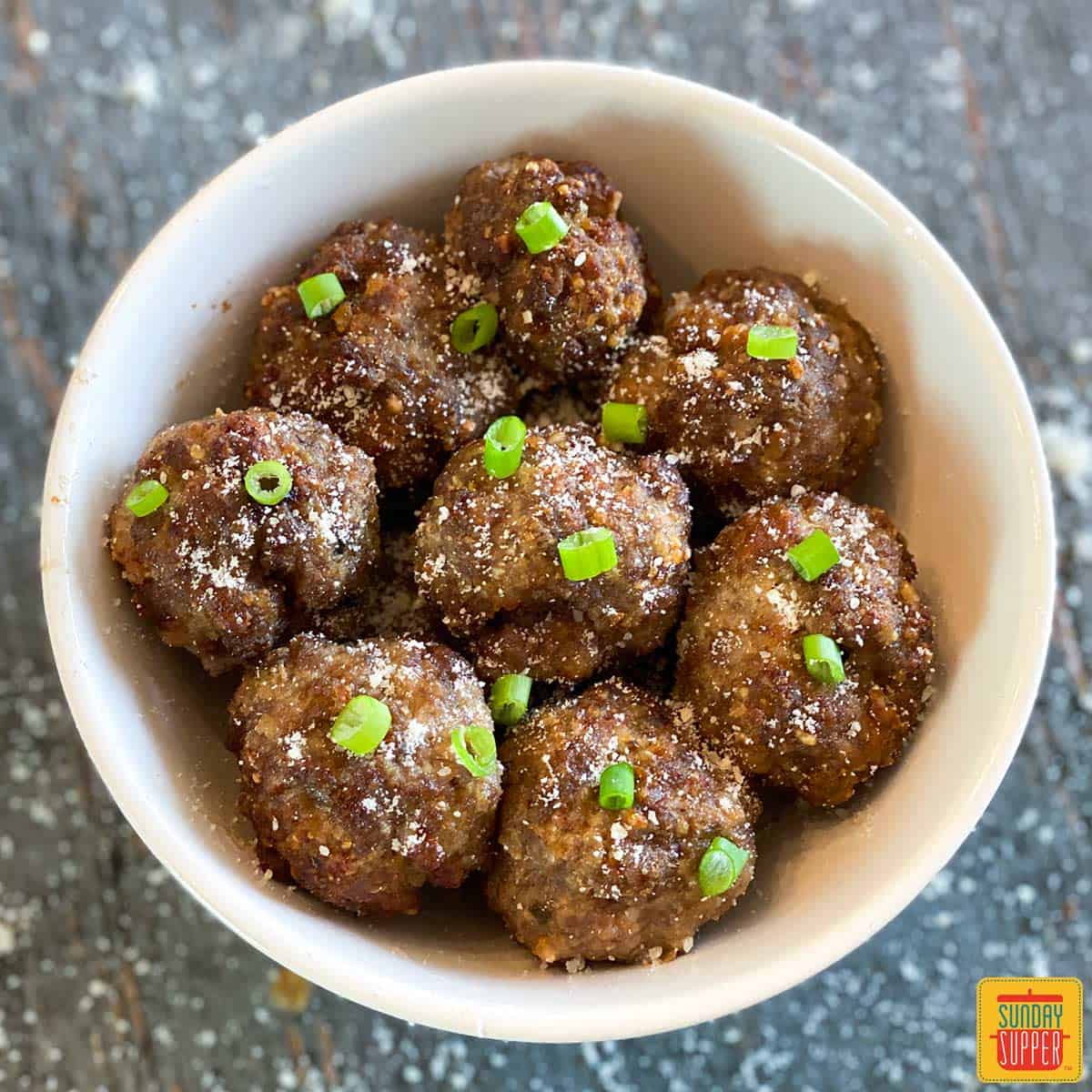 Jump to:
Recipes with meatballs are a staple at my household. I love making spaghetti and meatballs, meatballs in gravy, or even my family's favorite almôndegas (Portuguese meatballs) with Portuguese rice.
Recently I've been experimenting with making air fryer recipes, and I thought, "why not make meatballs in the air fryer?"
It's one of the best ideas I have ever had! I can't believe how quickly they come together and how crispy but juicy they are. Give this homemade meatball recipe a try, and it will make you a believer!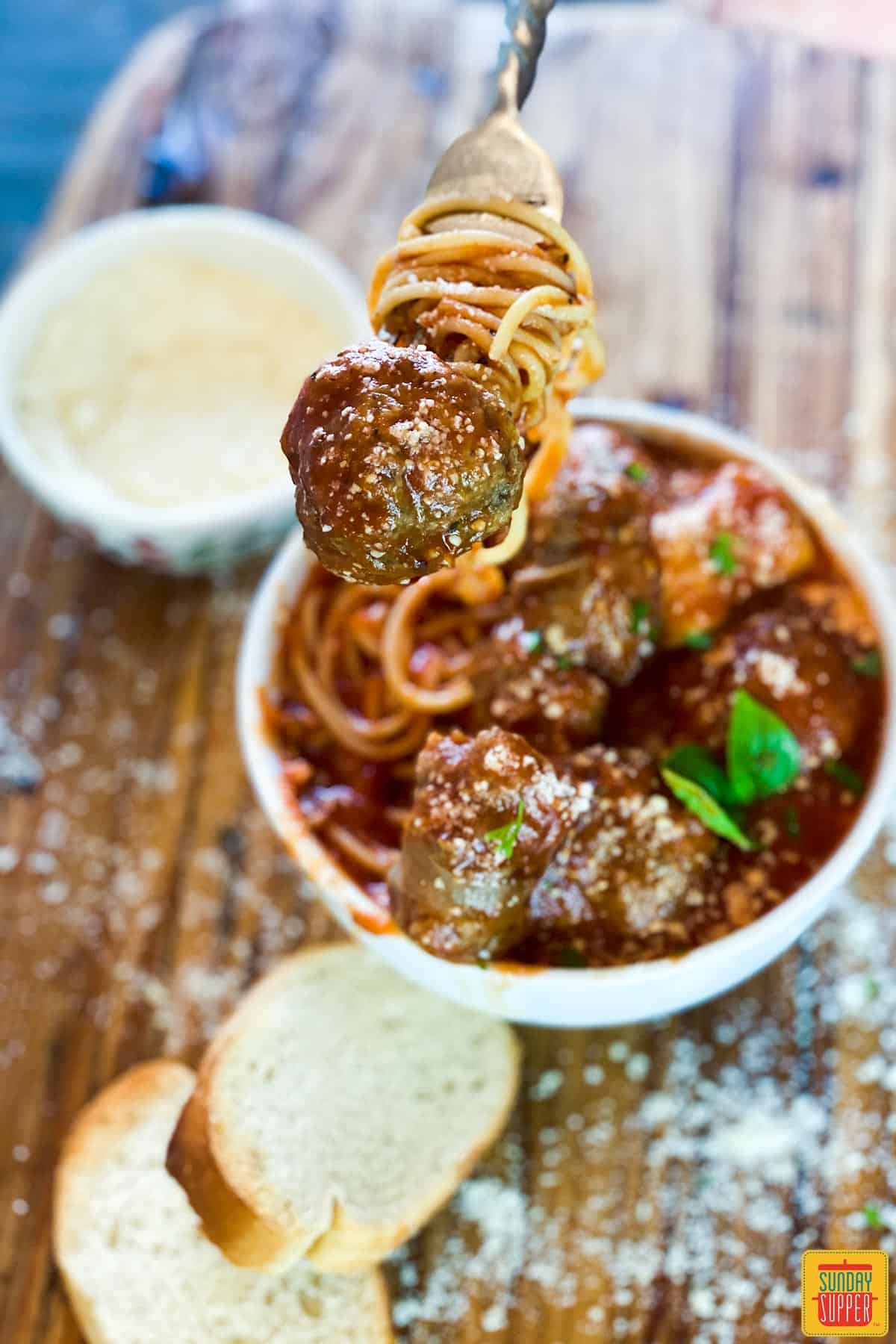 🍽 Tools
Ground beef meatballs are easy to make in just minutes. Once you have them all rolled and ready to go, they cook in no time.
The best part about air fryer meatballs is how quickly they cook and the results! Crispy outside, juicy inside… they are truly the best.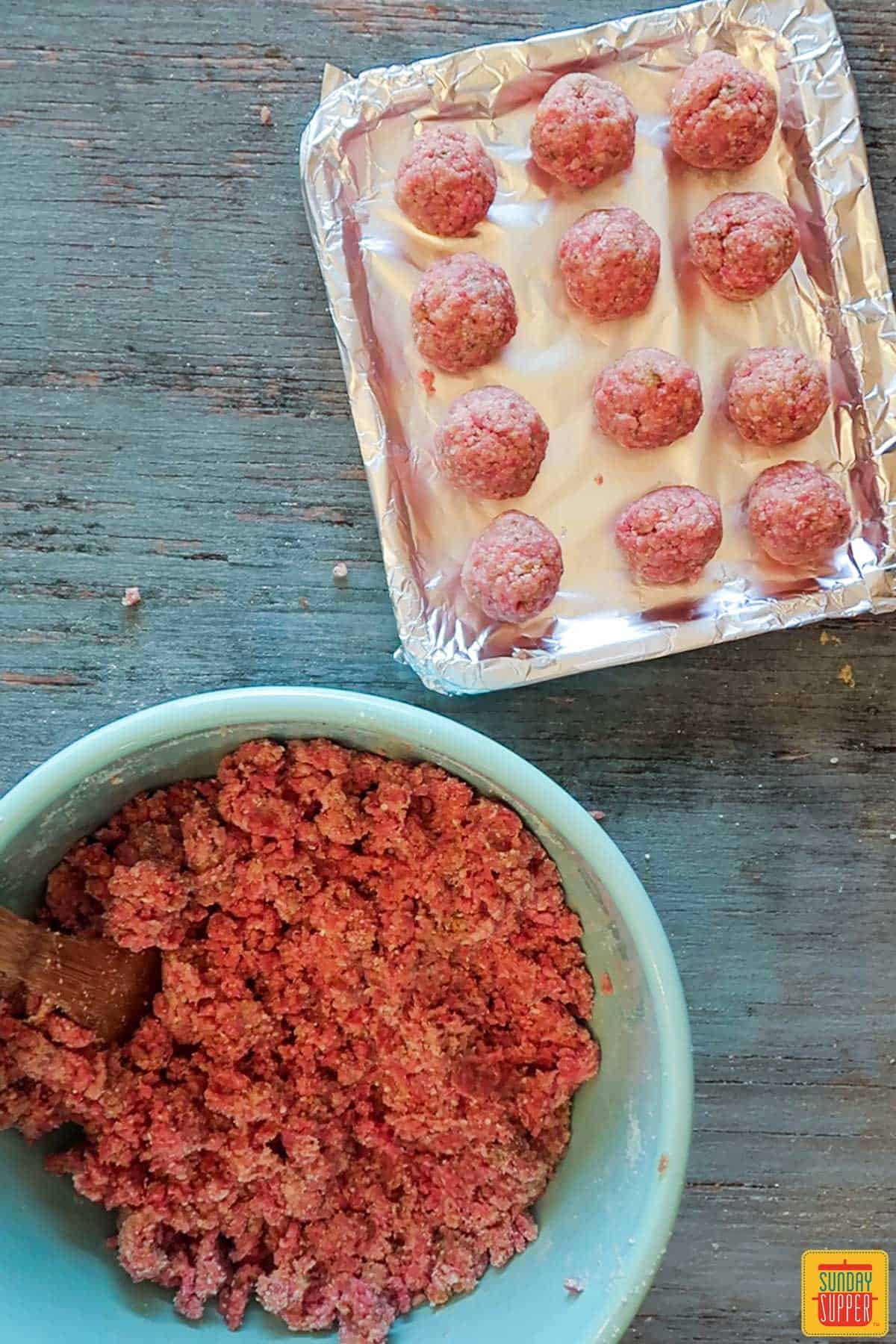 📃 Variations
For this recipe, I use a mix of Italian seasonings and Parmesan cheese for perfectly deliciously juicy, perfect meatballs.
If you have a homemade meatball recipe you love and want to try in the air fryer, good news: you totally can! Assemble your meatballs as you normally would, then follow our instructions for cooking.
🍝 Meatball Sauce
For the best meatball sauce ever, give my Easy Meatball Sauce Recipe a try! It's the perfect complement to these crispy, juicy meatballs.
I also love meatballs dipped in my Butter Garlic Herb Sauce. So good!
❄ How to Freeze
This recipe makes enough for 3 dozen meatballs, which means it's perfect for freezing!
Mix the beef and roll out your meatballs. Place any you're not intending to use on a baking sheet lined with parchment paper. Make sure they aren't touching!
Add to the freezer for about 1 hour until they're frozen solid. Remove from the baking sheet and add to a freezer-safe bag or container. Label with the freezing date.
When ready to enjoy, cook in the air fryer for 15 minutes instead of 10.
The internal temperature of air fryer meatballs should reach 165°F.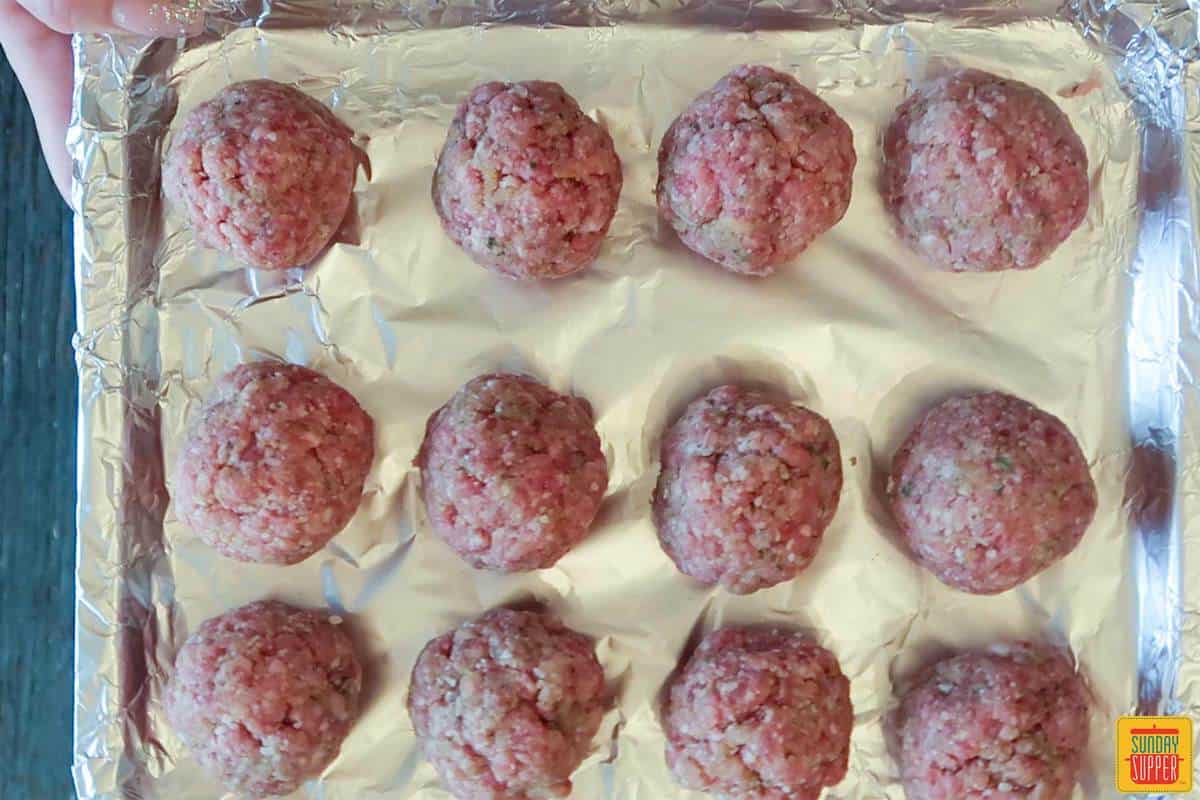 🔥 How to Reheat
Reheat leftover air fryer meatballs in the microwave in 1 minute intervals until heated through, or on a baking sheet under the oven broiler for about 3-5 minutes until crisp and heated through.
🥫 How to Store
Store leftover meatballs in an airtight container or zip-lock bag for about 3-4 days in the refrigerator or frozen for up to 3-4 months.
What to Serve with Meatballs
These Italian meatballs are my favorite for serving with pasta, but you can serve them with so much more!
Meatballs with beef gravy is a classic comfort food choice. Even better meal if you serve it over creamy mashed potatoes!
Serve these meatballs up with some melted cheese and my best ever meat sauce recipe on some sub rolls. Meatball subs are the best! This will be a surefire favorite in your house, especially with a side of air fryer frozen French fries covered in garlic Parmesan fry seasoning.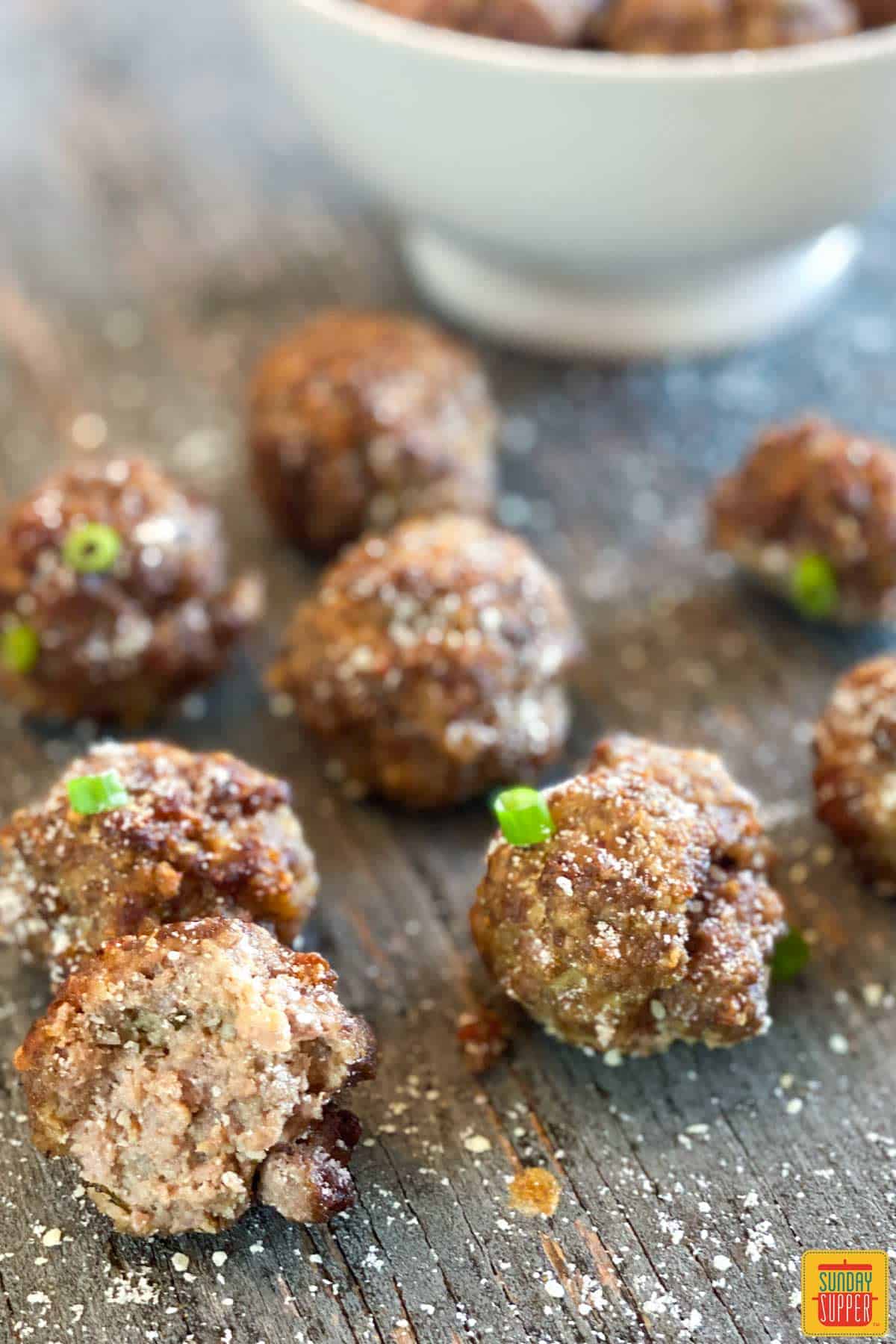 📌 Pin it for later!
Did you enjoy this page? Save it on Pinterest for later!



Save the Video Pin

These are the best Italian-style meatballs I have ever had, and they are so simple to make in so little time. It truly is the ultimate meatballs recipe: crispy on the outside, juicy on the inside, and perfect for pairing with sauce!
📖 Air Fryer Recipes
📋 Recipe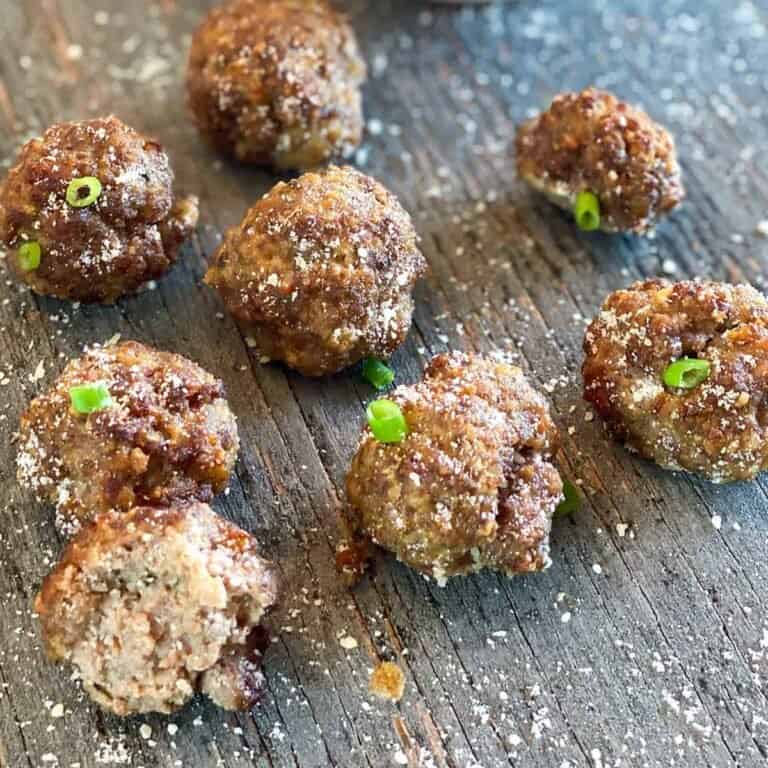 Air Fryer Meatballs
You just can't go wrong with homemade meatballs! There is something about a classic meatball recipe everyone loves. These air fryer meatballs take a classic and make it even more delicious. All in just 10 minutes!
Ingredients
1

pound

ground pork

2

pounds

ground beef

80/20

4

eggs

1

cup

Italian breadcrumbs

1

teaspoon

garlic powder

1

teaspoon

onion powder

1

tablespoon

Italian seasoning

1

cup

Parmesan cheese

Sea salt to taste
Instructions
How to Make Meatballs
Place 1 pound ground pork and 2 pounds 80/20 ground beef in a large mixing bowl.

In a separate bowl, beat 4 eggs. Then, add them to the bowl with the meat.

Mix in 1 cup Italian breadcrumbs, 1 teaspoon garlic powder, 1 teaspoon onion powder, and 1 tablespoon Italian seasoning. Stir it all together.

Add 1 cup Parmesan cheese to the mixture. Stir to combine completely.

Divide the mixture into meatballs by rolling the meat into a ball shape using your hands.
How to Cook Meatballs in the Air Fryer
Add meatballs to your air fryer tray, evenly spaced apart so none of them are touching.

Bake at 400°F for 5 minutes. Swap the trays: move the bottom tray to the top rack, and the top tray to the bottom rack. Cook for another 5 minutes. After taking out of the air fryer, sprinkle with sea salt to taste.
Notes
This meatball mixture makes about 3 dozen medium-size meatballs.
Serve with best ever meatball sauce recipe for a delicious combination of flavors!
How to Cook Meatballs in the Oven:

Add meatballs to a baking sheet and bake in your oven at 425°F for 15-20 minutes.

Sprinkle with sea salt.
Nutrition
Calories:
129
kcal
Carbohydrates:
3
g
Protein:
9
g
Fat:
9
g
Saturated Fat:
4
g
Cholesterol:
47
mg
Sodium:
120
mg
Potassium:
124
mg
Fiber:
1
g
Sugar:
1
g
Vitamin A:
57
IU
Vitamin C:
1
mg
Calcium:
50
mg
Iron:
1
mg
Did you try this recipe?
Tag #SundaySupper on social and leave a comment below!