This post may contain paid links. If you make a purchase through links on our site, we may earn a commission.
Find your desired doneness for steak easily using my Steak Temperature Chart! By following this guide to measuring steak doneness, you can ensure a gorgeous, perfectly cooked steak dinner every time – whether you're cooking for just yourself, your family, or a BBQ party crowd.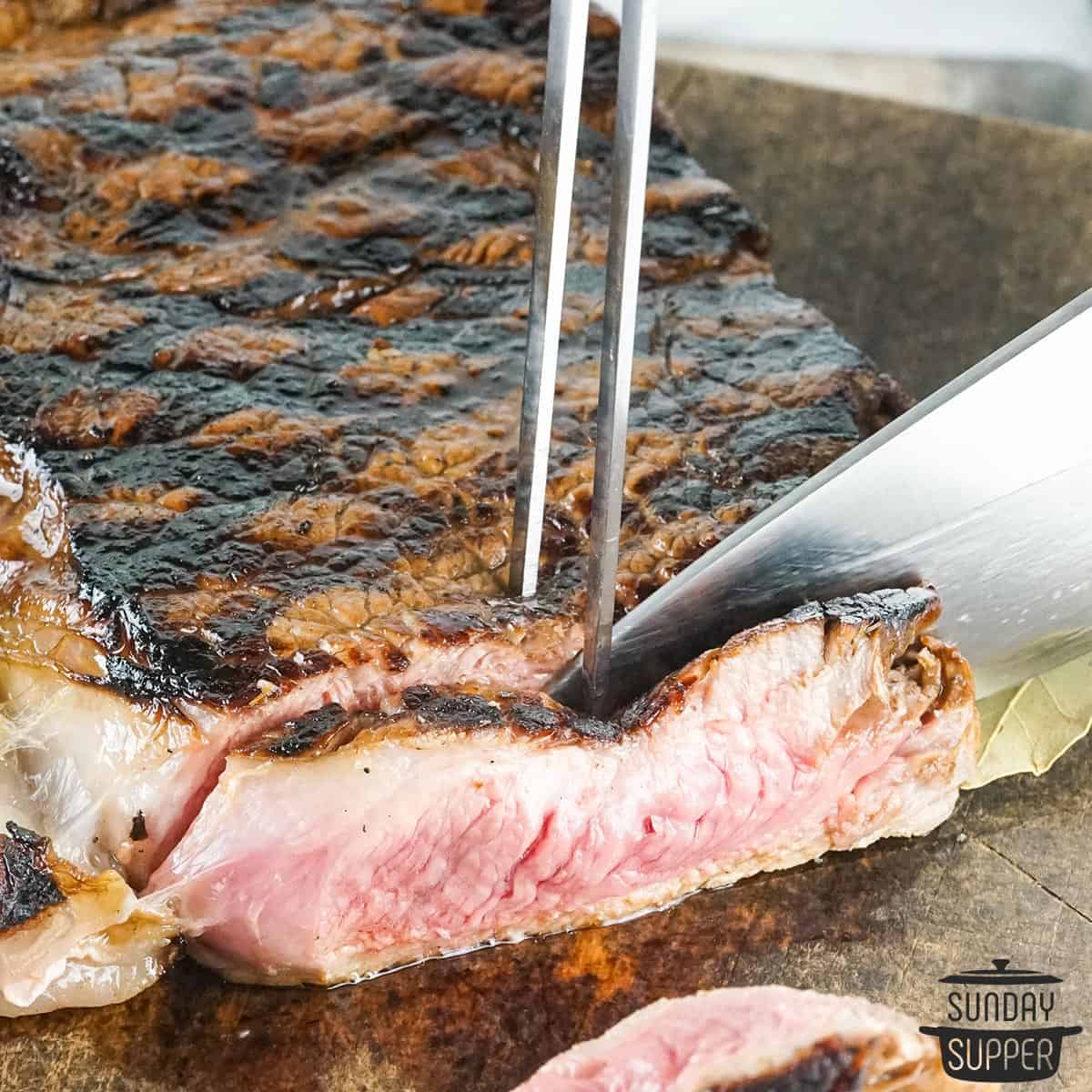 Jump to:
Steak Temps
| Steak Doneness | Steak Temperature (°F) | Steak Temperature (°C) |
| --- | --- | --- |
| Rare steak temp | 125°F | 51°C |
| Medium-rare steak temp | 135°F | 57ºC |
| Medium steak temp | 145°F | 62ºC |
| Medium-well steak temp | 150°F | 65ºC |
| Well-done steak temp | 160°F | 70ºC |
Make sure to always use a meat thermometer when measuring the temperature of the steak. The USDA recommends an internal temperature of at least 145°F.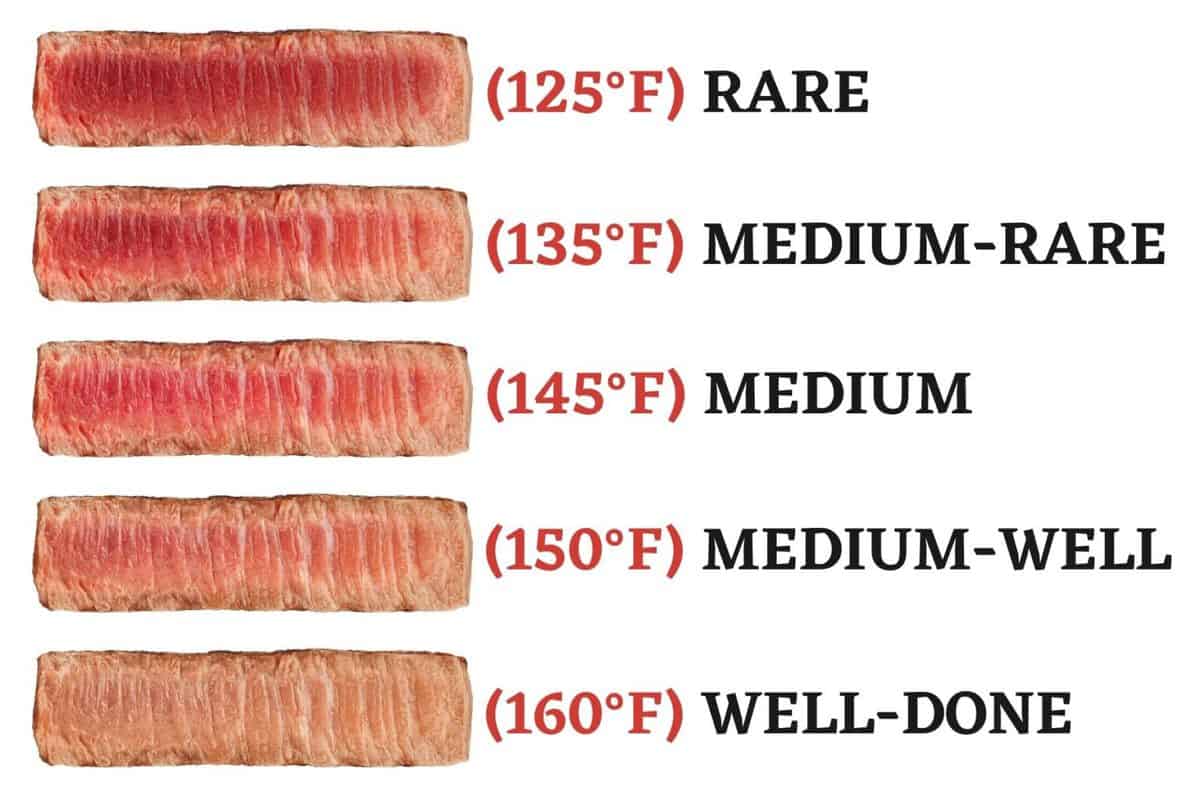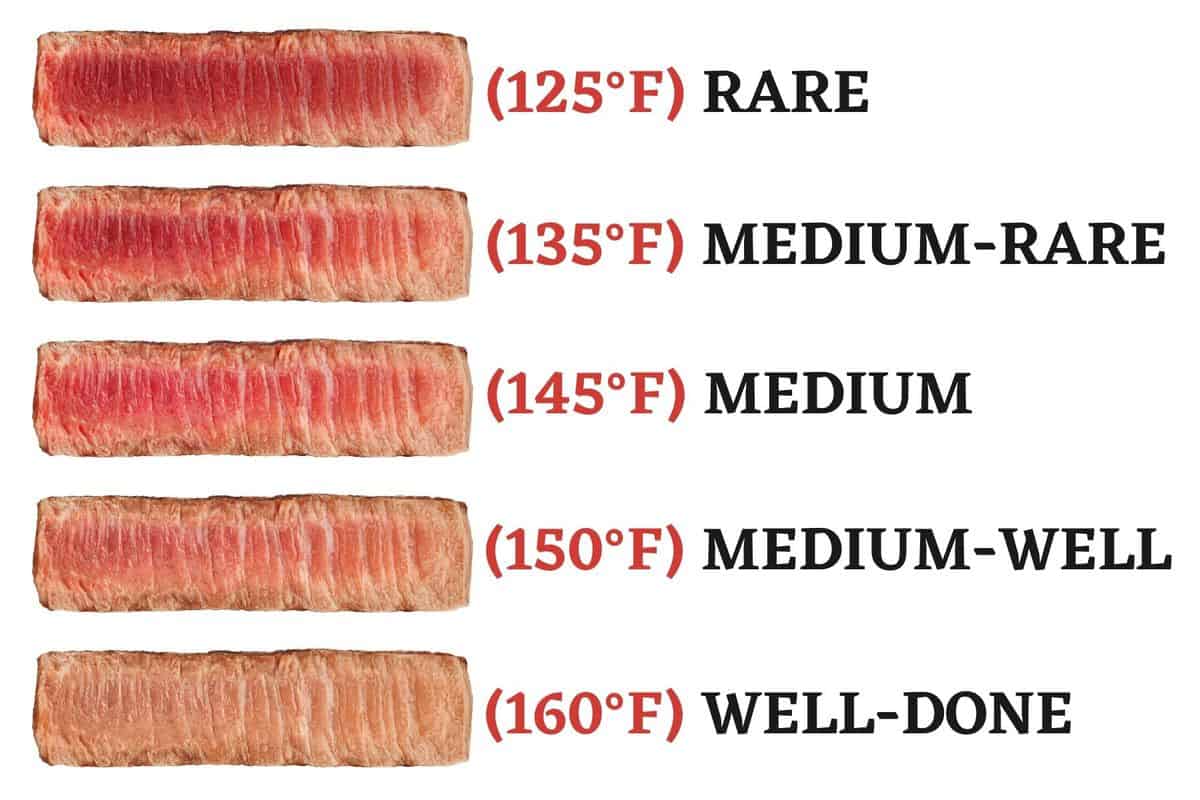 Whether you're cooking steak on a grill, in a smoker, on the stove, in the oven, sous vide, or even in the air fryer, the most important aspect is to measure the internal temperature.
While there are methods for testing steak doneness through touch, they will never be as accurate as using an Instant Read thermometer. Steak cooking times vary based on whether the steak has a bone, steak thickness, and the method used.
Find your ideal steak temperature, measure with the thermometer, and follow the guidelines below for cooking perfect steak!
Cooking Perfect Steak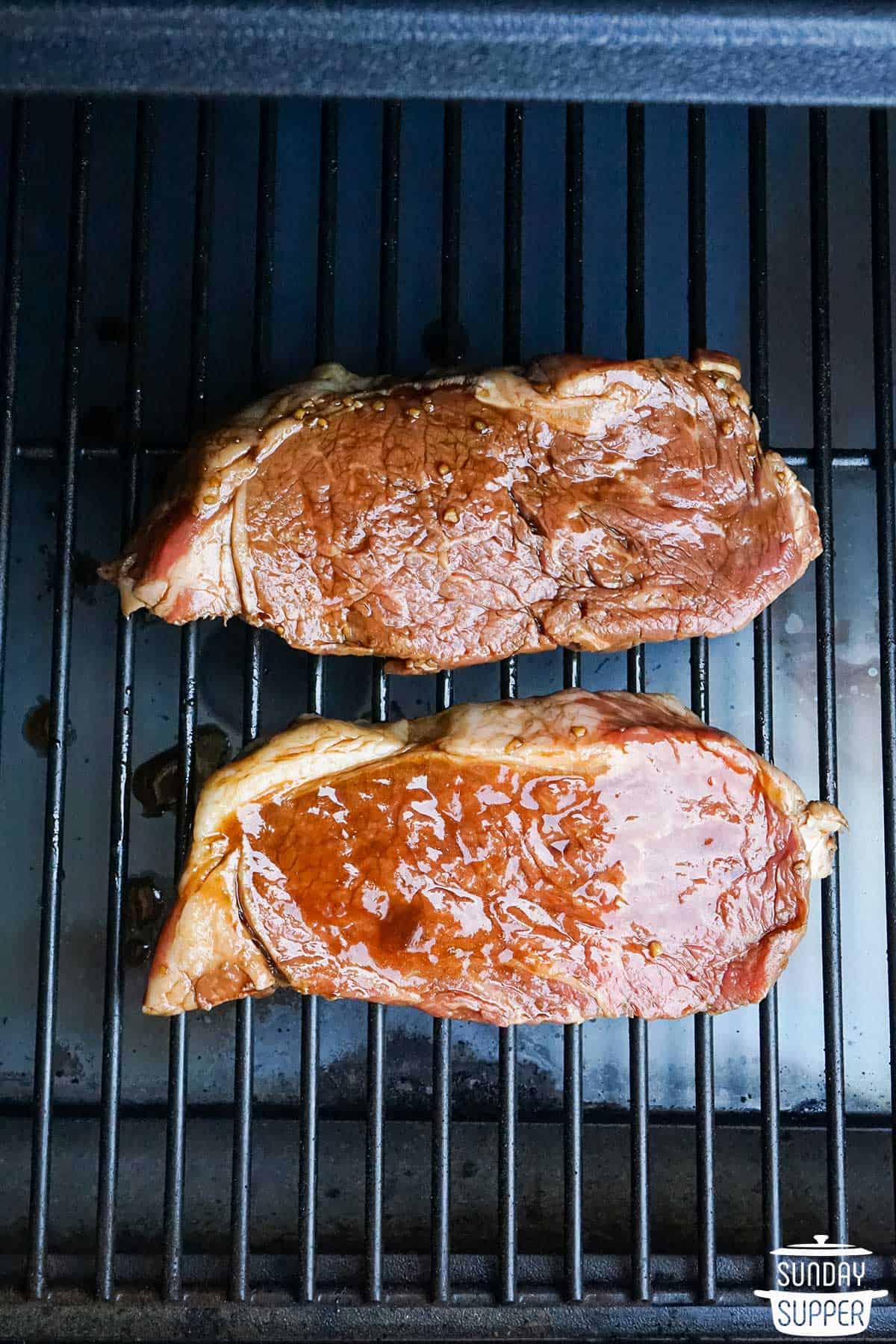 Easy Steak Recipes
Try one of my easy steak recipes above to get started with any cooking method! The times and temps will help you cook your steak to perfection.
For an extra fancy steak dinner you will crave, try my Wagyu Steak Recipe!
How Much Steak Per Person
If you're cooking for a BBQ party, chances are you might need to know how much steak per person you're going to need. A 6 ounce steak will generally be enough for 1 person. Cook in batches to avoid over-crowding.
If you have any leftovers, make them into tacos, steak quesadillas, or fajitas!
Steak Temps FAQ
What are the temperatures for steak?
Rare steak: 125°F. Medium-rare steak: 135°F. Medium steak: 145°F. Medium-well steak: 150°F. Well-done steak: 160°F. For best results, remove your steak from the heat source 5°F below the desired internal temperature, and let it rest for a minimum of 10 minutes.
What temperature should steak be prepared?
The USDA recommends a minimum internal temperature of 145°F. However, many people enjoy their steaks below or even above this temperature. If you're not sure how well-done you like your steaks, remember you can always cook it further – but once it's cooked, it's cooked! So test until you find your preferred doneness.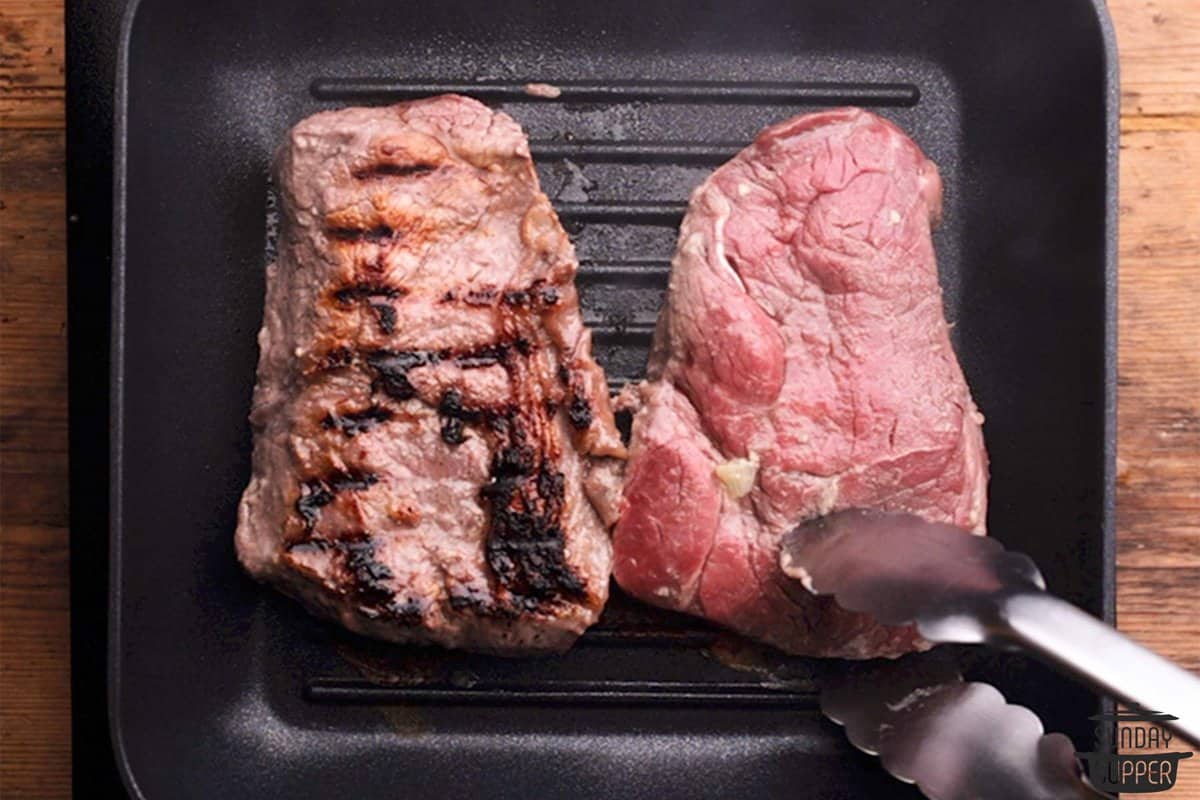 Temperature Guides
Also, see my guide on Seasoning with Salt and How to Tenderize Steak.
📌 Pin it for later!
Did you enjoy this page? Save it on Pinterest for later!



If you enjoyed the recipe, leave a comment and a rating below!
📋 Recipe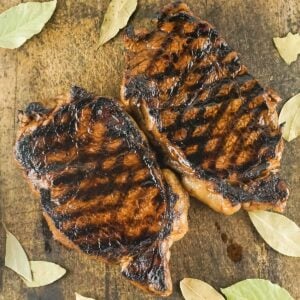 Steak Temps
Serve up the perfect steak every time following my Steak Temperature Chart! Plus, a steak recipe for every method!
Instructions
In a bowl large enough to hold the steaks, combine all the marinade ingredients and stir well.

½ cup Soy sauce,

½ cup Balsamic vinegar,

2 Tablespoons Mongolian fire oil,

2 Tablespoons Garlic,

2 Tablespoons Lemon juice,

4 New York strip steaks

Place the steaks in the bowl and turn them until all are coated with marinade. Cover, and let it chill in the refrigerator for at least 30 minutes.

Remove the steaks from the fridge and set on a plate to come to room temperature. In the meantime, heat the grill to medium high.

Place the steaks on the grill and cook for 1½ minutes, then rotate the steaks about 45° and cook for another 1½ minutes. Flip the steaks, and repeat this step.

Remove the steaks from the grill once they reach the desired internal temperature. Rest for 10 minutes, slice, and serve!
Notes
Rotating the steaks gives the surface a beautiful diamond-shaped grill mark, but it's just for the visuals! You can skip rotating the steaks, too.
Don't have access to a grill? Never fear- you can cook these steaks the exact same way on a cast-iron skillet!
Always make sure to allow your steaks to come to room temperature before cooking them, and then let them rest 10 minutes before slicing.
Nutrition
Serving:
1
steak
Calories:
117
kcal
Carbohydrates:
9
g
Protein:
4
g
Fat:
7
g
Saturated Fat:
1
g
Polyunsaturated Fat:
3
g
Monounsaturated Fat:
3
g
Cholesterol:
1
mg
Sodium:
1629
mg
Potassium:
124
mg
Fiber:
0.3
g
Sugar:
5
g
Vitamin A:
1
IU
Vitamin C:
4
mg
Calcium:
22
mg
Iron:
1
mg
Did you try this recipe?
Tag #SundaySupper on social and leave a comment below!