Sunday Supper is an Amazon Associate and may receive compensation for purchases made through affiliate links.
Find your new favorite holiday turkey recipe on this list of the Best Turkey Recipes! From traditional roasted turkey to smoked turkey, deep fried turkey, and more, enjoy 9 different ways to prepare turkey for any size crowd.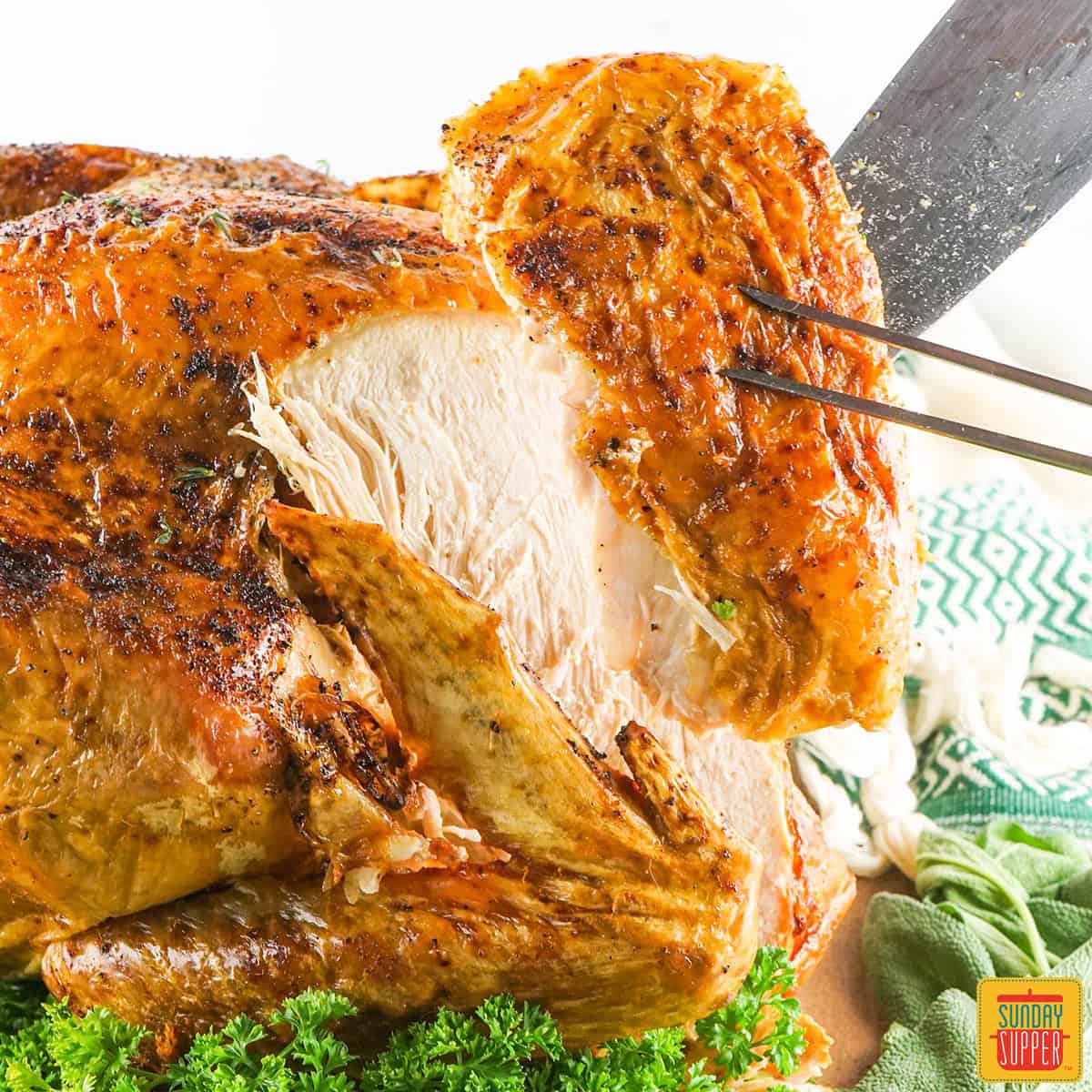 Jump to:
Turkey Recipes for Dinner
I look forward to cooking a holiday turkey for dinner every year, sometimes more than once a year! My family loves turkey of all kinds, but I like to change how I prepare it every year to keep things interesting and try something new.
Out of all the turkey recipes for dinner I have tried, I saved my favorites and published the recipes here. These are my best turkey recipes, from traditional turkey in the oven to smoked, air fried, Instant Pot, deep fried, grilled, and even sous vide turkey!
What's your family's favorite turkey recipe? Let us know in the comments below – we love to hear from you!
Easy Turkey Recipes FAQs
What is the most popular way to cook a turkey?
By far the most popular way to cook a turkey is by roasting it in the oven. Roasted turkey recipes are the star of the most popular Thanksgiving dishes, but there are plenty of other fun ways to prepare turkey. The second most popular method for cooking turkey is deep frying.
What should you season your turkey with?
Start with salt and pepper for turkey seasoning, then add herbs, such as rosemary, sage, or thyme. For a great start on what turkey seasoning to use, try our turkey rub recipe. Butter is always a great addition to turkey seasoning, so be sure to try our garlic butter for turkey and butter injection for turkey as well.
Tips for Cooking Turkey
The most important things to keep in mind when you're preparing to cook a turkey are how much time it will take to thaw, what size turkey to buy for the amount of guests you're serving, and times and temps for cooking turkey.
Here are our guides for cooking turkey to help with every recipe shared here – they answer these questions and more!
Plus, take a look at our guide on How to Make Turkey Stock and Turkey Carcass Soup for using up your leftovers.
Roasted Turkey Recipes
Try one of our traditional roasted turkey recipes – from a whole turkey to turkey breast.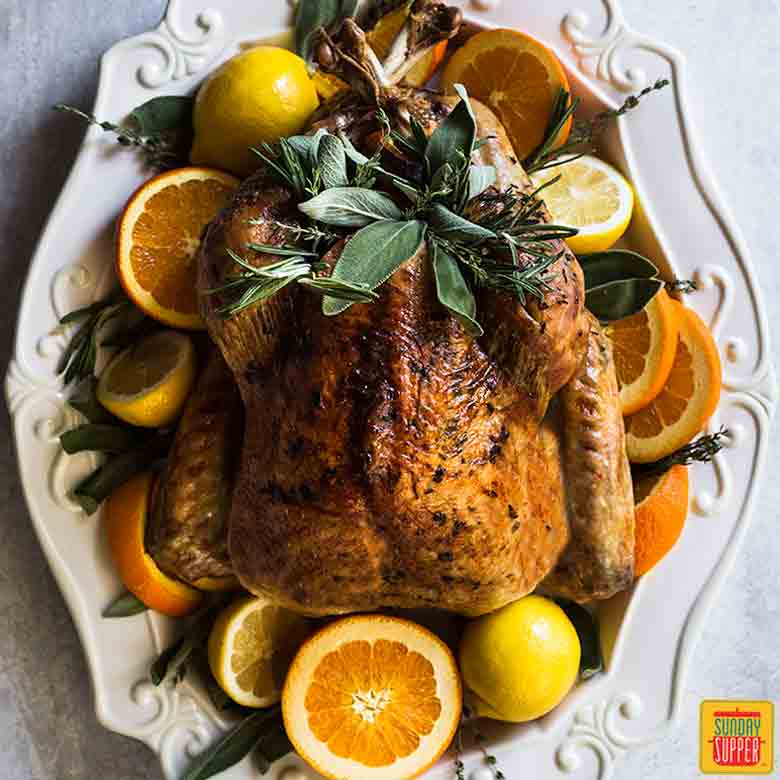 Best Roasted Turkey
This tender and juicy garlic butter turkey in the oven is the best of the best roasted turkey recipes! You will love every bite of this moist, delicious baked turkey.
Get this recipe!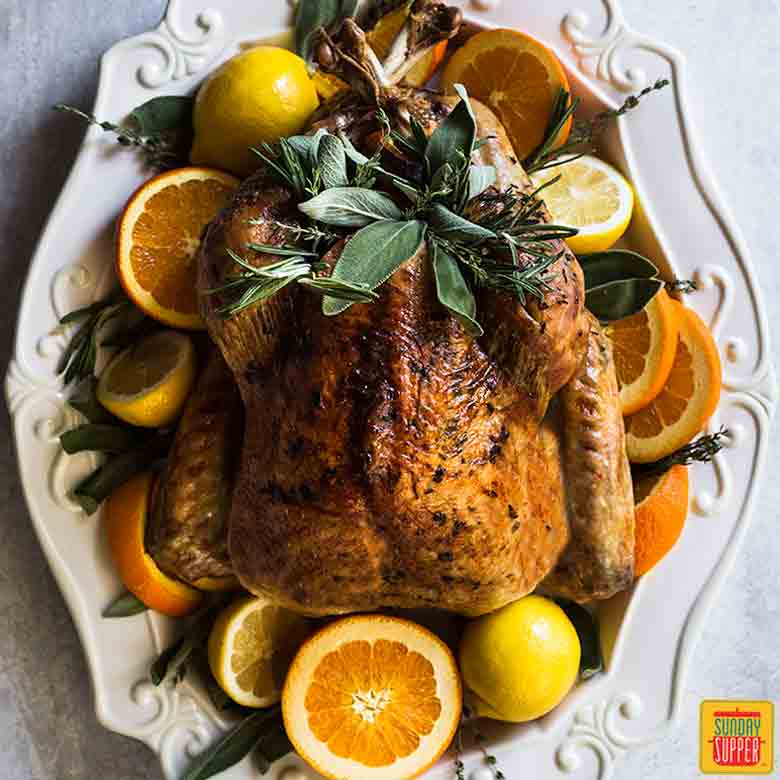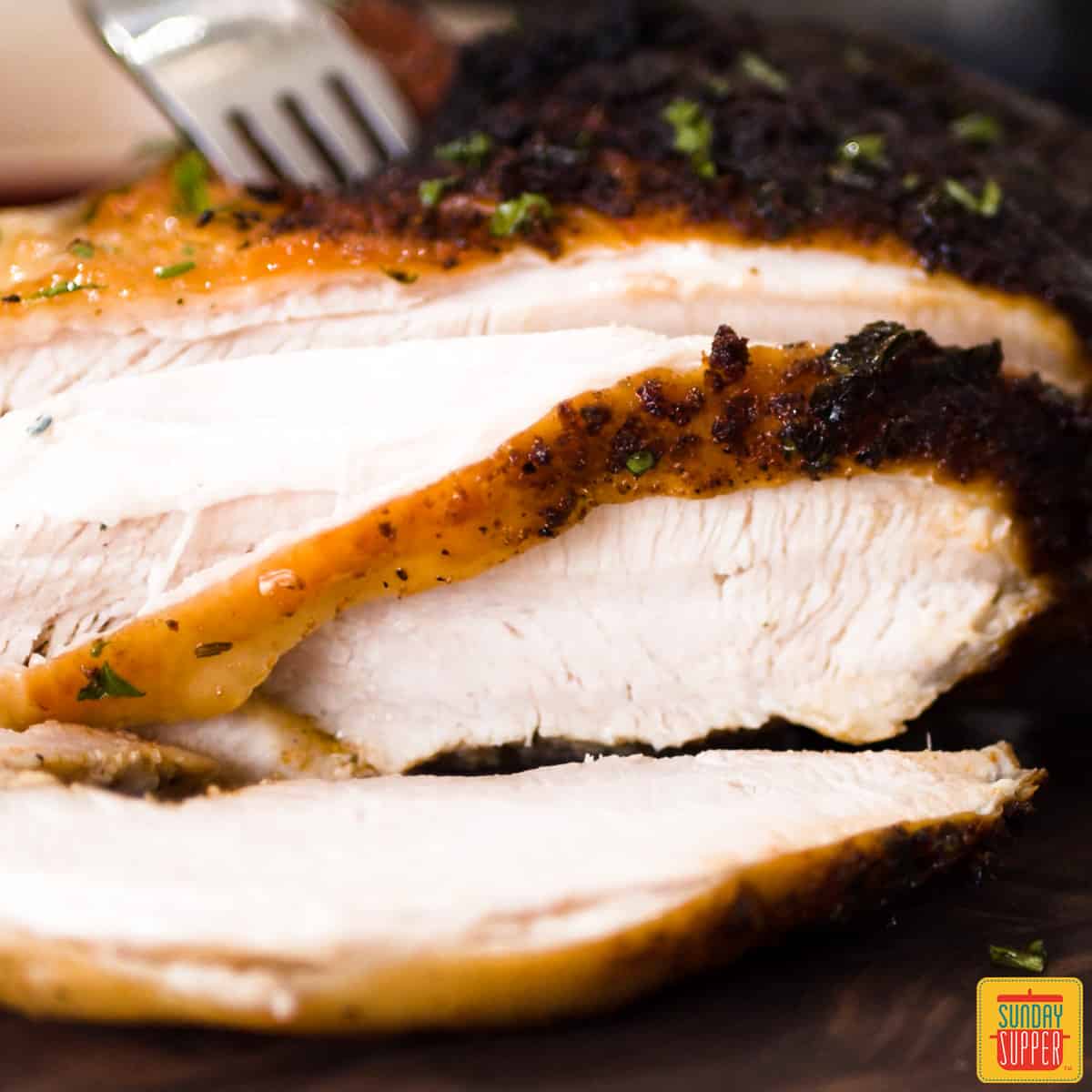 Boneless Turkey Roast
For an easy, small turkey breast recipe, this boneless turkey breast in the oven is a perfect choice. It's great for feeding a small crowd, and is so easy to make!
Get this recipe!
Deep Frying Turkey
Try deep frying turkey this year – it's fun and you will not believe how deliciously moist, tender, and crispy-on-the-outside fried turkey is!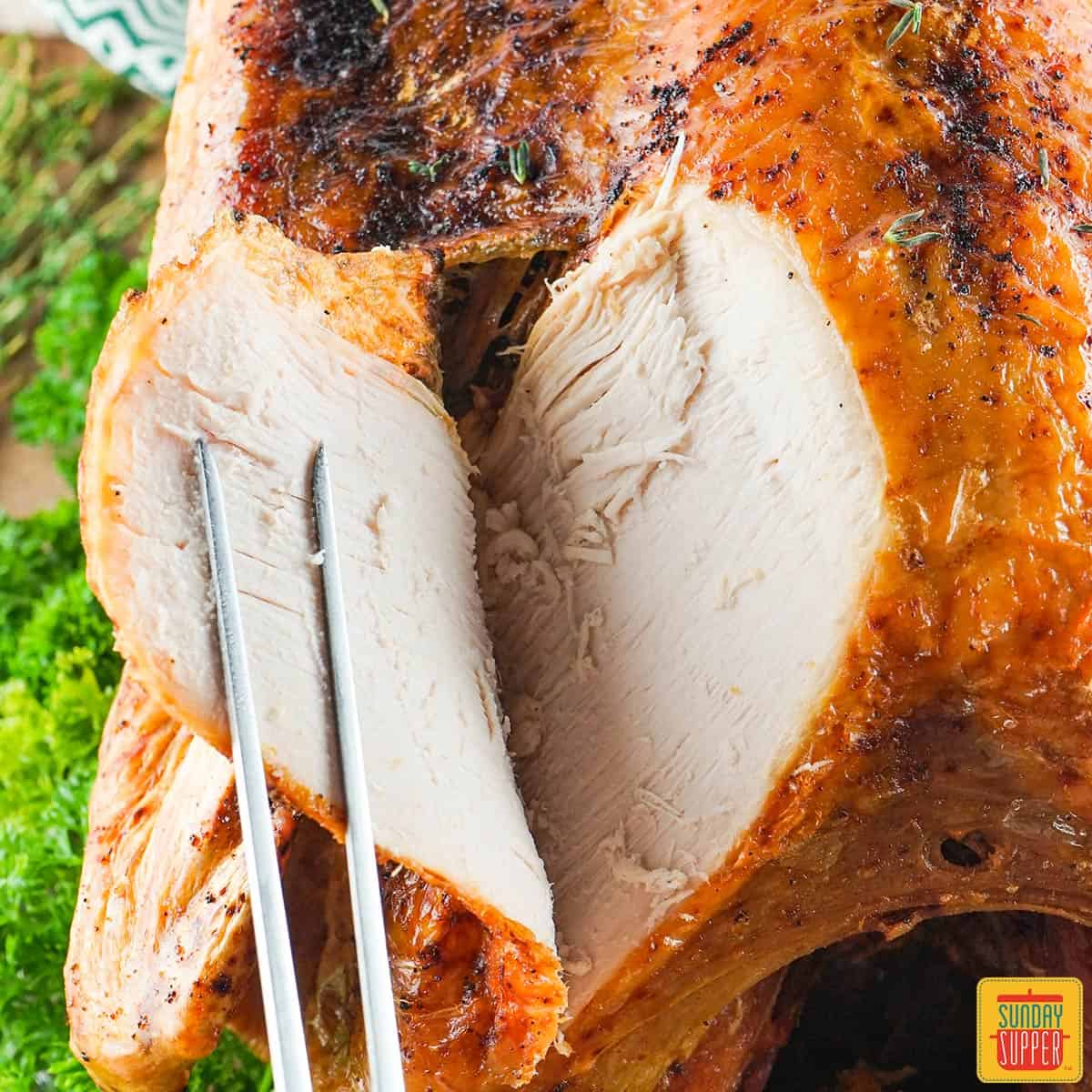 Deep Fried Turkey
If you have always wanted to try a Deep Fried Turkey recipe for the holidays, now is the time! Learn how to deep fry turkey as safely and efficiently as possible for an unforgettable turkey dinner that's moist, flavorful, and cooks in under an hour.
Get this recipe!
Sous Vide Turkey
Sous vide turkey breast is tender, moist, and delicious! If you have yet to try sous vide turkey, it's easy and the results will amaze you.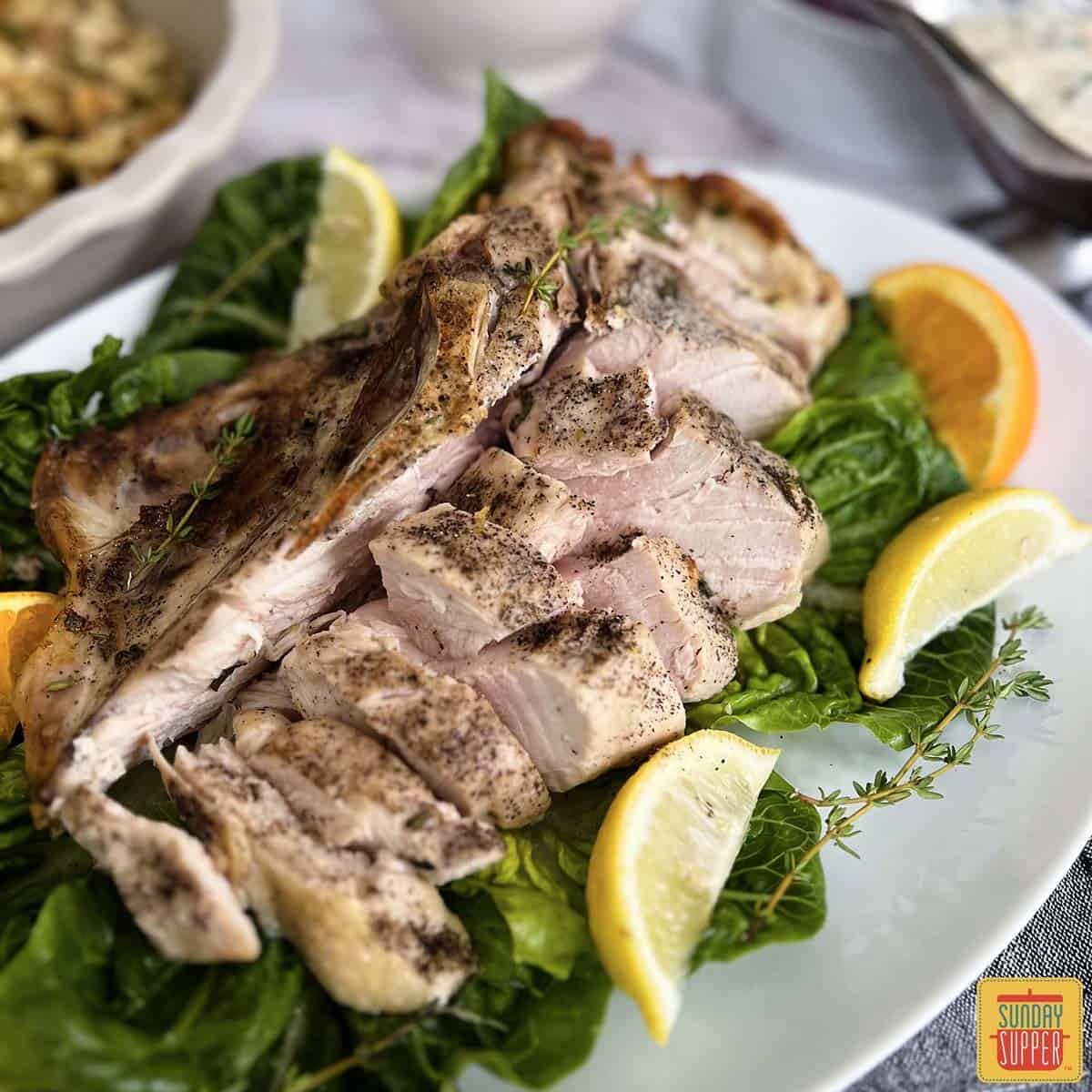 Smoked Turkey Recipes
Try one of my best recipes for smoked turkey – from whole smoked turkey to Spatchcock smoked turkey!
Smoked Whole Turkey
Learn how to smoke turkey by following my easy Smoked Turkey Recipe! Delicious smoked turkey saves space in your oven and tastes incredible.
Get this recipe!
Turkey on the Grill
Grilling turkey is a fun and delicious way to prepare a moist, juicy turkey for dinner! Try our best grilled turkey recipe: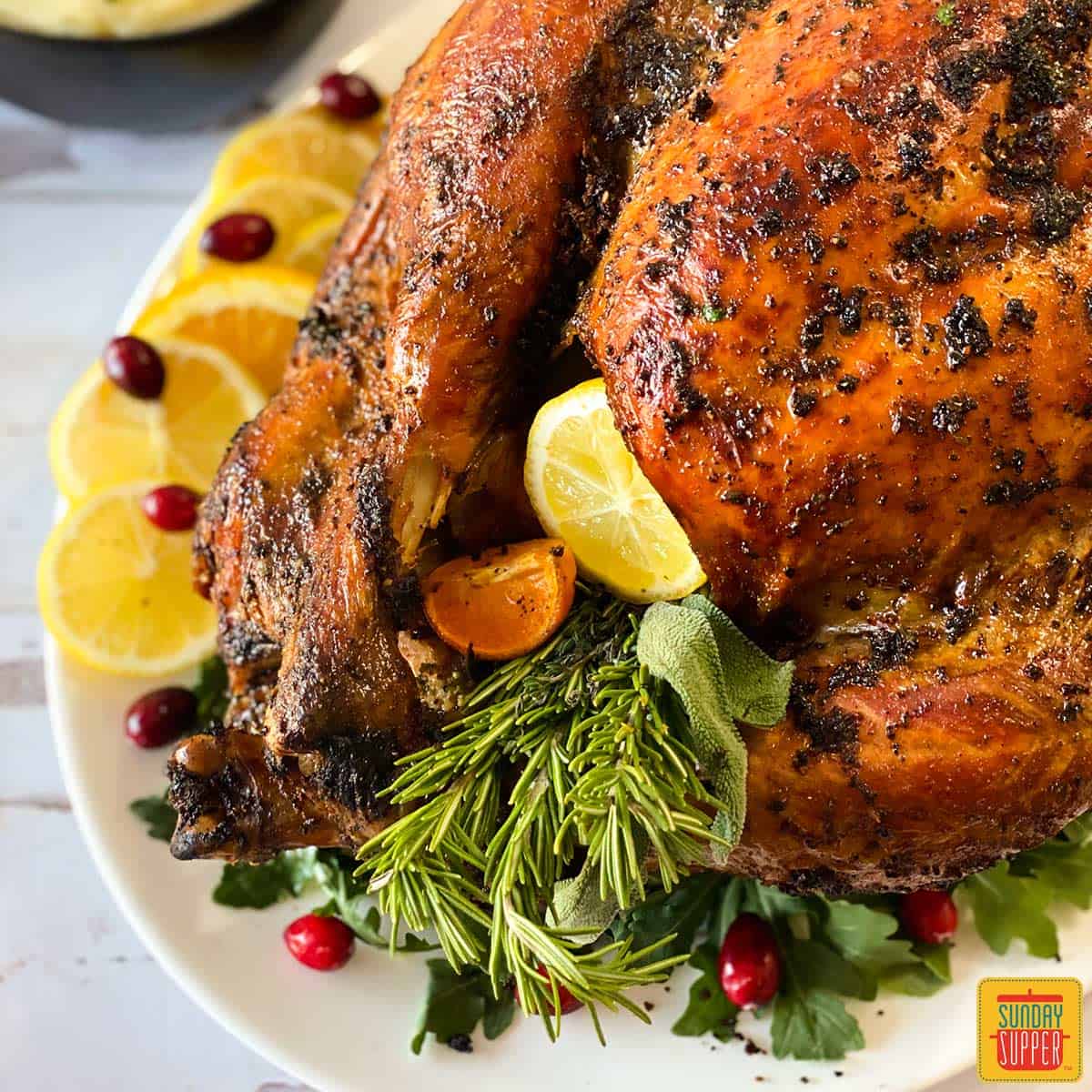 Grilled Turkey
Your Thanksgiving plans are about to change forever! Our Juicy Grilled Turkey Recipe has the crispiest skin ever and is so juicy.
Get this recipe!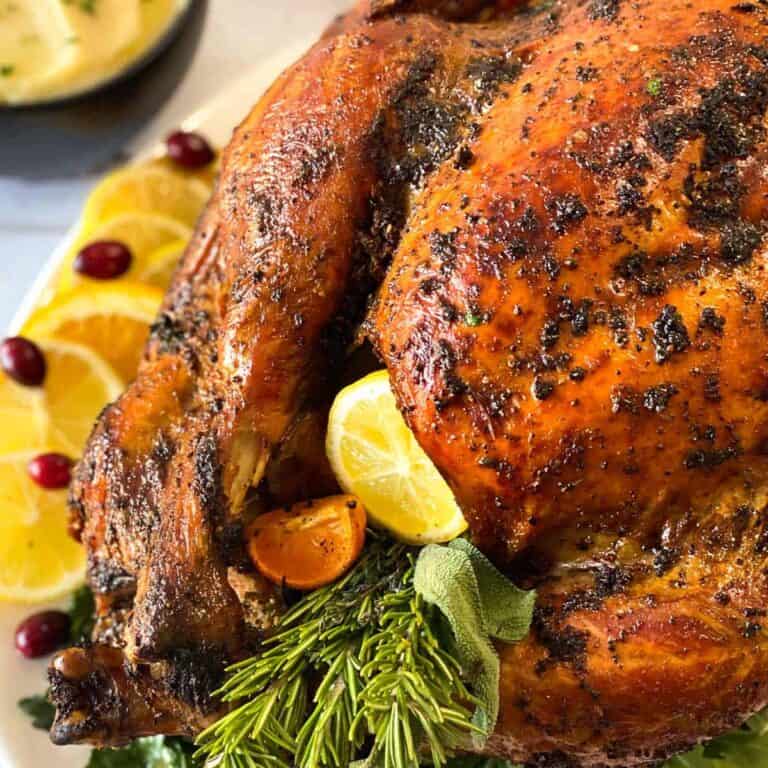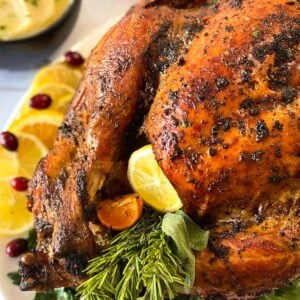 Turkey in the Instant Pot
You can make turkey breast in the Instant Pot for a beautiful turkey dinner perfect for feeding a smaller crowd!
Instant Pot Turkey Breast
Potatoes cook underneath the turkey in our Instant Pot Turkey Breast Recipe, soaking up the drippings for the creamiest mashed potatoes you will ever eat and the juiciest turkey ever. Plus, you can save any leftover drippings to make gravy!
Get this recipe!
Air Fryer Turkey
Turkey in the air fryer is crisp on the outside and moist and juicy on the inside! If you're feeding a smaller crowd, this is one of the best turkey recipes you could make.
What to Serve with Turkey
See my Easy Thanksgiving Dinner Tips for more ideas!
Did you try this recipe? Leave a comment and a rating below to let us know what you think! We love to hear from you!
📋 Recipe
Best Turkey Recipes – How to Deep Fry a Turkey
Learn how to make the best turkey recipes for the holidays, including deep frying turkey!
Equipment
1 Large Deep Fryer

5 Gallon Bucket

or other container large enough to fit turkey with water
Ingredients
13

pound

Whole Turkey

2

gallons

water

1

cup

salt

½

cup

peppercorns

1

teaspoon

coarse sea salt

1

teaspoon

pepper

1

teaspoon

granulated garlic

30

quarts

vegetable oil

(see notes)
Instructions
Prep turkey by removing giblets, neck, and other unnecessary parts (you can use leftover parts for turkey stock). In a clean, sanitized 5 gallon bucket, add water, salt, and peppercorns. Stir.

13 pound Whole Turkey,

2 gallons water,

1 cup salt,

½ cup peppercorns

Add turkey to the bucket so it is fully covered by the water. Add more water if necessary to cover the turkey. Place the bucket in the refrigerator and let it sit for 12 hours, up to 36 hours. If your fridge can't fit the bucket, fill it the rest of the way with ice after adding the turkey. This will keep it for 12 hours. If necessary, add more ice for as long as you want it to brine.

Add the oil to your deep fryer and let it preheat to 350°F (about 1 hour). Remove turkey from the brine and pat completely dry. Make sure it is completely dry! Mix salt, pepper, and garlic in a bowl, and rub every inch of the turkey with the mixture.

1 teaspoon coarse sea salt,

1 teaspoon pepper,

30 quarts vegetable oil,

1 teaspoon granulated garlic

Once oil is heated, place turkey in the fryer insert, and gently lower into the fryer. Do not drop the turkey into the oil, but lower it slowly so it does not splash.

Cook for 46 minutes, then gently remove and place on a pan with paper towels to drain. Let rest for 30 minutes.
Notes
Safety Tips
Never fry in your house or in the garage.
Fry far away from children, pets, or anything flammable.
The best places to fry would be in the driveway or a back patio at a distance from your house.
Do not fry turkey in the rain.
⚠ It's extremely important that your turkey is not dripping wet, does not have any sort of wet coating such as a sauce, and is not frozen. If it is, it will cause the oil to respond more "violently" and this is the specific reason people end up causing fires, damage, and injury.
Add your turkey to the fryer slowly. Don't get freaked out and drop it quickly, as this can cause issues or injury. It's best to use a turkey stand and lifter to transfer the bird in and out of the frying pot.
Dress appropriately – wear heavy-duty heatproof gloves, clothing covering your whole body, and closed-toed leather work shoes or boots (don't wear cloth shoes).
Recipe Tips
If you have a bigger or smaller turkey, the only thing you need to change is the cooking time. It's 3.5 minutes per pound of turkey. You do not need to adjust the amount of seasoning unless you want to. Simply make sure the seasoning is equal amounts.
Make sure you have a big enough fryer. I used a 64 quart deep fryer with the added removable insert. This should cook the largest turkeys – up to 30 pounds.
If you have a smaller fryer, it's okay as long as the turkey fits without having to be shoved into it.
If your fryer is a different size, you will require a different amount of oil. Simply fill your fryer halfway full and no more – but check your fryer manual, as fryers differ across brands and types. It's important to know the size of the fryer you're using.
You can use whichever kind of oil you prefer, but it will change the taste of your turkey. Peanut oil is a great choice as it has a high flash point, making it less likely to catch fire.
If possible, have a second person help with the process for safety's sake. Just make sure they are also appropriately dressed.
Nutrition
Serving:
1
person
Calories:
1045
kcal
Carbohydrates:
14
g
Protein:
153
g
Fat:
40
g
Saturated Fat:
10
g
Polyunsaturated Fat:
10
g
Monounsaturated Fat:
13
g
Trans Fat:
0.4
g
Cholesterol:
502
mg
Sodium:
1170
mg
Potassium:
1588
mg
Fiber:
5
g
Sugar:
0.4
g
Vitamin A:
393
IU
Vitamin C:
4
mg
Calcium:
131
mg
Iron:
9
mg
Did you try this recipe?
Tag #SundaySupper on social and leave a comment below!