This post may contain paid links. If you make a purchase through links on our site, we may earn a commission.
Learn How to Thaw Turkey for Thanksgiving safely, easily, and in as little time as possible! Plus, I'll share the best Thanksgiving turkey recipes with you along with a few classic side dishes for the holiday.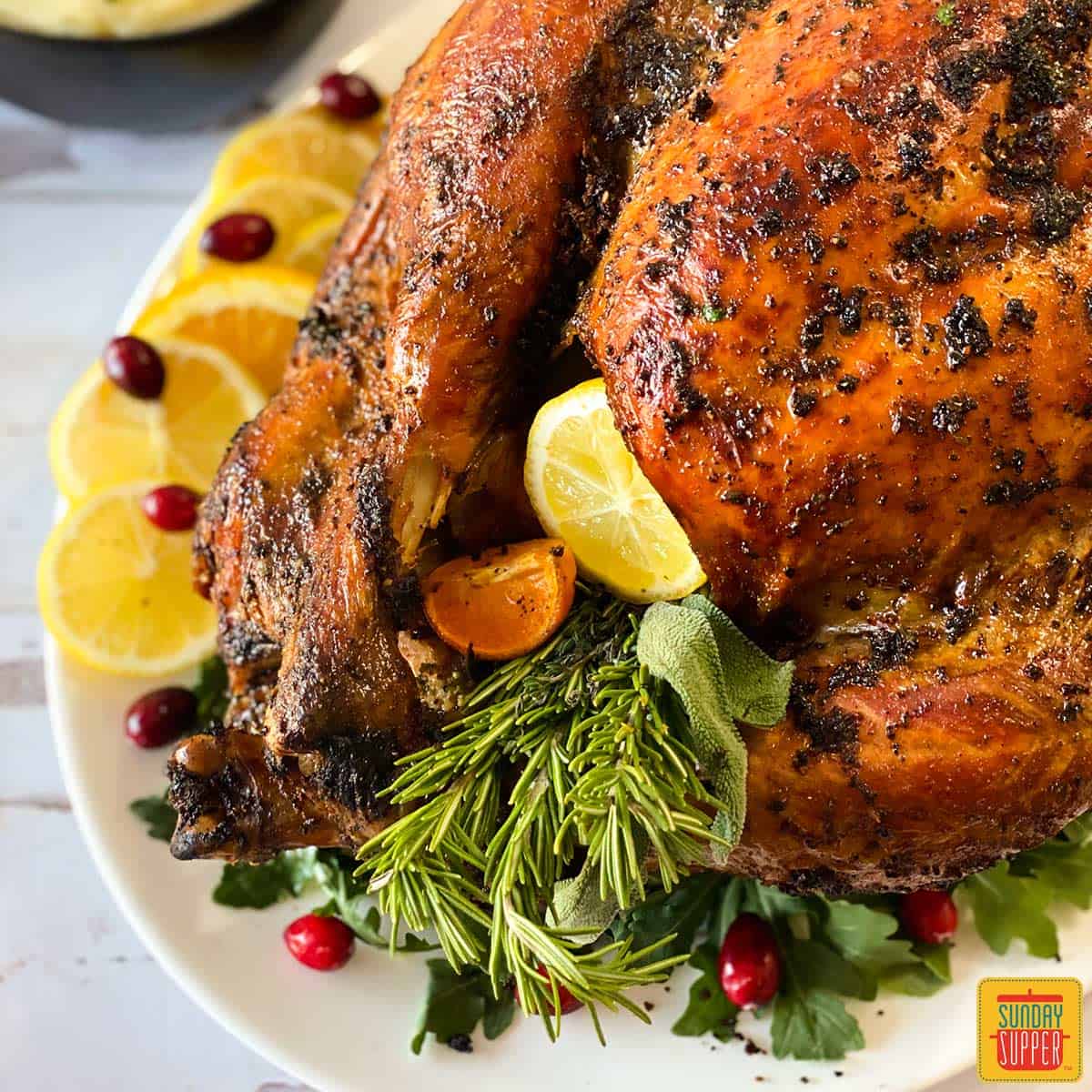 Jump to:
How to Thaw a Turkey
There are three methods you can follow to thaw a frozen turkey. For the safest, best results, thaw your turkey in the refrigerator. Defrosting a turkey in the fridge takes several days depending on its weight.
If you're in a rush, you can thaw turkey in cold water or even in the microwave. However, if you're defrosting the turkey in cold water, keep in mind you will need to change the water out as necessary to keep it cold – which could be every 30 minutes.
Thawing in the microwave is possible only if you have a large enough microwave or a small enough turkey.
No matter which method you use, I will show you how to defrost a turkey safely and effectively!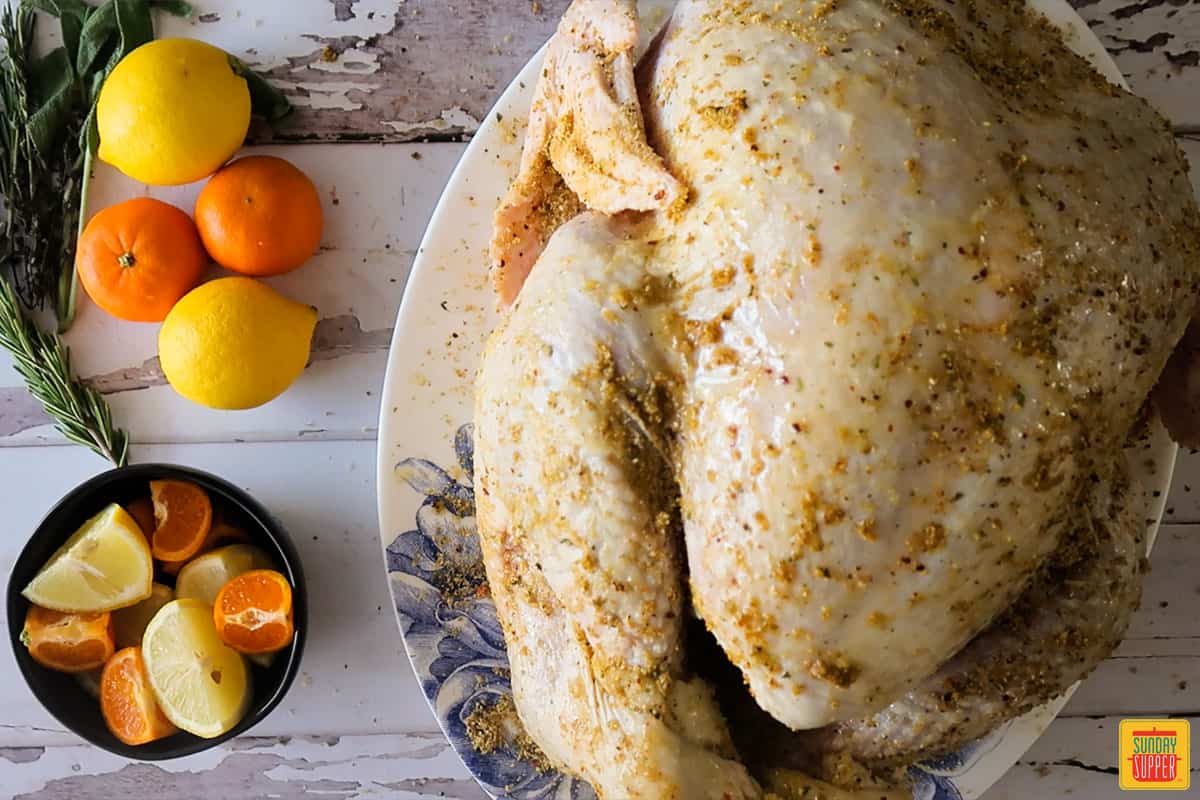 How Long to Defrost a Turkey
How Long to Thaw a Turkey in the Refrigerator
Keep the turkey in its original packaging while it thaws; don't unwrap it.
Place the bird breast-side up in a baking pan. This prevents any juices from dripping out into the refrigerator as it thaws.
Add to the refrigerator and thaw for 1 day per 5 pounds of turkey. For example, a 20-pound turkey will take 4 days to thaw using this method.
Turkey thawed in the refrigerator can be kept for up to 2 days after thawing.
Thawing a Turkey in Cold Water
Fill a sink or large bucket with cold water. The water must be cold! Never thaw in warm or hot water.
Keep the turkey in its original packaging and add it to a large plastic bag that won't leak or take in any water. Push any extra air out of the bag and seal it tightly.
Add the bagged turkey to the cold water bath. It may need to be weighed down; you can do this using anything heavy, like cans or a heavy plate.
Change the cold water as necessary to keep it cold – generally, every 30 minutes.
For safety, turkey thawed in a cold water bath should be cooked immediately after thawing. Only use this method if you're in a rush!
Thawing a Turkey in the Microwave
Check how big of a turkey your specific model of microwave can fit to thaw by consulting the owner's manual. The owner's manual of your microwave will tell you how many minutes per pound and the power level to use when thawing a turkey.
This is important – times and power levels vary between microwaves! Generally, turkey thawed in the microwave will require 6 minutes per pound.
Remove all wrapping, tags, and clips from your turkey. You want to make nothing but the bird is going into the microwave.
Place the turkey breast-side up in a microwave-safe pan. This is important to catch the drippings from the bird.
Thaw according to instructions fitting your model of microwave, or 6 minutes per pound as a general rule.
For safety, turkey thawed in the microwave should be cooked immediately after thawing. This method is great if you're in a hurry.
How Long to Thaw a Turkey
How long a turkey takes to thaw depends on two factors: your thawing method, and the size of the turkey.
Refrigerator thawing: In the refrigerator, a turkey will take 1 day per 4 to 5 pounds of weight to thaw. For example, a 20 pound turkey will take about 4 days to thaw in the refrigerator.
Cold water thawing: If thawing in a cold water bath, turkey will take 30 minutes per pound. For example, a 14 pound turkey would take 7 hours or so to thaw in a water bath.
Microwave thawing: If you have a small enough turkey to fit in the microwave, you can use the defrost function based on the weight of your turkey. Allow 6 minutes per pound when thawing turkey in the microwave. For best results, rotate the turkey and flip it to make sure all parts defrost evenly.
For a quick reference guide to how long to thaw a turkey in the refrigerator or in a cold water bath, follow this turkey defrost time calculator:
| Turkey Weight | Days to Thaw in Refrigerator | Time to Thaw in Cold Water |
| --- | --- | --- |
| 6-11 pounds | 2 days | 3 to 5½ hours |
| 12-15 pounds | 3 days | 6 to 7½ hours |
| 16-20 pounds | 4 days | 8 to 10 hours |
| 21-24 pounds | 5 days | 10½ to 12 hours |
For a turkey less than 6 pounds, thaw for 1 day.
Note: it is extremely important to thaw your turkey safely using one of the methods above. Never, ever thaw your turkey on the counter.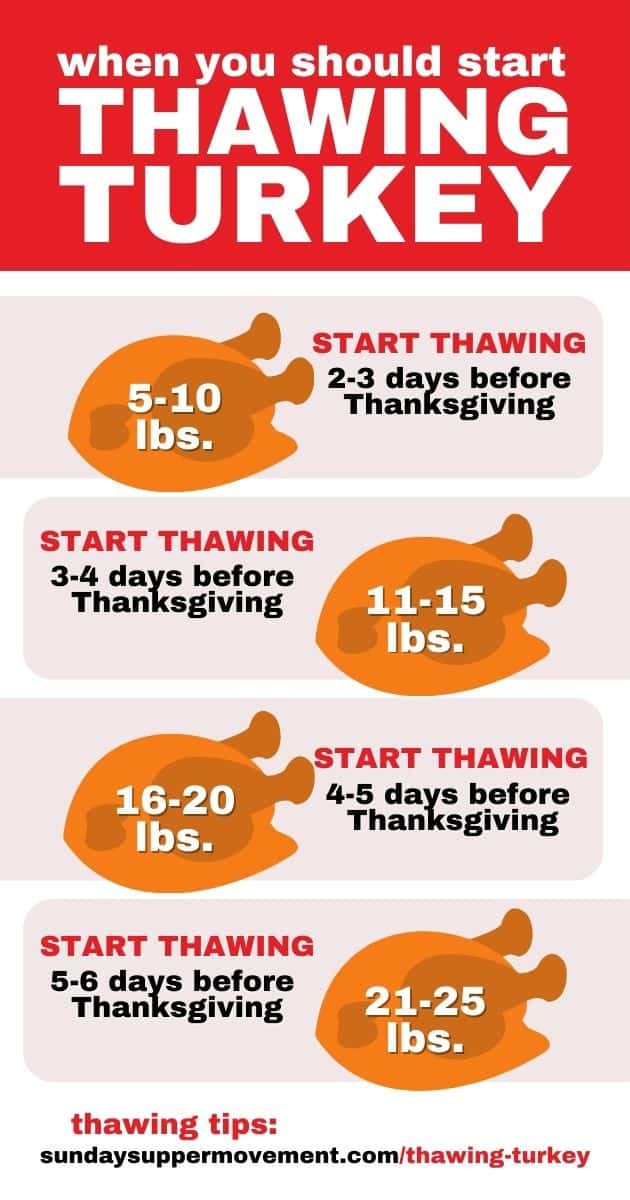 Defrosting Turkey FAQs
How long can a thawed turkey stay in the fridge?
Turkey thawed in the refrigerator can be kept for 2 days in the fridge after thawing before it should be cooked. If you defrost turkey in a cold water bath or in the microwave, it should be cooked immediately. So, those methods should only be used on the day of.
When should I defrost my turkey for Thanksgiving?
Add the number of days of thawing time to 2 days refrigerated time. For example, if you have a 20-pound bird, thaw for 4 days in the refrigerator, then keep in the refrigerator for up to 2 days after thawing; this gives you 6 days before Thanksgiving to thaw your turkey in the refrigerator.
Can you leave a turkey out to thaw overnight?
Never leave a turkey out at room temperature to thaw. Turkey takes a long time to thaw and needs to be thawed safely using one of the three methods above. Thawing turkey at room temperature is very likely to make you and your family sick.
Turkey Temperature
For more info on turkey cooking times and temps, take a look at our Turkey Temperature Chart!
Best Thanksgiving Turkey Recipes
No turkey dish is complete without my incredible Turkey Rub Recipe! This easy rub makes a world of difference. Try it out along with my Compound Butter for Turkey, Butter Injection for Turkey, and Dry Turkey Brine!
Save the leftovers to make my Leftover Turkey Recipes, like Turkey Stock or Turkey Carcass Soup! Don't forget my Easy Thanksgiving Dinner Tips!
Thanksgiving Side Dishes
Which method do you use to thaw your turkey? What's on your Thanksgiving menu this year? I love to hear from you! Let me know in the comments below!
📋 Recipe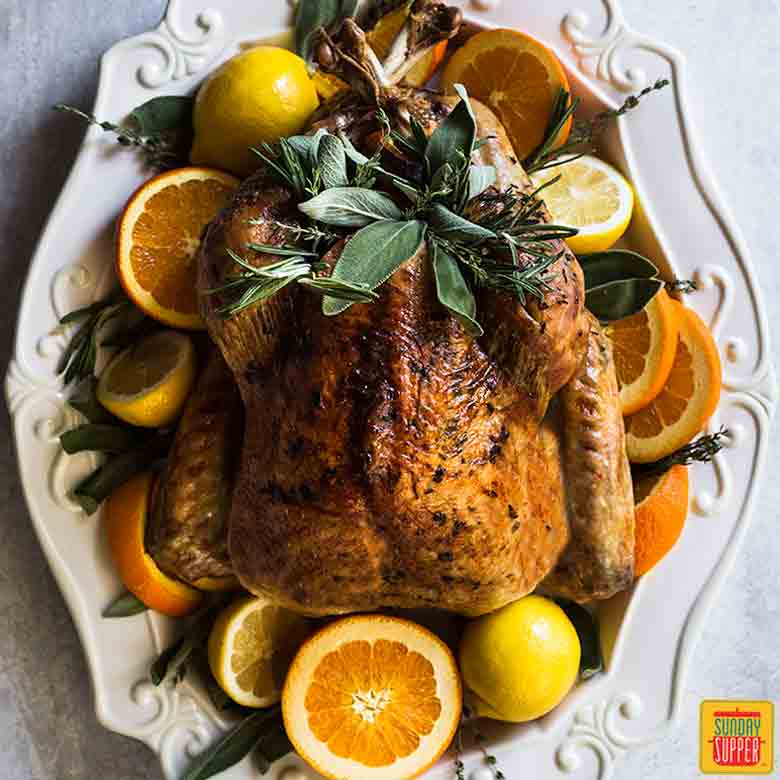 How Long to Thaw a Turkey + Roasted Turkey Recipe
My Roasted Turkey Recipe, complete with garlic herb butter and citrus stuffing, is the most beautiful turkey for Thanksgiving!
Ingredients
12-15

pound

turkey

If using a larger turkey, follow our cooking chart

Garlic butter

(softened butter, garlic, parsley)

1

Orange

cut in half

1

Lemon

cut in half

1

Onion

cut in half

Several sprigs of fresh herbs

such as sage, rosemary, thyme

4

cups

chicken broth

2 cups reserved for gravy
Instructions
Preheat your oven to 425°F with the rack in the lower third of the oven. Rinse and pat turkey dry with paper towels. Remove the neck and giblets, gravy packet, or any packages inside the cavities of the bird. Check the large cavity as well as the neck cavity. For the turkey seasoning, make our Herb Butter Rub (softened butter, garlic, parsley).

Garlic butter,

12-15 pound turkey

Carefully lift up the skin, separating it from the breast as much as you can (the back of a spoon works well for this). Season the turkey beneath the skin with garlic butter. Rub the outer skin all over with more garlic butter. Save some garlic butter if you like for buttering rolls, adding to vegetables, potatoes, or freezing.

Stuff the cavity with the orange, lemon, onion, and herbs.

1 Orange,

1 Lemon,

1 Onion,

Several sprigs of fresh herbs

Tie the legs with cooking twine and transfer to a rack set inside a roasting pan. Tuck the wings underneath so they don't burn. Pour 2 cups chicken broth into the roasting pan and transfer to the oven.

Roast the turkey for 15 minutes, then reduce the oven temperature to 350°F. After the first hour of roasting, baste it every 30 minutes. Tent turkey with foil if the skin becomes deep golden brown before the turkey is cooked through. You can also cover only the parts that are browning too quickly if necessary.

Roast until a meat thermometer inserted into the thigh joint registers 160°F. Remove the turkey from the oven and transfer to a carving board. The turkey will continue cooking and should reach 170°F while resting. Let the turkey rest for at least 15 minutes before carving.
Making turkey gravy
To make gravy from drippings, place the roasting pan on the stovetop over medium-high heat (or transfer juices to the saucepan if you prefer). Add 2 cups of the remaining broth to the pan drippings and bring to a simmer. Skim off all but 1-2 tablespoons of the fat, depending on the size of your bird. Combine milk and flour in a jar with a tight-fitting lid and shake vigorously to combine. Whisk the milk mixture into the gravy and simmer, stirring continuously until the gravy thickens slightly, about 2 minutes.

½ cup milk,

2 Tablespoons flour,

4 cups chicken broth
Notes
You can use a turkey breast in place of a whole turkey for this recipe if desired.
When carving the turkey, find the wishbone at the front center of the breast. Use your fingers to pull it out.
Slice the turkey breast against the grain. This will make a huge difference in how tender your slices of turkey are.
Nutrition
Calories:
586
kcal
Carbohydrates:
6
g
Protein:
85
g
Fat:
24
g
Saturated Fat:
7
g
Cholesterol:
282
mg
Sodium:
793
mg
Potassium:
1012
mg
Fiber:
1
g
Sugar:
3
g
Vitamin A:
305
IU
Vitamin C:
20
mg
Calcium:
73
mg
Iron:
4
mg
Did you try this recipe?
Tag #SundaySupper on social and leave a comment below!