There is nothing more comforting than Comfort Food Pasta Recipes. Whether it's a large bowl of spaghetti and meatballs, lasagna, or even stroganoff over noodles, pasta is one of those Sunday Supper recipes everyone knows how to cook.
This roundup of pasta recipes will provide you with plenty of Sunday supper recipes to bring your family to the dinner table!
From Italy to China and even El Salvador, pasta is on the menu in some shape or form across the globe.  It is a meal that generations have sat down to enjoy during Sunday supper for centuries.
Pasta is not just a comfort food.  It is also part of our roots by sharing recipes from generation to generation.  Here are some comfort food pasta ideas to add to your Sunday supper menu.
1.  The spices in this Cajun Shrimp Alfredo pair perfectly with the creamy Alfredo sauce.  It's definitely one of the most comforting comfort food dishes!
2.  Nothing screams comfort food like this Cheesy Taco Pasta. It has all the flavors that make a family favorite comfort food pasta recipe.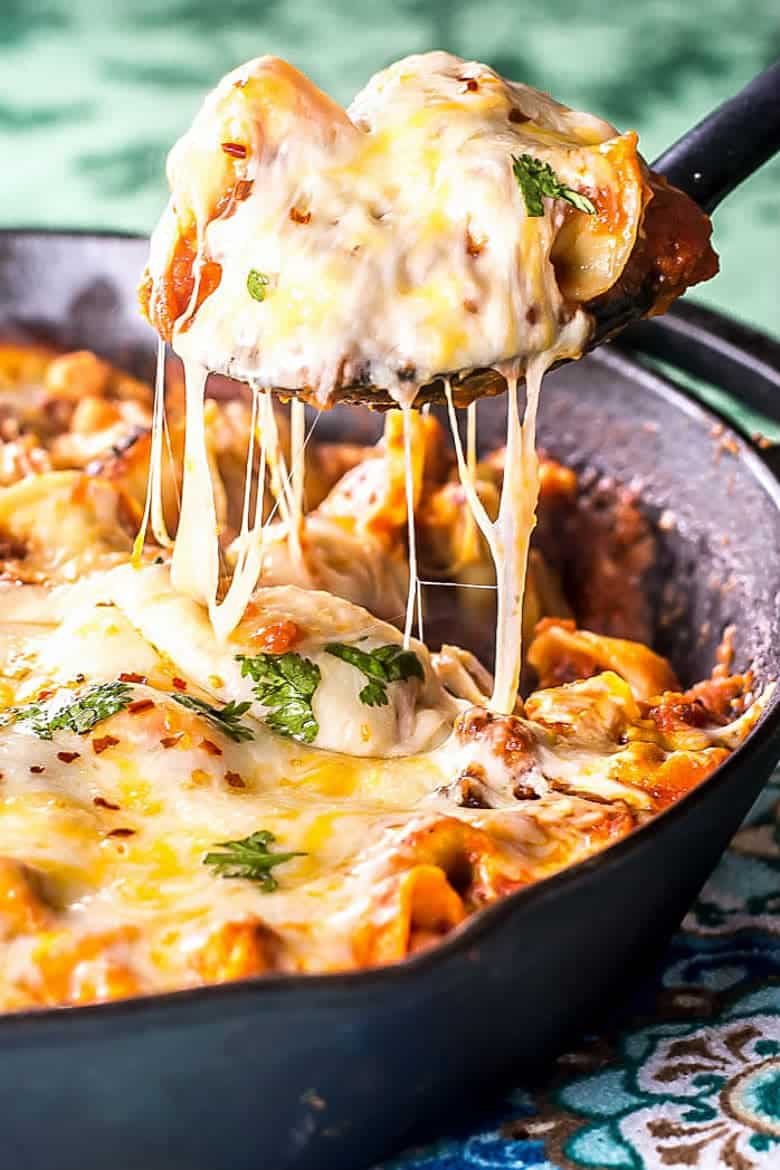 3.  Look at that cheesy pasta goodness!  This recipe for Cheesy Tortellini Skillet Lasagna has comfort food written all over it.
4.  Chicken Cordon Bleu Pasta is one of those comfort foods your family will love!  The combination of pasta with hearty chicken and ham together with creamy cheese for one of our favorite Sunday Supper recipes.
5.  Why not take chicken noodle soup and then made it into a comforting Easy Cheesy Chicken Noodle Casserole pasta recipe.
6.  Ham and cheese is a true comfort food. Ham and Swiss Pasta Roll Up Gratin is a must for Sunday supper.
7.  We are in love with Healthy One-Pot Enchilada Pasta.  Healthy comfort foods, like this one, are equally as comforting and delicious.
8.  If taco pasta is your comfort food jam, then this recipe for Instant Pot Turkey Taco Pasta should certainly go on your menu.
9.  One of our favorite Sunday supper recipes is beef stroganoff!  This Meatball Stroganoff is a must try.
10.  Bolognese is a particularly comforting pasta recipe!  This meaty and delicious Mushroom Bolognese Pasta is so good.
11.  You can easily combine comfort food pasta recipes into the ease of the one pot method.  This One Pot Chili Mac and Cheese that is perfect for even your busiest of week nights.
12.  Saving Room for Dessert shows us that gnocchi should be included in your comfort food pasta recipes!  The Homemade Potato Gnocchi comfort food to whole new level.
13.  Cheese and pasta are always perfect comfort food.  Spinach Stuffed Pasta Shells is certainly among the Sunday Supper recipes your family will ask for again and again.
Hungry for more comfort food pasta recipes?
Sign up for our weekly newsletter!
Get free recipes delivered to your inbox every week!
Thank you for joining the Sunday Supper family!
Something went wrong.