Sunday Supper is an Amazon Associate and may receive compensation for purchases made through affiliate links.
What could be more comforting than a big, hearty bowl of pasta? These Easy Pasta Dishes make the best comfort food recipes! Enjoy the best pasta dinner ideas, from classic spaghetti and meatballs to creamy penne with sliced prime rib.
Pasta is the perfect meal when you need something quick and easy but hearty and delicious. These dishes are always a pick-me-up, which makes them the perfect comfort food!
And with so many types of pasta dishes, your options are endless. We know you'll enjoy these comfort food easy recipes as much as we do!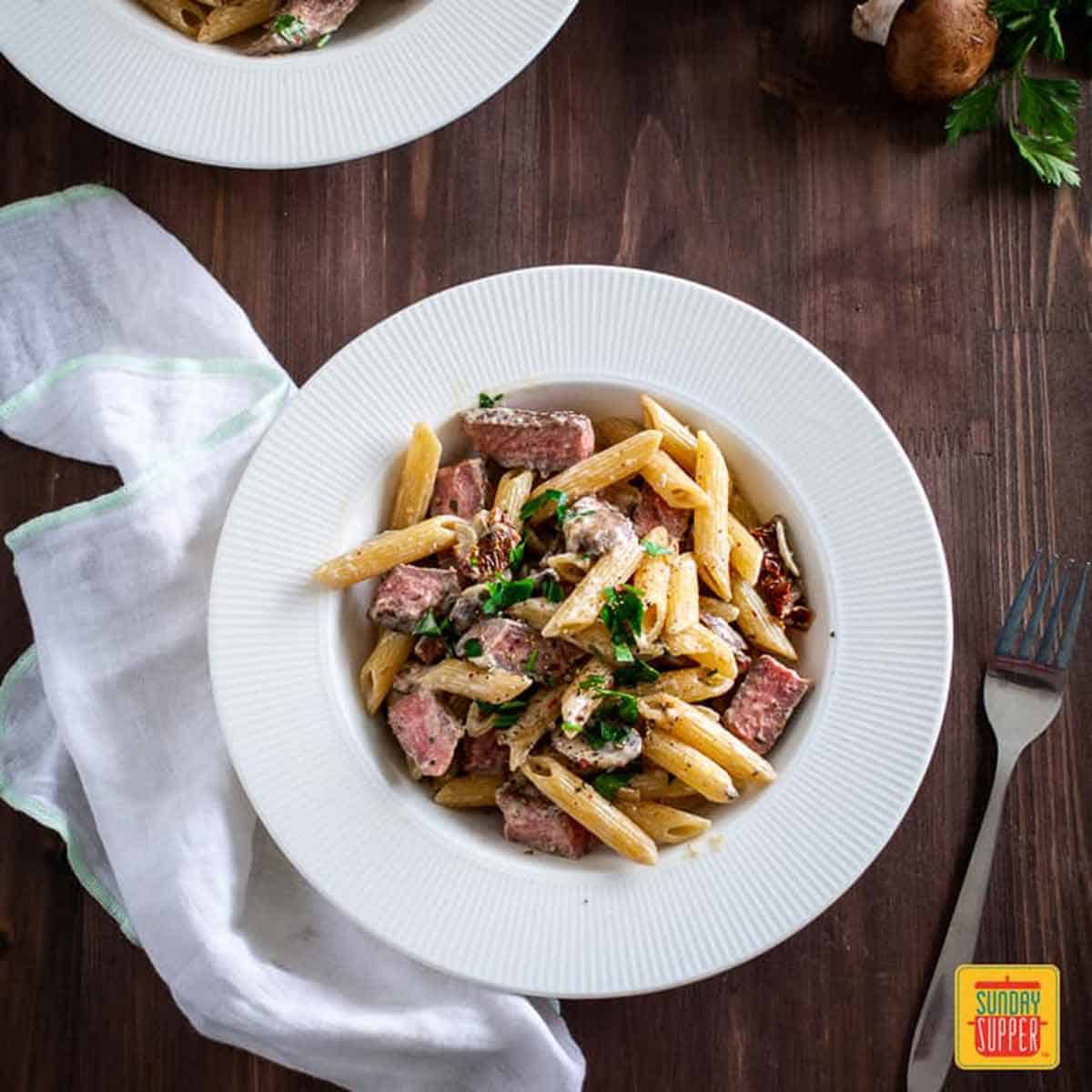 Pasta is one of my favorite foods. It always amazes me just how many kinds there are and what you can make with it! And, if you're like me, it never fails to make you happy when you eat them.
I could eat pasta every day of the week, I really could.
It makes the best comfort food dinner ideas, and you can cook up a big batch to reheat the whole week long! It doesn't get any easier than that.
Best Pasta Dishes Comfort Food List
Comfort food dinners are so important to have on hand for when you just need a delicious, hot meal you can prepare without much effort. These easy comfort food recipes will definitely give you more than enough options to choose from!
Pink Pasta Recipe (Creamy Tomato Pasta)
Without a doubt, one of my all-time favorite dinner recipes is this Pink Pasta Recipe. It's cheesy and full of flavor from diced ham and an amazingly creamy tomato sauce. Sop it up with some crusty bread, and you're all set!
Air Fryer Meatballs with Italian Meat Sauce and Spaghetti
Air Fryer Meatballs come together in just 10 minutes, and are crispy on the outside but juicy on the inside! Try them with our Best Meatball Sauce over some spaghetti for the best spaghetti and meatballs recipe you will ever eat!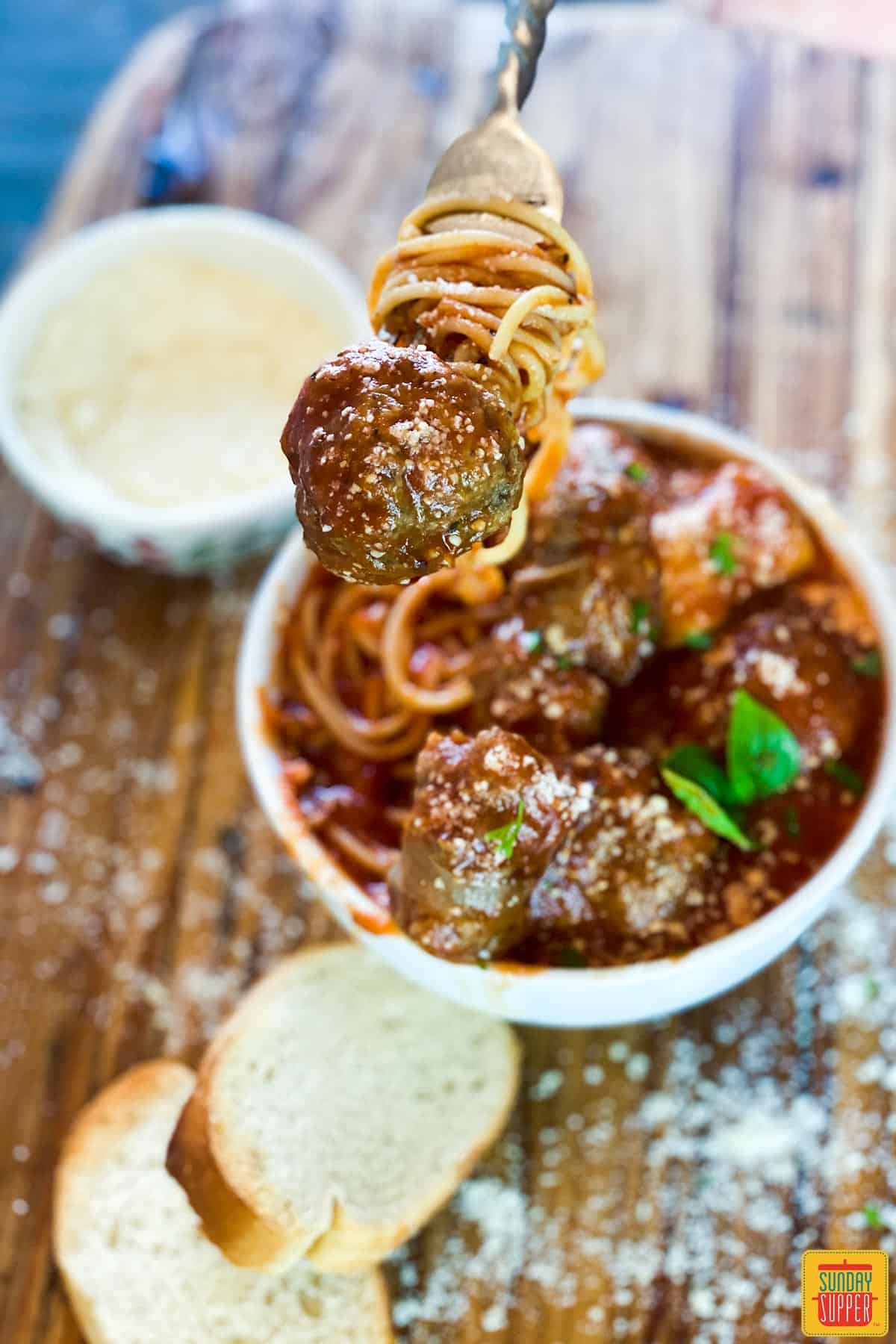 Ina Garten Mac and Cheese
I love mac and cheese. Personally, I'd pick a bowl of mac and cheese over almost anything else any day of the week! This Ina Garten Mac and Cheese really takes your classic mac and cheese recipe over the top. Ina Garten pasta recipes are always winners, but this one is definitely my favorite.
Fettuccine Alfredo with Chicken
Fettuccine Alfredo was one of my favorite childhood foods, and it still is! Creamy, cheesy, and so smooth, this is easily one of the best pasta dinner ideas. Plus, it's so easy to make! I usually make it with chicken, but you can make it with shrimp, too.
Creamy Penne Pasta with Sliced Prime Rib
This Creamy Penne with Sliced Prime Rib is unbelievably good! You can use leftover steak for it, too. Honestly, this pasta is so delicious, you could make it with chicken or just as is!
Shrimp Scampi Linguine with Garlic Butter
Speaking of shrimp, Shrimp Scampi Linguine is one of the most amazing, easy pasta dishes you can make. What makes it even more comforting is if you cook it with a little garlic butter sauce! You can even use frozen shrimp to make it, and I promise it will taste just as delicious.
Ground Beef Stroganoff in 30 Minutes
Ground Beef Stroganoff just makes me happy. The sauce is so delicious! Using ground beef makes this a budget-friendly dinner idea that everyone in the family will love. It's ready in just 30 minutes on the stove, too!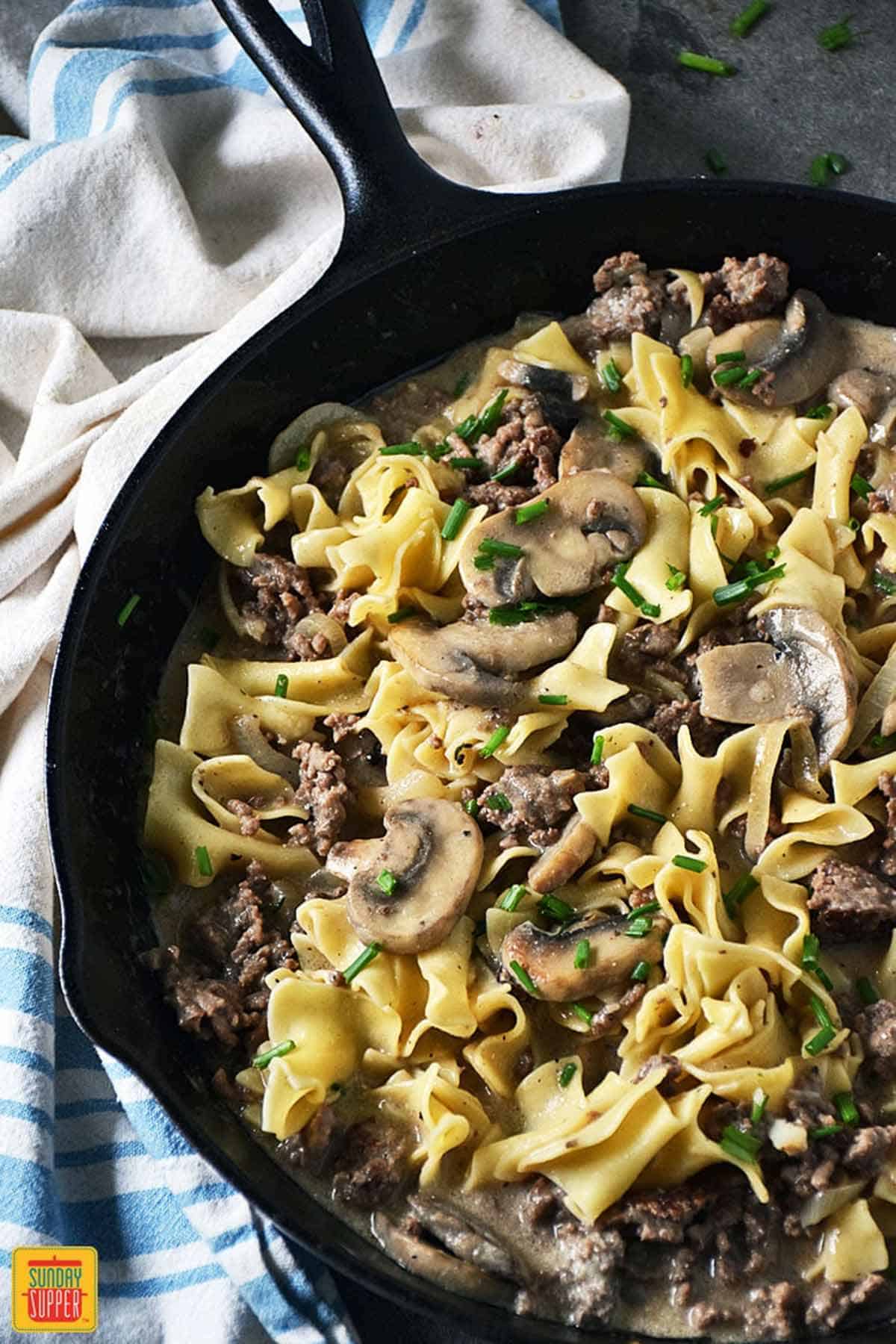 Spinach Baked Ziti
Ziti recipes have always been a favorite in my house. Spinach Baked Ziti is a great make-ahead freezer meal, while Baked Ziti with Sausage and Peppers is so easy to make in a cast-iron skillet and has tons of flavor.
Creamy Mushroom Pasta
This is the ultimate combination. Creamy Mushroom Pasta and Mushroom Spinach Pasta are two of my all-time favorites! Both are filled with earthy mushrooms and cheesy goodness.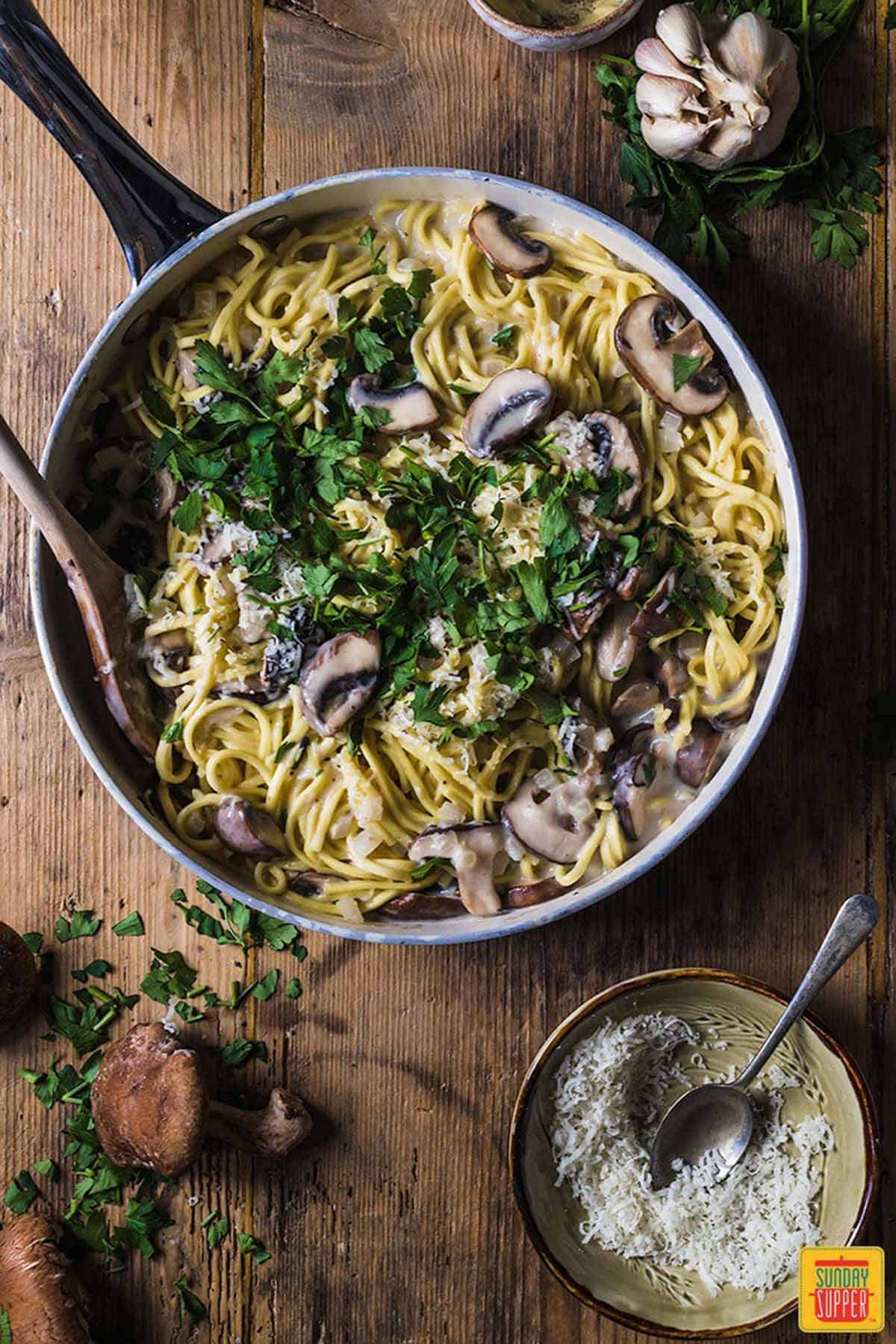 Pulled Pork Stuffed Shells
Pulled Pork Stuffed Shells is another dish you'll want to make again and again. Pulled pork is super easy to make – we have a guide on How to Make Pulled Pork right in your slow cooker. It's easy and delicious! You can use store-bought prepackaged pulled pork if you have it on hand, too.
One-Pot Chili Mac
For a kid-friendly dish the whole family will love, One-Pot Chili Mac is a perfect choice. It's so simple to make in under 30 minutes, and guess what? It's a one-pot recipe! Clean up is so easy.
Slow Cooker Lasagna
If lasagna isn't a regular on your comfort food list, you'll want to make it all of the time after trying these easy lasagna recipes! Slow Cooker Lasagna is one of the easiest lasagna recipes and tastes so amazing. We have a Cast-Iron Skillet Lasagna, Lasagna for Two, and Make-Ahead Healthy Lasagna I know you'll love, too!
More Comfort Food Dinner Ideas
For more comfort food dinner ideas, try some of our soups and stews! Easy Beef Stew in Instant Pot is an easy way to enjoy a delicious, rich beef stew in no time. Or, try our classic Beef Bourguignon!
Chick-fil-A Chicken Tortilla Soup and Chick-fil-A Chicken Noodle Soup can both be made with leftover chicken and just a few other simple canned ingredients. They're perfect for when you need a super easy comfort food dinner.
And for even more comfort food ideas, give our Air Fryer Grilled Cheese with Air Fryer Frozen French Fries a try. The Garlic Parmesan Fries Seasoning and Sriracha Fry Sauce are so tasty all together!
📌 Pin it for later!
Did you enjoy this page? Save it on Pinterest for later!



Did you try these comfort food dinner ideas? Let us know in the comments below! We love to hear from you.