Sunday Supper is an Amazon Associate and may receive compensation for purchases made through affiliate links.
Our How to Zest a Lime guide will show you the best way to get the most out of your limes! Learn how to use a grater to zest a lime, the difference between a zester and a grater, and more.
Plus, get our best recipes using lime zest that you can make easily at home, like our popular Elotes Mexicanos!
Lime zest is a fun ingredient to add to tacos, salsa, dip recipes, and more. You can kick up the flavor of just about anything with a little lime zest. It's even perfect for using in tasty dessert recipes like Key Lime Pie Bars or Carlota de Limón!
With the right tools, zesting a lime is easy. Using this guide on how to zest a lime, you'll be more than prepared to make all your favorite lime recipes!
Jump to:
What does it mean to zest a lime?
Zest comes from the rind of citrus fruits. You can zest everything from a lemon to an orange (we use orange zest in our Fresas con Crema recipe!). And, of course, limes!
You can zest a lime by using a zester, grater, or even a peeler.
Any method works for zesting limes, but we use the microplane grater method in this guide for how to zest a lime. It's easy and works perfectly for all kinds of recipes! You can even use a microplane grater to great cheese for recipes like homemade cheese sauce.
Zester vs. Grater
Although a zester can refer to the fine tooth grater we use in this guide for how to zest a lime, it also refers to a separate tool specifically made for zesting citrus.
A kitchen zester is a metal utensil with a row of holes at the top that cut the zest from citrus into ribbons. These thin ribbons of zest make a beautiful appearance for a cake or cheesecake topping.
Graters come in a few different sizes, but the kind best used for zest is a very fine grater, such as a Microplane grater. These graters have fine holes that are perfect for separating the zest from the pith of the fruit (the white skin underneath). If you want to learn how to zest a lime the best way, use a fine grater.
Here's a fun fact: did you know that Microplane graters actually started as woodworking tools? Microplane graters were originally wood rasps, but they have always been popular in the kitchen for zesting fruit and grating cheese. Now, many brands, along with Microplane, produce these tools as kitchen utensils.
How to Zest without a Zester
If you do not have a zester or fine grater, you can also use a peeler (both a y-peeler or a swivel peeler will work) and a knife for zesting limes and other citrus. You can also purchase a peeler that doubles as a zester.
To zest without a zester, carefully peel just the zest, and not the white pith, away from your lime. Then, finely chop the zest using a sharp knife.
If you don't have a peeler, you can use a knife to finely peel away the skin to chop into zest. However, this is trickier than using a peeler, zester, or grater, as you may cut too close and wind up cutting some of the pith away, too.
What is the best way to zest a lime?
The best method, and what we use in this guide for how to zest a lime, is using a fine grater. Fine graters are perfect for separating the most zest from your fruit and are so easy to use.
We prefer graters to using a zesting tool or a peeler as they give you a fine pile of zest that's perfect for using as an ingredient in all kinds of lime recipes. Plus, using one takes less time than a peeler or even a zester.
Recipes Using Lime Zest
Lime zest is a fantastic ingredient for adding so much flavor to your favorite recipes, from breakfast, to dinner, dessert, and everything in between.
Here are some of our favorite recipes using lime zest. We know you're going to want to dig into these after following our guide on how to zest a lime!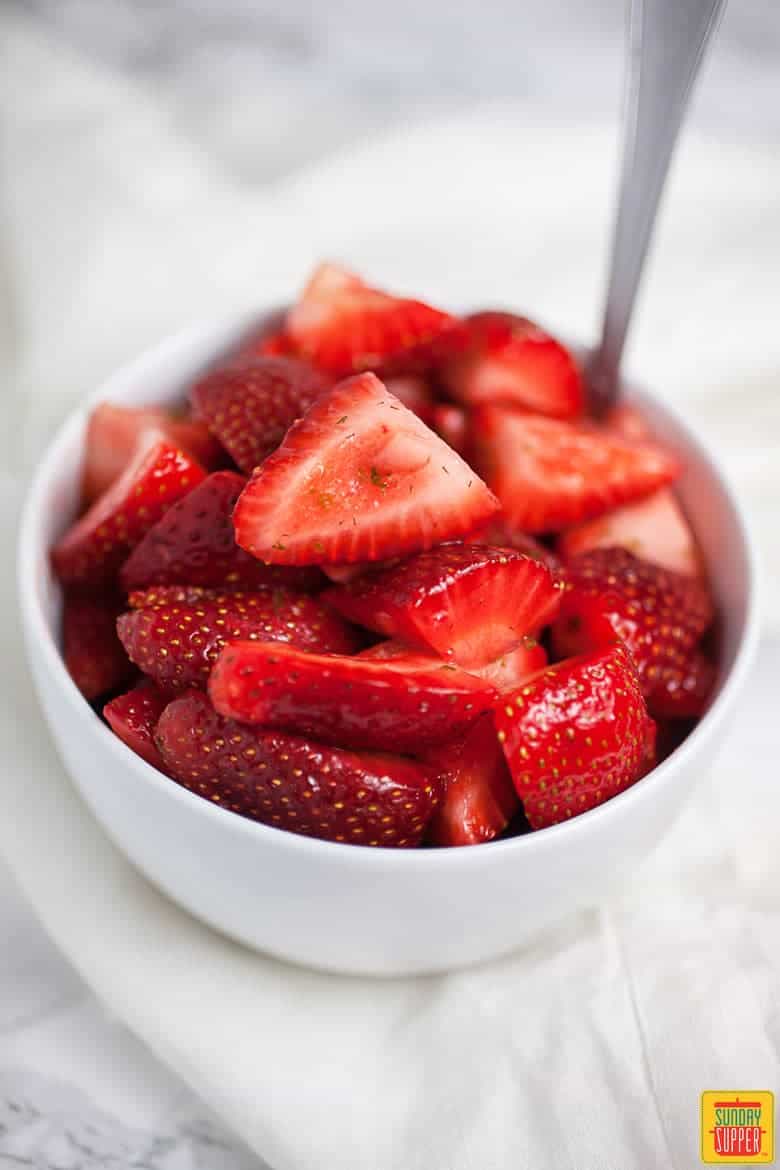 📌 Pin it for later!
Did you enjoy this page? Save it on Pinterest for later!



Save the Video Pin

Keep scrolling for our guide on how to zest a lime!

For more easy cooking guides, try these:
📋 Recipe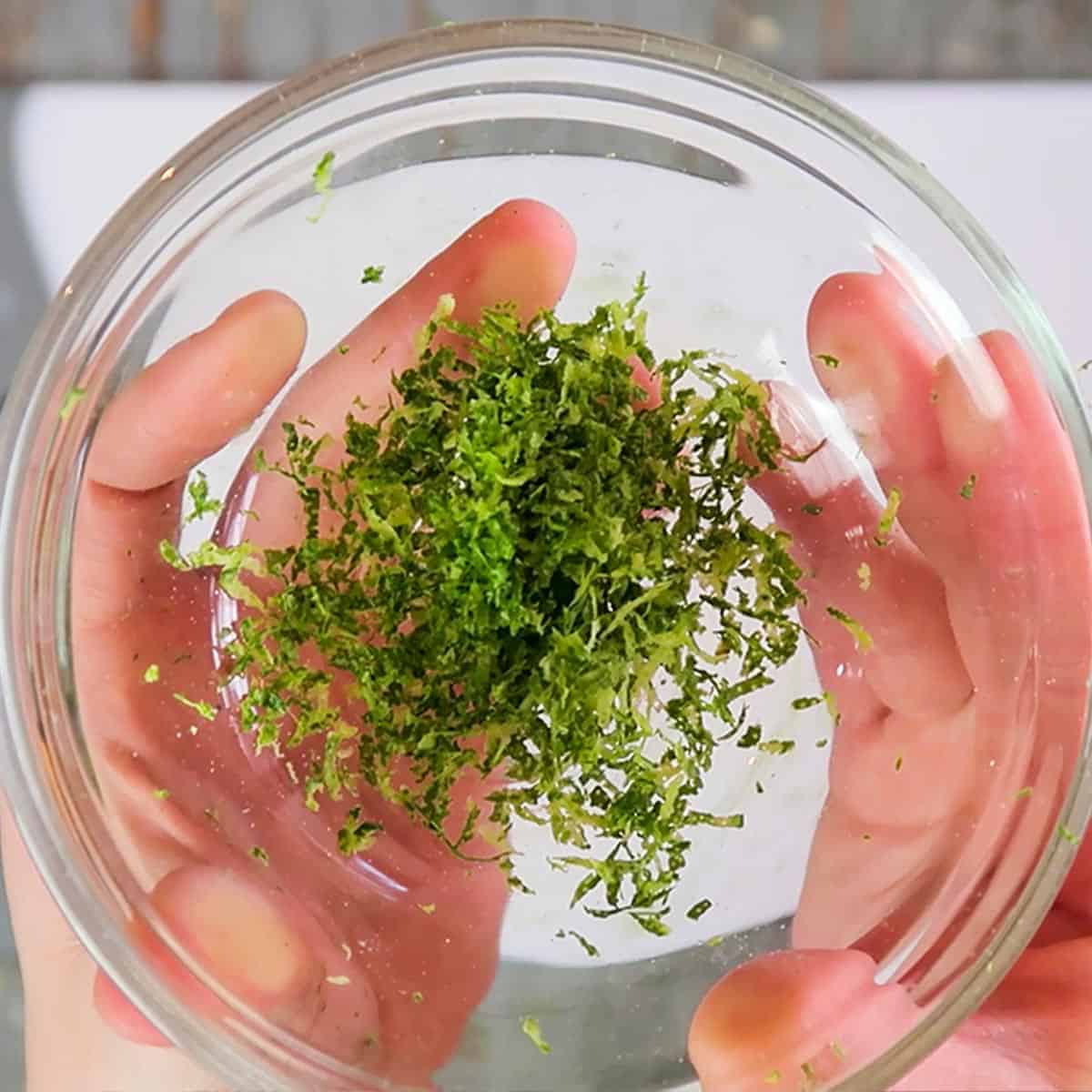 Servings:
1
bowl of lime zest
Instructions
Hold your lime in one hand and your zester in the other.

Carefully move your lime back and forth over the zester. Do this over a bowl to catch the zest.
Notes
Make sure to only zest the green layer of your lime; once you've hit the white part

(known as the pith)

, stop.

Check the post for instructions on how to use a peeler to zest a lime if you don't have a grater or zester!