This post may contain paid links. If you make a purchase through links on our site, we may earn a commission.
Ground beef kabobs seasoned with Mediterranean spices and grilled to perfection: that's these Lebanese Beef Kebabs with Garlic Cream Sauce! Ready in 30 minutes for a fun family dinner or party food.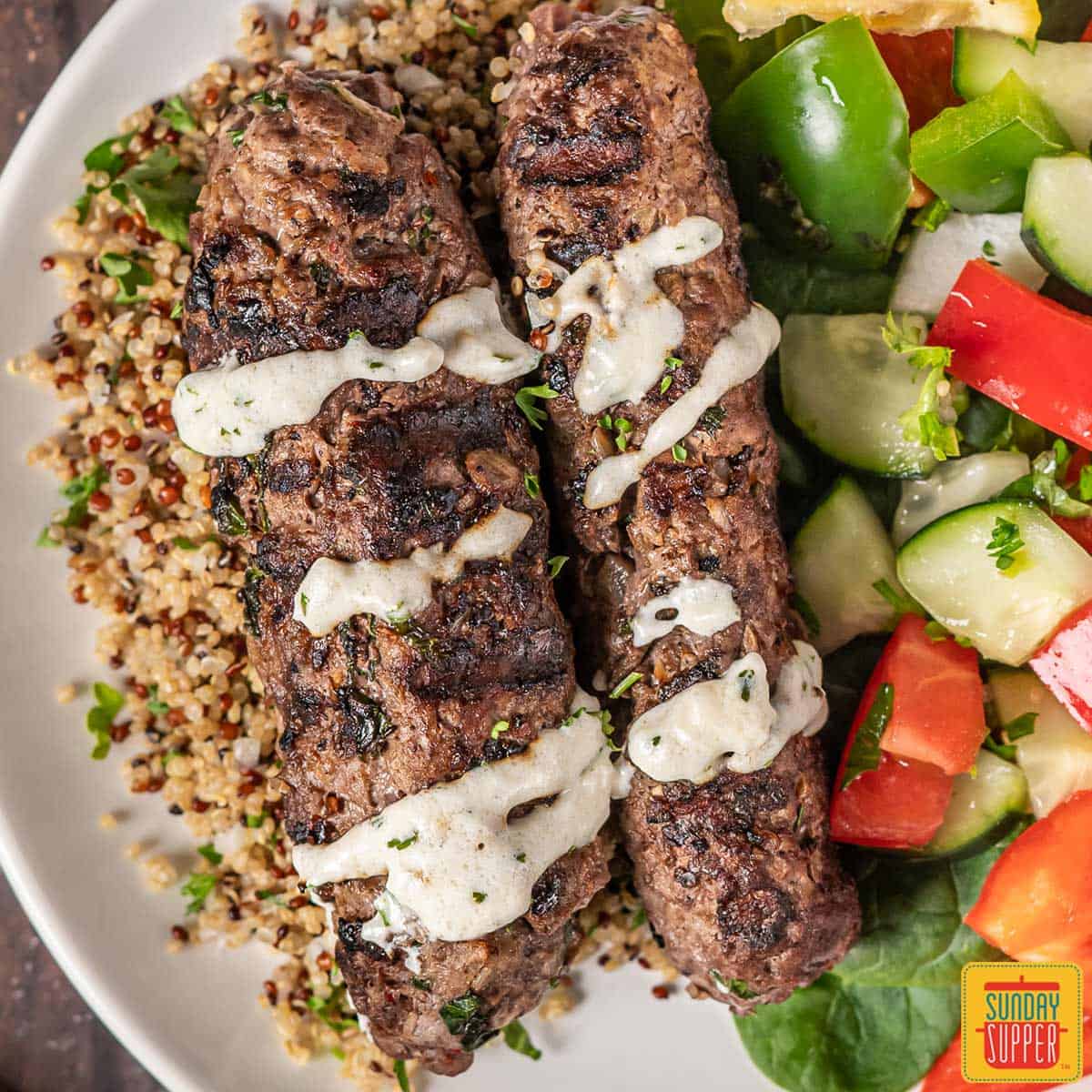 Jump to:
You know how much I love grilling, especially beef. I'm lucky to live where it's grilling season almost year-round! These ground beef Lebanese kebabs, also known as kafta or kofta, are one of my favorite recipes to make on the grill.
Middle Eastern spices give the beef so much flavor. Top it all off with creamy garlic sauce and a side of couscous and Cucumber Feta Salad, and you have a perfect meal.
My family always comes back for seconds of this Lebanese beef kabob recipe!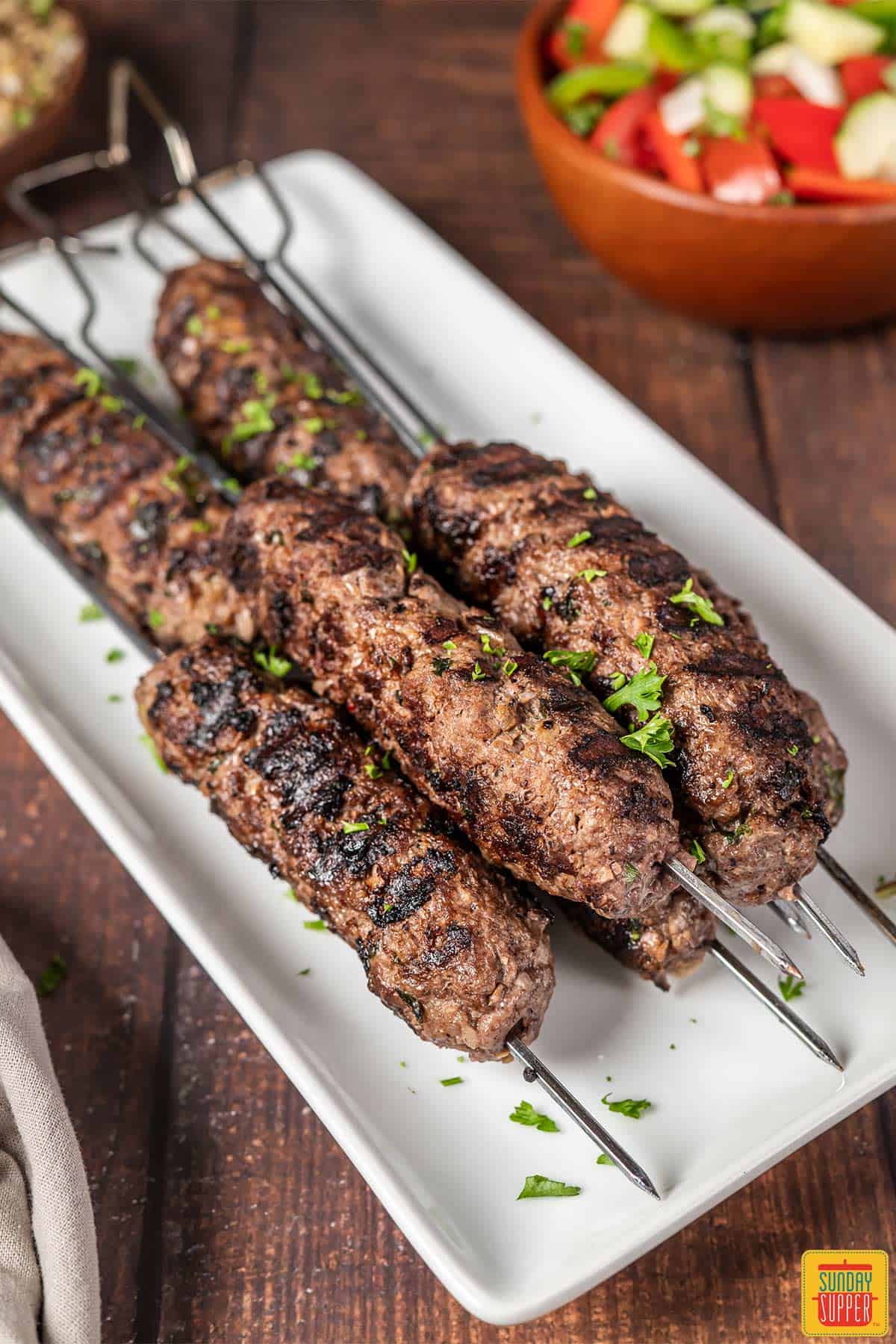 What is kafta?
Kafta, also known as kofta or kefta, is a Middle Eastern meatball or meatloaf made with ground meat mixed with onions and herbs. The name comes from the Persian kufta, which refers to a rissole (a fried, rolled meat patty).
The difference between kofta and kafta is simply that kafta refers specifically to Lebanese kofta. How the dish is prepared depends on the country, but they are essentially very similar.
For example, a Turkish kebab recipe (kofte) would use more traditional Turkish seasonings, but is essentially a packed meat patty just like Lebanese kafta.
For this recipe, we're making ground beef kabobs!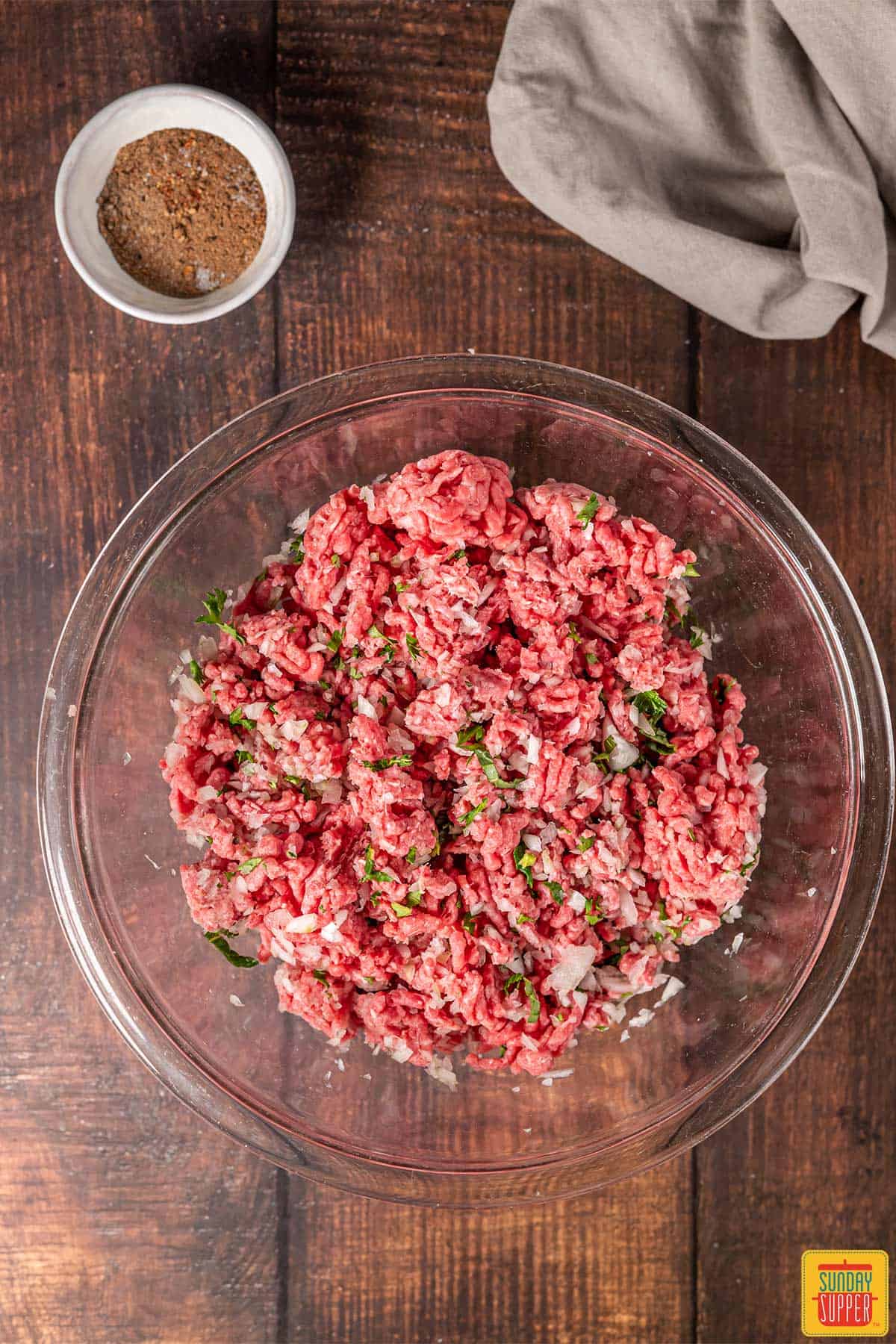 Can I make kebabs without a grill?
Yes. You can make this ground beef kebab recipe in the oven or on the stove.
To make in the oven: Preheat oven to 350ºF. Bake on a greased baking sheet for 15 to 20 minutes until cooked through.
To make on the stove: If you have one, use a grill pan over medium-high heat and grill on each side until browned and cooked through (140-145°F for medium). If you don't have a grill pan, cook the beef kofta in a pan without skewers. Cast iron works best.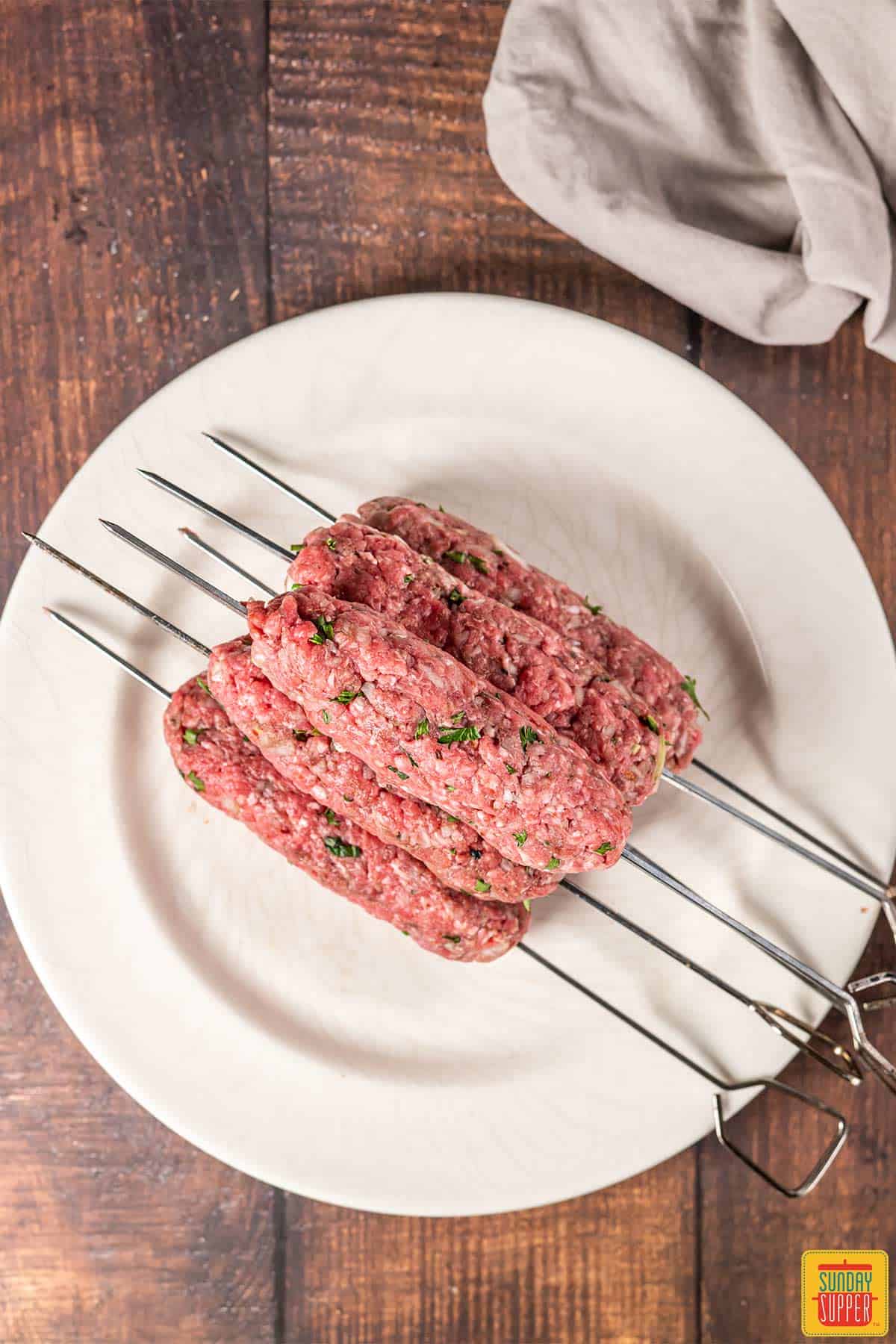 Seasoning for Kebabs
sea salt
red pepper flakes
cinnamon
ground ginger
allspice
white onion, chopped
fresh parsley, finely chopped
fresh mint, finely chopped
White pepper has an earthier, more mild flavor than black pepper. We recommend ground white pepper and not black pepper for these Lebanese kebabs.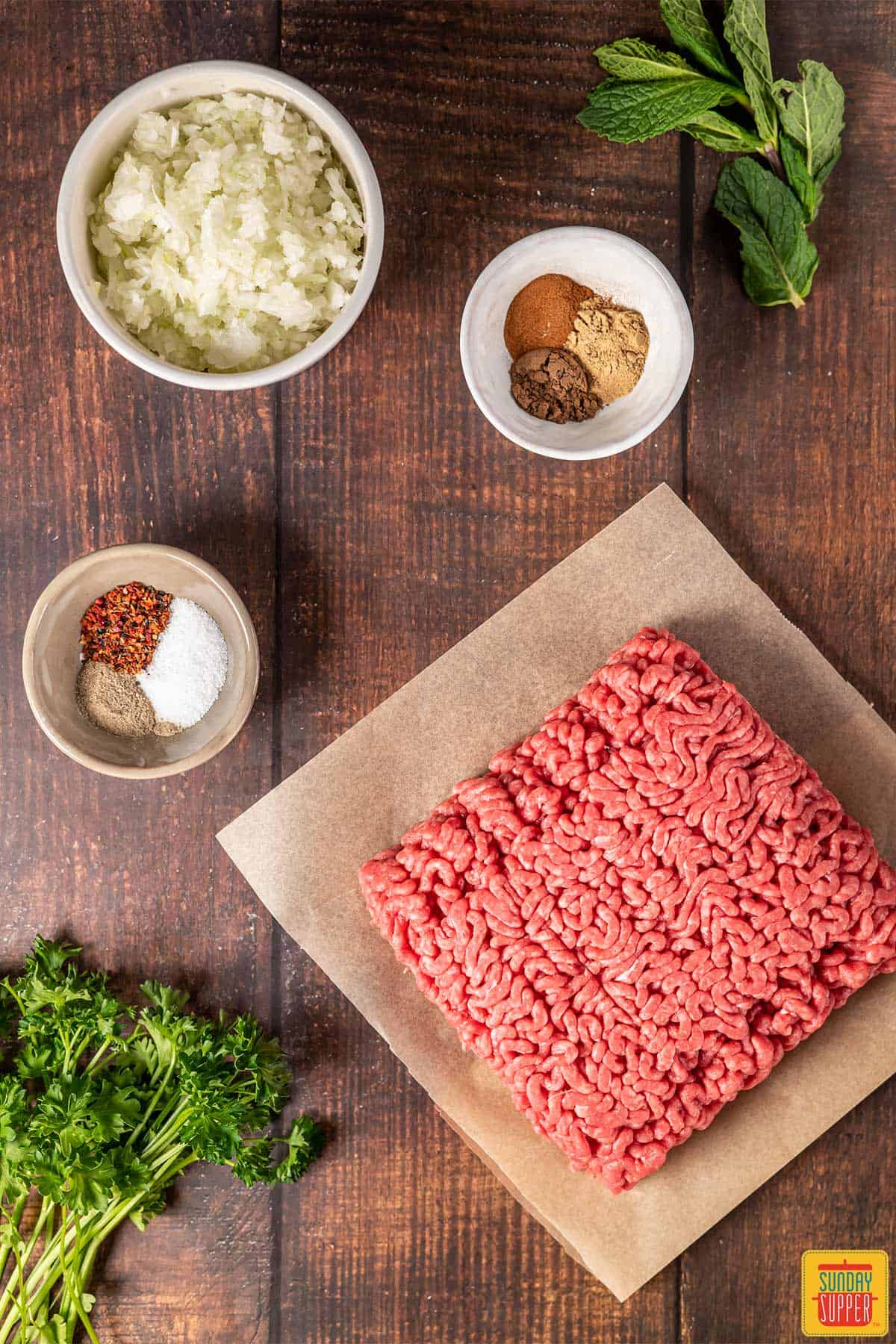 Sauce for Kebabs
Lebanese beef recipes like these kofta kebabs pair well with traditional Mediterranean sauce recipes such as:
Tahini
Tzatziki
Lebanese Toum (garlic sauce)
Aioli
We serve ours with a delicious Creamy Garlic Sauce. This easy garlic parmesan sauce tastes incredible with this beef kofta kebab recipe. It is our absolute favorite!
🍽 Tools
How long do you soak skewers?
If you're using bamboo skewers to make your ground beef kabobs, you'll need to soak them first so they don't burn on the grill. Soak them for 30 minutes up to 1 hour before grilling. Do not let them soak for over 3 hours.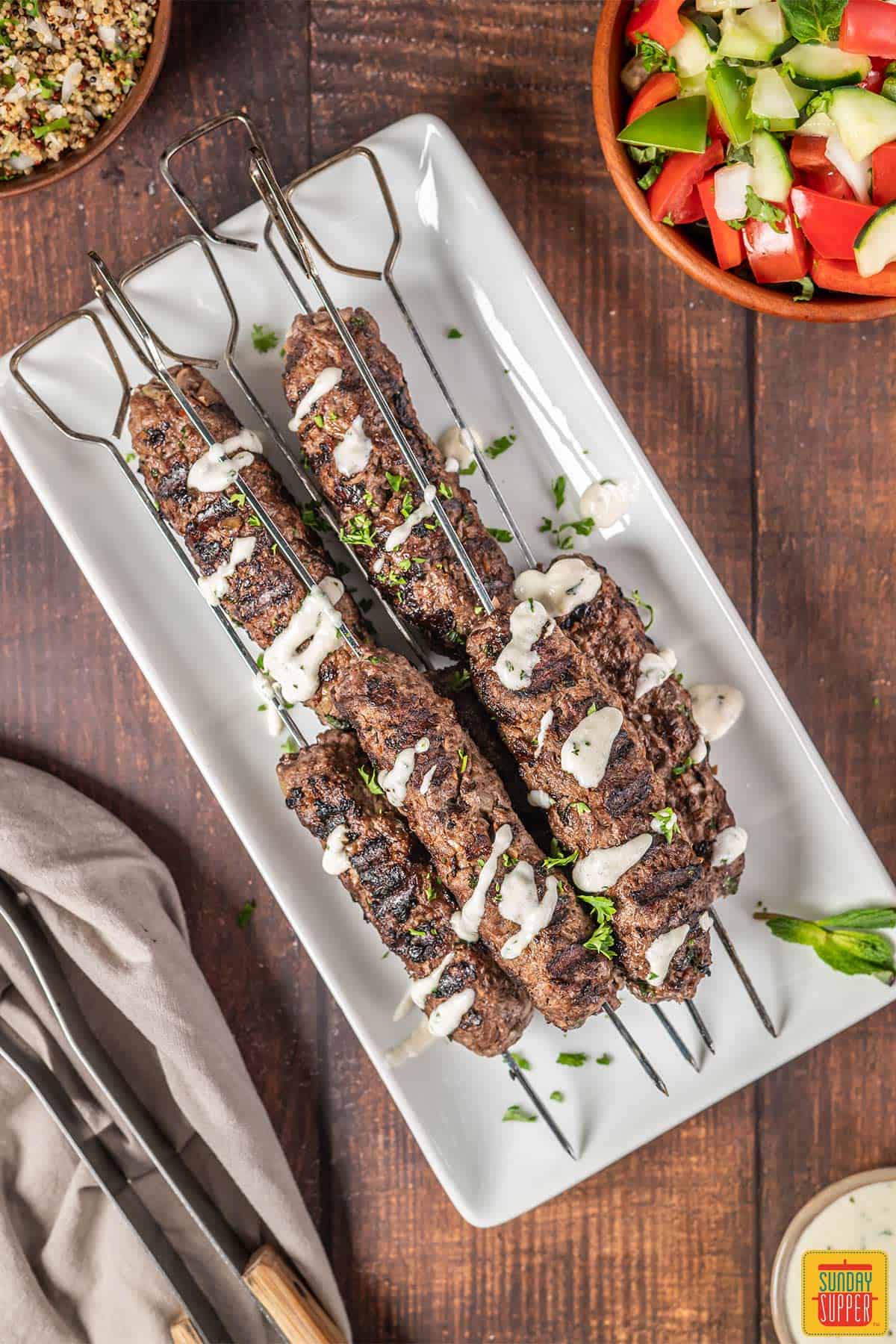 ⭐ Family Foodie Tips
Use ground beef that is at least 80% to 85% lean. A little bit of fat helps keep the Lebanese kebabs moist and juicy.
Make sure to size each log evenly so they all take around the same amount of time to cook.
What to Serve with Kebabs
If you love beef kebab recipes as much as we do, try our Portuguese Espetada Recipe. These steak kabobs are truly delicious!
Enjoy this dish as a part of a Tapas Menu!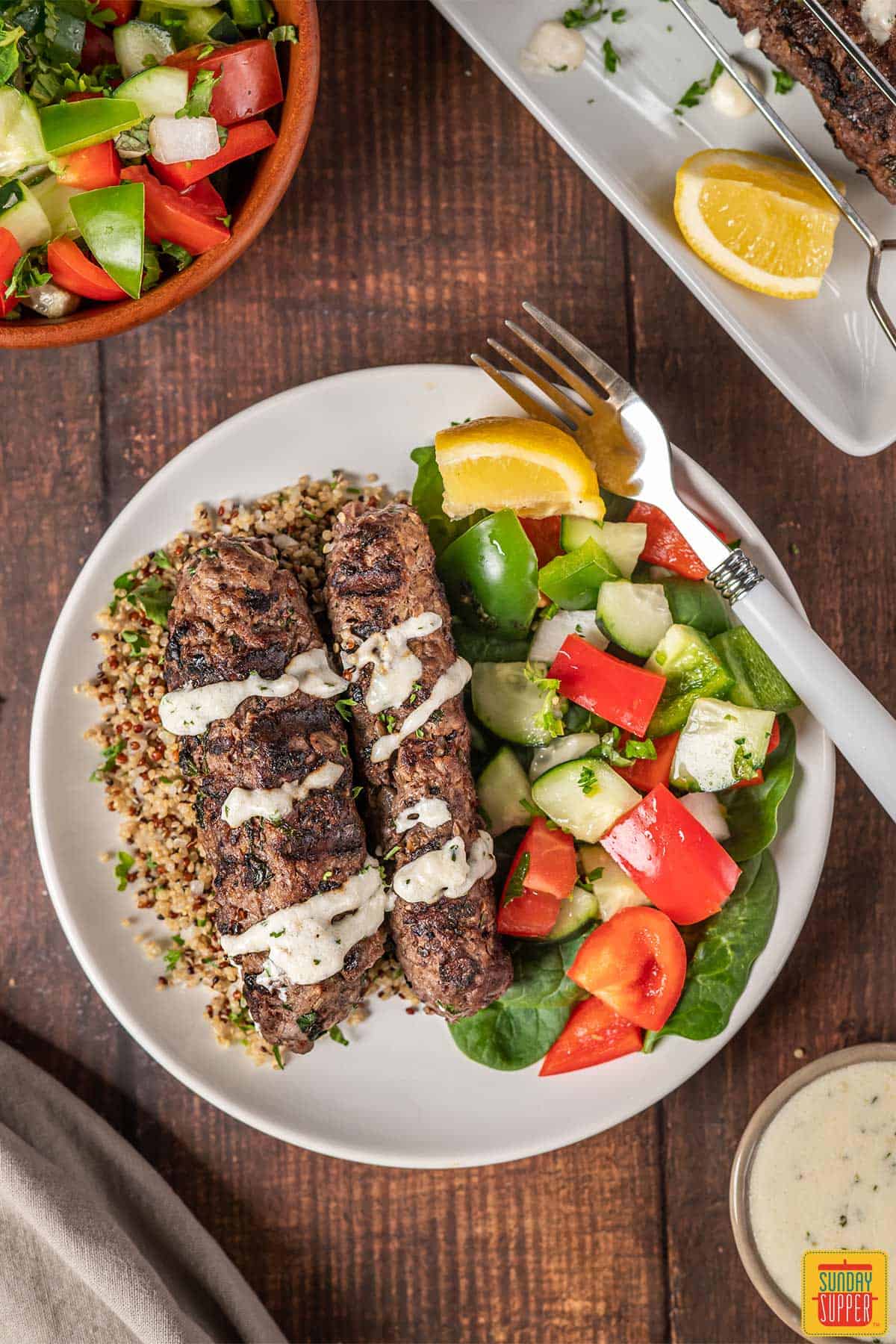 Check out our Lebanese Beef Kabobs Web Story!
Did you try this recipe? Leave a comment and a rating below to let us know what you think! We love to hear from you!
📋 Recipe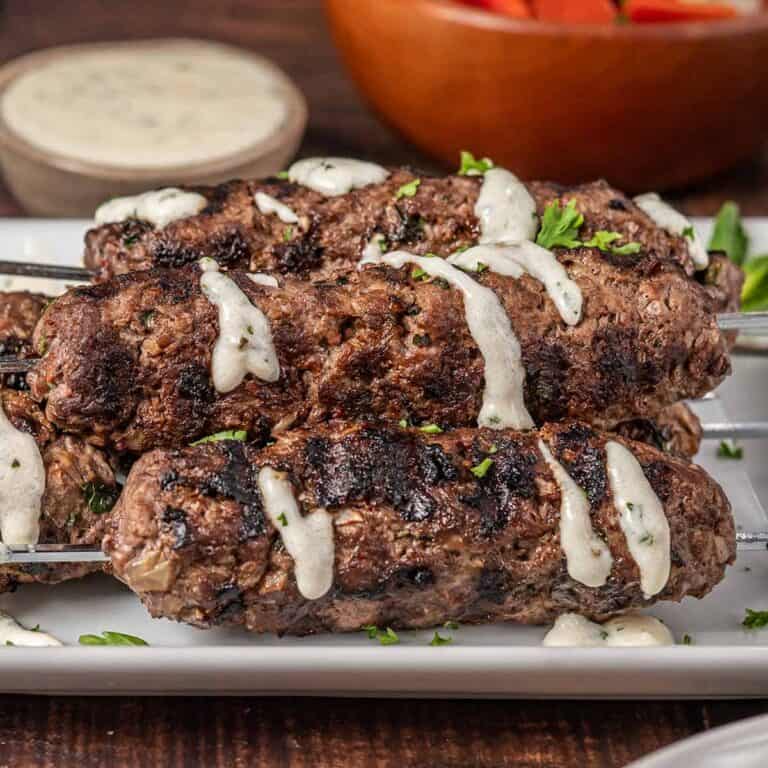 Lebanese Kebabs
Once you try grilled Lebanese Kebabs made with ground beef, herbs, and aromatic seasoning, they will quickly become one of your favorite easy summer dinners!
Equipment
8 metal skewers (if using wooden skewers, soak in water for 30 minutes)
Instructions
Lebanese Kebabs
In a small bowl, combine sea salt, white pepper, red pepper flakes, cinnamon, ground ginger, and allspice. In a large bowl, add ground beef, parsley, mint, white onion, and the spice mix.

Form ground beef mixture into about 8 logs. Skewer each log, packing the mixture evenly and tightly around each skewer. Pull the ground beef lengthwise from the tip of the skewer toward the handle, leaving four inches of skewer to hold the kebabs.

Cover in plastic wrap and refrigerate for at least 30 minutes or overnight before grilling.

Grill skewers over medium-high heat until cooked through and browned on all sides, approximately 2 minutes for each side. The internal temperature should reach 160°F on a meat thermometer.
Garlic Cream Sauce
In a large skillet, melt butter over medium heat, then add garlic and cook for 30 seconds or until fragrant. Stir constantly so the garlic doesn't burn.Add in flour, stirring, and cook for about 1 minute, until lightly browned. Stir frequently.Whisk in half and half gradually and season with salt and pepper. Simmer until it thickens, about 1-2 minutes – keep stirring now and then. Whisk out any lumps that form. Cook the sauce just until it thickens. When it thickly coats the back of a spoon, it's ready.Stir in Parmesan and parsley, then remove pan from heat. Serve immediately for best results. It will thicken further off heat.
Notes
Nutrition includes garlic cream sauce.
Nutrition
Calories:
391
kcal
Carbohydrates:
8
g
Protein:
19
g
Fat:
31
g
Saturated Fat:
15
g
Trans Fat:
1
g
Cholesterol:
101
mg
Sodium:
400
mg
Potassium:
408
mg
Fiber:
1
g
Sugar:
1
g
Vitamin A:
1382
IU
Vitamin C:
15
mg
Calcium:
158
mg
Iron:
3
mg
Did you try this recipe?
Tag #SundaySupper on social and leave a comment below!