Sunday Supper is an Amazon Associate and may receive compensation for purchases made through affiliate links.
Throw the best party on the block with our Easy Tapas Recipes! These tapas-style dishes range from fried oysters to beef kebabs, and everything you could want in-between.
Tapas dishes are perfect for any party, whether you need appetizer ideas for a New Year's Eve party or are just looking for more football party food to enjoy!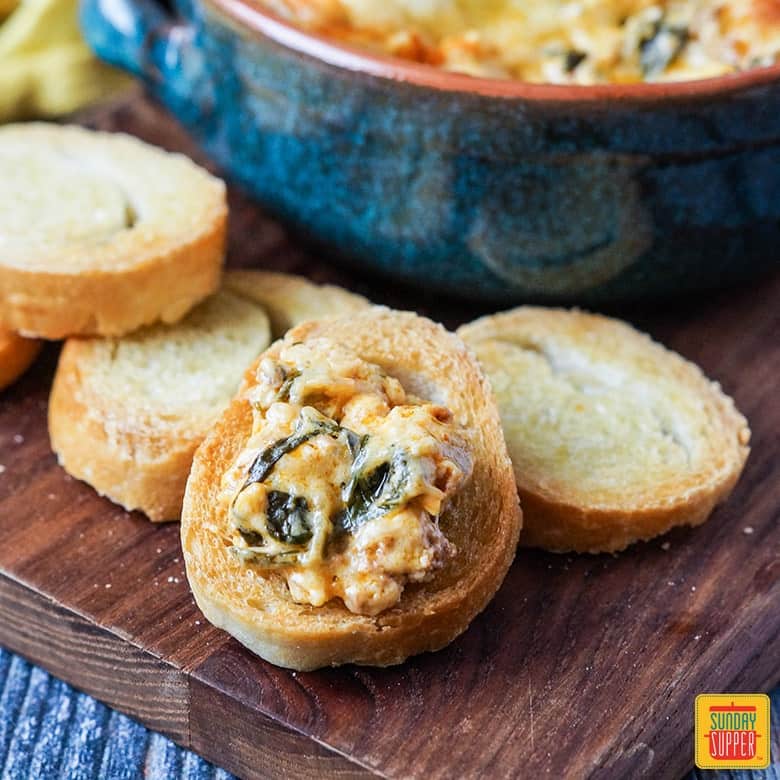 What are Tapas?
A "tapa" is a Spanish cuisine snack or appetizer. The name comes from "tapar", which is Spanish for "to cover", but the origin of Spanish tapas is still up for debate.
Today, tapas are so popular, there are restaurants devoted to them. You may be familiar with tapas bars, where you can sample all different types of traditional Spanish tapas recipes and new takes on the concept.
Types of Tapas
There are many types of tapas. Tapas dishes can either be cold, like an ensaladilla rusa recipe (Russian potato salad), or hot, like pincho moruno (kebabs).
You may already be familiar with some common types of tapas. Here are just a few examples:
Aceitunas – or simply, 'olives'!
Calamares – that's right! Deep fried squid rings, or calamari, are popular Spanish tapas
Empanadillas – you may also know these by the name 'empanadas'
Tortilla paisana – a Spanish omelet made with a tortilla containing chorizo and vegetables
What really makes tapas food what it is is that each dish is a snack or appetizer, so have fun with your tapas menu ideas!
We put together our favorite tapas plates and best tapas recipes, from more traditional dishes like zesty Spanish potato salad to non-traditional easy tapas recipes like our air fryer mushrooms.
Easy Tapas Recipes for a Party
Steamed Crab Legs
Learn how to boil crab legs with our Steamed Crab Legs recipe! Seafood is a popular choice for tapas dishes, and crab legs are perfect for a party. These crab legs with garlic butter sauce are easy to make and even easier to eat!
Steamed Crab Legs
Everyone at the table will love these steamed crab legs! It's a rich and decadent recipe, yet simple to make at home.
Get this recipe!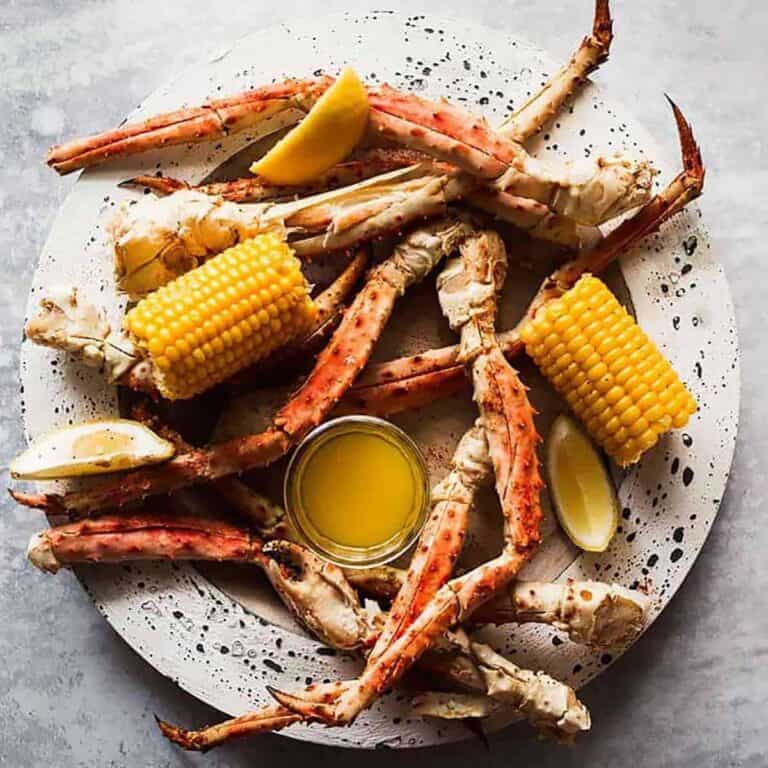 Chicken Empanada Recipe (Empanadas de Pollo)
Empanadillas are a common Spanish tapas recipe. You may know them as empanadas, which are a type of fried or baked turnover or hand pie. These Emapnadas de Pollo come together with deliciously seasoned chicken, and you can easily make them with Goya discos or homemade empanada dough. Perfect for a tapas menu!
Chicken Empanada Recipe
This Chicken Empanada Recipe is the perfect way to use leftover chicken! Shredded chicken and caramelized onions are simmered in flavorful spices, then folded in a buttery shortcrust and baked until golden.
Get this recipe!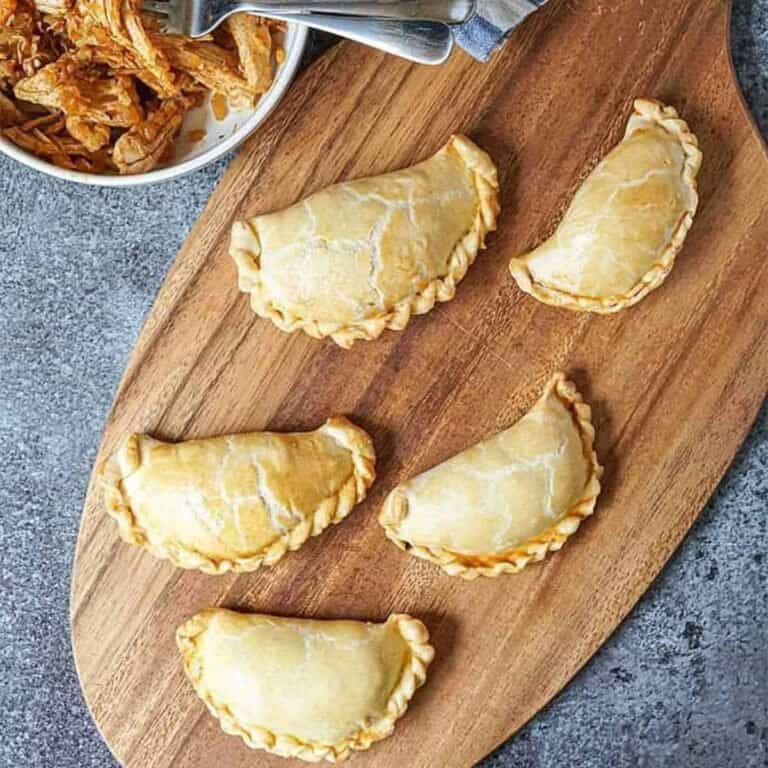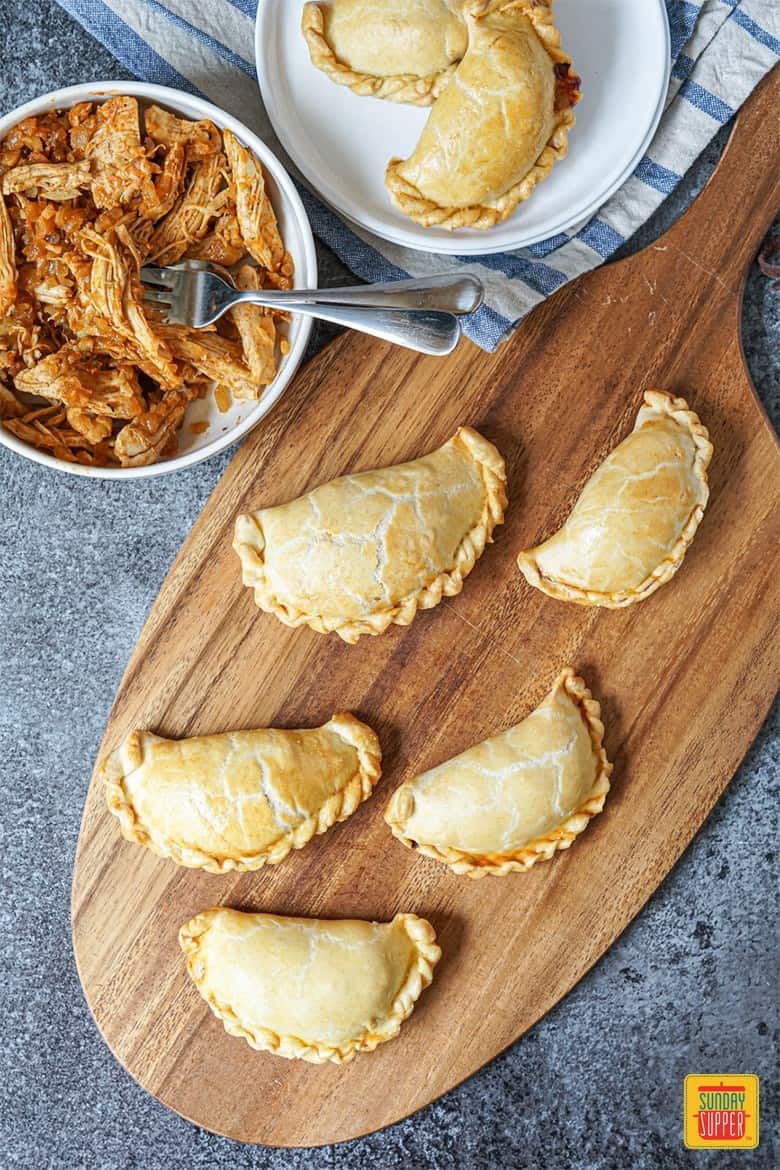 Lebanese Kebabs with Beef
Traditional Spanish tapas include pincho moruno, which is a type of spicy kebab. Typically, these kebabs are chicken, pork, or lamb, but in our case, we love beef! These Lebanese kebabs are one of our favorite tapas ideas.
Lebanese Kebabs
Once you try grilled Lebanese Kebabs made with ground beef, herbs, and aromatic seasoning, they will quickly become one of your favorite easy summer dinners!
Get this recipe!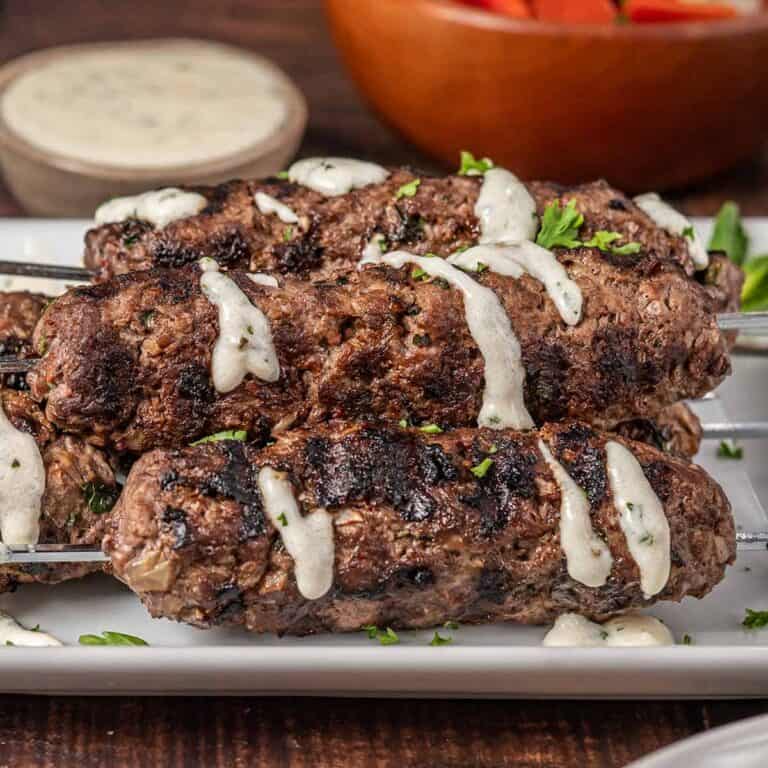 Potato and Chorizo Bites
Chorizo is a very common ingredient in Spanish tapas recipes! Some of the best tapas recipes use chorizo. Our Potato and Chorizo bites are made with Portuguese cuisine in mind, but fit in perfectly with other tapa recipes. We recommend you dip these delicious bites in homemade Peri Peri sauce.
Portuguese Potatoes and Chorizo
Portuguese potatoes and chorizo are the perfect party appetizer! You will love this easy appetizer recipe with peri peri sauce for dipping. Serve on plate or on toothpicks, and enjoy!
Get this recipe!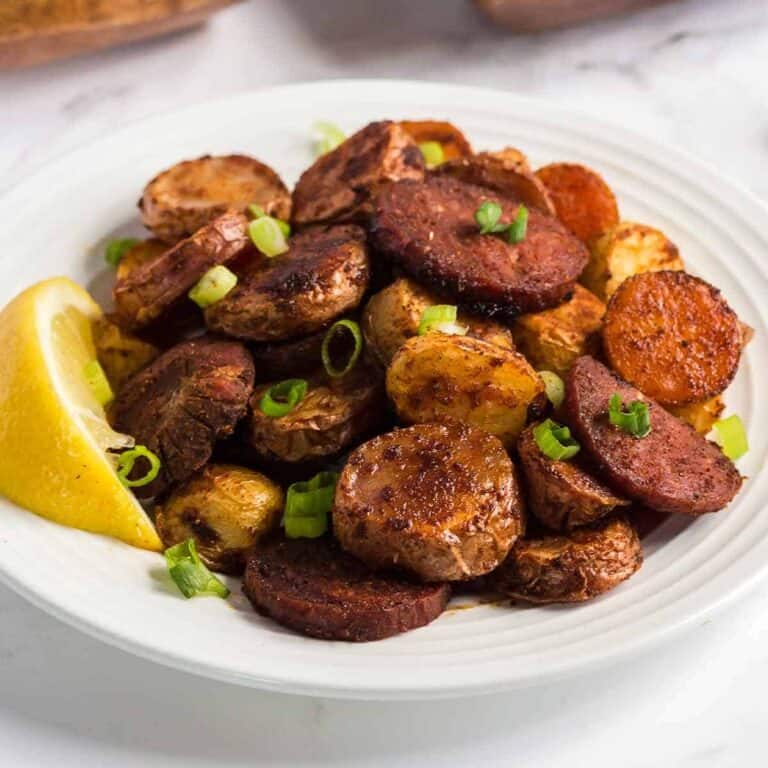 Fried Oysters Recipe
Fried seafood is a great choice to go along with your tapas menu ideas, and we highly recommend this fried oysters recipe. You could compare them to chopitos, which is a fried squid recipe you may see as a tapa. Squeeze a little lemon on top, and you won't be able to get enough of this easy oysters recipe!
Fried Oysters Recipe
This pan fried oysters recipe is crispy, briny, and the perfect easy seafood appetizer or entree.
Get this recipe!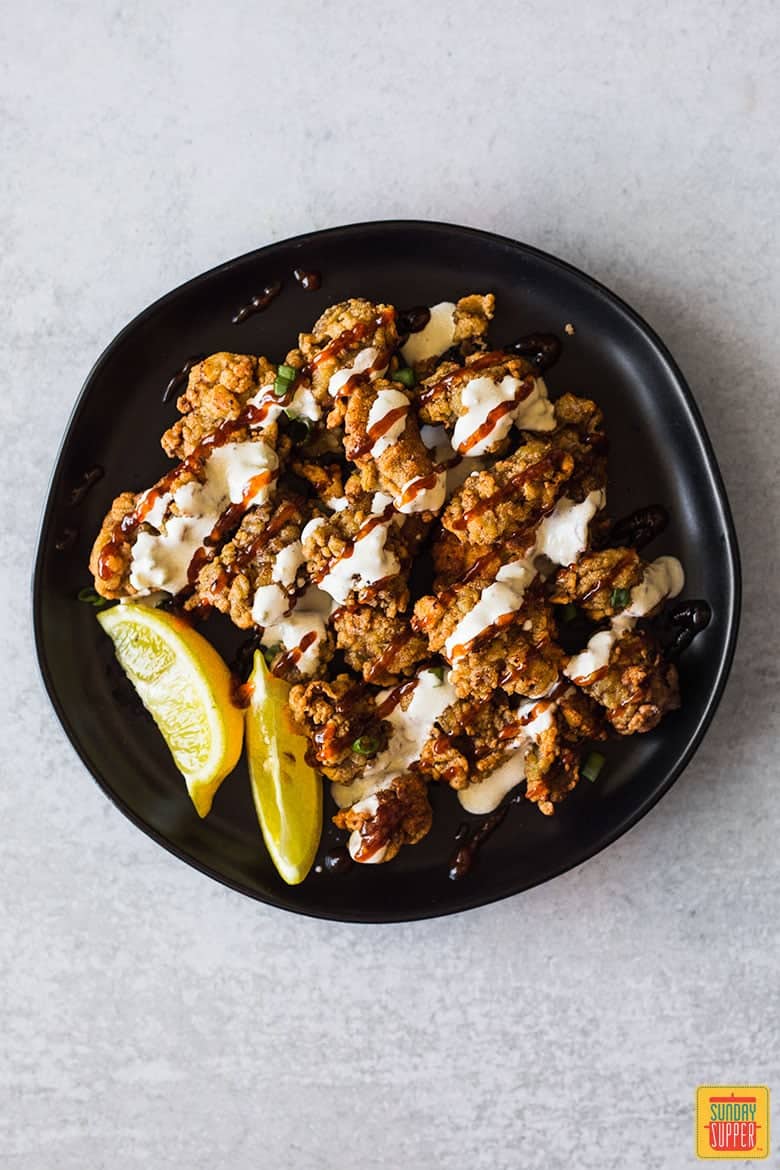 Zesty Spanish Potato Salad (Ensaladilla Rusa)
Ensaladilla rusa is a classic Spanish tapas recipe – although the name refers to Russian Potato Salad! Our dish is a little different from traditional Ensaladilla rusa – we make ours with the flavors of Spanish cuisine in mind, including olives and paprika.
Spanish Potato Salad
Make Spanish Potato Salad & WOW your friends & family! Check out the exciting flavors we used to transform traditional potato salad into this crowd pleaser!
Chorizo Cheese Dip with Spinach
Dips make great easy tapas recipes thanks to how simple they are to make and how much flavor you can get in one bowl! Our chorizo cheese dip with spinach uses spicy chorizo and three types of cheese for a creamy, easy dip recipe everyone will love. Try serving it with bagel chips!
Chorizo Cheese Dip with Spinach
This Spinach Chorizo Dip is a perfect addition to your Easy Football Food Ideas for Game Day! Packed with spinach, spicy chorizo, and three types of cheese, this creamy dip is sure to be a hit at your party or anytime you need to satisfy that comfort food craving.
Get this recipe!
Air Fryer Mushrooms
Light, crispy, and easy, these air fryer mushrooms are a dream come true. While not your typical tapas fair, they fit in perfectly with other easy tapas recipes. Dip them in all your favorite sauces, and enjoy!
Air Fryer Mushrooms
Light, crispy, and easy AIR FRYER MUSHROOMS are a flavorful appetizer you'll love! Fried mushrooms make an easy game day appetizer, PERFECT for dipping.
Get this recipe!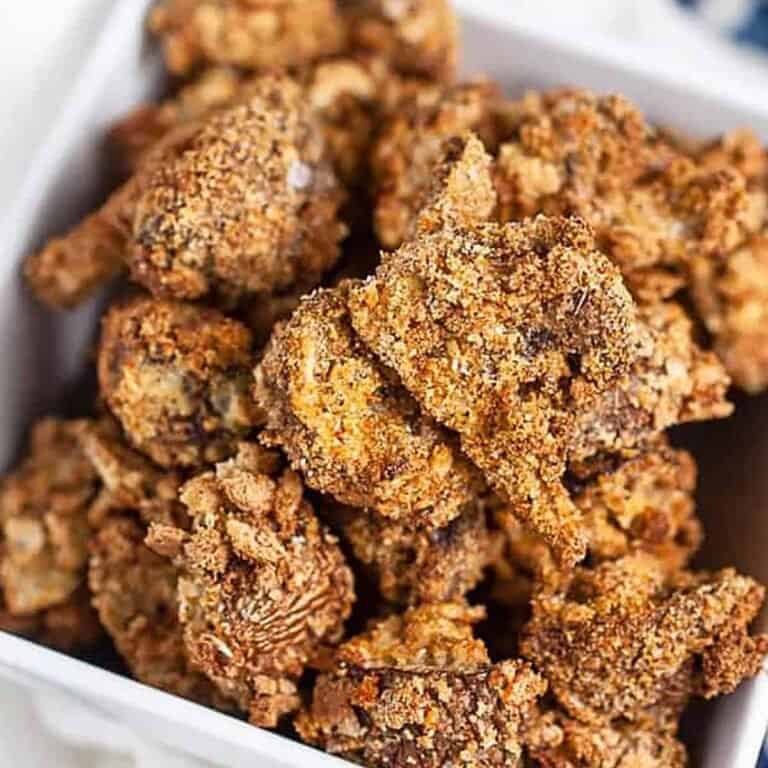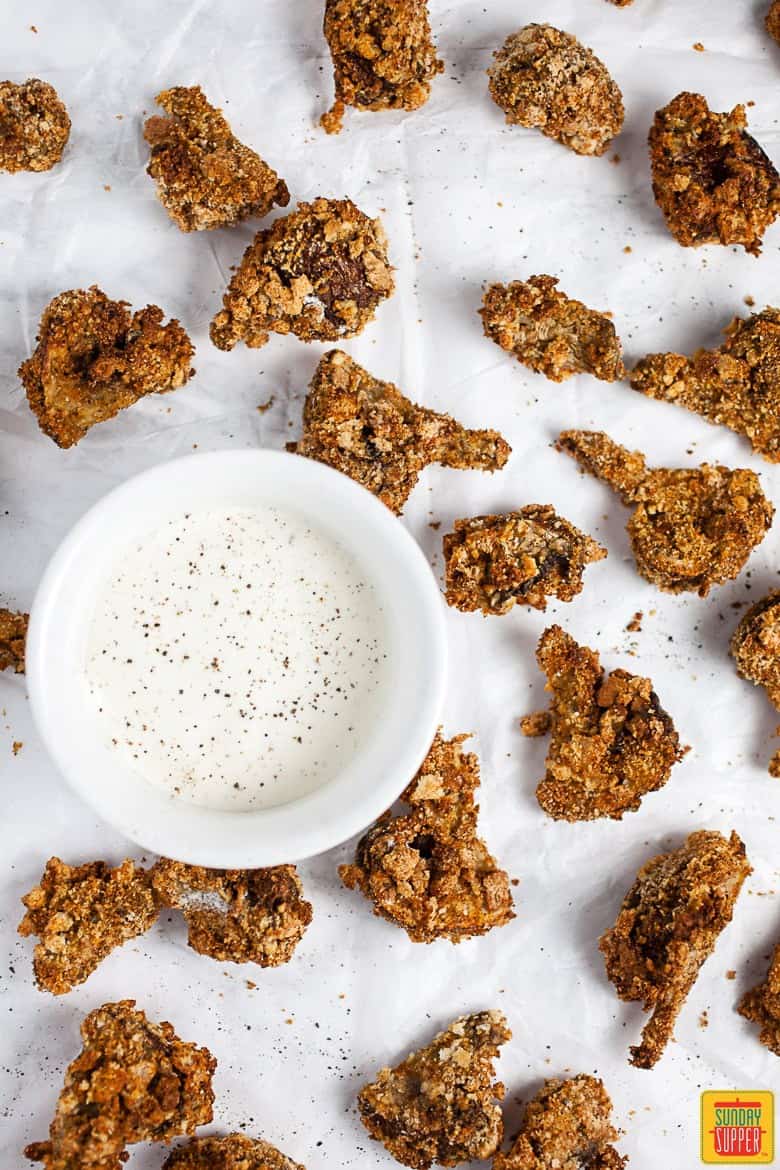 Puerto Rican Baked Empanadas (Pastelillos de Carne)
Puerto Rican Baked Empanadas – also known as Pastelillos de Carne – are a wonderful addition to your tapas menu! These savory hand pies are made with ground beef, sofrito, and potato filling. They're especially perfect for a game day party!
Puerto Rican Empanadas Recipe
Your family will love these Puerto Rican empanadas. They make a great appetizer for a party or are perfect for a weeknight supper!
Get this recipe!
Cucumber Canapes with Shrimp
Simple, yet classy, these cucumber canapes with shrimp are easy, fancy appetizers with homemade tzatziki filling and an herb topping. Shrimp appetizers are perfect for any table, including a tapas-style table, and we know you'll love this canape recipe.
Cucumber Canapés with Shrimp
Cucumber canapes with shrimp are easy to prepare fancy appetizers with a refreshing homemade tzatziki filling and vibrant herb topping!
Get this recipe!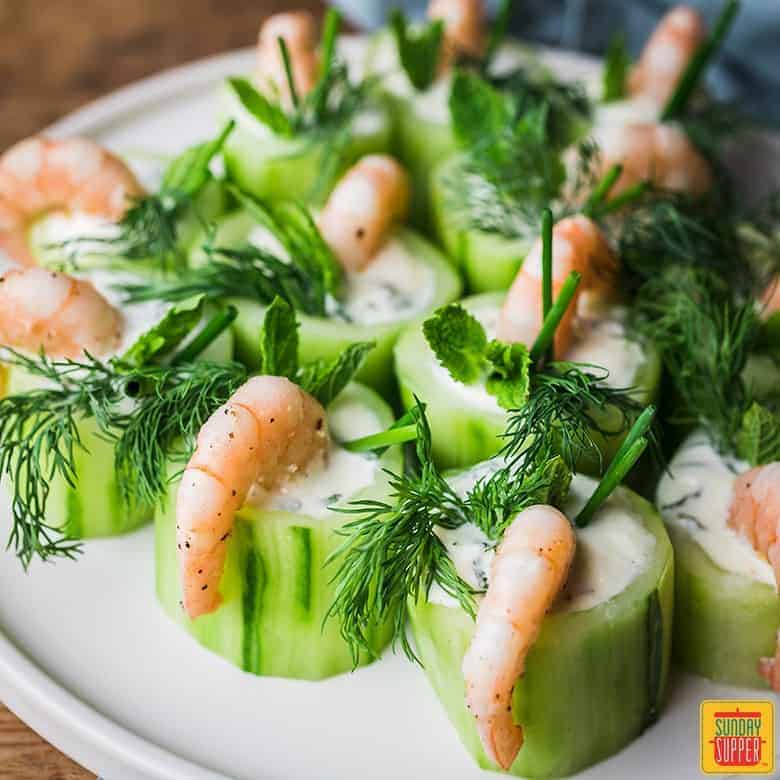 Chicken Taquitos Recipe
Taquitos are traditional Mexican cuisine. These baked chicken taquitos are one of our favorite easy tapa recipes – easy to make, easy to eat, and even easier to enjoy! These may remind you of the Cheesecake Factory chicken taquitos when you bite into them – and they are delicious.
Chicken Taquitos Recipe
Load up your freezer with easy baked taquitos! This chicken taquitos recipe features flavorful chicken baked in corn tortillas with homemade avocado crema.
Get this recipe!
Thai Chicken Meatballs
These Thai chicken meatballs are the perfect bite-size appetizer! Albondigas, or meatballs with sauce, are a common Spanish tapas recipe, and we really think these easy chicken meatballs fit right in. Plus, the dipping sauce is beyond tasty!
Thai Chicken Meatballs
Perfect BITE-SIZED appetizer, Thai chicken meatballs are your GO-TO football party finger food. Quick & easy to make ahead & serve hot or cold!
Get this recipe!
Elote Recipe (Mexican Street Corn)
Elotes Mexicanos, or Mexican Street Corn, deserves a spot at a tapas-style table! You NEED to try our Elote recipe – it is quick to make and addictive. You can enjoy it straight on the cob or in a cup, so it's a perfect easy tapa recipe!
Elote Recipe-Mexican Street Corn
Mexican street corn, or Elotes Mexicanos, is a traditional Mexican food that's quick to make and crave-worthy! This elote recipe is a must try for the summer.
Get this recipe!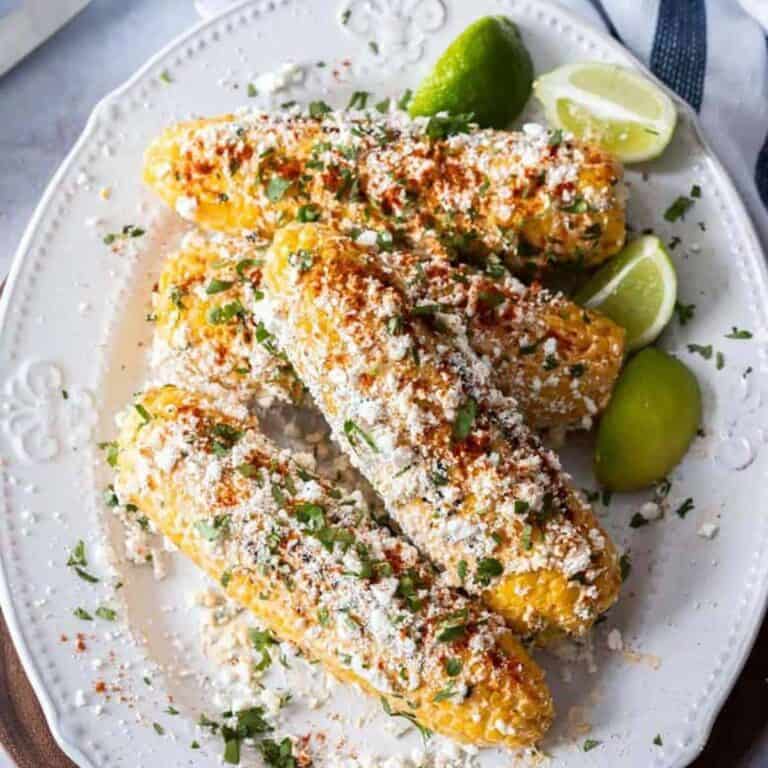 Did you try our favorite easy tapas recipes? Which ones do you like the most? Let us know in the comments below! We love to hear from you.
📌 Pin it for later!
Did you enjoy this page? Save it on Pinterest for later!


Other Spanish Foods to Try
Mexican Food Recipes