This post may contain paid links. If you make a purchase through links on our site, we may earn a commission.
My Easy Tapas Recipes are just what you need to throw the perfect party! Tapas dishes are the best for feeding a crowd and keeping your guests entertained. These easy-to-make appetizers will up your party game and have everyone asking you for the recipe!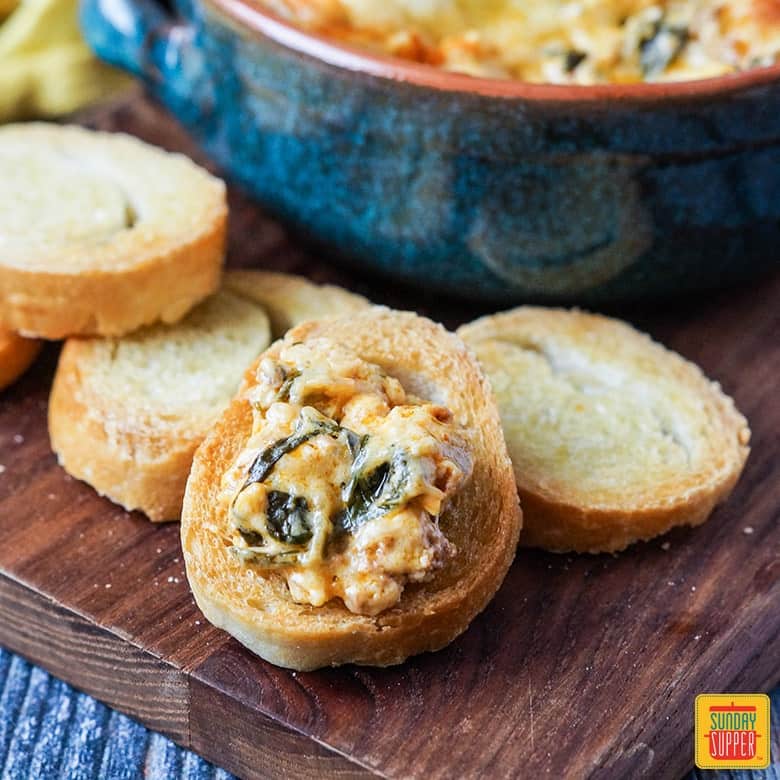 Jump to:
Easy Tapas Recipes
Let me start off by saying I am wild about tapas recipes. I love the simplicity of making appetizers for a party while still having the complex flavors of the main course meal. And who doesn't love a plate of appetizers? Everyone always raves about the appetizers!
That's what these easy tapas menu ideas are all about. They're the perfect solution to throwing an amazing party where your guests can enjoy a variety of dishes, and you can avoid the stress of making a full-course meal.
The best part about making a tapas buffet – okay, one of the best parts! – is how easy they are to make ahead of time. You can prep all of these appetizers before the day of and simply warm them up if they're served warm. You can even serve dessert tapas!
What are tapas?
Tapas are small plates of food, snacks, or canapés, originating from Spanish cuisine. In Spain, there are an endless variety of tapas dishes varying on what part of the country they're being served in.
The name comes from "tapar", which is Spanish for "to cover", but where it all started is up for debate. Today, though, tapas recipes are so popular, there are entire restaurants devoted to serving them.
You may be familiar with tapas bars, where you can sample all different types of traditional Spanish tapas recipes and fresh takes on the idea. Needless to say, tapas dishes are perfect for entertaining guests for how easy they are to make and the wide variety you can offer.
Tapas Ideas
What really makes tapas food what it is is that each dish is a snack or appetizer, so have fun with your tapas menu ideas! You don't have to stick to the traditional to enjoy a creative tapas menu.
I put together my favorite tapas plates, including several non-traditional dishes of my own that would fit perfectly on a tapas menu. Enjoy!
Garlic Butter Steak Bites
Steak bites are a great tapas recipe! Serve them on toothpicks or even skewered with roasted vegetables to make them easy handheld bites.
Elote Recipe (Mexican Street Corn)
Elotes Mexicanos, or Mexican Street Corn, deserves a spot at a tapas-style table! You need to try my famous Elote recipe. It is quick to make and addictive. You can enjoy it straight on the cob or in a cup, so it's a perfect easy tapas recipe!
Chicken Empanada Recipe (Empanadas de Pollo)
Empanadillas are a common Spanish tapas recipe. You may know them as empanadas, which are a type of fried or baked turnover or hand pie. These Emapnadas de Pollo come together with deliciously seasoned chicken, and you can easily make them with Goya discos or homemade empanada dough. Perfect for a tapas menu!
Lebanese Kebabs with Beef
Traditional Spanish tapas include pincho moruno, which is a type of spicy kebab. Typically, these kebabs are chicken, pork, or lamb, but in our case, we love beef! These Lebanese kebabs are one of our favorite tapas ideas.
Potato and Chorizo Bites
Chorizo is a very common ingredient in Spanish tapas recipes! Some of the best tapas recipes use chorizo. Our Potato and Chorizo bites are made with Portuguese cuisine in mind, but fit in perfectly with other tapa recipes. We recommend you dip these delicious bites in homemade Peri Peri sauce.
Chorizo Cheese Dip with Spinach
Dips make great easy tapas recipes! Our chorizo cheese dip with spinach uses spicy chorizo and three types of cheese for a creamy, easy dip recipe everyone will love. Try serving it with bagel chips.
Air Fryer Mushrooms
Light, crispy, and easy, these air fryer mushrooms are a dream come true. While not your typical tapas fair, they fit in perfectly with other easy tapas recipes. Dip them in all your favorite sauces, and enjoy!
Puerto Rican Baked Empanadas (Pastelillos de Carne)
Puerto Rican Baked Empanadas, also known as Pastelillos de Carne, are a wonderful addition to your tapas menu! These savory hand pies are made with ground beef, sofrito, and potato filling.
Pan-roasted Artichokes
My alcachofas al ajillo recipe is one of the best Spanish tapas recipes you can make. These pan-roasted artichokes are absolutely delicious, complete with roasted tomatoes and plenty of garlic.
Fried Oysters Recipe
Fried seafood is a great choice to go along with your tapas menu ideas, and we highly recommend this fried oysters recipe. You could compare them to chopitos, which is a fried squid recipe you may see as a tapa. Squeeze a little lemon on top, and you won't be able to get enough of this easy oysters recipe!
Shrimp Shumai
Shumai are a staple dim sum recipe, which also makes them a perfect tapas dish! These shrimp shumai are easy to make and unbelievably delicious. Everyone will want the recipe for these!
Air Fryer Meatballs
Meatballs are crazy popular tapas recipes. You can do just about anything you want with them! Serve them with a sauce or a glaze on toothpicks and enjoy.
Instant Pot Meatballs
My Instant Pot Meatballs have been praised for how moist and delicious they are. They are another great option for tapas meatballs!
Cucumber Canapes with Shrimp
Simple, yet classy, these cucumber canapes with shrimp are easy and delicious, with homemade tzatziki filling and an herb topping. Shrimp appetizers are perfect for any tapas menu.
Jalapeno Popper Deviled Eggs
Deviled eggs make amazing tapas. One of my favorites, and my most popular, is my recipe for Jalapeno Popper Deviled Eggs with bacon. Give them a try!
Candied Bacon (Millionaire's Bacon)
Speaking of bacon, candied bacon is the ultimate tapas recipe. You can break it up and serve it on your other dishes, or enjoy it as is!
Stuffed Portobello Mushrooms
Stuffed mushrooms are a classic appetizer, and these portobello stuffed mushrooms make a perfect tapas menu idea. Give them a try!
Air Fryer Asparagus Fries
Asparagus fries made in the air fryer are unbelievably good with a quick and easy aioli. Serve them up as part of a tapas buffet, and everyone will be happy.
Baked Brie with Crescent Rolls
Serve my baked brie with apple slices, bagel chips, or anything else you'd like to dip in the luscious, melty cheese. The crescent roll crust makes this an unbelievably good appetizer.
Baked Potato Wedges
My baked potato wedges are a perfect idea for a tapas menu. Serve them with fry sauce!
Papas Rellenas
Stuffed potato balls make the best tapas recipe! I love the beef filling in these papas rellenas.
Prosciutto and Burrata Appetizer
You can serve this burrata dish as an appetizer or a salad, so it's super versatile. It's a popular tapas dish and so delicious!
Spinach Puff Pastry
Puff pastry recipes make great tapas ideas, and these spinach puff pastries are the best of the best.
Chicken Taquitos Recipe
Taquitos are traditional Mexican cuisine. These baked chicken taquitos are one of our favorite easy tapas recipes. They're easy to make, easy to eat, and even easier to love! These may remind you of the Cheesecake Factory chicken taquitos. Yum!
Blistered Shishito Peppers with Pesto Dip
Shishito peppers make an incredible appetizer, and I bet you'll love them as a tapas recipe. Not only are they easy to make, but they're unforgettably delicious. Plus, the citrus pesto dip I serve them with is from a favorite restaurant of mine – you can't get any better than that!
Rissóis de Camarão
My personal favorite, these Portuguese shrimp empanadas are a beloved dish in my household and make an excellent addition to a tapas menu.
Thai Chicken Meatballs
My Thai chicken meatballs are the perfect bite-size appetizer! Albondigas, or meatballs with sauce, are a common Spanish tapas recipe, and we think these easy chicken meatballs fit right in. Plus, the dipping sauce is beyond tasty!
Holiday Charcuterie Board
My Holiday charcuterie board is always a huge hit!
Pumpkin Empanadas
Pumpkin empanadas are the perfect dessert tapas. Super yummy for a fall party!
Caramel Apple Empanadas
My most popular dessert empanadas – caramel apple empanadas! They make amazing dessert tapas.
Key Lime Pie Squares
One of the best dessert tapas are these key lime pie squares. Everyone I've made these for has asked me for the recipe!
Butter Board
Making a fun and tasty butter board is so easy and always a huge hit served with toasted bread points!
Ham and Cheese Sliders
So simple yet so incredibly delicious. These sliders are guaranteed to be the hit of your next get-together!
Pinwheel Sandwiches
I love this option because you can make them ahead of time and serve with your favorite sauce such as peri peri sauce.
Types of Tapas Dishes
There are many types of tapas. Tapas dishes can either be cold or hot, and from there, the varieties are endless.
You may already be familiar with some common types of tapas. Here are just a few examples:
Aceitunas: Marinated and seasoned olives.
Calamares: Deep-fried squid rings, or calamari, are popular Spanish tapas.
Empanadas: Also known as empanadillas and pastelillos, in Puerto Rican cuisine.
Tortilla paisano: A famous Spanish omelet made with a tortilla containing chorizo and vegetables.
Pincho, pintxo, or pinchu: Tapas skewered to bread using a toothpick, common to Basque Country and generally consisting of fish.
Charcuterie: Using local cheeses and meats, charcuterie is a popular tapas dish, with plenty of different varieties offered.
Did you try our favorite easy tapas recipes? Which ones do you like the most? Let me know in the comments below! I love to hear from you.
📋 Recipe