Baked crispy potato wedges are an absolute favorite at our house! They are soft on the inside and crispy outside, with a coating of simple seasoning that makes them amazingly delicious.
These crispy potato wedges are a healthier choice than french fries and just as tasty. They are the perfect side dish for a deliciously juicy rib-eye steak.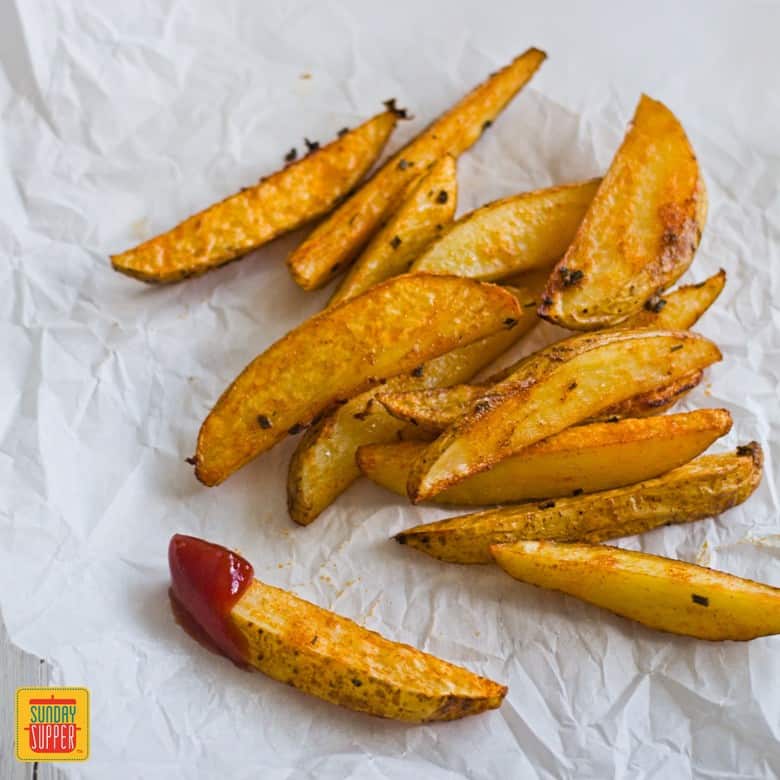 Ingredients for Crispy Baked Potato Wedges Recipe
5 medium russet potatoes
1/4 cup olive oil
1 teaspoon paprika
3 teaspoons garlic powder
2 teaspoons onion powder or dried green onion
2 teaspoons salt
2 teaspoons dried rosemary leaves (optional)
chopped fresh parsley (optional)
freshly ground black pepper (optional)
Potato Wedges Seasoning
The simplest way to season crispy oven-roasted potato wedges is with paprika, salt, and garlic. A few green onions or a sprinkle of fresh parsley can be added if so desired.
If you want to get creative, you could add additional spices. Some great choices are rosemary, allspice or black pepper. In fact, you can use any seasoning you like!
The best spices for seasoned potato wedges are the ones already in your pantry! Have fun and experiment with your favorite combination of flavors.
One of my favorite seasonings to use is Garlic Parmesan Cheese French Fry Seasoning. It tastes amazing with this recipe! Parmesan Potato wedges are such a fun twist on an old classic.
We are huge fans of Ina Garten recipes and are always inspired by her. We just love Barefoot Contessa's Roasted Potato Wedges with a touch of rosemary for extra flavor. She was the inspiration for our recipe.
How to Cut Potatoes into Wedges
You have to cut each potato in eights.
To cut potato wedges, first, halve the potato, then halve each half and then halve the remaining pieces as well.
The Secret to Super Crispy Fries
Soaking the Potatoes: Don't neglect to soak the potatoes in cold water. This allows them to lose some of the potato starch and become crispy while baking. If you skip this step, they will not be as crispy!
Flip only once: The key to crispy potato wedges is to flip them only once. In order to do this, you must wait until the potatoes are golden in color and crispy and then flip them. This will be at the approximate 20-30 minute mark.
How to Make Potato Wedges
Rinse potatoes very well but don't peel them.
Cut each potato lengthwise in half and then halve each half. Halve also the remaining pieces. That way each potato should be cut into eight wedges.

Soak the wedges in cold water for 10-15 minutes.

Preheat oven to 400 degrees.
Line a large baking tin with parchment paper.
In a large bowl combine olive oil, salt, and spices, except parsley.
Drain potatoes and dry them out with a tea towel (or thick paper towel). Place them in the bowl with the spices. Rub them with the seasoning, until all potatoes are evenly covered.
Arrange the wedges in a single layer, preferably with the cut side onto the paper. Make sure they are not overlapping one another. If they are too many to fit evenly in the baking sheet, bake them in two batches.

Roast them in the oven for about 20 minutes and then flip them, using a spatula.
Bake for another 10-15 minutes, until dark, golden and crispy.

Remove from the oven and sprinkle with fresh parsley. Let cool for 5 minutes and then serve.
Steak and Potatoes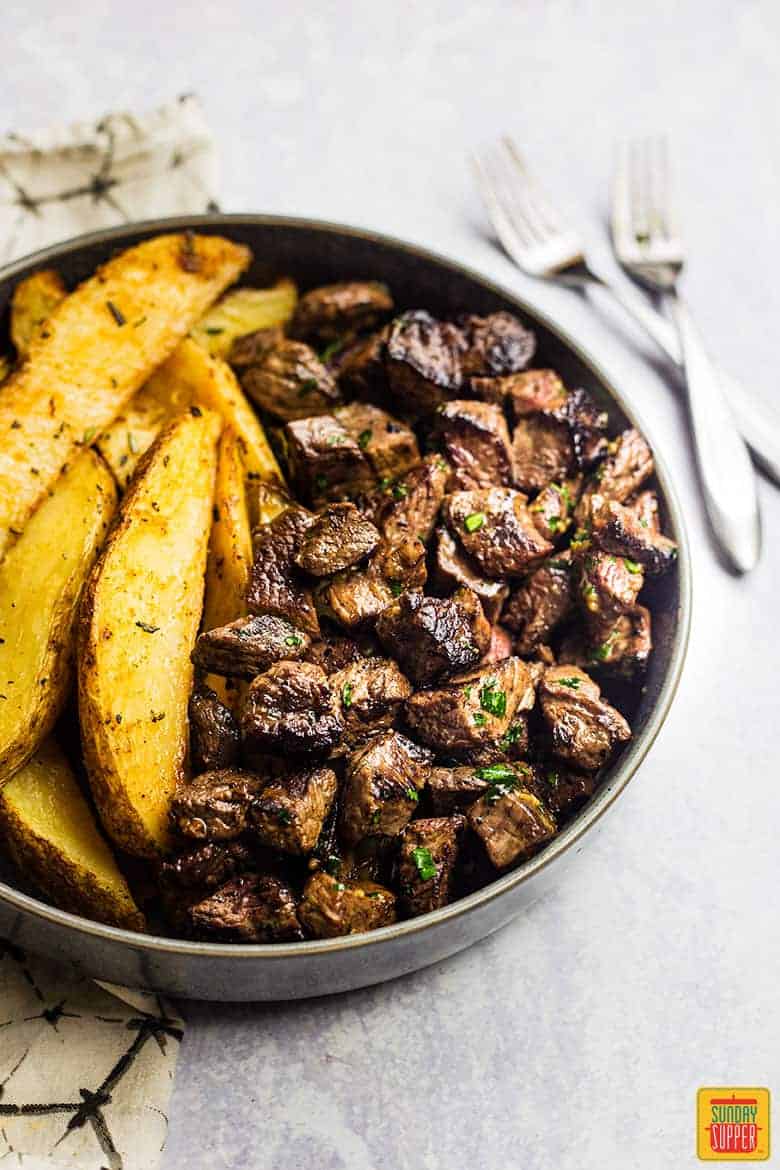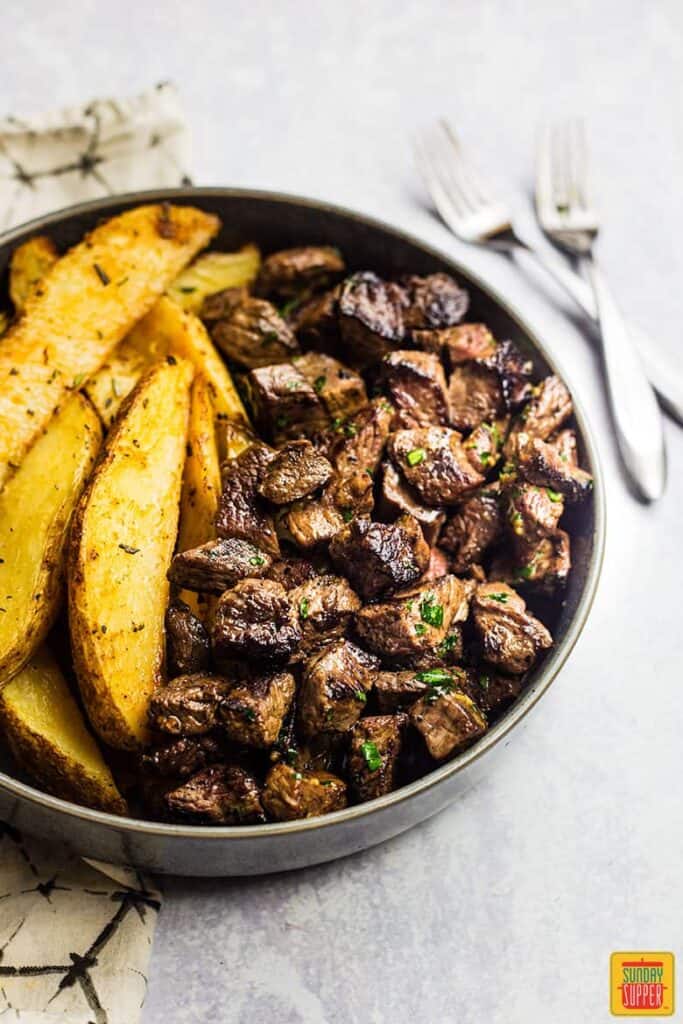 You can serve Crispy Potato Wedges with just about anything. But they do go perfectly with any kind of steak you can dream of. Especially our delicious Garlic Butter Steak Bites!
Favorite Burger Recipes
Best Grilled Cheese Sandwiches
What about the best-grilled cheese sandwiches? They are nothing without good crispy french-fried potatoes! You can dip those wedges into the soup and you now have a gourmet meal!
French Fry Sauce
If you prefer your potato wedges with a sauce, we have just the thing!
You can really serve anything with these easy wedges. Peri Peri Wedges have become some of our new favorites.
But my favorite of all time might be our Sriracha Fry Sauce Recipe. It is just an amazing combination of flavors!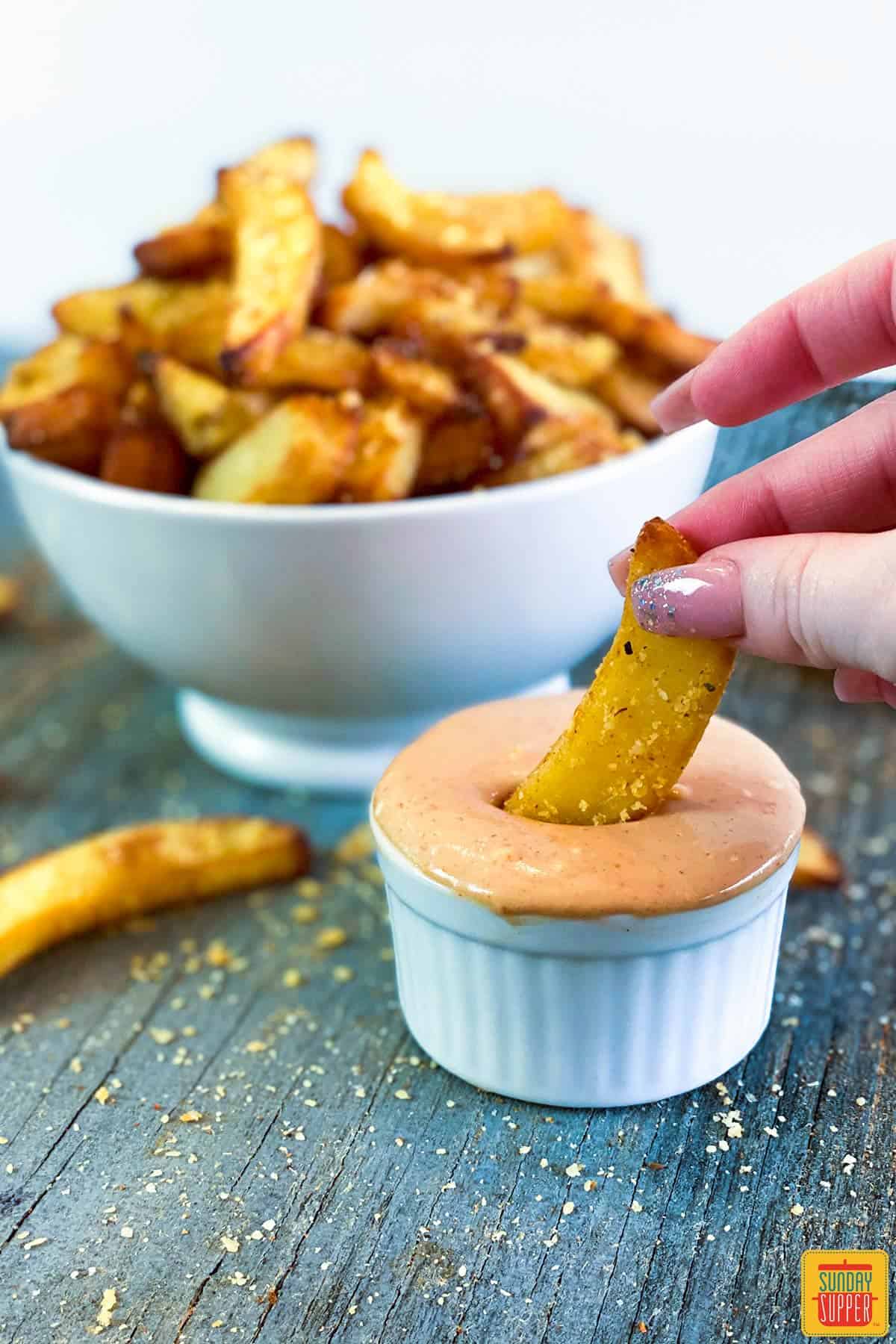 Other Favorite Potato Side Dishes:
Or save the video pin!
Sign up for our weekly newsletter!
Get free recipes delivered to your inbox every week!
Thank you for joining the Sunday Supper family!
Something went wrong.