Sunday Supper is an Amazon Associate and may receive compensation for purchases made through affiliate links.
Our Rhubarb Dump Cake is as easy and delicious as it gets! With just 5 ingredients and only 10 minutes of prep, this dump cake recipe is so simple and makes a perfect dessert for spring and summer. Add all of your ingredients to a baking dish, put it in the oven, then enjoy! It's that easy!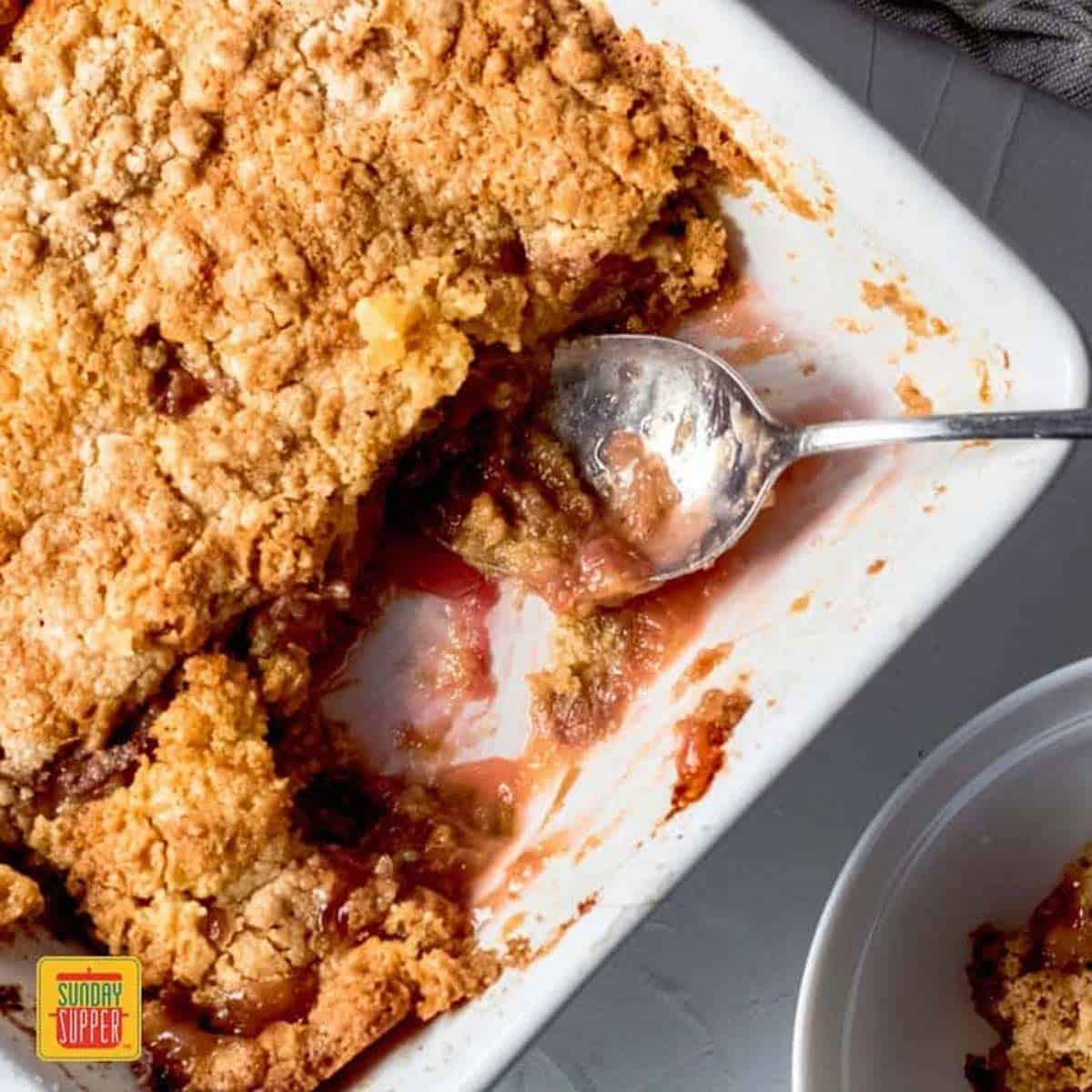 We're a big fan of dump cake recipes in my household. I love making my Strawberry and Banana Dump Cake in the winter and spring, and Pumpkin Dump Cake or Apple Dump Cake in the fall.
And of course, this Rhubarb Dump Cake! I guarantee you are going to love the flavors of this easy cake recipe. The best part about it is that it uses only 5 ingredients and is ready to bake with just 10 minutes of prep. It's so easy, your kids can help you with it!
🍽 Equipment
To make rhubarb dump cake recipe, you will need:
Knife to slice the rhubarb
A 9 by 13 inch baking dish
Cooking spray (or you can use butter) to grease the baking dish
Your oven
This is one of the easiest desserts I have ever made. You don't need any mixing tools or special equipment. It's so straightforward and simple!
And yet, everyone will think you spent a lot of time on it – because it tastes incredible! I know you're going to love making this recipe as much as I do.
Ingredients
rhubarb
1granulated sugar
yellow cake mix
1 water
unsalted butter
Easy dessert recipes with few ingredients are my favorite to make. I love that you can make this rhubarb dump cake with boxed cake mix, just like my Peach Dump Cake. What could be easier?
You may also like
If you like, you can use homemade cake mix, too. I use homemade cake mix in my strawberry dump cake linked above, and it is truly delicious. You can use the same cake mix recipe for this rhubarb cake.
Instructions
Preheat the oven to 350°F.
Grease a 9 by 13″ baking dish with cooking spray or butter. Add 4 cups sliced rhubarb to the dish and spread to cover the bottom completely.

Pour in 1 cup granulated sugar to evenly coat the rhubarb.

Spread 1 box moist yellow cake mix over the top of the rhubarb sugar mixture.
Pour in 1 cup water and 12 tablespoons melted unsalted butter.

Place the baking dish in the oven and bake for 45 minutes to 1 hour, or until the top is browned and a toothpick comes out clean from the center.
That's it! It's that easy! Add all of your ingredients to the dish and bake. It's so simple.
Make sure to evenly pour the butter over the other ingredients in the baking dish. You want that melted butter to cover every bit of the top. It will give you the most beautifully browned and flavorful dump cake recipe ever!
Recipe Tips
If you are slicing your own rhubarb, make sure to discard the roots and leaves. The roots and leaves of rhubarb are not safe to eat.
See below for my guide on how to cut rhubarb so you can slice your own and get rid of the roots and leaves!
Frequently Asked Questions
When is rhubarb season?
Hothouse rhubarb, which refers to rhubarb grown in a heated greenhouse rather than in the field, is at its peak at the beginning of the year through early summer. It actually tends to taste different than field-grown rhubarb, having a more mild flavor.
Field-grown rhubarb is in season from early spring to mid-summer.
You can also buy frozen rhubarb year-round, which means you can make this dump cake recipe whenever you like!
Can I use frozen rhubarb to make rhubarb dump cake?
Yes, you can use frozen rhubarb! If you don't have access to fresh rhubarb or are making this dish out of season, you can use pre-sliced frozen rhubarb.
Brands such as Dole sell the sliced fruit in the frozen foods section of the grocery store.
Measure out what you need, then let it thaw in the refrigerator or under running cold water in the sink before using it for this recipe.
How to Cut Rhubarb
Wash the rhubarb in cool running water and dry it with paper towels.
Cut off the leaves, then trim the end of the root. Discard both the root and leaves.
At the end of the stalk on one end, cut into the rhubarb. Grab hold of where you cut and pull down. This will peel off a layer of stringy fibers you can discard.
Slice the rhubarb into chunks, use in your favorite rhubarb recipes like this dump cake or Rhubarb Cake, and enjoy!
Like strawberries, rhubarb is best cut just before you plan to use it. Cut rhubarb will dry out if you don't use it right away, so slice it when you plan to make this recipe.
Can you freeze dump cake?
Yes! You can freeze dump cake after you bake it. Cover it with foil or transfer portions of the dump cake to an air-tight container. Freeze for up to 2-3 months.
Variations
The best part about making a dump cake recipe is that they are very customizable. You can add more than rhubarb to this cake!
Strawberries make a delicious addition to rhubarb dump cake. Rhubarb and strawberry pair together very well and taste wonderful in this easy cake recipe.
Raspberries or blackberries, or even both together, are also great choices for pairing with rhubarb. Blackberries and rhubarb are both tart ingredients, so adding raspberries will help sweeten it up in addition to the sugar.
Consider adding a squeeze of lemon or a bit of fresh mint, especially if you're using raspberries and blackberries.
Apples go well with rhubarb, too. Use peeled, diced, sweet apples if mixing with the rhubarb in this recipe. We have a rhubarb apple crumble that really highlights this delicious combination!
Similar Recipes
Want to try more rhubarb recipes? We have plenty to give a try! Rhubarb is one of our favorite spring and summer ingredients. If you have yet to try it, give this dump cake a try. We guarantee you will love it and want to try more!
For even more ways to use rhubarb, try these easy rhubarb recipes:
Did you try my rhubarb dump cake? Let me know what you think with a comment and rating below! I love to hear from you. If you have any questions about the recipe, please feel free to ask!
And don't forget to save the recipe on Pinterest to share. Take a picture if you make the recipe, and share it with us on the pin!
Rhubarb Dump Cake
Rhubarb dump cake is one of the easiest springtime desserts you can make, using cake mix and a handful of other SIMPLE ingredients in a few EASY steps!
🥘 Ingredients
4

cups

sliced rhubarb

1

cup

granulated sugar

1

box

moist yellow cake mix

1

cup

cold water

¾

cup

unsalted butter

melted
🔪 Instructions
Preheat oven to 350 degrees F.

Grease a 9×13 baking dish. Add the sliced rhubarb to the baking dish and spread to cover the bottom of the dish.

Pour the granulated sugar over the top of the sliced rhubarb.

Next, spread the box yellow cake mix over the top of the rhubarb and sugar.

Pour the water over the cake mix. Then, pour the melted butter over the cake mix.

Place in the oven and bake for 45-60 minutes or until the top is browned and a knife comes out clean from the center.
Notes
RECIPE TIP: If you're unable to find fresh rhubarb, you can use frozen rhubarb. Be sure to fully thaw before using.  RECIPE TIP: This dump cake is very moist – be sure to fully bake and check the center with a knife. You want the knife to come out clean. 
Nutrition
Calories:
333
kcal
Carbohydrates:
54
g
Protein:
2
g
Fat:
12
g
Saturated Fat:
8
g
Cholesterol:
30
mg
Sodium:
318
mg
Potassium:
140
mg
Fiber:
1
g
Sugar:
35
g
Vitamin A:
395
IU
Vitamin C:
3.2
mg
Calcium:
129
mg
Iron:
1
mg
Did you try this recipe?
Tag #SundaySupper on social and leave a comment below!