Sunday Supper is an Amazon Associate and may receive compensation for purchases made through affiliate links.
Our easy Slow Cooker Beef Short Ribs recipe is melt-in-your-mouth tender and so delicious! Cooking short ribs in the slow cooker with a rich red wine sauce, carrots, and onions is the making of a most delicious meal.
This is a super easy family dinner recipe everyone at the table will love! With only 15 minutes of prep and simple ingredients, you can set it and forget it while it cooks. Crock pot beef ribs are perfect for a busy weekday or even as Sunday supper!
Jump to:
What makes these the best beef short ribs?
They're easy: You can prep our beef short ribs recipe in the morning or even the night before, and let it cook in the crock pot all day long. It's an easy way to put a delicious and nutritious family meal on the table after a busy day!
They're delicious: The combination of the red wine and balsamic vinegar deglazing the pan after searing the ribs gives this dish the most amazing flavor.
Everything cooks at once: Cooking short rib recipes in the crock pot is perfect for making low-effort side dishes, since the veggies cook along with the ribs. Try adding fingerling potatoes and watch how flavorful they turn out!
No extra steps: These braised short ribs make their own sauce! No need to take any extra steps to make beef gravy.
This is a true favorite with our Sunday Supper Family!
Here's what our readers who have tried this recipe have to say:
"Perfection! Thanks for the awesome recipe." – @mosisboo
"Delicious. Roasted heirloom potatoes on the side." – @rungirl67
"Turned out AMAZING. Definitely a keeper!!! 😋😍🥘♥️" – @NurseKatieCarr
"Great recipe! I ended up serving with Mashed Potatoes and Fresh Corn off the Cob. Great for a summer day when you don't want to leave the oven on for a long time!" – @lisapaigeski
"So easy. Served over rice. DELICIOUS!!" – @louisewdowden
"Such a great recipe! I ended up only needing to slow cook for 6 hours. You can taste the build of flavors in the meat. It's not an overpowering punch, but more of a slow progression of flavors, which I feel like makes this dish taste and feel sophisticated." – @rachaelmendoza
Want to leave a comment or a photo of your own? Snap a photo and share it on our pin: Slow Cooker Short Ribs!
What are short ribs?
Tender, beef chuck short ribs are one of the best cuts of beef for slow cooking and grilling (as in our Grilled Beef Short Ribs recipe). They come from the front section of the backbone, and are beautifully marbled.
Marbling refers to the white lines of fat running through a cut of beef. If there is a lot of web-like marbling, you know you are in for a treat!
After braising for hours in the crock pot, these beef short ribs are incredibly juicy and tender.
What are the different cuts of Short Ribs?
Flanken Short Ribs
Flanken means "flank" in German, and it refers to short ribs (the ribs that are located along the back toward the belly of the cow) cut across the bones. Short Rib bones are cut into short 1/2 inch lengths. Sometimes, a few cross-sections of ribs are left in a strip.
English-style Short Ribs
The English style of short rib is cut between each rib to separate them. This leaves a thick piece of meat sitting on top of the bone. English short ribs can be left in one long piece or cut into smaller, 2-inch pieces.
Some Short Ribs are bone-in while others are boneless. They are both immensely juicy and packed with flavor.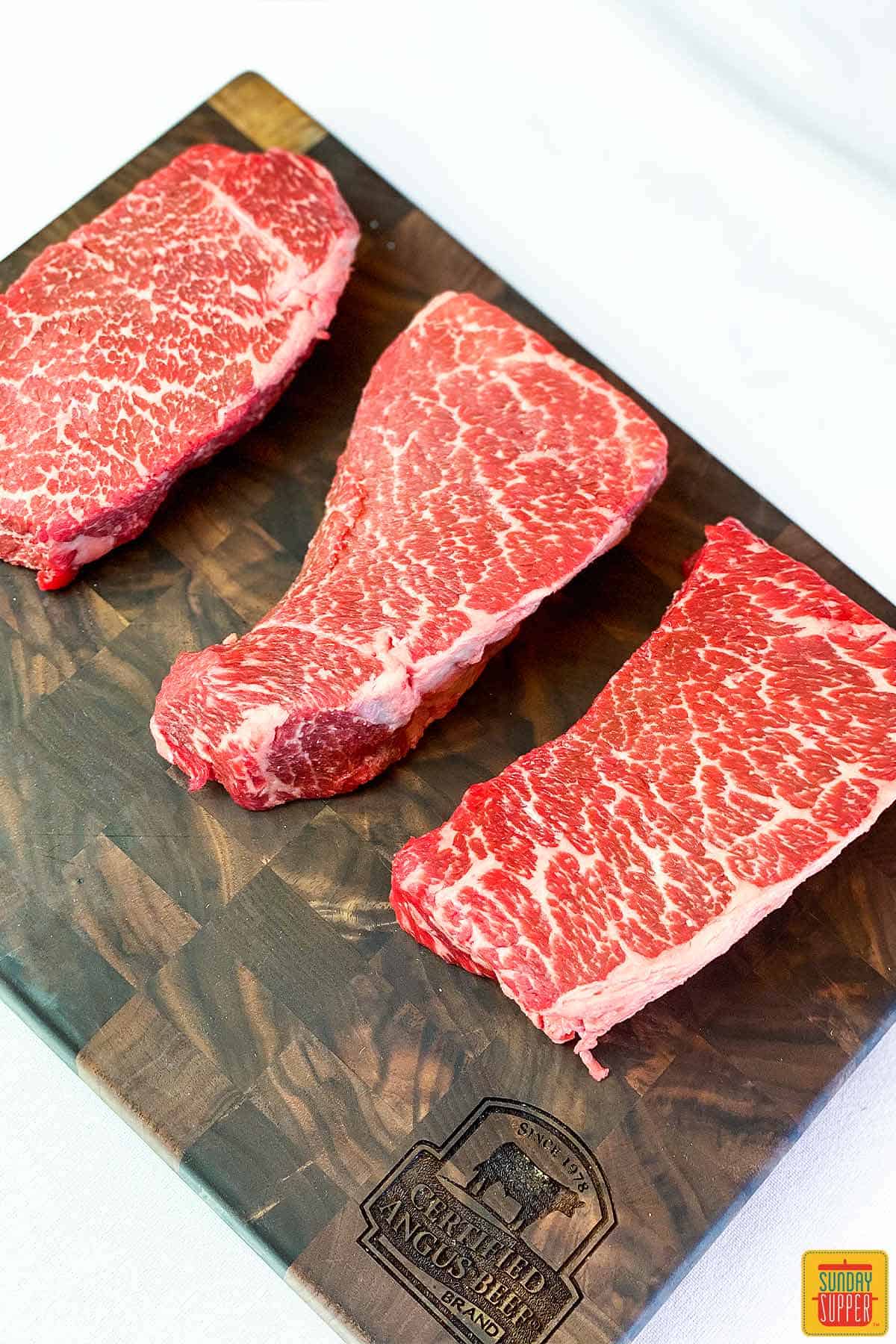 🥩 What do I need to make Slow Cooker Short Ribs?
Beef chuck short ribs: You can use bone-in or boneless short ribs.
Onion, celery, and carrots: This trio of veggies is a perfect complement to braised beef ribs. You can also add in other vegetables, like fingerling potatoes. Short ribs pair deliciously with sauteed onions and mushrooms, too.
Garlic: A must! You can mince your own garlic or use garlic from a jar or even garlic paste.
Red wine: We use red wine in this recipe. For a substitute, you can use red wine vinegar or beef stock. Along with beef broth, tomato paste, and balsamic vinegar, this will make the most delicious gravy while the ribs braise.
For the seasoning, you will only need salt and pepper, plus dried rosemary and bay leaves.
Should I use bone-in short ribs or boneless short ribs?
Bone-in beef short ribs in the slow cooker are our personal preference, but you can use boneless, too!
You can make this a bone-in or boneless short ribs slow cooker recipe – both work well. Why not try both and see which kind you prefer?
🔪 How to Cook Short Ribs in the Slow Cooker
Braising short ribs intensifies their beautiful mahogany color, and brings out their wonderful flavor. Follow these simple steps to make this crockpot beef short ribs recipe:
Pat beef chuck short ribs dry, then season them all over with salt and pepper. Dice the onions, carrots, and celery, and mince the garlic.
Heat oil in a large skillet and sear the ribs on all sides. Don't overcrowd the pan! Sear in batches if you need to. After searing, remove the ribs from the skillet and place them in the slow cooker.

Place the onion, carrots, and celery in the skillet, and cook for a couple of minutes to soften them. Add the garlic and cook for a minute.
After a minute, add the wine to deglaze the pan, followed by the balsamic vinegar, tomato paste, beef broth, dried rosemary, and bay leaves.

Bring the mixture to a simmer, then pour the sauce over the short ribs in the crock pot. Cover, and cook on low for 6 to 8 hours.
For full ingredient measurements plus recipe tips, scroll to the recipe card below!
Do you have to brown short ribs?
Our recipe requires searing the meat before adding it to the crock pot in order to build flavor.
When you sear the short ribs in a skillet, the outside of the meat caramelizes slightly. This builds a more flavorful dish, as that flavor releases as the beef braises in the crock pot.
We recommend using a cast-iron skillet to sear your beef.
Can Short Ribs be overcooked?
When you are cooking your short ribs in the crock pot, it is really hard to overcook them! This method produces juicy ribs every single time. It is simply the easiest way to cook short ribs.
Many cuts of beef on the bone, really come into their own when braising after searing. For example, our Slow Cooker Beef Tips and Gravy and Korean Short Ribs.
🥗 Side Dishes for Beef Short Ribs
We also love pairing these short ribs with garlicky, buttery Green Beans Almondine and Brown Sugar Glazed Carrots.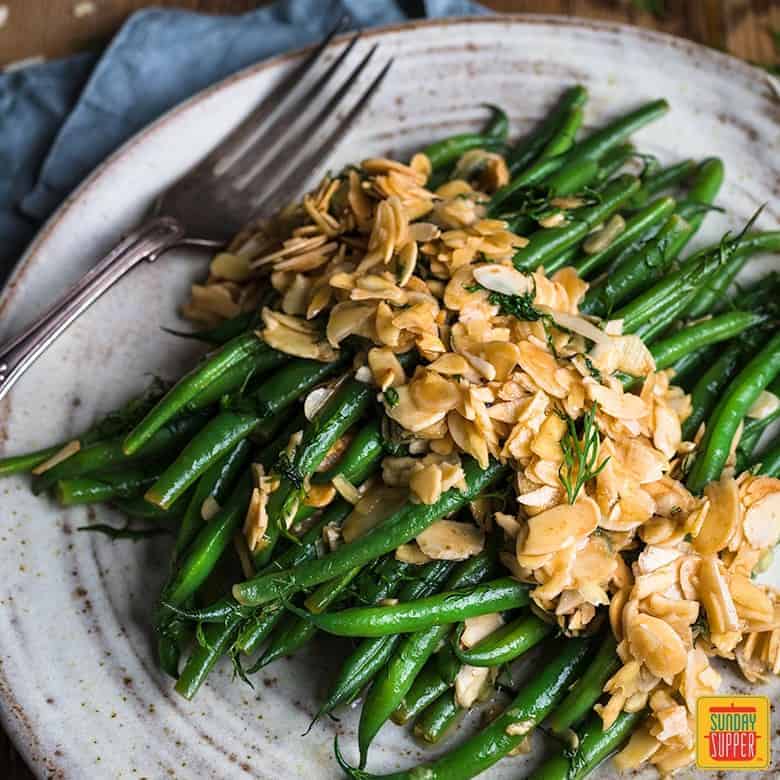 📖 Easy Beef Recipes
Love slow cooker boneless short ribs? Try some of our other favorite easy beef dinners for busy weekdays:
And, try some of our best slow cooker recipes:
📌 Pin it for later!
Did you enjoy this page? Save it on Pinterest for later!



Save the Video Pin

Did you try this recipe for slow cooker beef short ribs? We would love to hear what you think! Leave a comment and a rating below, or email us.
📋 Recipe
Slow Cooker Short Ribs
Slow Cooker Beef Short Ribs are a perfect weekday meal or special occasion dinner! Packed with flavor, they take only 15 minutes of prep and are an easy meal to make ahead of time.
🥘 Ingredients
2.5

lbs.

beef chuck short ribs

1/4

tsp.

salt

approx

1/4

tsp.

pepper

aprox

1

onion

8

ribs

celery

or one stalk

3

carrots

medium

1 1/2

Tbsps.

vegetable oil

or other flavorless oil

1

clove

garlic

crushed or 1 tsp finely diced garlic

1/2

cup

red wine

2

Tbsps.

balsamic vinegar

2

Tbsps.

tomato paste

3/4

cup

beef broth

1/2

tsp.

rosemary

dried

3

bay leaves
🔪 Instructions
Pat the short ribs dry, if needed, and sprinkle them all over with salt and pepper. Finely dice the onion, celery, and carrots.

Warm half of the oil in a skillet over medium-high heat and sear the short ribs on all sides in two batches so you don't overcrowd the skillet. Make sure to sear until you have a nice mahogany crust.

Put the short ribs in the slow cooker once browned, in one layer with the bones facing up.

Add the onion, celery, and carrots to the skillet along with the remaining oil. Reduce the heat slightly, as needed, so the vegetables don't burn. 

Cook the vegetables for a couple minutes then add the garlic, cook a minute more then add the wine and deglaze the pan, scraping any browning from the skillet. 

As it starts to simmer, add the balsamic vinegar, tomato paste, broth, rosemary, and bay leaf. Bring to a simmer then pour over the short ribs. 

Turn the slow cooker on low and cook for 6 – 8 hours. Remove the bay leaves when it is done and discard them. Serve over mashed potatoes, rice, or thick pasta like pappardelle.
Notes
For maximum flavor and tenderness we recommend Certified Angus Beef® brand beef short ribs.
I used bone in short ribs for this recipe but boneless short ribs also work well.
Make sure to give the short ribs a good amount of seasoning with salt and pepper to intensify the flavor. 
Important step: Heating oil in a skillet and searing the ribs on all sides in batches so you don't overcrowd the pan. This step is key to beautiful and flavorful short ribs. 
You can also use large pieces of carrots and serve them as your side dish. 
Nutrition
Calories:
562
kcal
Carbohydrates:
9
g
Protein:
48
g
Fat:
32
g
Saturated Fat:
16
g
Cholesterol:
146
mg
Sodium:
684
mg
Potassium:
1230
mg
Fiber:
1
g
Sugar:
5
g
Vitamin A:
3620
IU
Vitamin C:
9.7
mg
Calcium:
43
mg
Iron:
6.1
mg
Did you try this recipe?
Tag #SundaySupper on social and leave a comment below!
Photography by Caroline Williams.