This post may contain paid links. If you make a purchase through links on our site, we may earn a commission.
Perfect little bite-size appetizers, these Thai chicken meatballs are your go-to football party finger food. Quick and easy to make, these meatballs are so soft, plump and juicy! Make ahead of time and serve hot or cold!
Thai Chicken Meatball Recipe
With football season approaching, it's time to get thinking about planning your football snacks and gatherings! And what better way to celebrate, than with these perfect little bite-size Thai chicken balls.
Seriously, who doesn't love little delicious bite-size pieces of meat! The great things about these Meatball Thai Appetizers are that they can be made ahead of time, meaning you don't have to stress about being prepared the day of your party! As far as I am concerned, meatball recipes are the perfect elegant appetizer for every party.
These meatballs are light and fresh, combining the flavors of Thai in a perfectly balanced little snack. When it comes to Thai cooking, it's important that there is a balance between sweet, spicy, salty and sour. The sweetness comes from the sugar, the sour from the lime juice, salty from the fish sauce, and spicy from the sambal oelek.
Obviously, with raw chicken, you cannot taste to see if you're flavor balance is on point, which is why I've taken the hard work out of it for you! The quantities in the recipe for meatballs are tested to a tee!
These meatballs are so plump and juicy which is a result of the cooking style. When testing this recipe I was trying to decide whether to go for baked or fried meatballs. In the end, the baking method won!
How to Bake Thai Meatballs
Baking is the best option for this Thai Chicken Recipe, as they keep them super juicy and plump. I found the fried meatballs came out really dry and almost burnt. I think the absence of a sauce meant they dried out a lot quicker. Baking meant they kept their shape a lot better too.
There are two methods for baking. The first is to line a baking tray with foil and place the Thai chicken meatballs on the tray. The second option is to use a deep baking tray that has a wire rack large enough to fit in it. I found this method keeps the meatballs slightly more round and ensures even cooking, but both will work perfectly well!
Chicken Thai Meatballs Serving Suggestions
The Thai Dipping Sauce for Meatballs are key to elevating these Thai meatballs! Serve cold or warm, depending on your taste preference. Furthermore, these can also be made a day ahead and reheated when you're ready to serve!
So get baking these! This is one of the best chicken recipes for a crowd. And enjoy your Football parties with this delicious, bite-size finger food!
And definitely give our 5-ingredient Chicken Stir Fry Recipe a try.
Enjoy this dish as a part of a Tapas Menu!
For more chicken recipes and inspiration on how to cook chicken perfectly, follow my Chicken Temperature Chart!
📋 Recipe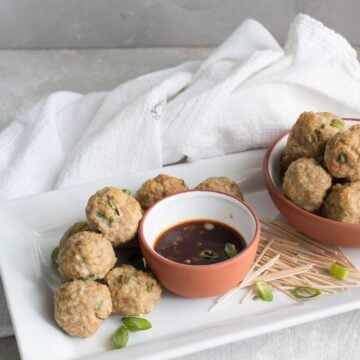 Thai Chicken Meatballs
Perfect BITE-SIZED appetizer, Thai chicken meatballs are your GO-TO football party finger food. Quick & easy to make ahead & serve hot or cold!
Instructions
Combine meatball ingredients in a large bowl.

Take 1 tablespoon of mixture, and roll into 24 even sized balls.

Place meatballs on a baking tray lined with foil, and spray with a little cooking spray. OR place meatballs on a wire rack in a deep baking tray and spray with oil.

Cook for 20-25 minutes, until meatballs are lightly browned on the outside, and fully cooked in the middle.
Nutrition
Calories:
40
kcal
Carbohydrates:
2
g
Protein:
3
g
Fat:
1
g
Cholesterol:
23
mg
Sodium:
154
mg
Potassium:
109
mg
Vitamin A:
20
IU
Vitamin C:
0.5
mg
Calcium:
7
mg
Iron:
0.3
mg
Did you try this recipe?
Tag #SundaySupper on social and leave a comment below!
Want more game day recipes? Try these!