Sunday Supper is an Amazon Associate and may receive compensation for purchases made through affiliate links.
My reverse-seared Instant Pot Ham recipe with Brown Sugar Glaze takes just 6 ingredients and 15 minutes to cook, for a juicy, easy ham dinner your family and guests will love! This is the simplest way to make a holiday dinner everyone will rave about.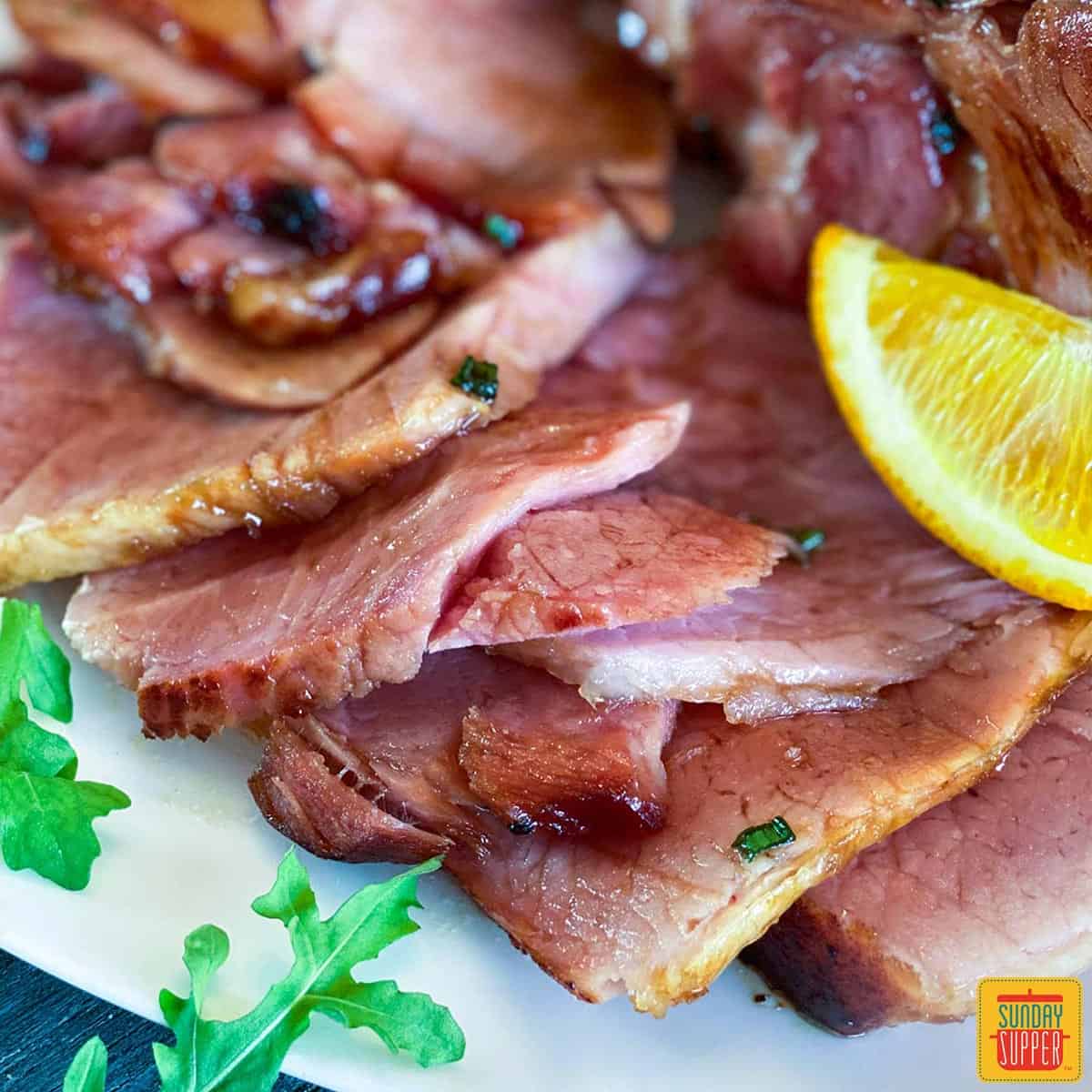 Jump to:
Best Christmas Ham Recipe
When I realized you can ham in the pressure cooker, I knew I had to give it a try. And, oh boy… wow! It is even easier than I expected, and it turns out so juicy and tasty. I've prepared ham this way nearly every year since, and it has never been dry. Instant Pot recipes are the best.
What I love most about cooking ham in the Instant Pot is it takes less time than cooking it in the oven. Plus, it saves you room to prepare your side dishes, too!
My Instant Pot ham dinner will change the way you prepare a Christmas ham. It's so easy, moist, and flavorful. Instant Pot ham recipes don't get any better than this!
OMG OMG…BEST ham we have ever had.I was hesitant to use this recipe as for years (40 plus) i have used the traditional pineapple mustard glaze and inserting whole cloves.This recipe allows you to sweeten up the ham…but the glaze does not over power the ham flavor. Will be making this my regular ham recipe.

Carmen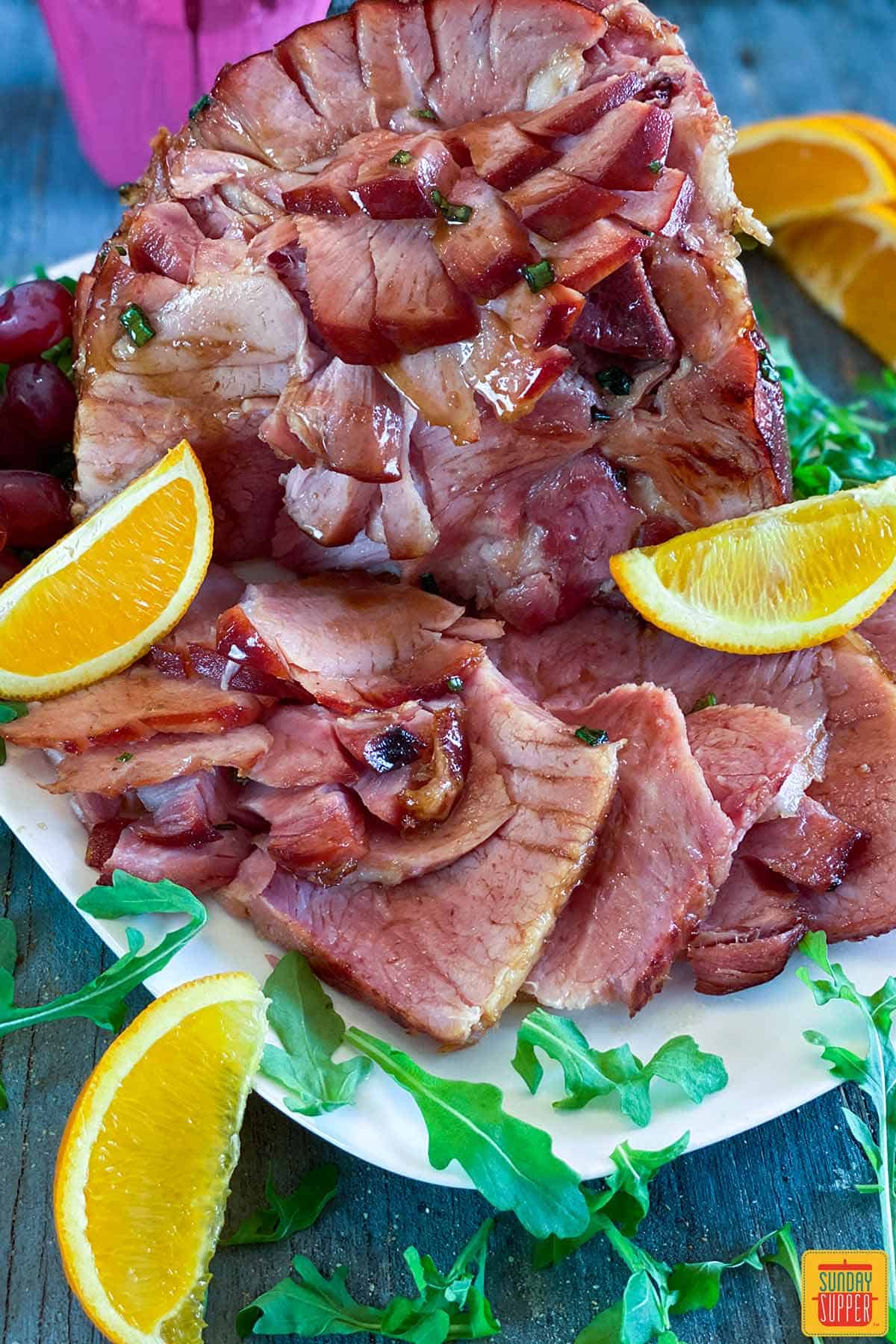 Brown Sugar Glaze for Ham
For this dish, I use my go-to maple brown sugar glaze. It gives the meat so much flavor and an irresistibly sticky, crispy skin!
Brown sugar glaze adds to the sweetness, with a little bit of orange juice to give it a tangy bite. Green onions tie it all off with a perfect little kick! It is SO flavorful! My Instant Pot ham recipe with brown sugar glaze is the best.
You can try other glazes, too. I love the flavors of honey sriracha glaze in my Air Fryer Ham recipe.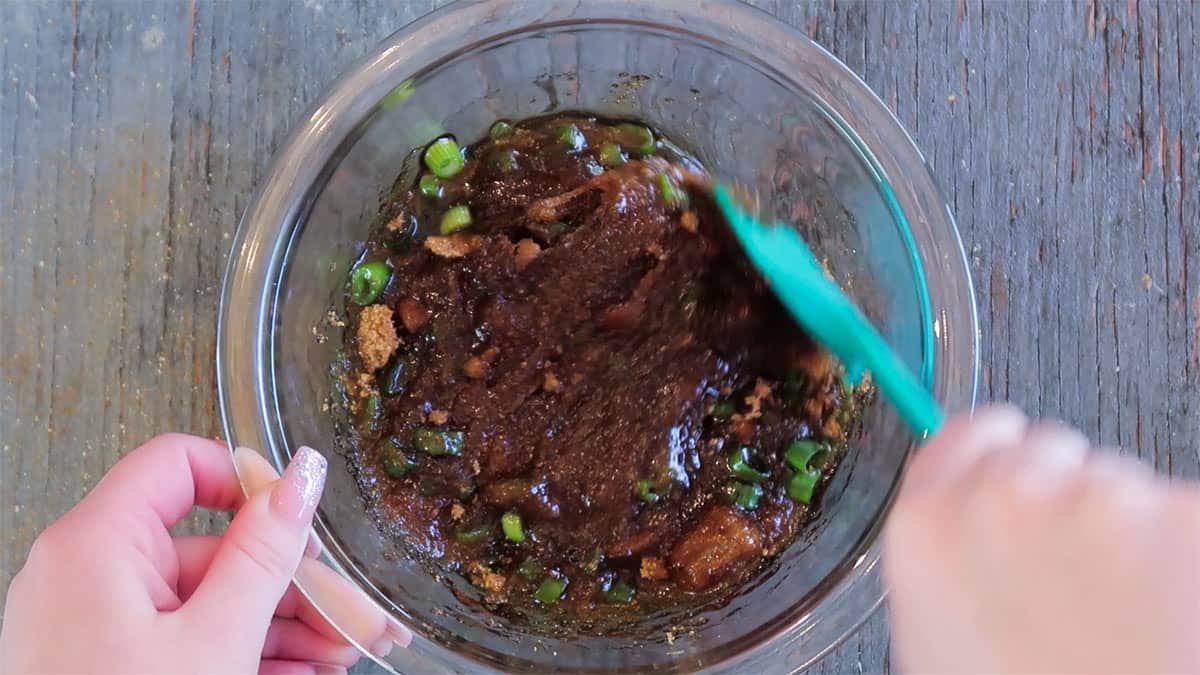 Reverse Searing for Ham
The reverse sear is what sets this recipe apart from other Instant Pot ham recipes and takes it to the next level. By searing in butter after cooking in the pressure cooker, you're giving the ham a crispy, browned skin that adds so much flavor to every bite.
Just like our Reverse Sear Instant Pot Prime Rib, searing is a must!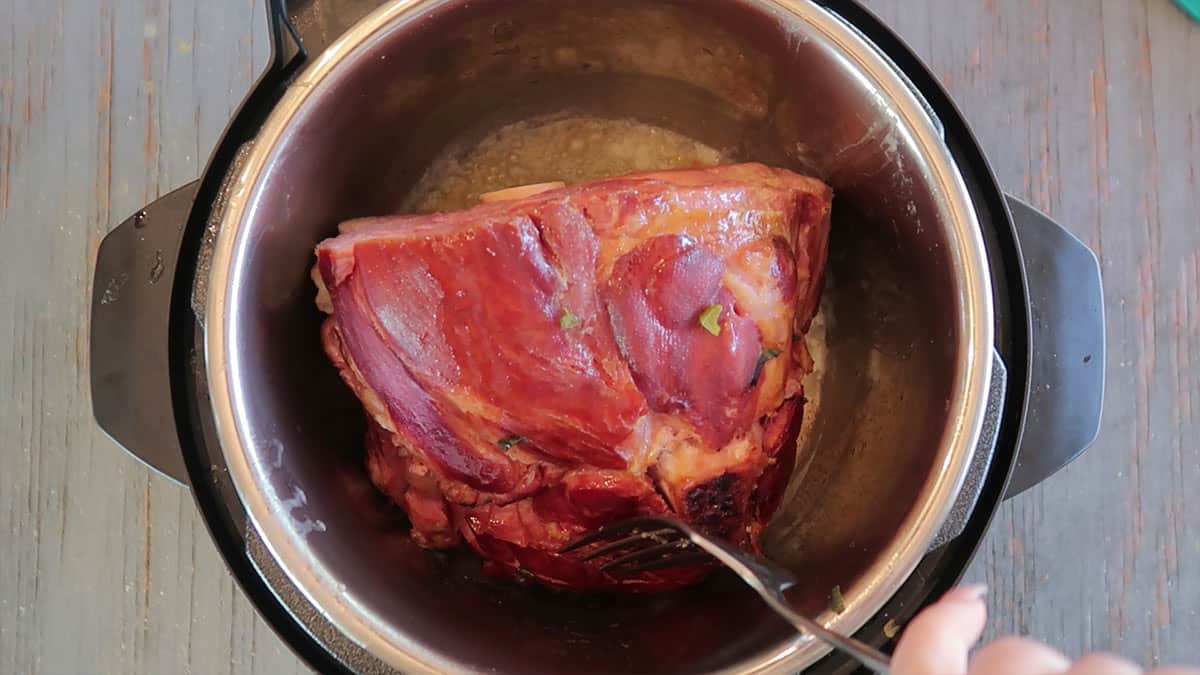 Instant Pot Brown Sugar Ham FAQs
Can you heat up ham in a pressure cooker?
Cook ham for approximately 2 minutes per pound when heating it up in the pressure cooker.
How long is leftover ham good?
Leftover ham will last 3 to 5 days in your refrigerator stored in an airtight container.
Can you freeze ham?
Allow ham to cool completely, then wrap in aluminum foil or freezer paper. Store until ready to use, up to 2 months.
Should I thaw frozen ham before cooking it?
Frozen ham in the Instant Pot should be thawed a day beforehand in the refrigerator.
Do you use pre-cooked ham?
Use a pre-cooked boneless ham for this Instant Pot recipe. You can use bone-in if you prefer, but make sure it is not too large.
Can you use spiral cut ham?
You can cook spiral cut ham in the Instant Pot, just make sure it's the right size to fit in your cooker. We use a 5 lb. ham for a 6 qt. Instant Pot.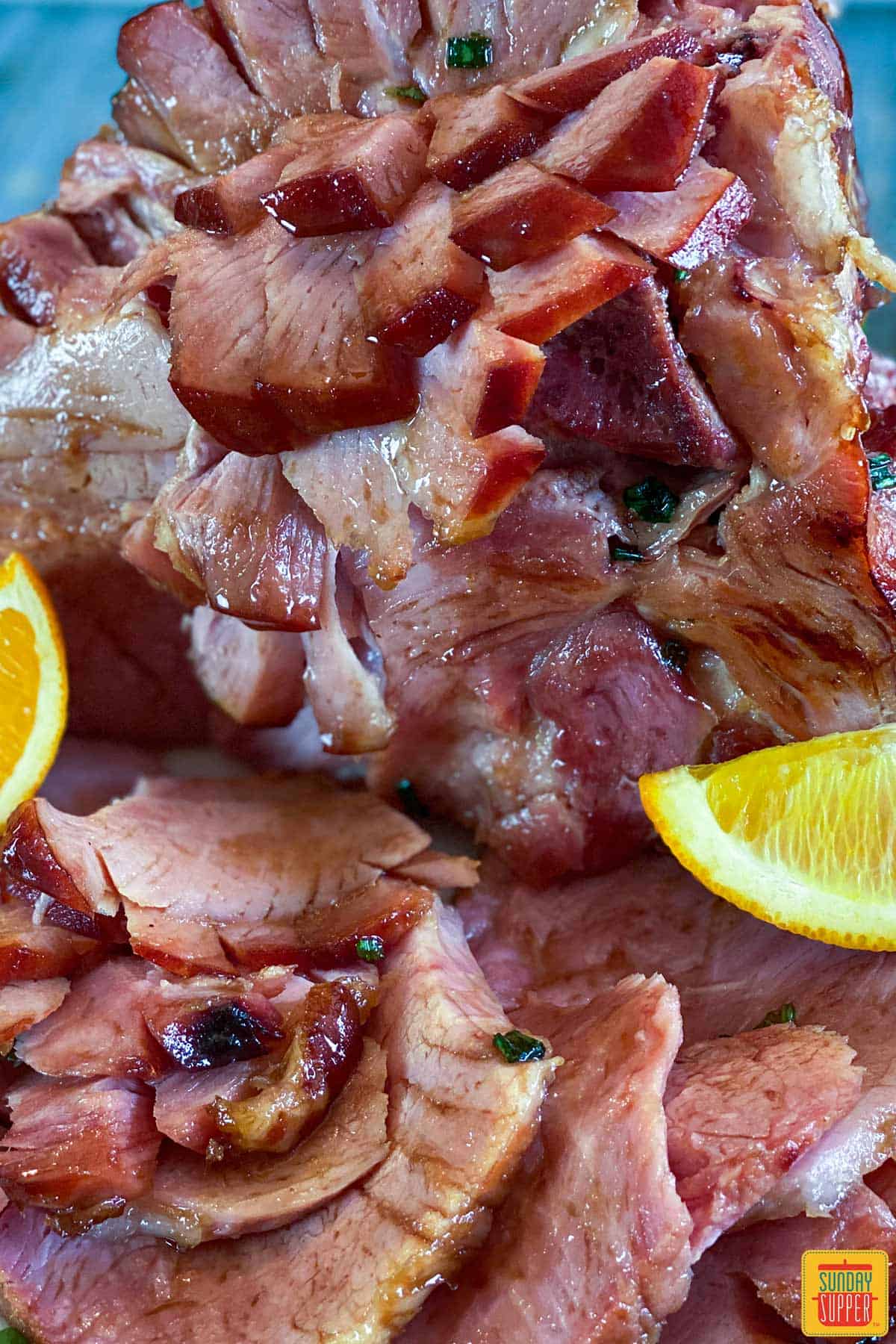 Instant Pot Ham Cook Time
Cook for approximately 2 minutes per pound.
2 lb.: 4 minutes on high pressure
3 lb.: 6 minutes on high pressure
4 lb.: 8 minutes on high pressure
5 lb.: 10 minutes on high pressure
Ham in Instant Pot Recipe Tips
Be careful when lifting it out of the pot. I use two large serving forks to lift it out from both ends.
You can also use a foil sling by folding a long piece of aluminum foil and placing it under the trivet.
Pour the orange juice at the bottom of the instant pot. It provides amazing flavor and your house will smell so good!
After cooking, add more glaze between each slice to maximize the flavor in every bite. Your leftovers will taste incredible!
Best Ham Recipes
Recipes for Leftover Ham
There are so many amazing sliced ham recipes you can make using the leftovers from this dish! Try my favorites…
What to Serve with Ham
Try one of my favorite side dishes for ham:
Our Readers Love our Instant Pot Ham Recipe
Super easy recipe. Will definitely be making this again!

Courtney
We did this ham for Easter. We were literally fighting over who got the last piece. It was to die for!

Joline
I made this and everyone loved it, Thank you for sharing

Sherrie on Pinterest
Did you try this recipe? Leave a comment and a rating below to let us know what you think! We love to hear from you!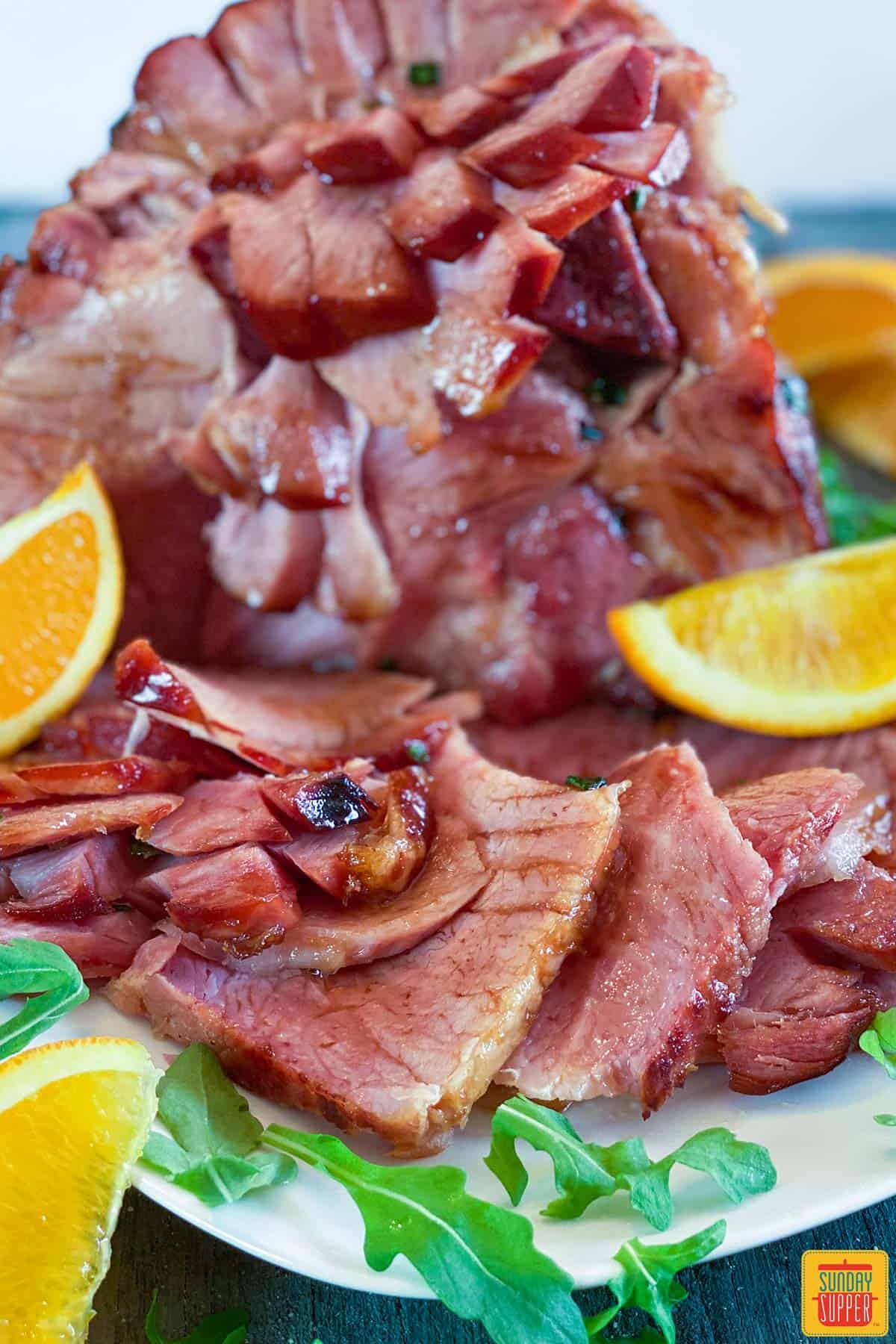 📌 Pin it for later!
Did you enjoy this page? Save it on Pinterest for later!



Save the Video Pin

Check out our Instant Pot Ham Web Story!
📋 Recipe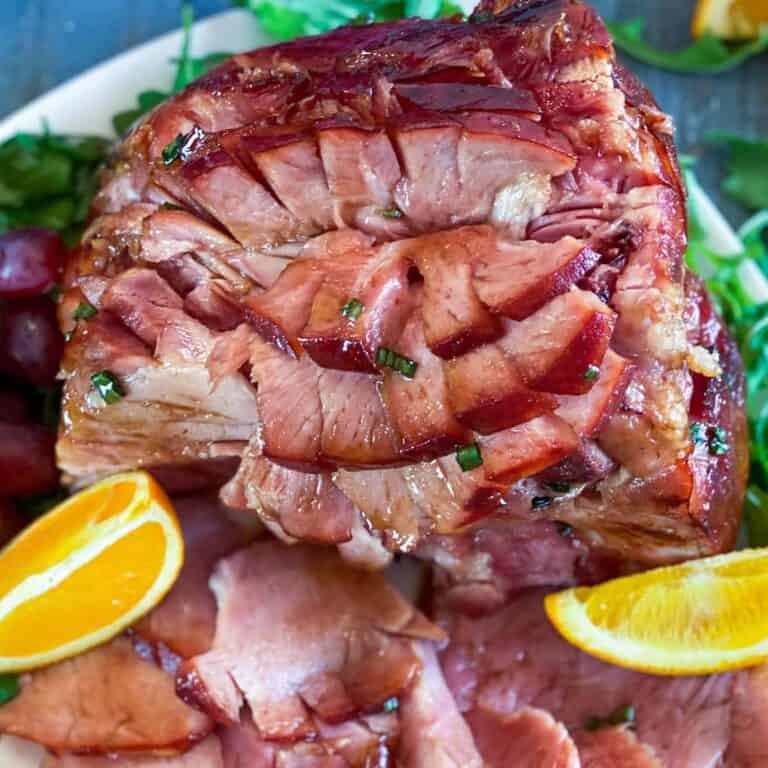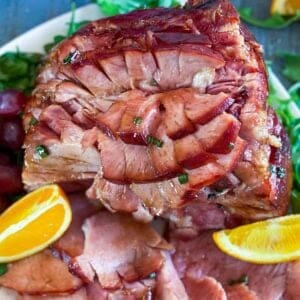 Instant Pot Ham Recipe with Brown Sugar Ham Glaze
Not only does it taste amazing, but Instant Pot Ham really is the easiest way to make ham. It takes just 15 minutes to cook, and the reverse sear gives it a super flavorful, crispy, and sticky skin.
Ingredients
5

lb.

ham

pre-cooked

1

cup

maple syrup

1

cup

brown sugar

3

green onions

sliced

1

cup

orange juice

½

stick

butter
Instructions
Combine 1 cup maple syrup, 1 cup brown sugar, and 3 sliced green onions to a mixing bowl. Mix well.

Add trivet to the bottom of your 6 qt.+ Instant Pot.

Pour in 1 cup of orange juice.

Place a 5 pound ham on top of the trivet, and cover with ½ of the glaze mixture.

Lock the lid in place and cook on high pressure for 10 minutes.

When 10 minutes is up, carefully release the pressure (use an oven mitt or dish cloth).

Carefully lift out of the pot and set aside on a plate. Drain the liquid from the pot.

Set the Instant Pot to saute mode and melt ½ stick butter.

Once it melts, add the ham. Sear on each side until browned all over.

Remove to a plate and slice. On top and in between each slice, evenly cover with the remaining ½ of your glaze mixture. Enjoy!
Notes
Serve with orange slices and arugula.
Reserve some green onions to put on top for extra color and flavor.
Try our Honey Sriracha Air Fryer Ham next!
Nutrition
Calories:
561
kcal
Carbohydrates:
46
g
Protein:
43
g
Fat:
22
g
Saturated Fat:
7
g
Cholesterol:
178
mg
Sodium:
2670
mg
Potassium:
799
mg
Fiber:
1
g
Sugar:
43
g
Vitamin A:
227
IU
Vitamin C:
66
mg
Calcium:
74
mg
Iron:
2
mg
Did you try this recipe?
Tag #SundaySupper on social and leave a comment below!