It's grilling season and I have been going a little crazy with the grilling lately. I've been waiting all winter long for the weather to improve. Now, that it finally has warmed up, I just want to grill everything in sight. This Grilled Porterhouse Steak with Foil Pouch French Onion Green Beans recipe is perfect because it is an entire meal done on the grill, and that means hardly any cleanup! Woot woot!
The original recipe I adapted is from the Certified Angus Beef® brand website, and it calls for cowboy ribeyes. However, that cut can be tough to find. When I went to my local ShopRite, where they have a GREAT selection of Certified Angus Beef® brand, I didn't see any ribeyes in the case. So I rang the bell for the butcher. He knew exactly what I was looking for, but he didn't have the cowboy ribeyes.  So, he asked me some questions about the meal I was planning to make, and based on what I was planning, suggested that I substitute a porterhouse cut instead. He was so helpful and knowledgeable. As a result, I will be sure to shop at that store for my Certified Angus Beef® brand all the time! The porterhouse steaks ended up being a great substitution! All I had to do was salt and pepper them and toss them on the grill. Then, in no time at all I had an amazing grilled porterhouse steak meal and a happy family. Speaking of the meal, let's talk about the Foil Pouch French Onion Green Beans. My kids are not generally fans of green beans, but this veggie side dish was so TASTY, even they had to admit it was good! It was the perfect accompaniment to the grilled porterhouse steak!
How to prepare the foil pouch veggies
Cooking the veggies with the foil pouch was new to me. I have seen pre-made foil pouches in the store, however I just used regular heavy duty foil and made my own. Since there was quite a bit of food to try to fit into the pouch, I used two pieces of foil, each about 18 inches long. I placed one on top of the other, and folded and pinched the edges for three of the sides. Then I added all the ingredients and folded up the fourth edge. Make sure you are careful when handling the pouch, since it will be very hot after it has been on the grill for a few minutes!
Sunday Supper Movement is finding your inner cowboy this week with Cowboy Cooking and this Certified Angus Beef® Grilled Porterhouse Steak with Foil Pouch French Onion Green Beans is the perfect meal to serve on the ranch or at your next camping trip! Make sure you  check out all the Cowboy Cooking recipes the Tastemakers are sharing today below!
Feed your hungry cowboys and cowgirls by serving Grilled Porterhouse Steak with Foil Pouch French Onion Green Beans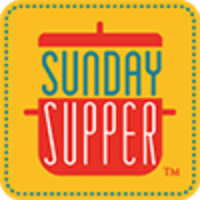 The Sunday Supper Movement is committed to bringing our readers delicious recipes that encourage them to gather and eat together around the family table. Search for your favorite ingredients on our Sunday Supper website. Also check out the Sunday Supper Pinterest boards for plenty more ideas and inspiration.
Sign up for our newsletter to get FREE Sunday Supper recipes delivered right to your inbox!
Grilled Porterhouse Steak with Foil Pouch French Onion Green Beans
Take advantage of grilling weather with this amazing steak dinner, complete with a foil pouch veggie side dish. Plus, it's easy prep and easy clean up!
Course:
Main Dish, Side Dish
Ingredients
12

ounces

red potatoes

cut into 1 inch chunks

10

ounces

fresh green beans

cleaned

1

Vidalia onion

cut into bite-sized chunks

8

ounces

button mushrooms

sliced

1

tablespoon

minced garlic

1/2

cup

French onion soup

5

tablespoons

unsalted butter

cut into 1/2 inch cubes

2

Porterhouse steaks

16 ounces each with bone - See note 1

salt and pepper

to taste
Instructions
Preheat grill to medium high.

Make a pouch with aluminum foil using two pieces approximately 18 inches long. Line them up one on top of the other, and fold and pinch the edges on three of the sides.

Add the potatoes, green beans, onion chunks, and mushrooms to the pouch.

In a small bowl, combine the French onion soup and the garlic.

Pour the liquid into the pouch, then add the butter on top.

Seal the fourth edge and place on the grill to cook for about 10 minutes.

Season the steaks with salt and pepper and place on the grill.

Cook until desired doneness is reached, then remove for the grill and let rest for 4 minutes.

Serve the vegetables alongside the steaks.
Recipe Notes
We recommend Certified Angus Beef® brand for best results
Nutrition Facts
Grilled Porterhouse Steak with Foil Pouch French Onion Green Beans
Amount Per Serving
Calories 629
Calories from Fat 360
% Daily Value*
Total Fat 40g 62%
Cholesterol 133mg 44%
Sodium 204mg 9%
Potassium 1410mg 40%
Total Carbohydrates 27g 9%
Protein 40g 80%
* Percent Daily Values are based on a 2000 calorie diet.
Check out more recipes and tons of information on beef at the Certified Angus Beef® brand website!