Sunday Supper is an Amazon Associate and may receive compensation for purchases made through affiliate links.
Everybody loves grilled cheese and soup! Kick it up a notch with EASY Gourmet Grilled Cheese Recipes and the best soups to pair them with!
These grilled cheese ideas have it all. We go beyond the traditional grilled cheese and soup pairings and bring you new favorites everyone at the table will love!
Try our best soup with grilled cheese recipes, like mushroom grilled cheese with creamy French onion soup, pesto grilled cheese with flavorful Italian vegetable soup, and more.
What makes the best gourmet grilled cheese recipes?
The best grilled cheese recipes start with three things: crispy bread, creamy cheese, and the best soups to pair them with. Keep these three things in mind, and you can make the perfect grilled cheese at home – restaurant-quality!
How to Make a Perfect Grilled Cheese
Best Bread for Grilled Cheese: A perfect grilled cheese starts with the bread. Forget about the bread aisle and pick up fresh bakery bread for the best results. You want it to be fresh and crisp. Or, make it yourself:
Avoid thick slices of bread. If your bread is too thick, your cheese will take longer to melt, so you may wind up with burnt bread before it's ready.
Best Cheese for Grilled Cheese: Pick a cheese that melts easily! This is the most important part of choosing cheese for grilled cheese. Here are some of the best cheeses for melting:

Fontina
Mozzarella
Gruyere
Cheddar

To add a cheese that normally does not melt well, pair it with a cheese that does!
Butter both sides of your bread. This adds flavor and keeps your grilled cheese from burning. Another choice is to use a little mayonnaise in place of butter.
Give it toppings! The best grilled cheese ideas are not plain. Try a grilled cheese with bacon, or a grilled cheese with tomato.
Best Grilled Cheese Toppings
How to Make Soup for your Gourmet Grilled Cheese Recipes
Cook vegetables for soup ahead of time to build up the flavors of your soup. Cook them until they're soft and flavorful on their own before you add them to the soup.
Be careful not to oversalt your soup. As you're cooking your soup, keep track of how much salt you're adding! Remember: you can always add more, but you can't take it back out.
Taste test your soup! Dip a spoon in and be your own taste tester. Sometimes it's good to get a second opinion, too.
How to Thicken Soup: If you want a thick soup to dip your gourmet grilled cheese recipes in, add cream or milk. Always add cream or milk slowly, while stirring, to stop it from curdling. Alternatively, you can thicken soup with pureed vegetables.
The Best Gourmet Grilled Cheese Recipes
We love trying new grilled cheese ideas! Here are our favorite gourmet grilled cheese recipes and all of the best soups to pair them with. You and your family will love these creative grilled cheese recipes!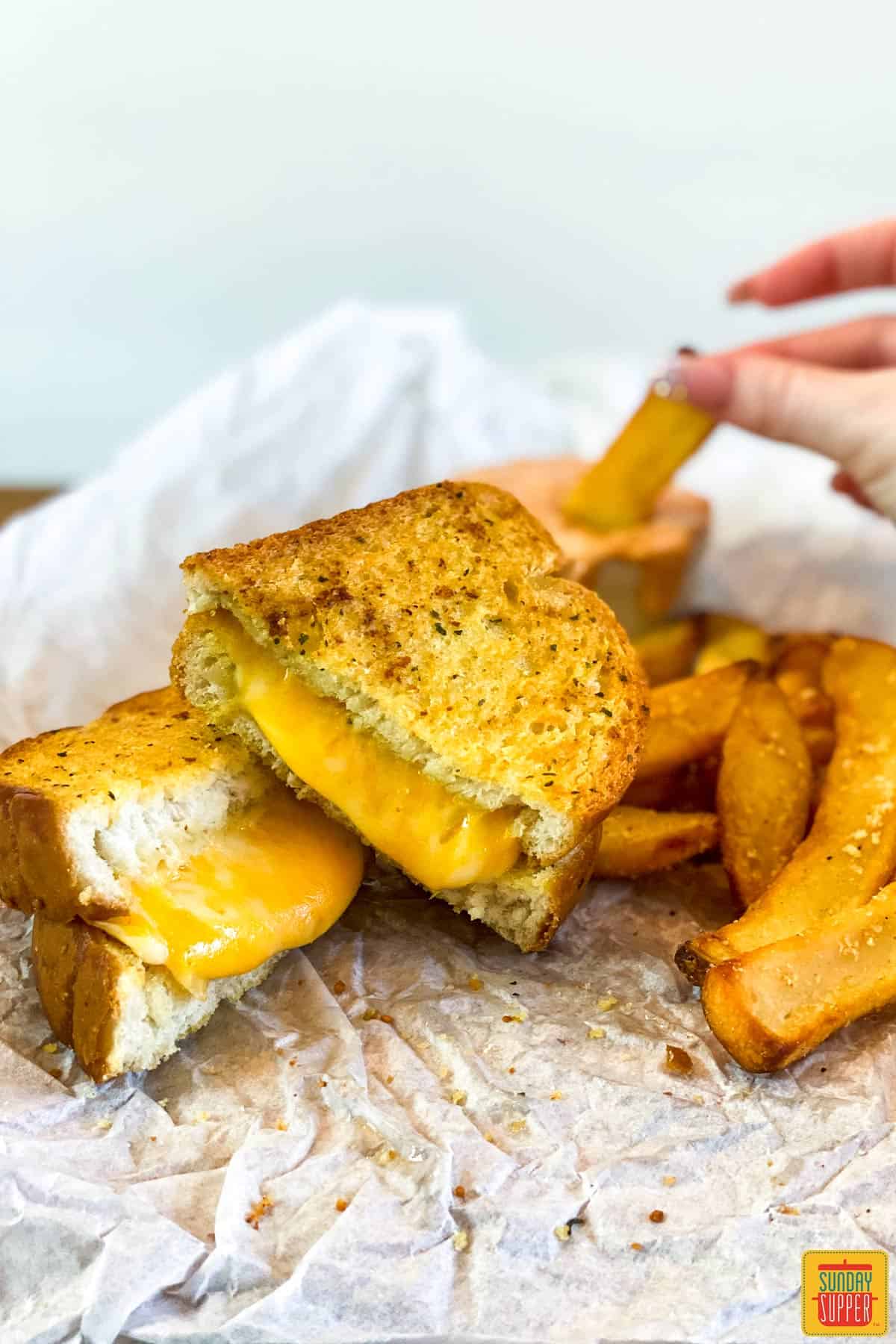 Air Fryer Grilled Cheese
Air fryer grilled cheese is oh-so-crispy and delicious! This is the perfect grilled cheese recipe, especially paired with air fryer frozen French fries, french fry seasoning, and sriracha fry sauce. Yes, please!
Grilled Cheese with Mushrooms and Easy French Onion Soup
This is the gourmet grilled cheese of your dreams! Mushroom grilled cheese and French onion soup is a magical combination of flavors. Creamy grilled cheese and an easy French onion soup recipe – what could be better?
Roasted Tomato Soup and Mini Grilled Cheese
Loaded with roasted tomatoes and sundried tomato pesto, this Roasted Tomato Soup is incredible! With bite-size mini grilled cheeses perfect for dipping, this is the best take on classic grilled cheese and tomato soup.
Pesto Mozzarella Grilled Cheese and Italian Vegetable Soup
Sourdough, basil pesto, mozzarella cheese, tomato, and a little butter make these pesto mozzarella grilled cheese sandwiches SO flavorful! Alongside a bowl of homemade Italian vegetable soup, this is one of our favorite gourmet grilled cheese recipes.
More Gourmet Grilled Cheese Sandwich Recipes
The Best Soups to Pair with Grilled Cheese
Thai Butternut Squash Soup: Silky smooth butternut squash with Thai curry
Easy Broccoli Soup with Spicy Roasted Chickpeas: Thick broccoli soup with crunchy spicy roasted chickpeas
Roasted Red Pepper Tomato Soup: Rich, smoky, and perfect for cold weather
Celery Root Soup: A creamy celery root bisque with potato, shallot, and white wine
Hungarian Mushroom Soup: An irresistibly creamy, rustic mushroom soup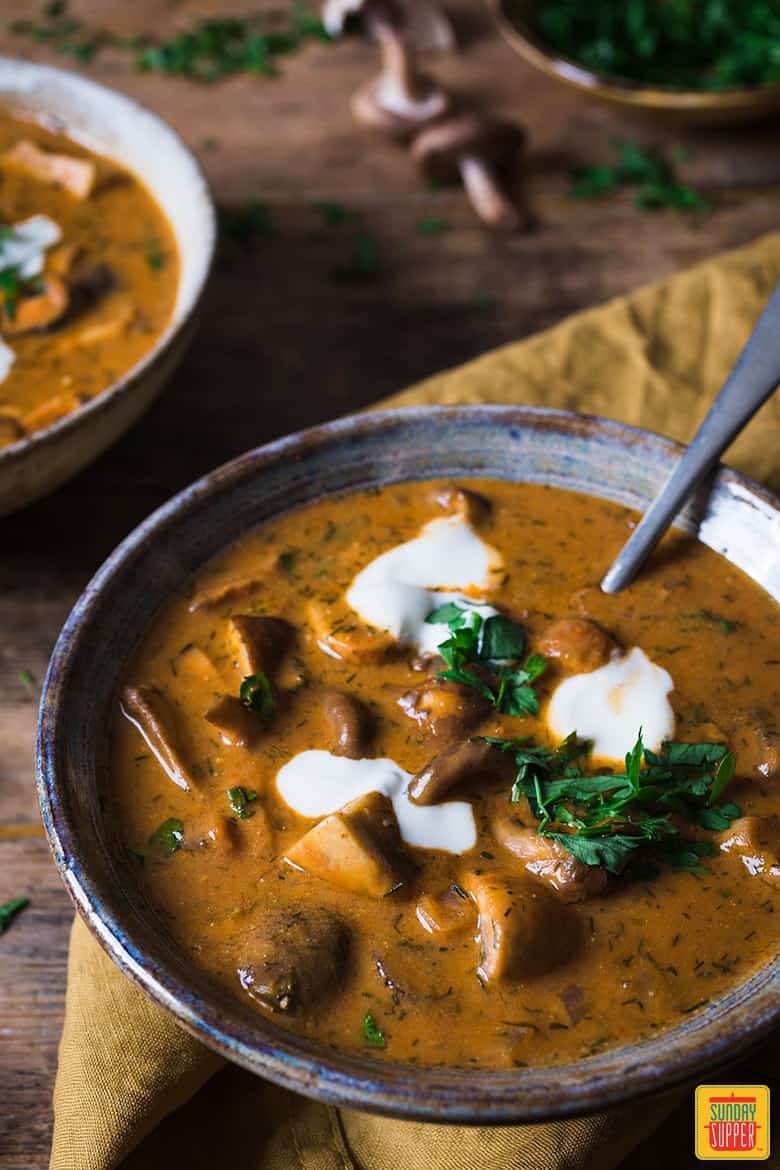 📌 Pin our gourmet grilled cheese recipes by clicking below!
What's your best soup with grilled cheese pairing? We would love to hear from you! Leave a comment below with your favorite grilled cheese and soup, or share with us on Pinterest.