It may be a restaurant classic, but don't think that means it's too difficult to make at home. Learn how to make the perfect Eggs Benedict recipe with an EASY hollandaise sauce and foolproof poached eggs in the comfort of your own kitchen!

What is Eggs Benedict?
Eggs Benedict is a traditional brunch dish consisting of bacon or ham, eggs, and Hollandaise sauce served over English muffins. It was first created and made popular in New York, although there are conflicting accounts of which restaurant made it first.
These days, it's a staple on many brunch menus around the globe, along with other favorites like Dutch Baby Pancake with Berries and Cream and Easy Baked Grits with Sausage Gravy. Just like those, it's also a dish you can easily enjoy at home!

What do you need to make Eggs Benedict?
You hardly need any ingredients to make Eggs Benedict. To make an easy Eggs Benedict you'll love, you'll need:
Eggs
English muffins
Canadian bacon or ham
Hollandaise sauce
What is the sauce on Eggs Benedict?
Eggs Benedict is made with Hollandaise sauce, a classic French sauce made with egg yolk, butter, and lemon juice. Don't be put off by the fancy name, our Easy Hollandaise Sauce is just that. It uses just a few ingredients and takes mere minutes to make!

How are the eggs cooked for Eggs Benedict?
Traditionally, Eggs Benedict is made with poached eggs.
If you are not a fan of poached eggs, you could cook them another way, but it wouldn't be a true Eggs Benedict without poached eggs.
There is something about the rich sauce, soft yolk, and tender egg whites all mixing together that makes this brunch recipe special. Plus, it's easier than it seems to learn how to poach eggs!

How to Make Eggs Benedict
Once you know how to make Eggs Benedict, you're going to want to prepare it all the time. Follow these simple steps to make an amazing Eggs Benedict recipe:
Set a pot of water to boil for the eggs.
Split the English muffins and toast them.
If using Canadian bacon, cook it in a skillet or under the broiler. Simply warm if using ham.
Make or warm your Hollandaise sauce.
Poach the eggs by carefully cracking them into the simmering water. For more instructions on how to poach eggs, follow our recipe below.
Assemble the Eggs Benedict: Make stacks with half a muffin at the bottom, topped with Canadian bacon or ham, then a poached egg. Top with easy Hollandaise sauce.

Eggs Benedict Variations
While Eggs Benedict is the original dish, there are many, many variations these days. Most keep the components of the muffin, egg and Hollandaise sauce, but switch out the ham for something else. Some of the more popular variations are:
Eggs Royale, made with smoked salmon.
Eggs Florentine, made with spinach.
Steak Benedict, made with steak.
Eggs Chesapeake, made with blue crab.
I've also made a lobster Eggs Benedict, using lobster and, optionally, black pudding.
There are also variations on the sauce, such as Eggs Mornay, which uses Mornay sauce made with Gruyere cheese, and California Benedict, which is made with avocado sauce.
You could also try serving eggs benedict on homemade toast for added deliciousness. Try our sprouted bread recipe!
Other variations change up the ham and sauce, like Huevos Benedictos with Mexican chorizo and/or avocado and salsa on top. If you're feeling creative, why not make your own!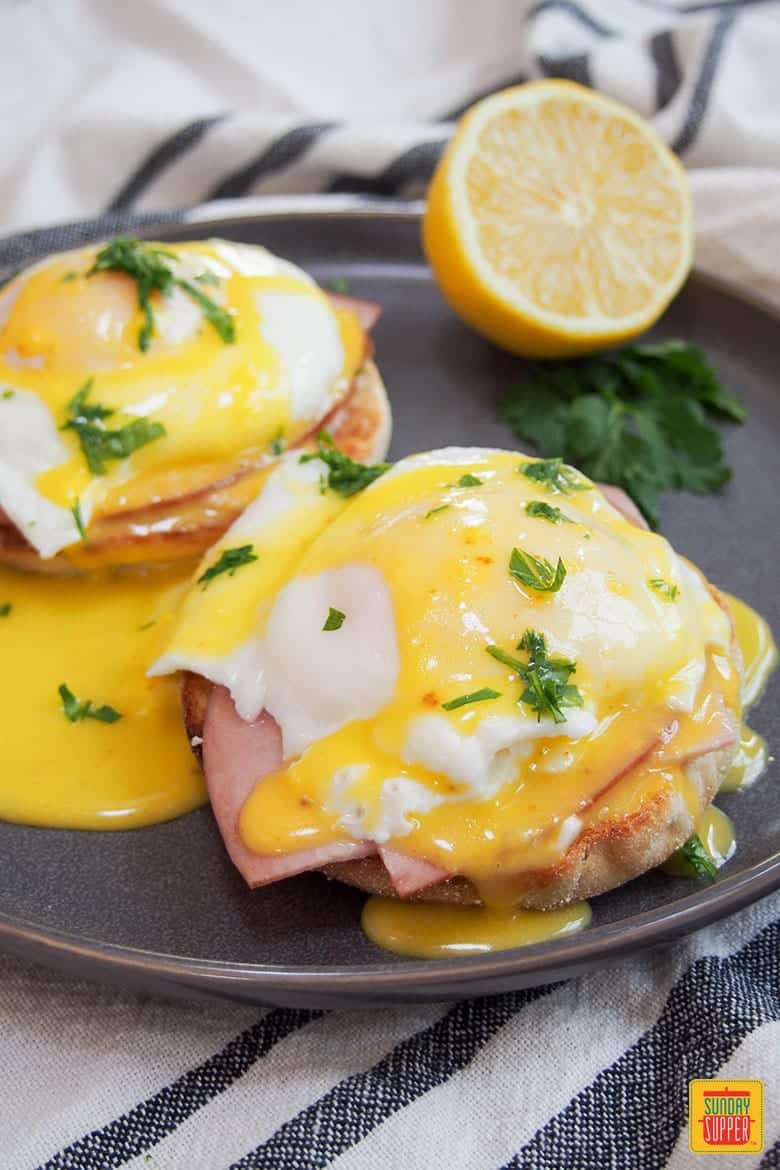 Once you have learned how to make Eggs Benedict, you'll soon realize it's not as complicated as you might think. Yes, there are a few components, but once you get them lined up, they are all quick and easy.
The result is one incredibly special brunch dish everyone will love!
**** PIN How to Make Eggs Benedict to save for later ****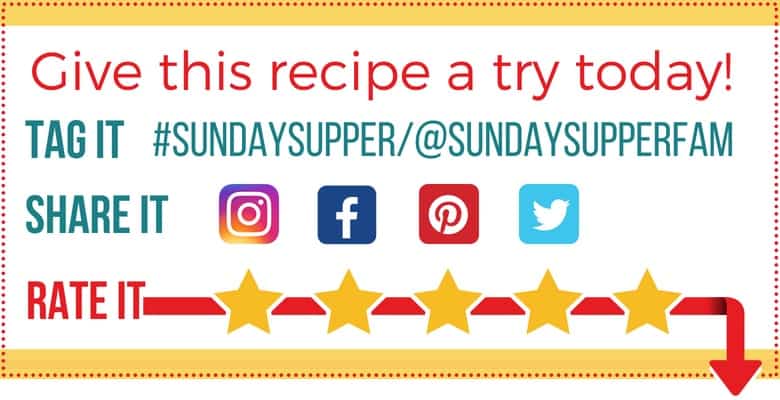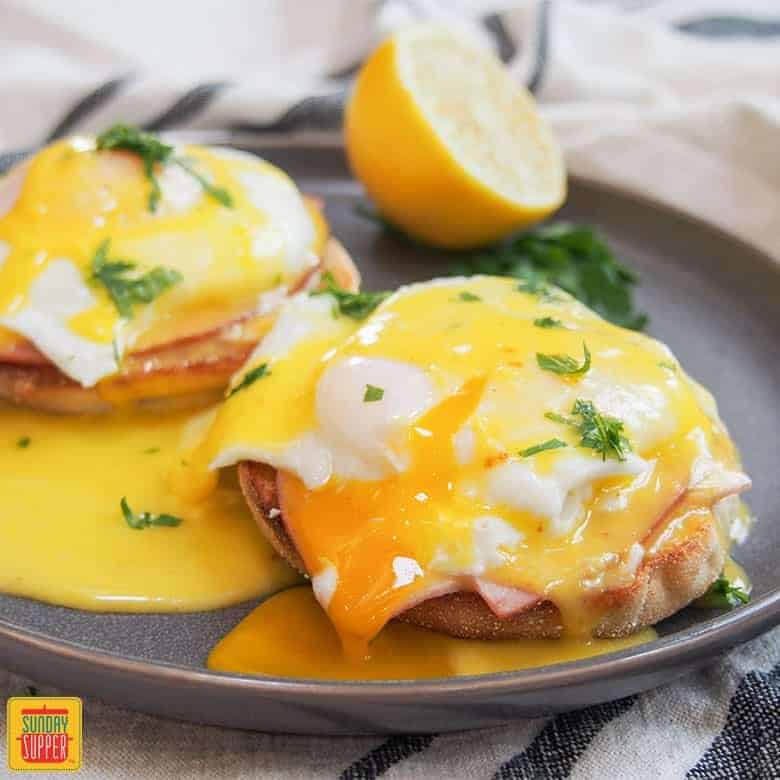 How to make Eggs Benedict
Learn how to make Eggs Benedict with an EASY hollandaise sauce and foolproof poached eggs in the comfort of your own kitchen with this easy-to-follow guide!
Course:
Breakfast and Brunch
Ingredients
2

English muffins

4

slices

ham

or Canadian bacon (less if large or thick)

1

tsp

white vinegar

4

eggs
Instructions
Fill a medium-large pot with water about half full (around 3in deep) and bring to a simmer.

Split the English muffins in half and toast them.

Warm your Hollandaise sauce, or make it using separate recipe.

If using Canadian bacon, cook it either in a skillet or under the broiler. If using ham, gently warm it in a skillet (or you can use it room temperature, if you want to make things a little easier).

Add the vinegar to the pot of simmering water - it helps the egg whites cook faster rather than spreading too much. Then carefully crack the eggs into the simmering water and cook for around 3 1/2 minutes until the white is opaque and cooked, but the yolk is still soft.

Assemble the eggs Benedict - on each plate put the two halves of the English muffin, cut side up, top each half with the ham/bacon, then a poached egg, and top with Hollandaise sauce.
Recipe Video
Nutrition Facts
How to make Eggs Benedict
Amount Per Serving
Calories 397
Calories from Fat 162
% Daily Value*
Total Fat 18g 28%
Cholesterol 362mg 121%
Sodium 1056mg 44%
Potassium 356mg 10%
Total Carbohydrates 26g 9%
Protein 27g 54%
* Percent Daily Values are based on a 2000 calorie diet.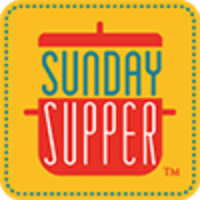 The Sunday Supper Movement is committed to bringing our readers delicious recipes that encourage them to gather and eat together around the family table. Search for your favorite ingredients on our Sunday Supper website. Also check out the Sunday Supper Pinterest boards for plenty more Sunday Dinner Ideas and inspiration.
Sign up for our newsletter to get FREE Sunday Supper recipes delivered right to your inbox!