This post may contain paid links. If you make a purchase through links on our site, we may earn a commission.
Delicious Korean Braised Short Ribs, or Galbi Jjim, are braised in a sweet, spicy, and sticky sauce for a flavor-packed dish you will want to make again and again! Simple ingredients with only 10 minutes of prep time.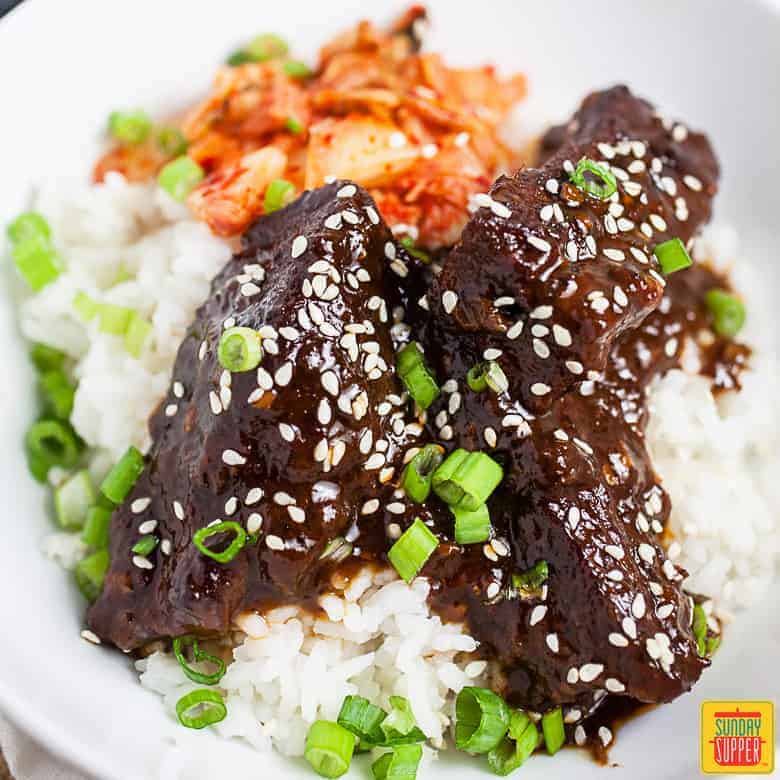 Jump to:
What are short ribs?
Short ribs are a cut of beef from the same area as brisket and chuck. They consist of a layer of meat that covers a short portion of the rib bone. They can be found boneless or bone-in. We use boneless in this Korean short ribs recipe!
You can purchase them in the meat department of most grocery stores or at a local butcher. They are tough and full of fat and tissue that breaks down as it braises in cooking liquid for fall-apart tender beef. They can be made in the oven or even as Slow Cooker Short Ribs!
Typically, in Korean culture, these Galbi Jjim recipes are a special occasion food, like for New Year's. They are worth every bit of effort and are so delicious!
First, you sear the beef chuck short ribs, garlic, and onions, then braise them low and slow in your Dutch Oven or a large pan in the oven. The results will blow you away!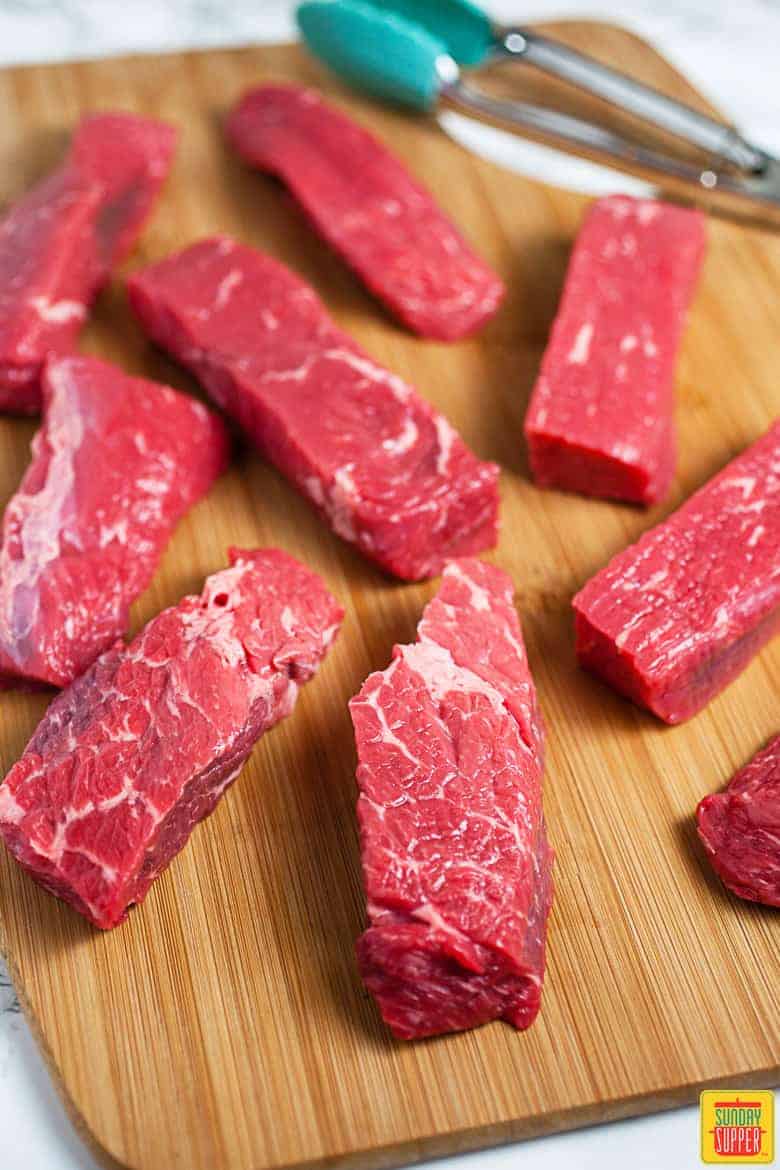 Frequently Asked Questions
What is tamari?
Tamari (also known as tamari shoyu) is a Japanese sauce made from fermented soybeans. It has a thicker consistency than soy sauce, which makes it the perfect choice for a sticky short ribs sauce. Plus, it's gluten-free! Most supermarkets sell it in a bottle under the San-j or Kikkoman brand.
Is there a substitute for chili garlic sauce?
No chili garlic sauce? No worries! Use Thai sweet chili sauce instead. It's a delicious substitute that works perfectly for this Korean beef short ribs recipe!
Should I use boneless or bone-in short ribs?
You can use either boneless or bone-in short ribs. We use boneless.
How can I thicken the sauce?
To thicken the glaze on your Korean-style short ribs, remove the ribs and heat the sauce on medium heat until it is reduced.
Is this dish gluten-free?
To keep this recipe gluten free, use Tamari or a soy sauce alternative and a gluten free flour blend instead of flour!
How Long to Cook Short Ribs in Oven
If you're not sure how long to cook Korean short ribs, I promise it's easy! Cover the Dutch Oven and bake for 1 hour. After an hour, add more broth, then cook for another hour. Finally, add more broth, then return for another 30 minutes. If your ribs are thicker, they will take longer. This is the best way to cook short ribs for the most tender results!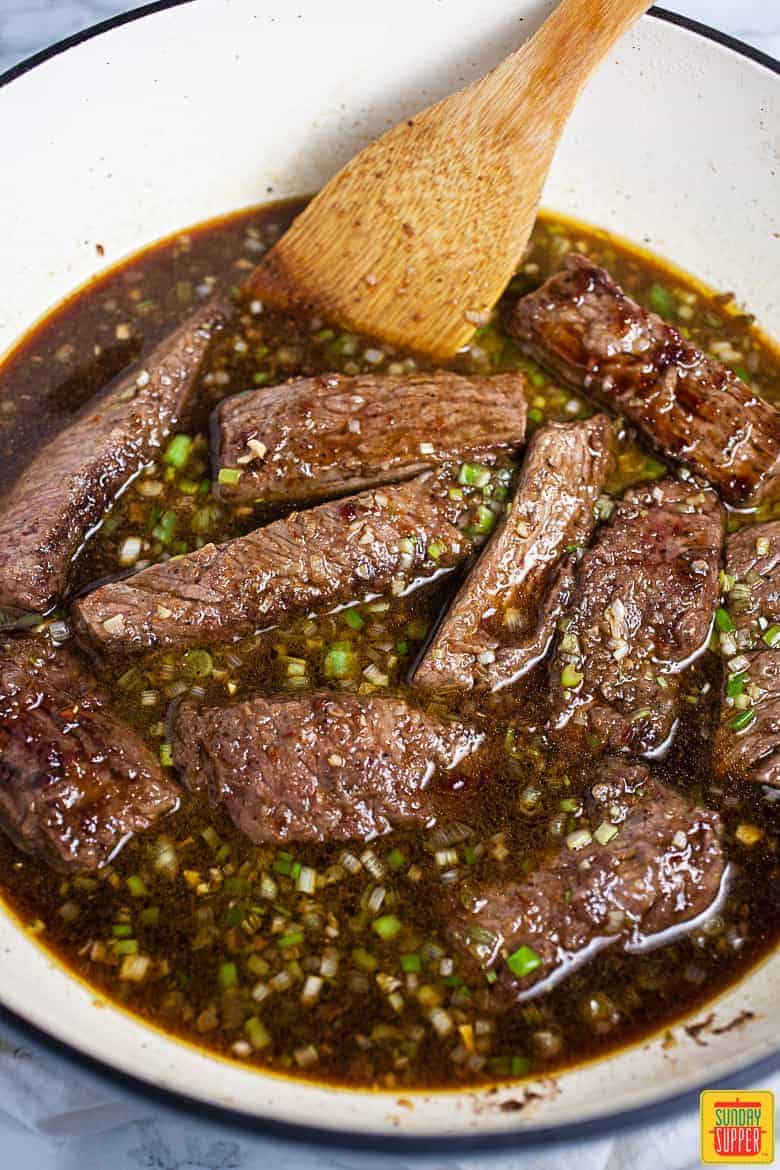 How to Cook Korean Short Ribs
The sauce will thicken as it cooks, and adding additional beef broth during the cooking process will prevent it from drying out and burning.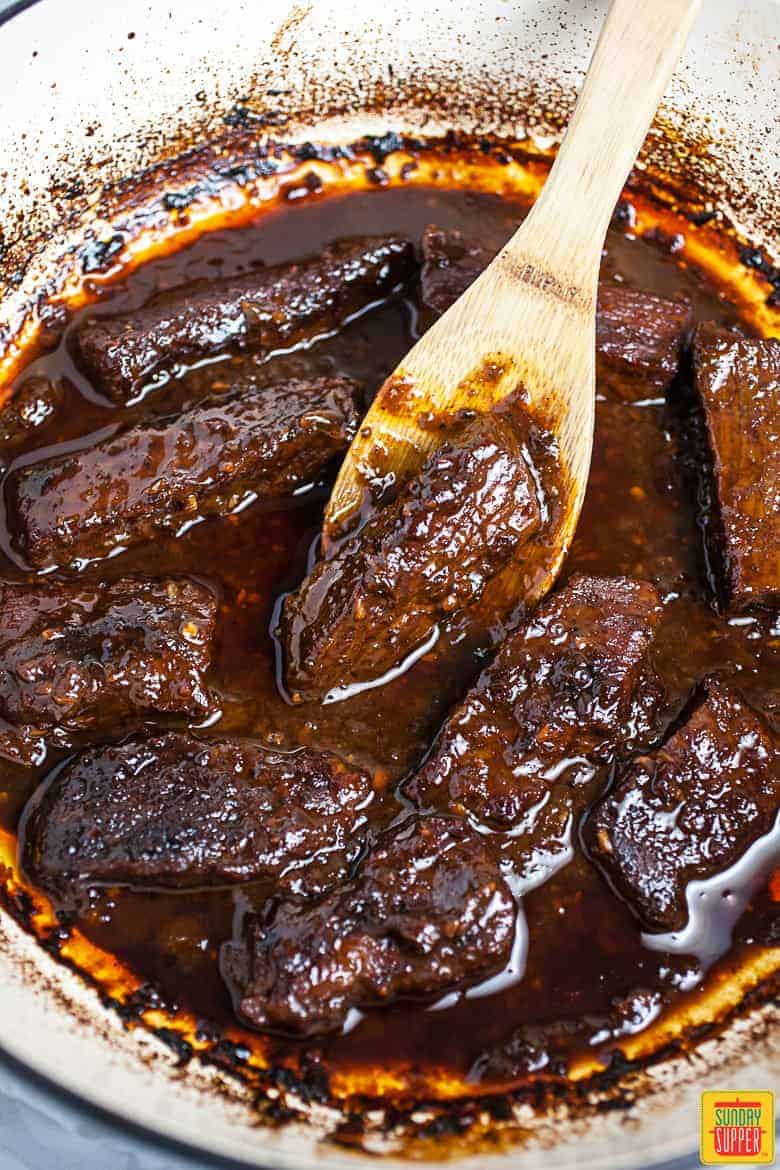 Side Dishes
Feel free to garnish the ribs with some sesame seeds and the chopped scallions. You could also squeeze a lime over the top to cut the richness a bit.
This spicy Galbi Jjim recipe will quickly become a family favorite – I guarantee it! The flavors are completely crave-worthy. It's one of those dishes you find yourself going back for one more bite, and then another, and then another!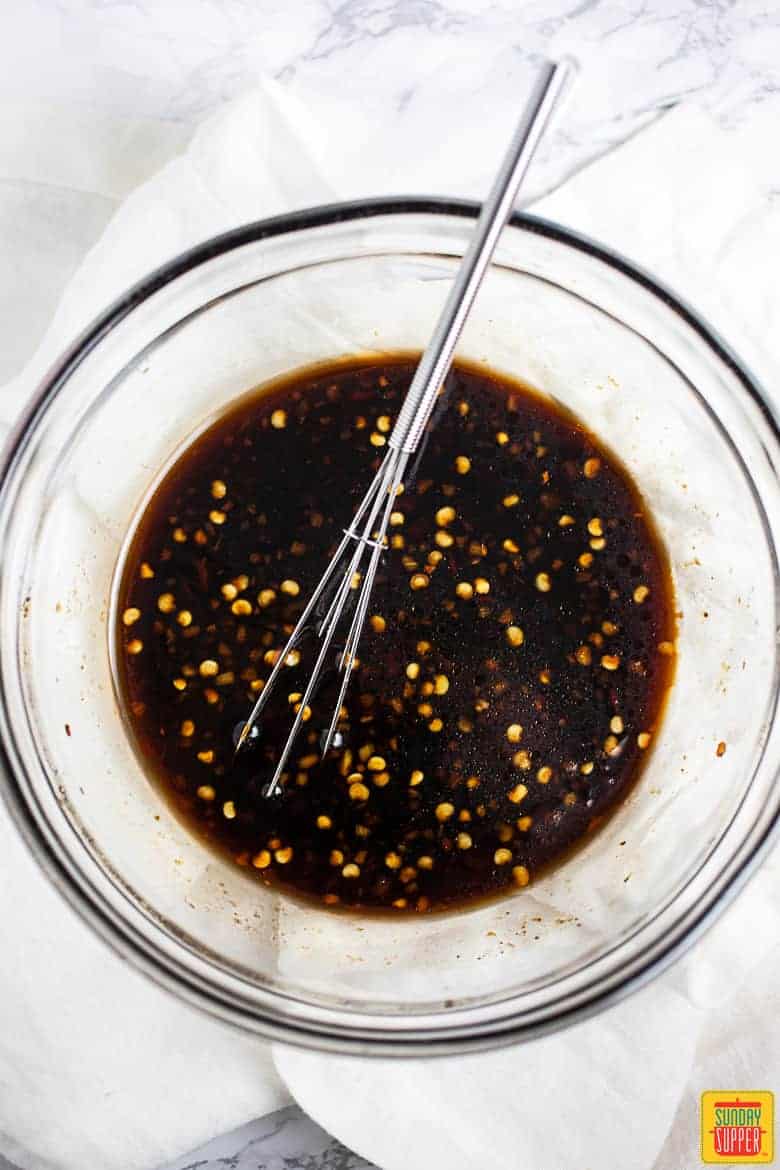 Our Favorite Asian Recipes
More Ribs Recipes
Readers Love these Short Ribs
Take it from our readers! They're loving this recipe! Here's what people have to say:
Yummy! Made it keto style, just switched the flour for coconut flour, and used swerve brown sugar 👍 next time I'll use a little xanthan gum to thicken up the sauce.

Christina
This had great flavor that did not overwhelm the taste of the meat. Meat was very tender.

Mary
Turned out really good. I will definitely be making them again

Robert
📋 Recipe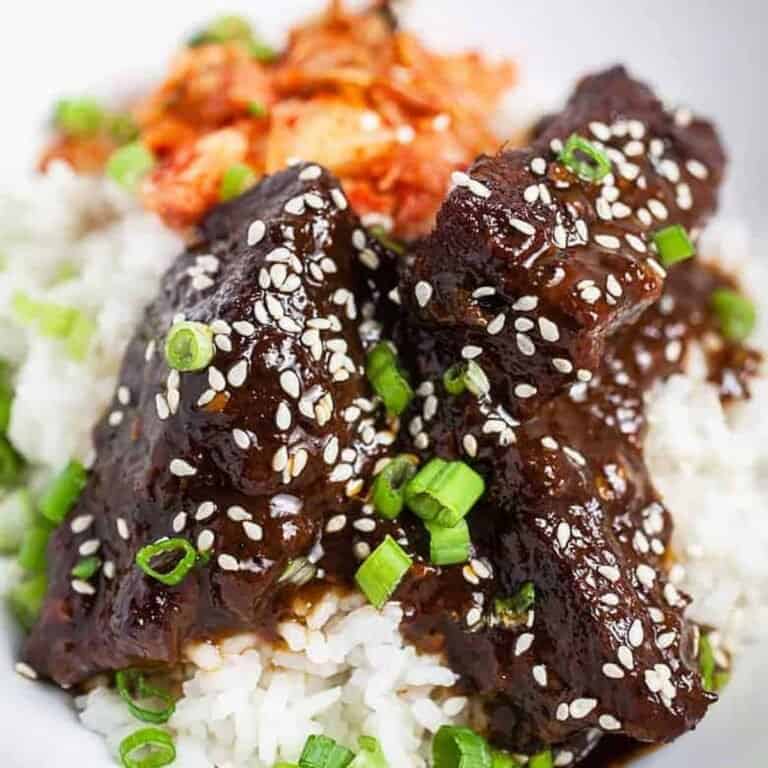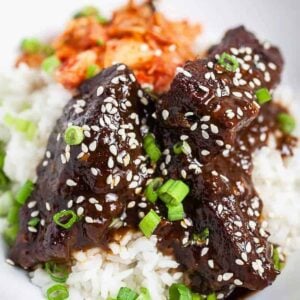 Korean Braised Short Ribs (Galbi Jjim)
Our Galbi Jjim recipe is complete with a mouth-watering, sweet-and-spicy chili garlic sauce. You will love every bite of these delicious Korean Braised Short Ribs!
Equipment
Knife for mincing garlic and onions

Peeler for peeling ginger (you can use your knife if you don't have one)

1 small bowl and 1 large bowl

Dutch oven or large heavy-bottomed pan

Your oven

A microplane or grater
Instructions
Heat oven to 350°F.

Mince 6 cloves of garlic and 8 scallions or ½ an onion (any color). Peel a 1-inch portion of ginger root. Set aside.Combine 2 Tbsp. chili garlic sauce, 1 ½ tsp. sesame oil, ¼ cup low-sodium soy sauce or Tamari, ¼ cup brown sugar, and 4 tsp. rice vinegar in a small bowl. Whisk until completely combined.

Place the short ribs in a bowl. Sprinkle them with ¼ cup flour and toss until the ribs are coated.Heat a cast iron Dutch oven or large heavy-bottomed pan to medium-high on the stove top. Add 1 Tbsp. oil.Once the oil is hot (it should sizzle as the meat hits it) add half of the short ribs along with a pinch of salt and pepper.

Saute the ribs for 3-4 minutes per side until completely seared. Remove from pan and set aside. Repeat this process with the second half of the ribs.

Turn the heat to medium and add another Tbsp. of olive oil. Add the minced garlic and onions to the pan. Grate a 1-inch portion of ginger. Saute for 2-3 minutes, stirring often.Return the seared short ribs to the pan. Pour the prepared sauce over the top along with 1 cup of beef broth. Stir the sauce together. Make sure the ribs are completely submerged in the braising liquid.

Cover the Dutch oven and bake for 1 hour.

Remove from oven and add ½ cup of beef broth. Cook for 1 more hour, covered.Remove and add another ½ cup of beef broth. Return and cook for another 30 minutes, covered.

Cooking times may vary slightly depending on the thickness of the ribs. Once the ribs are tender, remove from the oven and serve.
Notes
Make it gluten free: To keep this recipe gluten free use Tamari or a soy sauce alternative and a gluten free flour blend instead of flour.
Fall-apart tender: The short ribs are done when they are easily cut with a fork or knife.
Try serving it with our Korean Cream Cheese Garlic Bread Recipe
Nutrition
Serving:
2
cups
Calories:
925
kcal
Carbohydrates:
26
g
Protein:
79
g
Fat:
54
g
Saturated Fat:
19
g
Cholesterol:
234
mg
Sodium:
1727
mg
Potassium:
1613
mg
Fiber:
1
g
Sugar:
16
g
Vitamin A:
239
IU
Vitamin C:
6
mg
Calcium:
79
mg
Iron:
10
mg
Did you try this recipe?
Tag #SundaySupper on social and leave a comment below!
Photography by Christine Rooney.