New England Seafood Chowder is everything you want in a soup. Fresh, creamy, with a slight smokiness and, of course, overflowing with your favorite seafood! If you're looking for a quick seafood recipe, this is the one for you!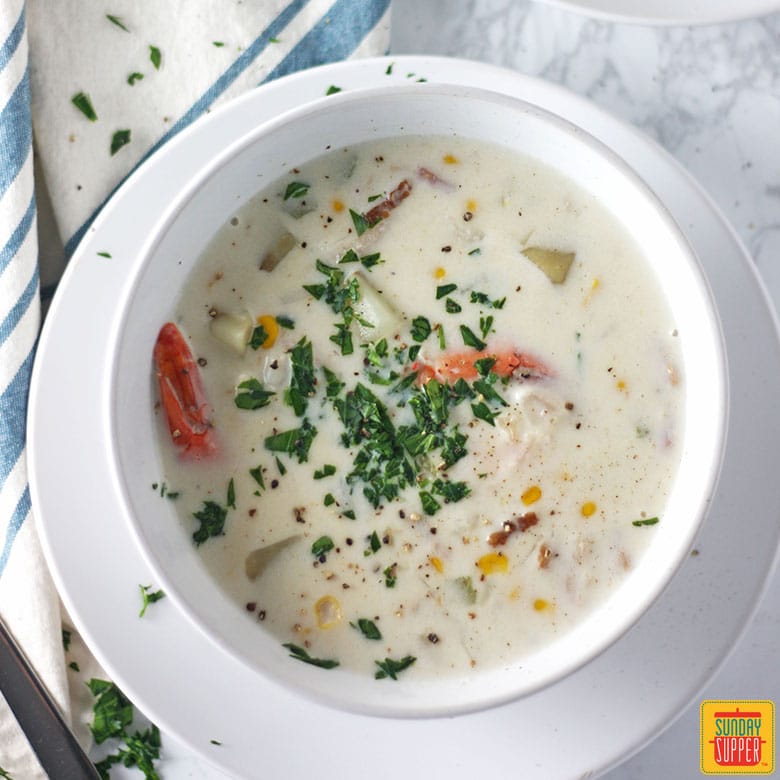 I think this New England seafood chowder is my new favorite dish. You will not believe how creamy and thick this chowder turns out. It's pretty much like a hug in a cup, and you're going to love it!
I love seafood chowder, but I feel like it's one of those recipes that I always forget I can make. And then when I do remember to make it, I always tell myself I should make it again because it's SO good! Seriously, there is something so cozy and comforting about a thick bowl of soup with all your favorite ingredients put into one bowl! And the best thing is, this chowder is totally customizable!
Don't like shrimp? Swap it out for mussels, clams or more fish! Don't like white fish? Salmon would work perfectly! It is really up to you how you want to create this recipe!
Recipes Tips for New England Seafood Chowder
Use whatever seafood you'd like! I love using firm white fish like Pacific cod or tilapia. I find it holds its shape really easily and cooks well.
Make sure your fish is chopped up evenly. To ensure consistent cooking time, try to make sure your fish is cut into similar sizes. If a few pieces are larger or smaller, the fish won't cook at the same time.
There is a fine line between simmering and boiling! When adding the milk, you want to avoid boiling the milk, instead, you want to keep it at a consistent temperature to allow it to thicken.
Your choice of bacon will determine how much bacon fat is required to saute the onion and celery. We used smoky bacon that did not have a lot of fat on it. Therefore we kept all our bacon fat for frying and didn't need to remove any or add any additional oil.
Don't overcook your seafood! I found 5 to 7 minutes was an adequate cook time for my shrimp and fish. Shrimp will turn a beautiful orange color when cooked. The fish should be soft and cooked all the way through, if the pieces are consistent it should take the same amount of time as the shrimp.
This recipe is honestly so easy to make, and tastes absolutely delicious! We found it enough for four servings and in our household of two, had leftovers for lunch the next day!
This New England seafood chowder can be served with fresh bread and butter, or traditional soup crackers. Always garnish with fresh parsley or chives!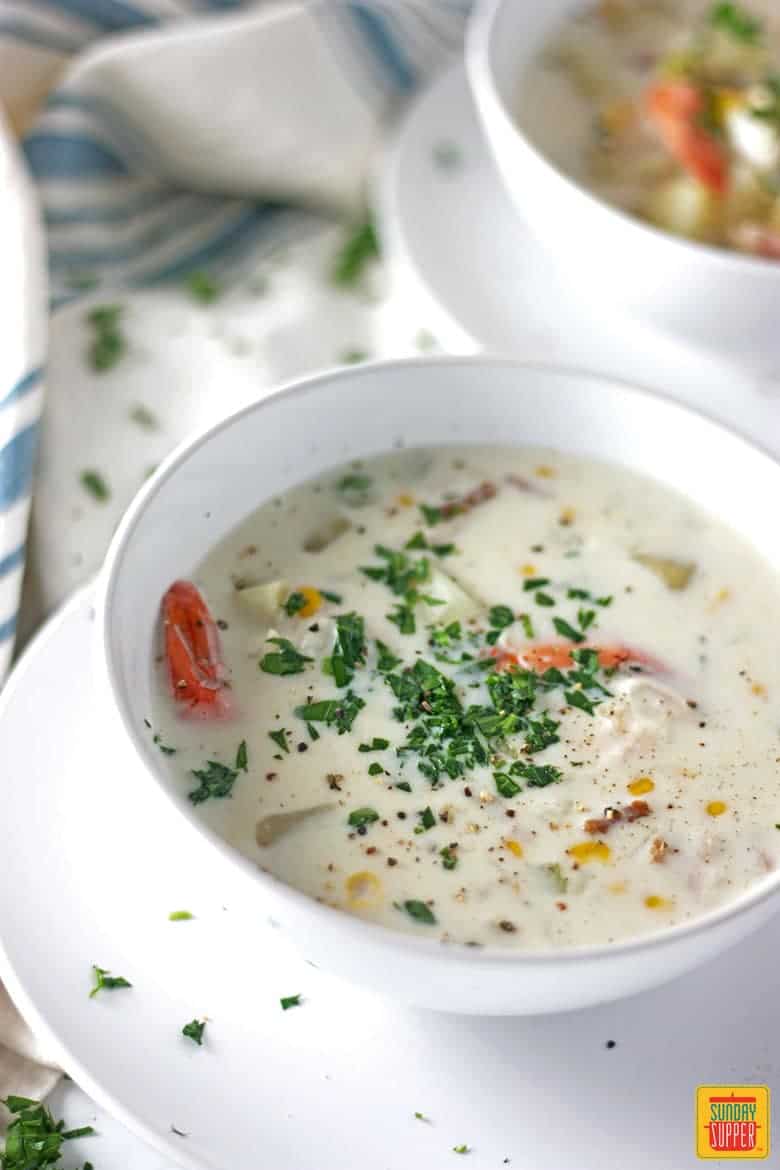 Want more quick seafood recipes?
New England Seafood Chowder
New England Seafood Chowder is everything you want in a soup. Fresh, creamy, with a slight smokiness and, of course, overflowing with your favorite seafood! If you're looking for a quick seafood recipe, this is the one for you!
Ingredients
2

slices

bacon

1

yellow onion

diced

1

stalk

celery

diced

3

medium

white potatoes

diced and peeled

1/4

cup

all purpose plain flour

4

cups

milk

1

cup

firm white fish

1/2

pound

shellfish

prawns, mussels, clams etc

1/2

cup

corn

1

tablespoon

fresh parsley

1/2

tsp

salt

1/2

tsp

pepper
Instructions
Sauté bacon in a large soup pot over medium-high heat until crispy, 3-4 minutes.

Remove the bacon from the pot and place on a plate.

Drain all but 1 Tbsp bacon grease from the pot. If there is not 1 Tbsp, then don't worrya bout draining the bacon fat.

Add diced onions and celery to the bacon grease in the pot. Sauté over medium heat until soft, 3-4 minutes.

Add potatoes. Saute 1-2 minutes. Reduce the heat to low.

Add the flour and stir, cooking until the flour is completely moistened.

Add the milk and increase the heat to medium.

Heat the soup until it is steaming, but just before it starts to boil, stirring often.

Keep the soup at this point until the potatoes are nearly tender, uncovered, 10 to 15 minutes. (Reduce the heat if the milk starts to foam.) The soup should start to thicken to a nice consistency.

Add the fish, shellfish, corn and bacon.

Continue to heat, just below boiling for an additional 5 to 10 minutes, until the fish is cooked through.

Add salt and pepper. Adjust seasoning if necessary.

Serve with the fresh parsley, crackers or good quality bread.
Recipe Notes
This recipe originally published on Sunday Supper Movement on January 13, 2016. We updated the recipe with new photos on February 14th, 2018.
Nutrition Facts
New England Seafood Chowder
Amount Per Serving
Calories 496
Calories from Fat 135
% Daily Value*
Total Fat 15g 23%
Cholesterol 271mg 90%
Sodium 1040mg 43%
Potassium 1426mg 41%
Total Carbohydrates 25g 8%
Protein 62g 124%
* Percent Daily Values are based on a 2000 calorie diet.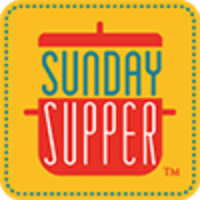 The Sunday Supper Movement is committed to bringing our readers delicious recipes that encourage them to gather and eat together around the family table. Search for your favorite ingredients on our Sunday Supper website. Also check out the Sunday Supper Pinterest boards for plenty more ideas and inspiration.
Sign up for our newsletter to get FREE Sunday Supper recipes delivered right to your inbox!