This post may contain paid links. If you make a purchase through links on our site, we may earn a commission.
Learn all about salt and the best ways to use it with my guide on Seasoning with Salt! From brining to boiling to sprinkling over salad, salt is the backbone of flavor, ready to take your meals to new heights. You're sure to pick up a new technique or two!
Jump to:
Uses for Salt
From sauces to gravies to simple sprinkles over a meal, salt has always served as the backbone of flavor. No matter what you're adding it to, whether you're baking a dessert or grilling a steak, salt serves to strengthen the preexisting flavor and add complexity to the whole dish.
But there's a secret to salt: what kind of salt you use makes a difference! Kosher salt, flake salt, table salt- they all serve different purposes in cooking, and often, they can't be used interchangeably.
It all has to do with grain size. Larger grains stick well to meat and vegetables, while smaller grains are round in structure, and easily fall off of what they're applied to. For this reason, large-grain salts are best for seasoning food!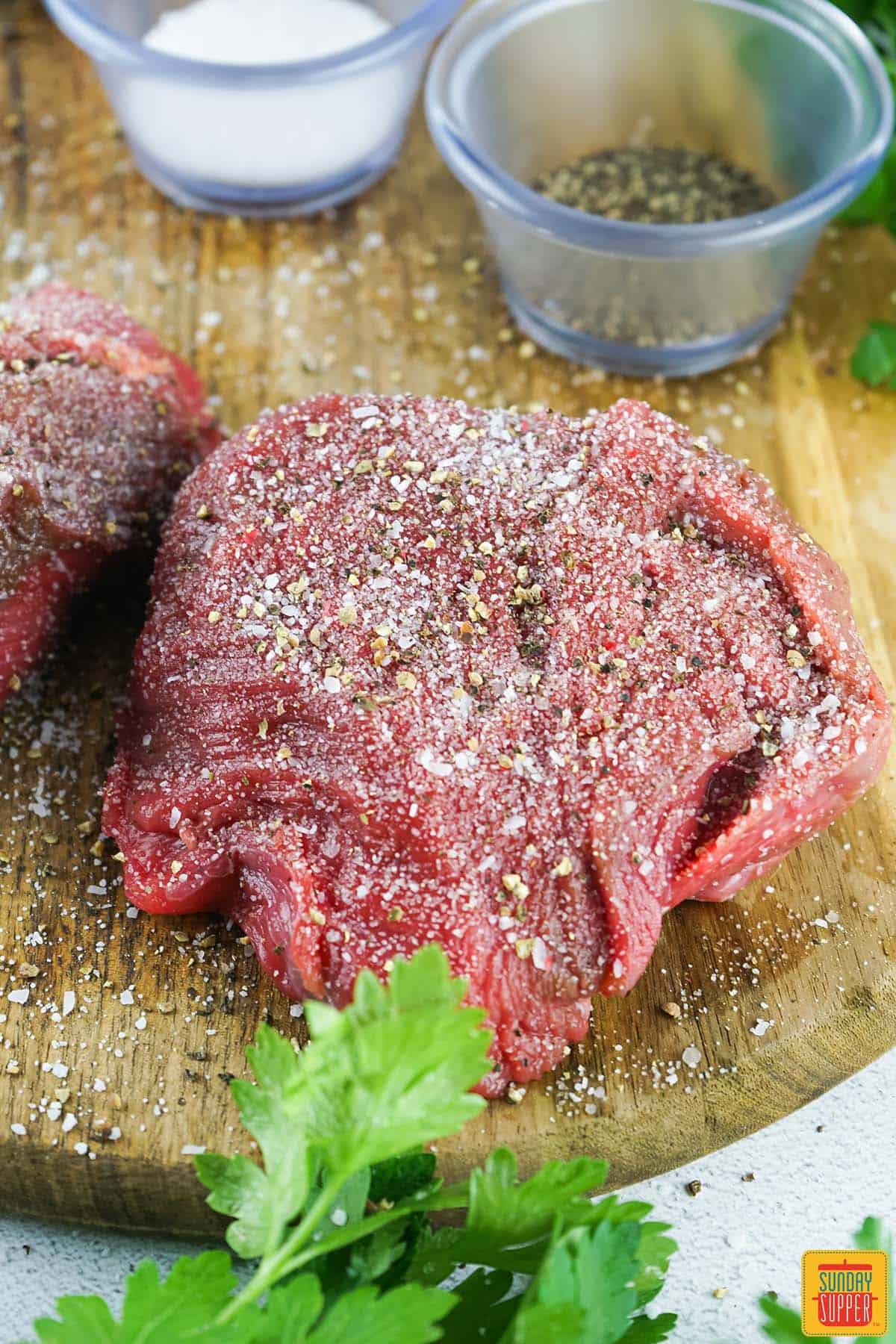 Finishing with Salt
For many dishes, the last touch is a sprinkle of salt! And you haven't known luxury until you've tried a pinch of flake salt to top off your favorite dish. Flake salt is the easiest way to make any meal feel decadent!
Trust me- finishing with salt makes a big difference. A sprinkle of flake salt on salads and roasted veggies adds crunch and enhances flavor, while giving each bite greater complexity than regular table salt.
Plus, it's hard to deny how beautiful it is! Set out a dish of flake salt and each meal will just feel a little bit more special. And if I've learned anything, it's the little things in life that make the biggest difference.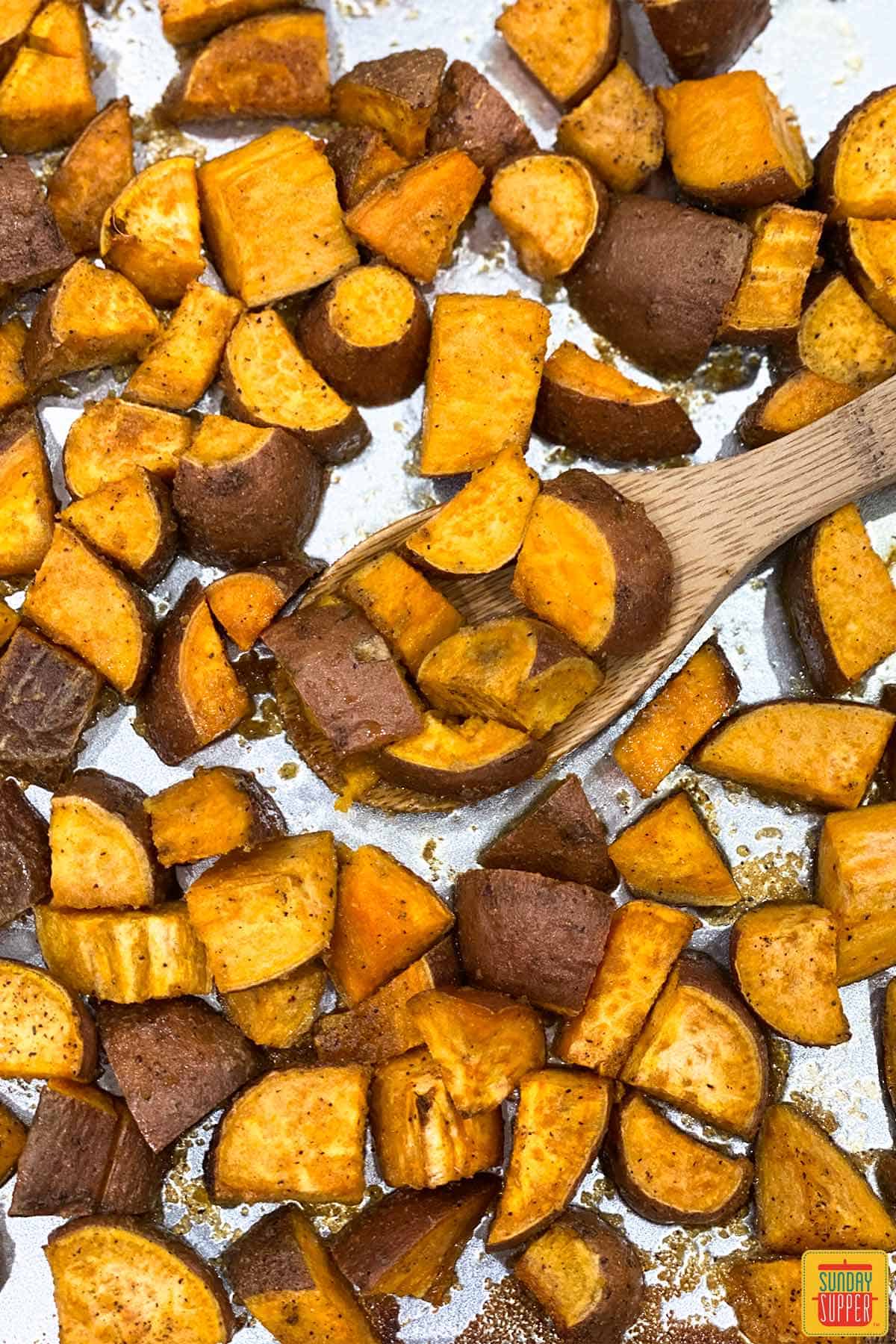 Brining
If you've ever wondered how Chick-fil-A makes its chicken sandwiches so tender, it's all in the brine! Brining is a process of letting meat chill in a bath of salt water, which infuses the meat with salt and moisture, making it plump and flavorful.
Many different liquids can be used for brining, including buttermilk and pickle juice, but the classic is simply water and salt! This is the perfect time to use regular table salt, as it dissolves easily in water.
When making a brine, add 1 Tablespoon of salt for every cup of water. This means that for one gallon of brine (perfect for a whole chicken), use 16 Tablespoons of salt. Let the meat soak for 2-3 hours per inch of thickness.
See my guide to Grilling Chicken Breast for a delicious brine recipe.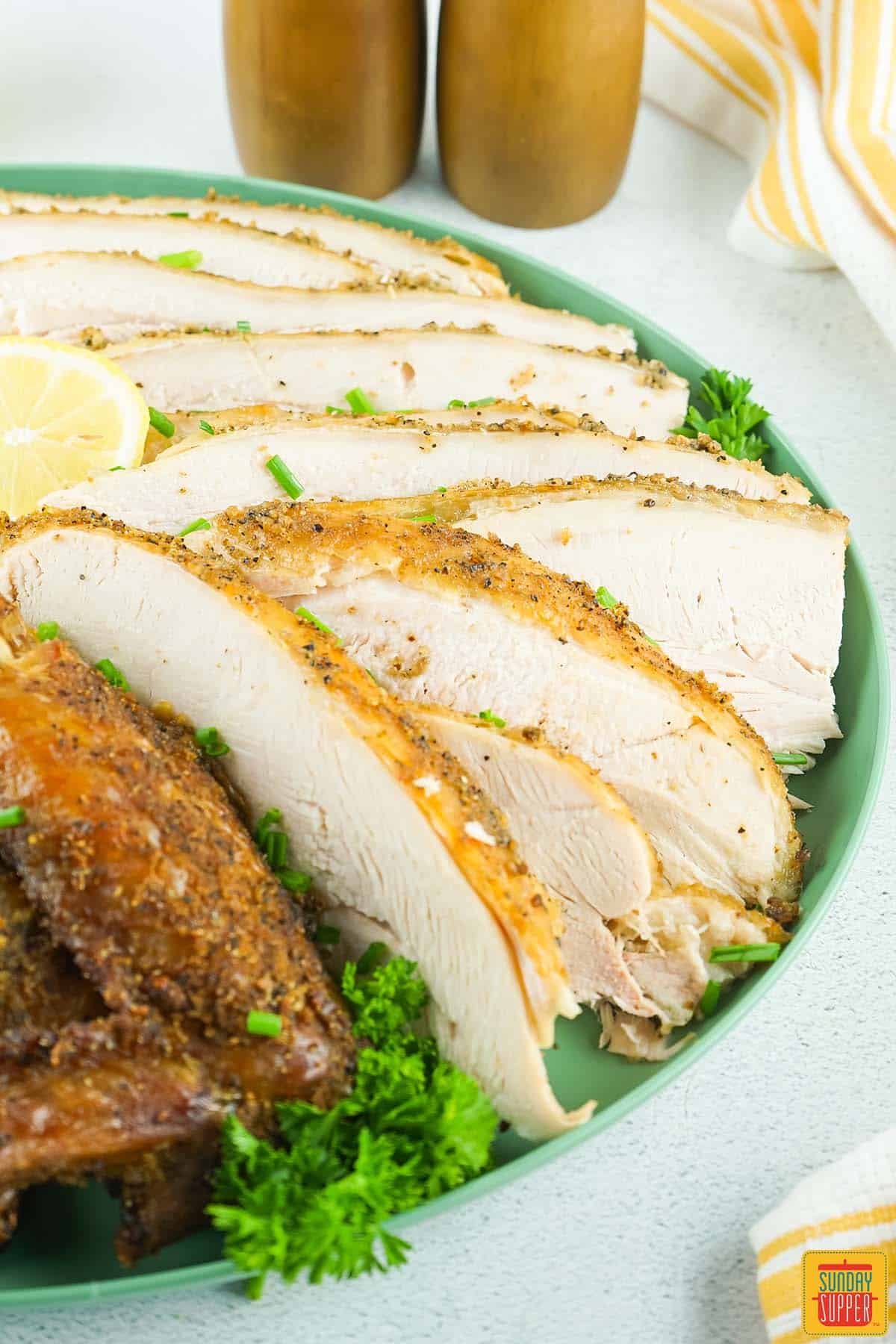 Tenderizing
Among the many uses of salt is tenderizing meat! By drawing out the moisture in meat, salt creates its own brine, which sinks into the meat and starts breaking down the tough connective tissues.
Salt for tenderizing meat is a great option when you're short on time, but don't want to tenderize the meat with a mallet and make it thin. Just make sure to use rough-grain salt like kosher, Himalayan, or flake salt. Table salt will make the meat taste metallic.
For best results, salt the meat as soon as you get it home, then re-wrap it and place it in the fridge until it's ready to use!
See my post on How to Tenderize Steak for more info on tenderizing meat, and my Dry Turkey Brine!
How Much Salt?
Type of Food
Amount of Salt
Type of Salt
Raw meat, poultry, fish
¾th to 1 teaspoon
per pound
Flake or kosher salt
Soup, sauce, gravy
1 to 1.5 teaspoons per quart
Table or Himalayan salt
Pasta or Potato water
1 to 1.5 teaspoon per quart
Table salt
Boiled vegetable water
1 teaspoon per quart
Table salt
Cooked grains
½ to 1 teaspoon per quart
Table salt
Types of Salt
You might be surprised to learn just how many kinds of salt there are! I used to think that all salt was the same, and I could not have been more wrong. There are hundreds of kinds of salt, all with different flavors and uses!
In your day to day cooking, I recommend having at least two kinds of salt on hand: kosher salt and table salt. But if you're feeling like a treat, try flake salt– it will take your cooking to the next level!
Kosher salt: A large and course-grained salt, Kosher salt is salt that hasn't been ionized or ground down into tiny grains yet. Because of this, it has a very pure flavor and sticks well to food, making it a perfect all-purpose salt. Just don't use it for baking!

Table salt: Table salt, often labeled ionized salt, is highly refined mineral salt that has added iodine and anti-caking agents. The tiny grains make it ideal for baking and boiling, but don't roast or grill it– the iodine breaks down and tastes metallic at too high a temperature.

Flake salt: Defined by its distinctive large, pyramid-shaped flakes, flake salt is typically used as a finishing salt to sprinkle on meals before serving. The large, crunchy flakes are prized for adding texture to meals as well as flavor. Sea salt is a flake salt, and a great option.

Himalayan pink salt: Sourced from Himalayan rock salt crystals, this salt has a distinctive pink color and extra-salty flavor, making it excellent for finishing or use in marinades where not a lot of salt is required.

Finishing salt: Any salt used to "finish" a dish (such as sprinkling on top of roasted vegetables or salads to add flavor and crunch) is considered a finishing salt! Great examples are flake salt, himalayan salt, and kosher salt.

Curing salt: Typically an unusual pink in color, curing salts are specifically and exclusively used to cure preserved meats and should never be used for regular cooking, as the added nitrates can be toxic.
Seasoning with Salt FAQ
What are 5 things salt can be used for?
Salt is the key ingredient for brining meat and vegetables, boiling pasta, tenderizing meat, seasoning meals, and curing preserved meat. Keep in mind that each use for salt can best be done with a different kind of salt!
What are the 3 main different types of salt used in the kitchen?
The three most common types of salt found in the kitchen are ionized table salt, sea salt, and Kosher salt. These three salts serve the purpose of being perfect for baking, finishing, and roasting, respectively!
Why use salt to make ice cream?
When added to water, salt lowers the freezing point of liquid. This means that the water used in the process of making ice cream can be lowered to below freezing, making the ice cream making process faster and easier!
More Ways to Use Salt
See my Steak Temperature Chart for steak cooking info!
📌 Pin it for later!
Did you enjoy this page? Save it on Pinterest for later!



If you enjoyed the recipe, leave a comment and a rating below!
📋 Recipe
Seasoning with Salt
Transform how you cook with my guide for Seasoning with Salt! Whether you're brining, boiling, or using it to tenderize meat, salt has plenty of uses!
Instructions
Prepare 1 Tbsp. rosemary, 2 Tbsp. garlic powder, 4 Tbsp. sea salt, and 1 tsp. black pepper.

Mix together in a small bowl to make rosemary salt.
Nutrition
Serving:
1
serving
Calories:
23
kcal
Carbohydrates:
5
g
Protein:
1
g
Fat:
0.4
g
Saturated Fat:
0.2
g
Polyunsaturated Fat:
0.1
g
Monounsaturated Fat:
0.1
g
Sodium:
3277
mg
Potassium:
81
mg
Fiber:
1
g
Sugar:
0.1
g
Vitamin A:
70
IU
Vitamin C:
1
mg
Calcium:
36
mg
Iron:
1
mg
Did you try this recipe?
Tag #SundaySupper on social and leave a comment below!