Sunday Supper is an Amazon Associate and may receive compensation for purchases made through affiliate links.
Our Puerto Rican Empanadas, or Pastelillos de Carne, are beef-filled baked meat pies with so much flavor! They're easy to make a big batch of in under an hour and are perfect for lunch, dinner, and snacks. Everyone loves these tasty Spanish Beef Empanadas!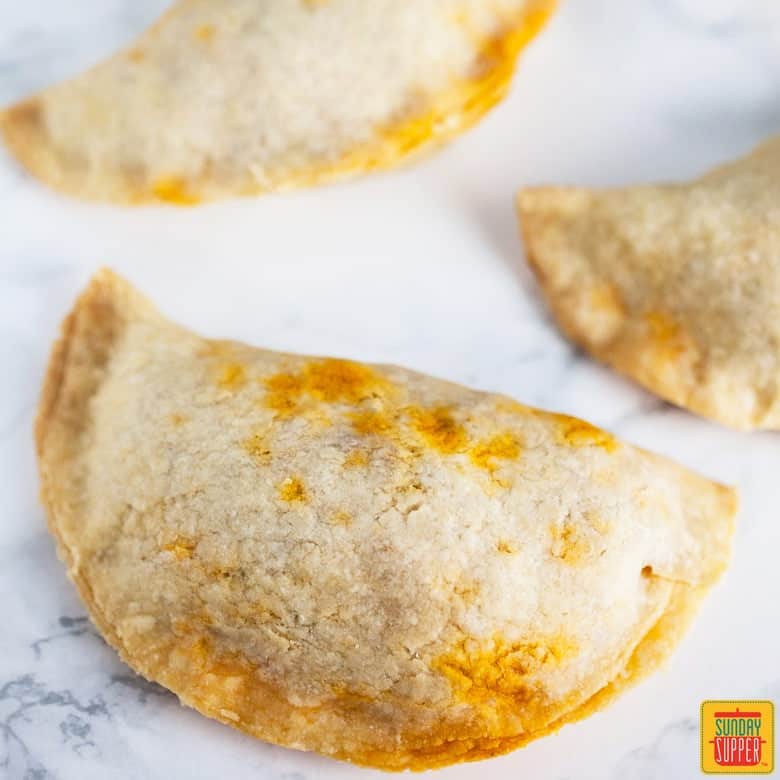 Jump to:
Baked Empanadas
I've been making Puerto Rican Empanadas for years for my family as a lunch box treat and an after-school snack. They're good hot or cold and are perfect for dipping in your favorite sauces. Sometimes I even make them as a special Sunday dinner idea.
These Puerto Rican appetizers are amazing for sharing, too. Empanadillas make a perfect party appetizer for a crowd, especially if you follow them up with a dish like Picanha Steak!
This is a simple dish from start to finish, but its flavors are complex and so satisfying. Try it out and let me know what you think!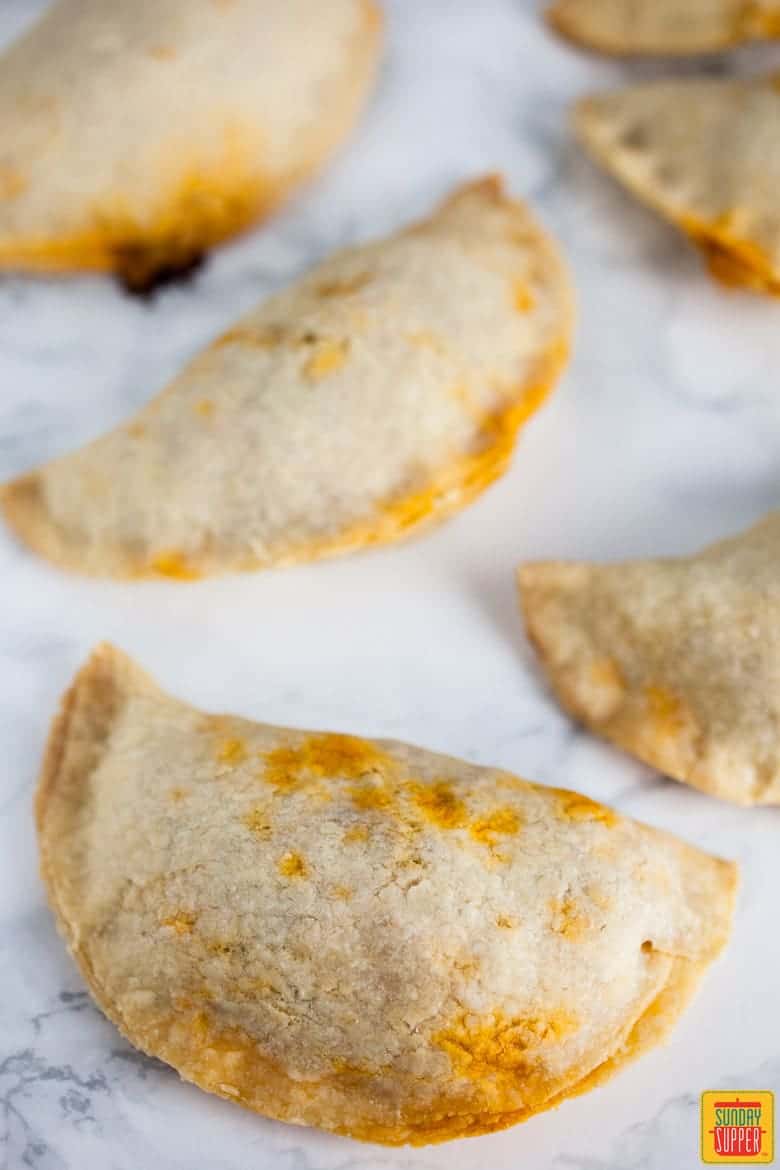 What is an Empanada?
An empanada is basically a savory pie that's perfectly hand-sized. You cook ground meat down with spices, then pack it into a pastry shell.
You can use homemade empanada dough, or save some time by using pre-made Goya empanadas dough. They can be baked or fried, depending on your preference!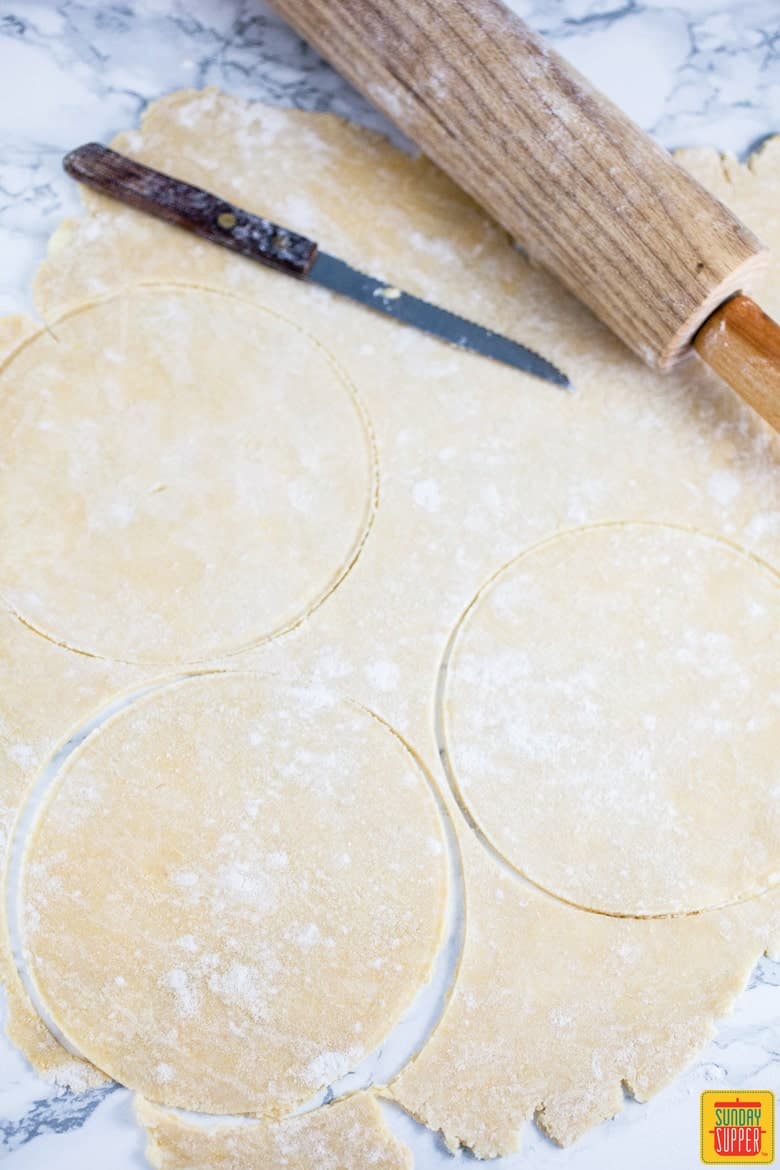 Empanada Dough
We love to make our own empanada dough – it's easy and fun! But it does take extra time, so if you're short on time or just want to speed up the process, you can use premade dough to make your Puerto Rican Empanadas.
You can purchase ready-made empanada dough like Goya Discos. They are sold in the frozen food section at most supermarkets. We love to make these baked empanadas with Goya discos!
Another easy option that works well is using a refrigerated pie dough. Any of these methods work well because the filling is packed with so much flavor!
Follow our recipe for Puerto Rican Empanada Dough or use a short-cut. We have tried it both ways and both work really well.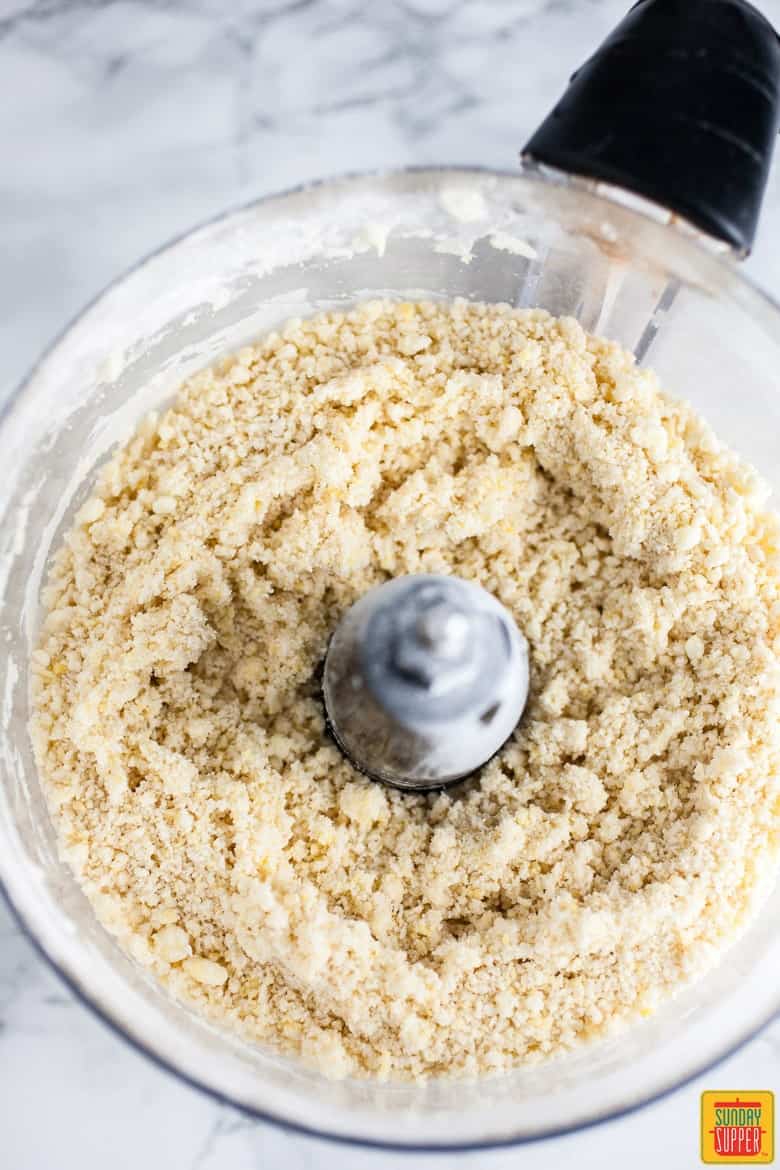 Can You Bake Pastelillos?
You can bake your Puerto Rican Empanadas whether you make your own dough or bake Goya discos. They are absolutely delicious baked and so much lighter.
What is Sofrito?
Sofrito is a Puerto Rican cooking base consisting of tomatoes, onions, garlic, peppers, and spices. You can easily find it in the international aisle of most grocery stores.
What is Sazon Seasoning?
Sazón means "seasoning" in Spanish. It is usually a mixture of salt, pepper, garlic or garlic powder, coriander, and cumin.
Sazón con Azafran, or Sazón with Saffron, is a seasoning packet sold in an orange and yellow box by the Goya brand. You can easily find it in the international aisle.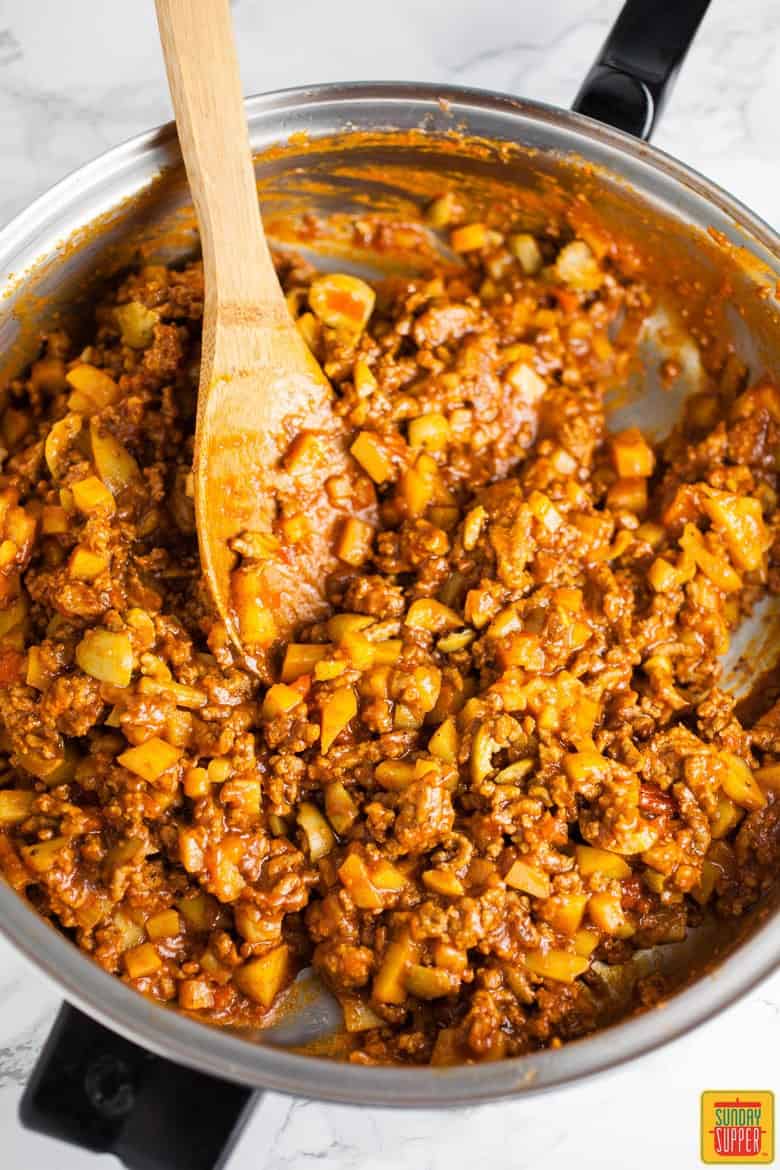 How to Parboil Potatoes
Parboil, meaning to partly cook food by boiling, is a technique used to soften foods (like potatoes) before cooking with them.
To make these Puerto Rican beef empanadas, we parboil potatoes before cooking them in the filling.
Place your potatoes in a pot and cover them with cold water.
Add a pinch of salt, cover the pot with a lid, and turn the stove on high heat.
Once the water starts to boil, reduce the heat slightly to keep it from boiling over. Continue boiling for approximately 5-10 minutes. Shorter if you diced the potatoes and longer if you left them whole.
Test your potatoes with a fork, if it goes in with only a little resistance, you're done.
Remove the boiled potatoes from the heat and drain your pot. Let the potatoes cool a little. And that's it, your potatoes are parboiled!
Baked Pastelillos Tips
While you are making the filling, preheat your oven to 350°F to prepare the meat pies for baking.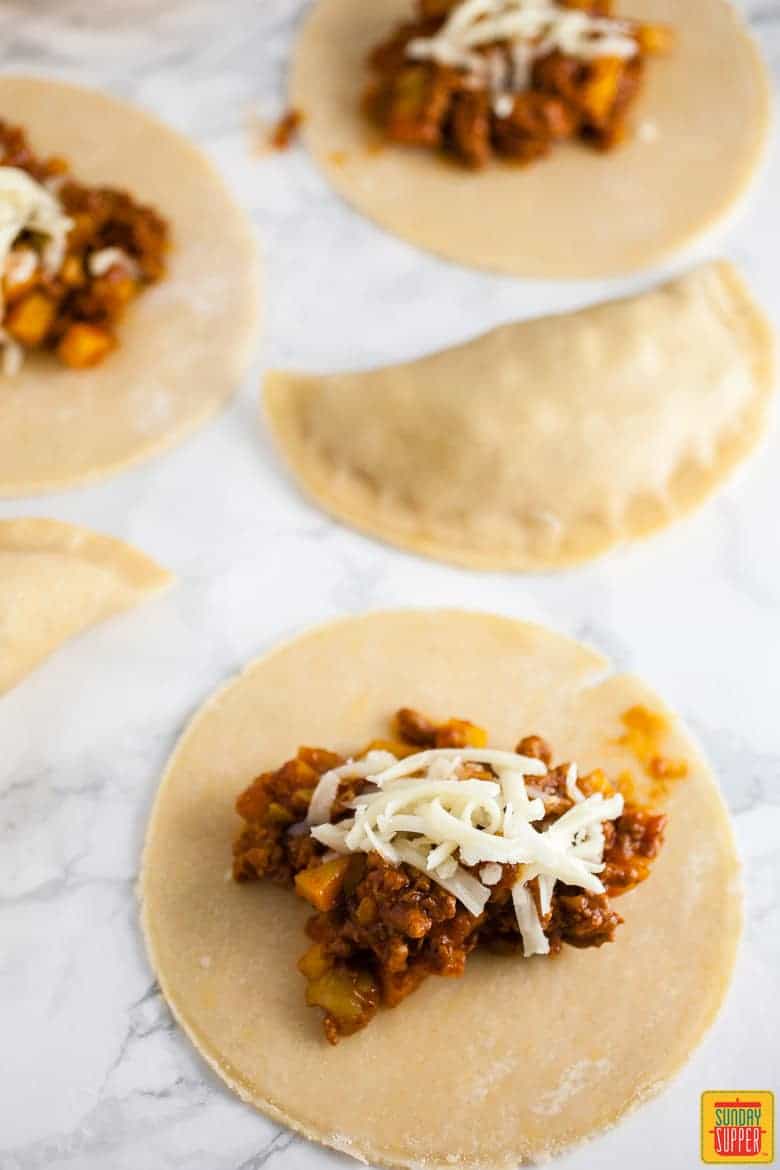 Can I fry empanadas instead of baking them?
Yes! You can easily fry empanadas them in a skillet.
Make sure the empanadas are nicely sealed, and then fry them until golden-brown and crispy in a neutral oil.
Fill a skillet with enough oil to cover the empanadas and fry them just so the skillet isn't overcrowded. You may need to fry in batches.
The best oils for frying are oils like vegetable oil, canola oil, peanut oil, or any neutral oil.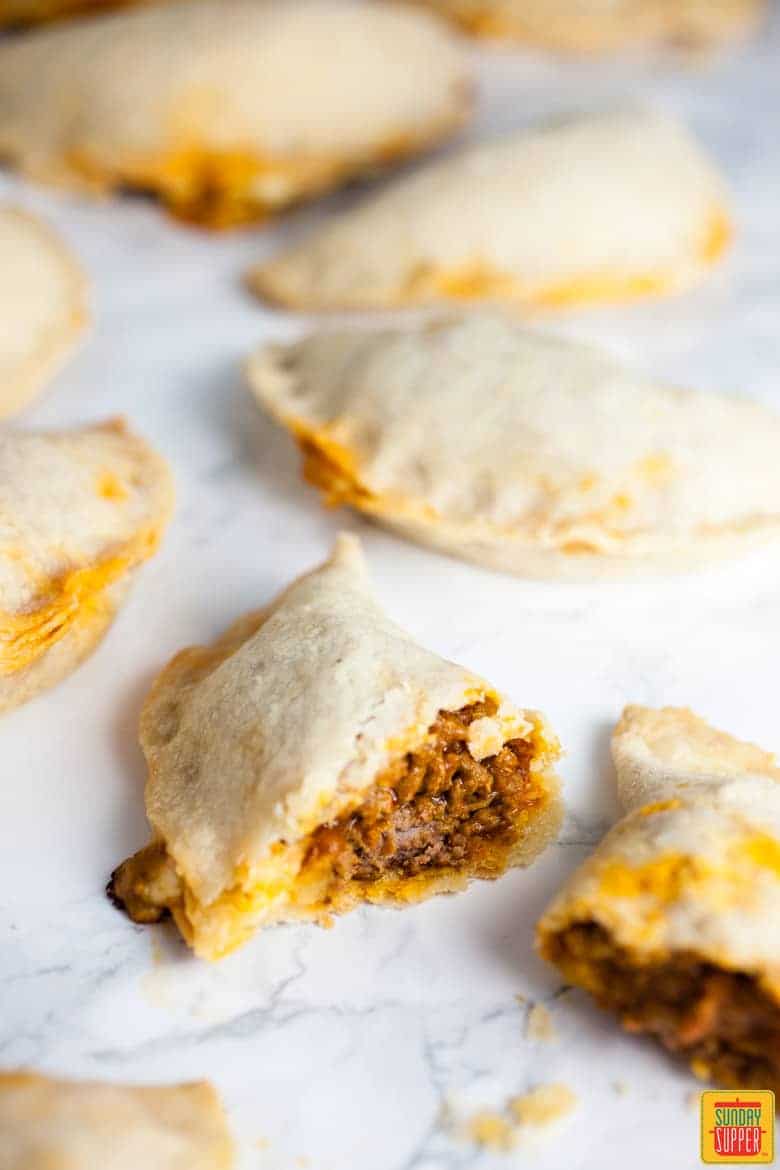 Can you freeze empanadas?
Yes! To freeze baked pastelillos, place them next to each other on a baking sheet lined with parchment paper.
Be careful they aren't touching or they'll wind up sticking together!
Let them freeze that way, then transfer them to a freezer bag or other freezer-safe container. We recommend bags so they don't get any freezer burn. Label with the freezing date.
How to Reheat Empanadas
For frozen empanadas, you can bake them straight out of the freezer, but be sure to add approximately 5 minutes to the cooking time.
Get more Fancy Finger Food Recipes!
What to Serve with Empanadas
If you're enjoying these baked empanadas as the main course, try pairing them with our favorite rice, Portuguese Rice. It is so easy to prepare and truly the best rice!
Easy Spanish Family Recipes
And don't forget dessert! These easy dessert recipes with few ingredients pair perfectly with any one of the above recipes.
Enjoy this dish as a part of a Tapas Menu!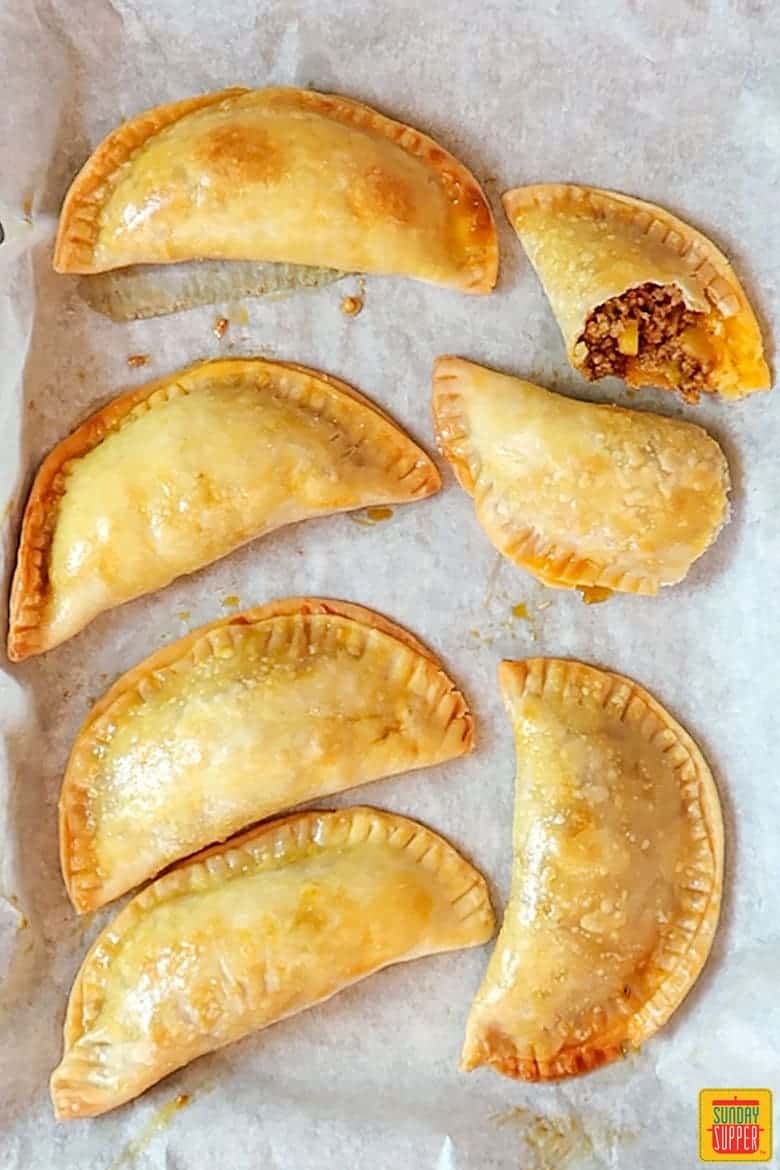 📌 Pin it for later!
Did you enjoy this page? Save it on Pinterest for later!



Save the Video Pin
Empanada Recipes
Empanada filling varies across cultures, but the basic concept is the same. The one thing all homemade meat pies have in common is they are all delicious!
Pumpkin Empanadas
Caramel Apple Empanadas
Shrimp Empanadas
Chicken Empanadas
Readers Love this Recipe
Take it from our readers – here's what makes our Puerto Rican empanadas the best!
My kids thought these were better than the ones we buy from a restaurant. Thank you for this delicious and easy to follow recipe.

@kama410
Turned out really well. Very flakey and buttery. Used some of the dough to make berry tarts.

@crystalyn3
This recipe was a hit and it was something different for dinner. Thank you!

Susan on Pinterest
Did you give these Puerto Rican empanadas a try? Leave a comment and photo on Pinterest! We would love to see and share it!
📋 Recipe
Puerto Rican Empanadas Recipe
Your family will love these Puerto Rican empanadas. They make a great appetizer for a party or are perfect for a weeknight supper!
Ingredients
Dough (or use 12 Goya Discos)
2 ½

cups

All purpose flour

plus more for sprinkling

1

stick

butter

1

egg

beaten

¼

cup

water

1

pinch

salt
Filling
1

pound

ground beef

(we recommend Certified Angus Beef® brand)

1

medium

potato

(parboiled, peeled, and diced small)

¼

cup

Goya Sofrito

plus 2 additional Tablespoons

1

8 oz.

can tomato sauce

1

packet

Goya Sazón con Azafran

20

Spanish olives

roughly chopped

¼

cup

Water

1

teaspoon

salt

½

cup

Monterey Jack cheese

shredded
Instructions
Making Empanada Dough
Add 2 ½ cups AP flour, 1 stick of cold butter cut into small pieces, 1 egg, ¼ cup cold water, and a pinch of salt to a food processor. Pulse until mixture resembles coarse crumbs.

Pour dough mixture onto a piece of plastic wrap. Form mixture into a ball with your hands. Wrap the ball of dough tightly in the plastic wrap and place in the refrigerator for 30 minutes.

After 30 minutes, remove dough from the fridge. Sprinkle some flour on a clean surface. Roll the dough out with a floured rolling pin as thin as possible.

Place a 5-6 inch round bowl or plate onto the dough. Run a knife along the edges of the bowl until you have cut a round disc. Remove the dough round and set aside. Repeat with the rest of the dough.

The dough will need to be formed into a ball and rolled out a few more times to cut the rest of the dough rounds. Repeat until all the dough has been cut into rounds.
Making Empanada Filling
Parboil a medium potato for 7 to 10 minutes, then peel and dice into small pieces. Mince 20 Spanish olives.

Heat a large skillet to medium and add ground beef. Cook completely and chop it into pieces as it cooks. Drain any excess grease when finished cooking. Add the potato, sofrito, and ¼ cup water to the pan.

Cook for 10 minutes, stirring often to prevent the potatoes from sticking. Add tomato sauce, 1 Sazon con Azafron seasoning packet, and a pinch of salt.

Cook for an additional 5 minutes, stirring often. Toss the olives into the pan and stir.
Assembling Empanadas
Preheat oven to 350 degrees F. Line a baking sheet with parchment paper.

Place the pastry rounds onto a clean surface. Spoon 2 Tbsp. or so of the meat filling into a pastry round. Top it with a sprinkling of Monterey Jack cheese. Rub the edges of the pastry round with a little bit of water.

Pull one side of the pastry over the other and press the edges together with your fingers. Seal the edges tightly and crimp them together with your fingers or a fork.

Try not to over-stuff the pastry rounds or they will break as they cook. Repeat with the remaining pastry rounds.

Spray a baking sheet(s) with cooking spray. Place half of the empanadas on each pan. Place the pan(s) in the oven and bake for 25-30 minutes or until the dough is golden brown. You can use two separate pans or bake them in two separate batches.

Remove the pan(s) from the oven when the empanadas are finished baking and serve immediately.
Notes
RECIPE TIPS:
You can substitute making dough for frozen Goya pastry rounds. Make sure to defrost for at least 30 minutes before you begin cooking.
Goya Sofrito and Sazón con Azafran can be found in the international aisle of most grocery stores. Sofrito is a Puerto Rican cooking base consisting of tomatoes, onions, garlic, peppers, and spices, while Sazón con Azafran means "seasoning with saffron", and it's a seasoning packet using salt, pepper, garlic or garlic powder, coriander, cumin, and other seasonings.
We recommend using Certified Angus Beef ® brand beef for the ground beef filling.
Parboil your potatoes for an easy experience peeling and chopping them. They will also cook more quickly in the filling, costing you less time overall. If you're not sure how to parboil a potato, it's easy to do. Parboil, meaning to partly cook food by boiling, is a technique used to soften foods (like potatoes) before cooking with them. You can also parboil foods with skins like potatoes, for example, to easily peel them. In this case, we parboil potatoes to partially cook them in addition to making them easier to peel and cut.
Nutrition
Calories:
298
kcal
Carbohydrates:
21
g
Protein:
10
g
Fat:
18
g
Saturated Fat:
8
g
Cholesterol:
64
mg
Sodium:
477
mg
Potassium:
138
mg
Vitamin A:
320
IU
Calcium:
54
mg
Iron:
2.1
mg
Did you try this recipe?
Tag #SundaySupper on social and leave a comment below!