This post may contain paid links. If you make a purchase through links on our site, we may earn a commission.
This Carlota de Limón recipe is a classic Mexican no-bake dessert recipe that is easy to make and so delicious! With layers of vanilla wafers, condensed milk, dulce de leche, and fresh lime and strawberries, this is a sweet and tangy icebox cake we guarantee you will love.
The best part? It takes 30 minutes to make, and is ready to eat after freezing!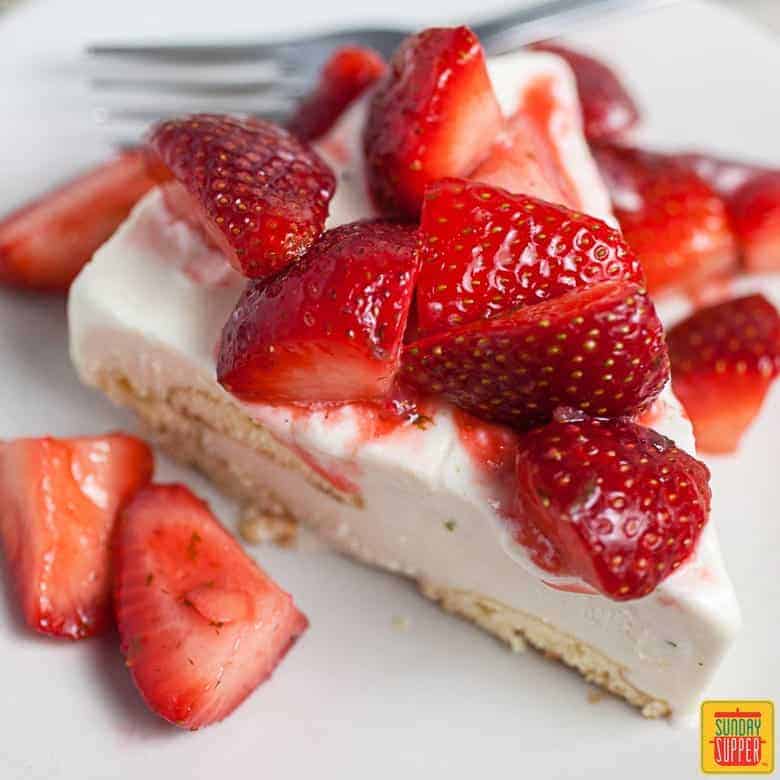 Also known as a Charlotte Russe dessert, or Pay de Limón, this cake is an easy Mexican dessert with layers of cookies, condensed and evaporated milk, and lime juice.
It's an easy icebox cake recipe served chilled with a delicious strawberry lime topping.
Jump to:
🍽 Equipment
To make this easy icebox cake recipe, you will need:
A cake pan
Aluminum foil
A spatula or spoon
Tools to mix the filling with: you can use an electric hand mixer, stand mixer, or whisk by hand
The best choice is to use a springform pan to make it easier to remove the cake from the pan once it's done chilling. However, you can also use a regular cake pan.
Using an electric hand mixer or stand mixer will make your job a bit easier with mixing the filling, but you will not have any trouble mixing by hand if necessary.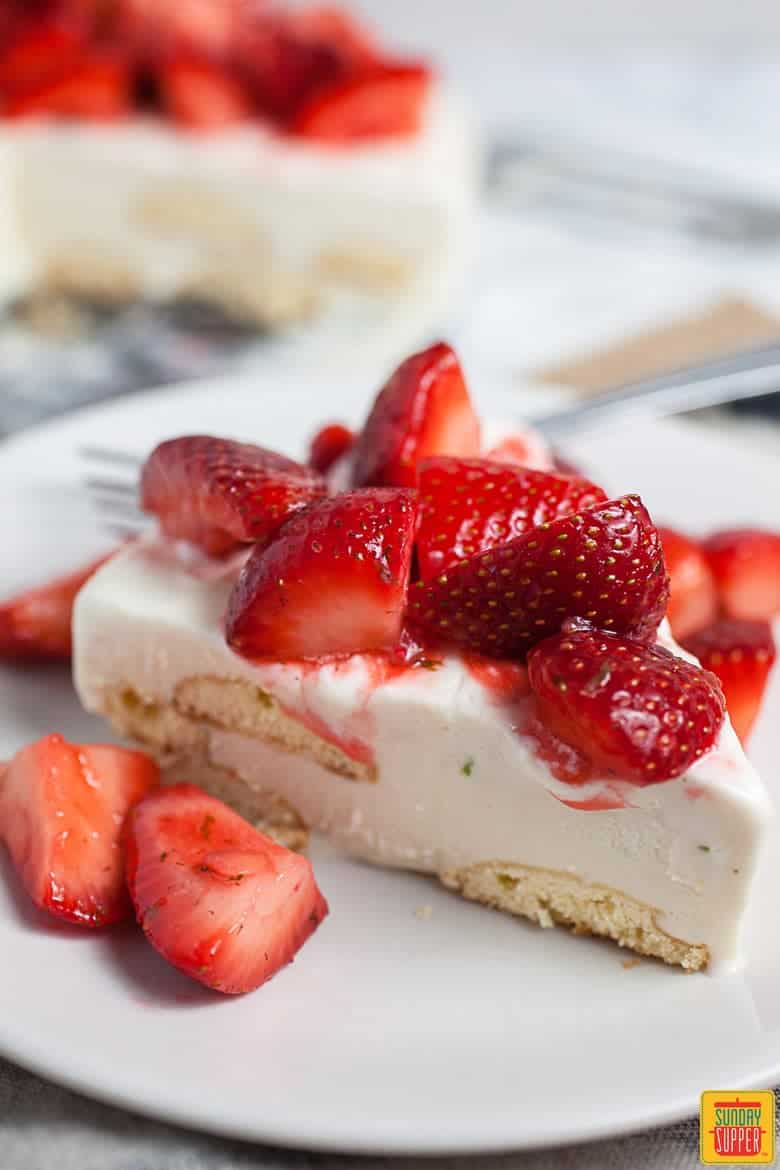 🥘 Ingredients
For the cake itself:
1 ½ cups evaporated milk
1 14 oz. can sweetened condensed milk
½ cup dulce de leche (or substitute with more condensed milk)
Zest of 2 large limes – how to zest a lime
Juice of 2-3 large limes (equal to ½ cup lime juice)
1 package vanilla wafers, tea biscuits, or Maria cookies
For the strawberry lime topping:
1 package strawberries (about 2-3 cups)
Zest of 1 lime
Juice of 1 lime
What are Maria cookies?
Maria cookies, also known as Maria biscuits or galletas María, are simple, subtly sweet cookies that make a delicious snack. They pair well with tea, coffee, or a glass of milk.
In the case of this classic Mexican dessert, Maria biscuits, vanilla wafers, or tea cookies layer with the other ingredients for a pleasant texture and flavor.
Where can I buy Maria cookies?
You will easily find Maria cookies at any grocery store or supermarket. Look in the snacks section with the other cookies. If they are not with the other cookies, check the international aisle.
Maria cookies typically come in an orange box or a red or gold package. If you're not able to find Maria cookies, use vanilla wafers or tea cookies. In fact, we use vanilla wafers in this recipe!
🔪 Instructions
How to Make Carlota de Limón:
Combine 1 ½ cups evaporated milk, 1 14 oz. can sweetened condensed milk, and ½ cup dulce de leche in a mixing bowl. Beat with a hand mixer or the whisk attachment of a stand mixer until well-combined. You can also use a whisk and mix by hand.
Add the zest of 2 large limes along with the juice (about ½ cup of lime juice) to the bowl. Continue to mix until the mixture is smooth and creamy.
If using a regular cake pan, wrap the bottom of the pan with enough foil to hang over the edges of the pan. This will make it easier to remove from the pan later.
Arrange a layer of vanilla wafers across the bottom of the pan.

Pour ⅓ of the milk mixture over the cookies and smooth with a spatula or the back of a spoon.

Repeat 2 more times, with the final layer being the milk mixture. Smooth the top with a spatula or the back of a spoon.

Add the cake to the freezer and allow it to chill for an hour or two. Serve, and enjoy!

How to Make Strawberry Topping with Lime:
Slice 1 package (about 2-3 cups) of strawberries into quarters.
Add the strawberries to a bowl with the zest and juice of 1 lime.
Stir until completely combined.

Top the cake with the mixture after removing from the freezer. Enjoy!

👪 Serving Size
Once it's done freezing, this Charlotte Russe dessert will make enough for about 10 slices.
It's perfect for parties – especially a Cinco de Mayo celebration or as a fun alternative to your usual birthday cake!
💭 Frequently Asked Questions
What does Carlota de Limón taste like?
This is a decadent, sweet, and tangy dessert. It has a creamy consistency similar to ice cream, with layers of texture from the vanilla wafers.
The flavor is similar to a key lime pie, with additional richness from the condensed and evaporated milk. It is so yummy!
🍰 Serving Suggestions
Try serving this delicious no-bake strawberry dessert for a party with other Mexican recipes! You can also try topping it with our favorite Strawberry Sauce recipe – it is so delicious. Here are some of our favorite suggestions for serving before a slice of this cake:
And of course, a slice of this cake pairs beautifully with some of our favorite drink recipes. Try it out with these:
Give our easy Cheerio Cereal Bars a try, too!
📖 Similar Recipes
Try more of our favorite easy desserts for a crowd! If you love this recipe, you will definitely enjoy these:
And definitely try our Fresas con Crema. It's a Mexican strawberries and cream dessert everyone loves that takes only 10 minutes to make! Perfect for serving alongside this icebox cake:
Did you try this recipe? Let us know what you think in the comments below! We love to hear from you.
📋 Recipe