This post may contain paid links. If you make a purchase through links on our site, we may earn a commission.
This Lemon Orzo Pasta Salad will be your new favorite pasta salad recipe! Packed with bright greens, feta cheese, and orzo pasta tossed in a lemony dressing, this easy pasta dish comes together in less than 30 minutes and is so delicious!
Jump to:
Orzo pasta salads take your regular pasta salad to a whole new level of delicious. There is something about the taste and texture of orzo that really makes a pasta salad special. And, this Lemon Orzo Pasta Salad? It's the best one!
Al dente orzo tossed with a lightly seasoned lemon olive oil dressing pairs perfectly with asparagus, cucumbers, green onions, feta cheese, and fresh thyme. This pasta salad recipe can be made a day ahead of time and tastes amazing with all of your favorite grilling and BBQ recipes or at a holiday table for Easter!
🍽 Equipment
All you need to make Lemon Orzo Pasta Salad is a large pot to boil water in, and a skillet to cook the veggies. This is really one of the easiest pasta salad recipes ever, and tastes incredible!
🥘 Ingredients
For the lemon olive oil dressing:
Zest and juice from 1 lemon
5 tablespoons olive oil
1 teaspoon Dijon mustard
Salt and pepper to taste
A pinch of sugar
For the orzo pasta salad:
1 ½ cups orzo pasta
1 tablespoon olive oil
2 cloves garlic, peeled and minced, or 3 tsp. minced garlic
8 asparagus stalks, cut into 1″ pieces with the woody stem discarded
2 green onions, thinly sliced
1 English cucumber, diced
½ cup feta cheese, crumbled
1 tablespoon fresh thyme leaves
Salt and pepper to taste
Slice all your vegetables easily by following our How to Use a Mandoline guide!
🔪 Instructions
In a small bowl, whisk together the zest and juice of 1 lemon with 5 tablespoons olive oil, 1 teaspoon Dijon mustard, salt and pepper to taste, and a pinch of sugar. This is your lemon olive oil dressing.
Bring a large pot of salted water to a boil. Add 1 ½ cups orzo pasta and cook about 7 minutes, stirring often, until al dente (just tender). Drain and transfer to a large bowl, then toss with the lemon olive oil dressing.
Heat 1 tablespoon olive oil in a skillet over medium. Add 2 peeled and minced cloves of garlic and cook until fragrant, about 30 seconds to 1 minute.
Stir in the 1″ pieces from your 8 asparagus stalks and cook until bright green, 3-4 minutes. Remove asparagus from heat and toss with the orzo.
Mix in 1 diced English cucumber, ½ cup crumbled feta cheese, and 1 tablespoon fresh thyme. Season with salt and pepper to taste. Serve warm or refrigerate and serve chilled – it's delicious both ways!
👪 Serving Size
This recipe makes enough for 4 servings of Lemon Orzo Pasta Salad, which is perfect for a family dinner.
You can easily double the recipe by simply using twice the ingredients. Doubling the recipe makes it perfect as a BBQ side dish to feed a crowd!
⭐ Family Foodie Tips
Stir the orzo as it boils. Orzo tends to stick to the pan more than other types of pasta, so stir as it cooks to avoid it sticking.
Serve it warm or chilled. This lemon pasta salad recipe is delicious either way! I personally love to make it a day ahead of time and serve it chilled with my favorite BBQ recipes or steak.
Use thin and tender asparagus. Using thin spears of asparagus gives the pasta more room to shine.
💭 Frequently Asked Questions
What is orzo?
Orzo, also known as Risoni, is a short pasta that resembles rice. It's a versatile type of pasta that works perfectly as the base for salads, pilafs, casseroles, and soups.
We use it in recipes like One Pot Chicken and Orzo Pasta, Greek Orzo Pasta Salad with Chicken, Cheesy Orzo Pasta Bake, and this Lemon Orzo Pasta Salad!
Can I make pasta salad ahead of time?
Yes, absolutely. You can make this pasta salad up to a day ahead of time. Cook and assemble it the day before, then store in the fridge in an air-tight container before you serve it the next day.
How long does pasta salad last?
Leftovers will keep for up to 3-5 days in the fridge. If you have any, that is! I know that when I make this pasta salad recipe, my family gobbles it up. There is no chance for leftovers with how delicious this salad is!
🥫 Storage
Keep this Lemon Orzo Pasta Salad recipe in an airtight container in the fridge until you're ready to serve it.
🧂 Variations
Use other vegetables. If you're not a fan of asparagus, green onion, or cucumber, you can substitute them for other favorite vegetables, such as halved cherry tomatoes, diced bell peppers, or baby spinach. All of these are delicious in this orzo pasta salad recipe!
Use other herbs. If you don't have thyme on hand, basil, dill, or mint work beautifully as well! I especially love fresh basil in this lemon orzo pasta salad.
Use honey instead of sugar. I use a pinch of sugar to round out the flavor of this dish, but you can also use a drizzle of honey if you're avoiding granulated sugar.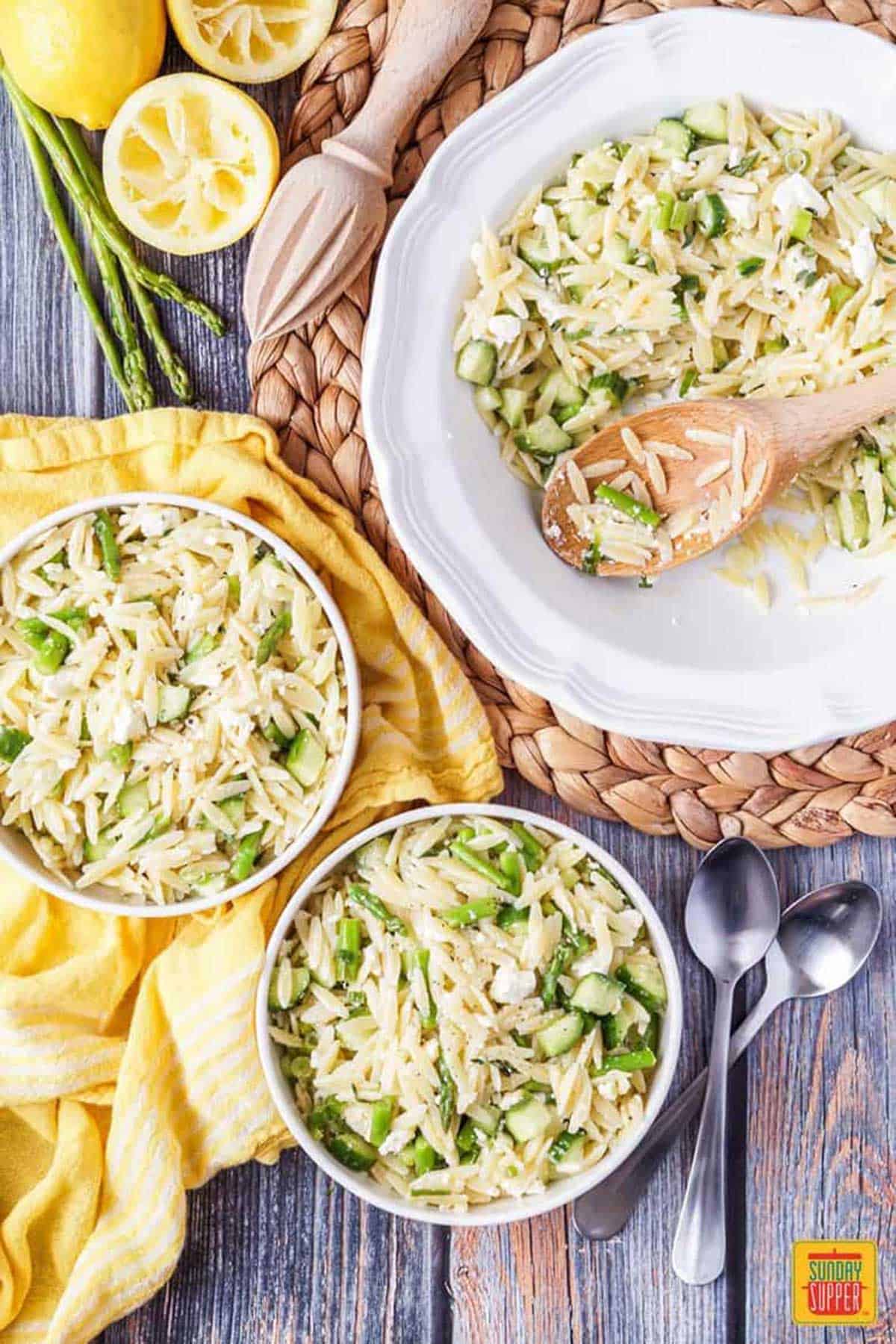 🥗 Serving Suggestions
Lemon Orzo Pasta Salad is one of the best orzo pasta recipes out there to serve with grilled recipes! Our favorite to serve this pasta salad with is steak. The vibrant and fresh lemony flavor complements beef beautifully!
Here are some of the best beef recipes to serve this salad with:
This easy pasta salad recipe is great for pairing with your other favorite BBQ sides, too! Try our Elotes Mexicanos and Grilled Potatoes. Even better if you're using our best Dry Rub for Steak!
Also try my Summer Pasta Salad and Avocado Sauce Pasta!
Did you try my favorite orzo pasta salad recipe? I would love to know what you think! Leave a comment and a rating below. We love to hear from you.
📋 Recipe
Photography by Tara Margetson